Known as one of the world's best destinations to spot incredible wildlife, Borneo holidays have a place on many traveller's bucket lists. From pygmy elephants to orangutans there's plenty to see! Our Product Manager Linh has just returned from uncovering some of the many wonders on this beautiful island on our Best of Borneo tour, so we've sat her down and asked her to reveal all…
WHAT WAS YOUR FAVOURITE PLACE AND WHY?
She laughs, "Can I have three? It's impossible to have only one favourite place in Borneo!" "Kuching was incredible, it was one of the most charming cities I've ever been in, with a laid back atmosphere. We tried the famous Sarawak laksa, it's amazing!". "My second favourite place would have to be visiting the Iban Longhouse Tribe, we spent the day immersing our selves in local activities with the community. 13 families shared the longhouse which was incredible – it felt like being with our extended family!" And her favourite place? Linh continues "The highlight of this trip for me was visiting the Kinabatangan River. We spent a few nights in a lodge deep in the jungle and then cruised down the river to spot wildlife. We were so lucky with the weather and along the way we saw; orangutans, lots of proboscis monkeys, pygmy elephants, sun bears, macaques, silver leaf monkeys, crocodiles, bearded pigs, monitor lizards, squirrels, hornbills, kingfishers and many more… it was truly magical".

WHAT WAS YOUR FAVOURITE MEAL WHILST IN BORNEO?
"We had a delicious lunch with the native Iban people; we ate jungle ferns, grilled aubergines with curry paste and grilled chickens on bamboo shoots, they were all amazing! I really enjoyed and appreciated the authenticity of the local food there. I think it's so important to try some of the local dishes."
DID YOU LEARN ABOUT ANYTHING INTERESTING?
"I learnt about the rehabilitation programme they have at Sepilok Orangutan Rehabilitation Centre which helps and supports orphaned and injured orangutans before returning them to forest life. I also learnt about how the Iban people have adapted their culture to the modern world but still preserve beautiful parts of their native way of life. They previously killed enemies as a show of power but things have completely change and now many Iban people have trained to become professional lawyers, doctors, politicians etc. I found this really interesting."

IF YOU HAD ONE TOP TIP FOR SOMEONE THINKING OF TRAVELLING TO BORNEO WHAT WOULD IT BE?
"Make sure you bring a pair of binoculars! All of the wildlife is extremely fascinating but some of it will be quite small or far away."
---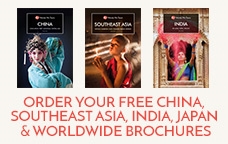 Book an escorted tour to Borneo with the UK's leading Asia Experts, Wendy Wu Tours. Our fully inclusive tours visit all the major sights of the region for an unforgettable holiday.
We also have tours to China, Japan, India, South America and the rest of Southeast Asia