Wander through streets lined with Edo-period architecture, trek to see Japanese macaques in their natural habitat and join Buddhist monks for their morning prayers on your once-in-a-lifetime trip to Japan. This island nation is a beautiful blend of densely populated cities littered with temples, and mountainous regions hiding some of the country's oldest towns and villages. If you're looking for authentic experiences, joining an escorted tour of Japan is one of the best ways to get access to lesser-known sites. To find out what's waiting for you in this mystical country, read on.
See snow monkeys in their natural habitat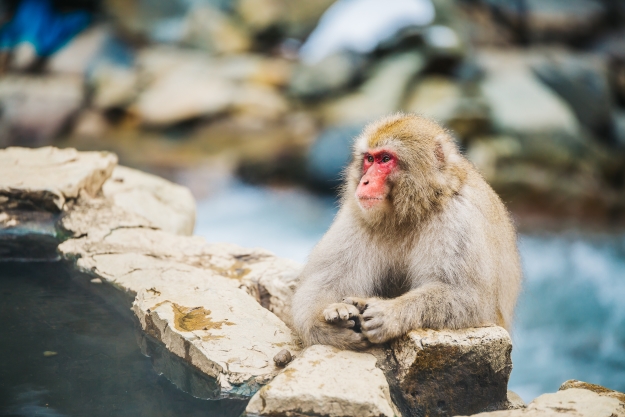 Set within Japan's landlocked Nagano Prefecture, Jigokudani Monkey Park is home to a large group of Japanese macaques or snow monkeys. Heavy snowfalls mean the ground in the park is covered for roughly four months of the year. The site rises 850 metres, and is only accessible via a narrow 2km footpath through the forest. However the short but steep incline is well worth the effort to see these beautiful animals in their natural habitat.
Travelling sisters Crystal and Candy, the duo behind blog Travel Pockets, regularly visit Japan and have experienced the serene snow monkeys at Jigokudani Yaen-Koen. "We're sisters who are half Japanese and half American and love to travel the world in style! We currently live in the US, but grew up as military brats in Japan and since the majority of our family still resides in Japan, we go back often to visit."
We started by asking Crystal and Candy if the park lived up to their expectations: "Yes, the monkey park was everything we imagined it would be! Right when you approach the hot springs, you'll see monkeys jumping in and relaxing in the hot water while spectators view them in awe. We didn't expect to see so many monkeys around and the best part was seeing so many baby monkeys playing with each other.
"We also loved the fact that they're in their natural habitat and not caged in any sort of way. They're free to roam wherever and whenever they'd like in the mountains and forests. They just choose to come to the hot springs because the caretakers of the park feed them at certain times."
When we asked the sisters for their top tips for visiting Jigokudani Monkey Park, they suggested choosing your season wisely: "If you're able to go see them during the winter, we think it's the best time go to go as you might see some snow and the scenery will be picture perfect with the snow falling around the monkeys in the hot spring. Just remember to bring protective gear for your camera so it doesn't get wet."
Meet these cute critters on our Sapporo and Snow Monkeys tour
Unwind in a traditional onsen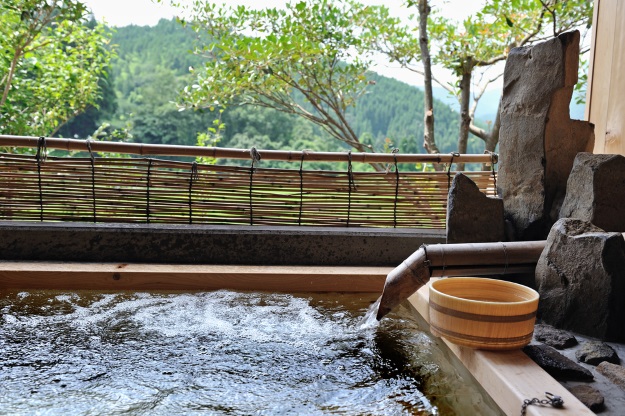 An onsen is a traditional Japanese hot spring, and a truly authentic experience to try on your tour of Japan. As Japan is volcanically active, there are thousands of onsen all over the country. They can be found indoors and outdoors, and often form part of accommodation such as ryokans – traditional Japanese inns. On your holiday with us, you'll get the chance to stay in a ryokan and unwind in an onsen. It's worth noting that men and women bathe separately, and that at very traditional onsen, it is not required for bathers to wear a swimsuit. Guests with tattoos are generally not permitted to use onsen, however the rules are much more relaxed at modern establishments.
---
Experience an Onsen on our journey through Japan Tour

---
Take part in a tea ceremony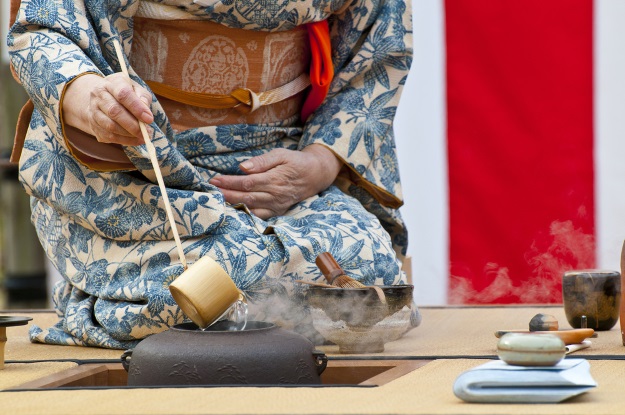 Japanese tea ceremonies involve the ceremonial preparation and presentation of Japan's most famous tea – matcha. This tasty green tea has taken the world by storm in recent years, however nothing compares to drinking this authentic Japanese drink in its home country, with those who know how to prepare it best.
Annette of award-winning travel and lifestyle blog Bucket List Journey took part in a traditional Japanese tea ceremony to better understand the local culture. "My goal while travelling is to immerse myself into the culture of the destination," said Annette. "There are many ways to do this in Japan, but I chose to take part in the Japanese tea ceremony because matcha is such a big part of the country. Plus, the amount of technique and etiquette involved was very intriguing (sometimes the host spends years mastering the art of it!).
"My Japanese tea ceremony experience was done in Tokyo at the Happo-en Japanese Garden that sits in Shirokanedai district. It is an exquisite example of natural beauty with its ancient bonsai, koi pond and blanket of cherry blossoms in the springtime. The ceremony took place in their wooden Muan tea house, and the matcha was carefully made by a very refined Japanese woman.
"It was fascinating to watch how many steps it took from the beginning to the end of the ceremony. Though I flubbed up some of my steps, mostly while rotating the cup the proper direction, she flawlessly executed her portion. It is authentic experiences like this that make your travels richer."
---
Experience a traditional tea ceremony on our Highlights of Japan tour

Seek out ancient Japan at Shirakawa-go and Takayama
Shirakawa-go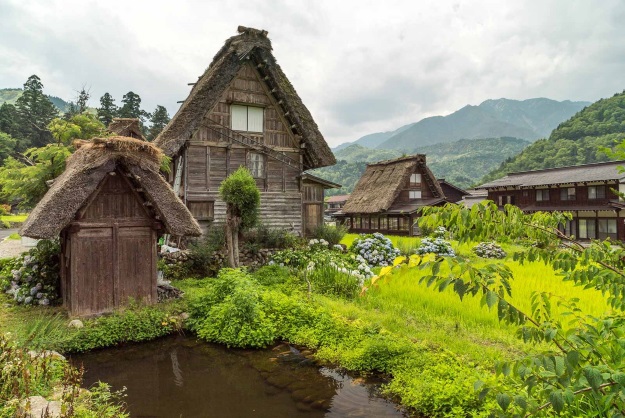 Get a glimpse of rural Japan at the UNESCO-listed Shirakawa-go and the ancient city of Takayama. Shirakawa-go is most famous for its unique farmhouses, built in gassho-zukiri style. Here you'll feel as though you've stepped back in time in Japan. We spoke to the duo behind adventure travel blog Nerd Nomads, to find out about their experience visiting Shirakawa-go. Having visited 30 countries, blog founder Maria said they have a "special love for Asia".
"The highlights of our visit to Shirakawa-go were the beautiful old and remarkably well-preserved Gasso-Zukuri buildings, a unique architectural style of steep straw-roofed houses made of wood. Shirakawa-go has the largest concentration of Gassho-Zukuri buildings in Japan. Walking around this little village where time has seemingly stood still gives a unique insight into how life must have been here hundreds of years ago."
Lotte of Phenomenal Globe started her travel blog in 2015 to inspire people to travel and help them plan their dream trips. Her adventures have taken her across the globe, including to Japan, where she visited the rural, UNESCO recognised village of Shirakawa-go. We caught up with Lotte to find out more about her trip:
"While preparing for my Japan trip I came across a picture of the beautiful gassho-zukuri farmhouses in Shirakawago and immediately decided I wanted to visit this place. Shirakawago was amazing. I love the mountains and I also love learning about history – Shirakawago delivered on both!"
Takayama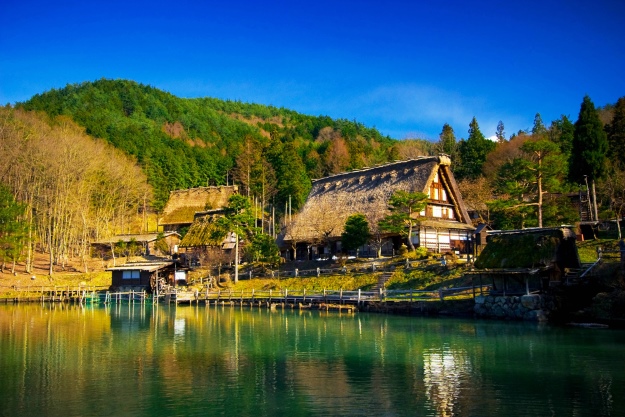 Thirty miles away, the city of Takayama gives visitors the opportunity to wander the streets of its historic Sanmachi Suji district, lined with wooden merchants' housed which date back to the Edo period. On your tour of Japan, you'll get the chance to visit the fascinating Kusakabe Folk Museum and Takayama Jinya, as well as taking in the picturesque surroundings. Maria of Nerd Nomads added: "We loved going for a stroll down the narrow streets of the old part of the city and breathing in the traditional charm of the old wooden houses which makes you feel like you are back in the Edo/Samurai-period.
"Another highlight was our stay in a Ryokan, a traditional Japanese inn, and our first experience of taking an onsen (hot spring bath) and eating a homemade Japanese dinner and breakfast."
Lotte said: "I visited Takayama because I wanted to explore the old city streets. Takayama was such a pretty village with its historical houses and shops in Sannomachi Street. My favourite place in Takayama was Hida Folk Village."
Step back in time in Kanazawa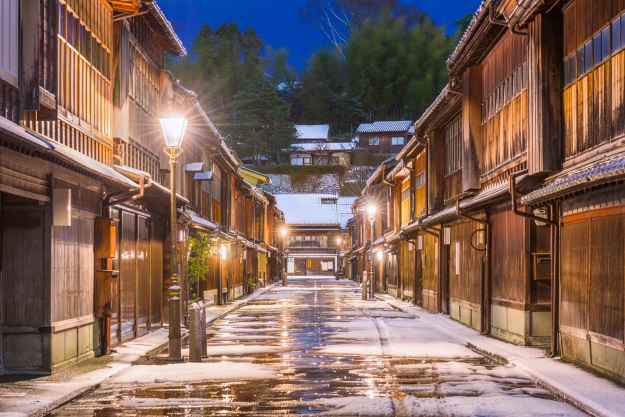 Kanazawa, the capital of Japan's Ishikawa Prefecture on Honshu Island, is most famous for its extremely well-preserved Edo-era districts. Lined with picturesque wooden buildings, many of which are traditional teahouses and Geisha establishments, Higashi Chaya District offers an excellent opportunity to experience authentic Japan.
Andrzej of family travel blog Wanderlust Storytellers was overwhelmed by the beauty of Kanazawa. The blog documents the exciting adventures of Andrzej's family of five, "Thanks to our readers and social media followers, and countless hours of slaving away behind the computer, we have created a life that we only previously dreamt about," said Andrzej. "And we are very grateful for it!" We wanted to find out more about Andrzej's experience in ancient Kanazawa:
"Kanazawa is filled to the brim with architectural magic. There are plenty of extraordinary landscapes to check out and tonnes of colourful ancient culture to see as well.
"The city is unlike the super-busy Tokyo that tourists always flock to. Kanazawa is a small place in comparison, a unique place and it is located slightly off the beaten track. That is why we decided to check it out, and we are glad we did.
"On the top of our list of places to visit in Kanazawa was definitely Higashi Chaya District, more commonly known as the Geisha House District. It is a very cute and well-preserved old town. There are plenty of amazing little streets lined with tea houses and the famous Geisha establishments. We did go into one to check it out closely. It was an extraordinary experience! Apart from that you must also go to see the famous Kanazawa Castle, Kenroku-en Kanazawa Garden and the Myoryuji Ninja Temple. Sound great? Because it is!
"The city of Kanazawa comprises of both beauty of the old, together with the architectural marvels of the new age. The city itself is very clean, it is well looked after and it has a very friendly feel. Thanks to the easy to follow Loop Bus system, Kanazawa is a pure bliss to venture around. Simply hop on or hop off anytime you please and with your map in hand, tick off what you like one-by-one. This city is definitely one of the coolest little Japanese cities to visit for sure!"
---
Explore Kanazawa , Shirakawa-go and Takayama on our Discover Japan tour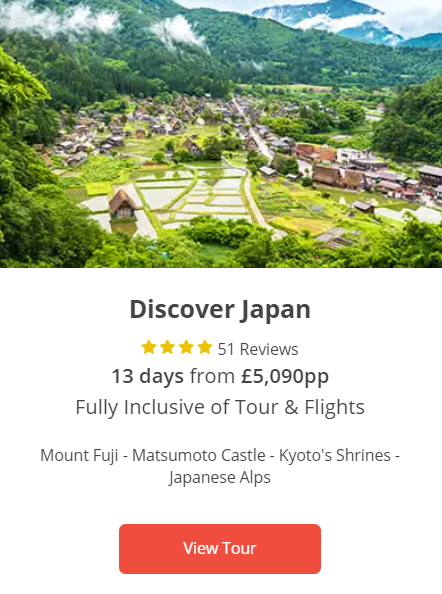 ---
Learn about Japan's national drink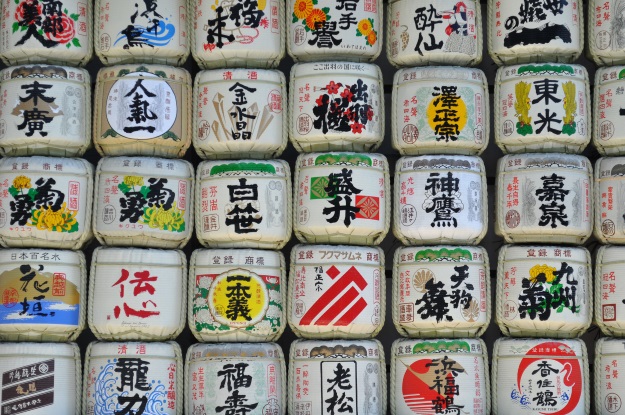 Sake, a Japanese rice wine, is made by fermenting rice, so although it's categorised as a wine, the process of making it is closer to that of beer. It's difficult to travel through Japan without trying sake – this unique beverage is enjoyed in bars and restaurants all over the country. For centuries, Japanese temples were the primary distilleries of sake, and by the 1300s it had become an important ceremonial drink. Figures suggest that less than 2,000 sake breweries remain in Japan, and on your holiday, you'll get the chance to experience one for yourself. Learn about the brewing process and enjoy some tasters along the way.
Join the monks for their morning service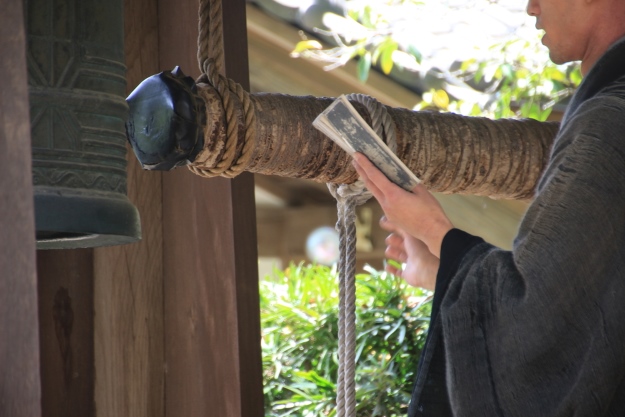 After spending the night in a 13th-century temple in Koya-san as part of our Trails of Japan tour, you will get the opportunity to join Buddhist monks for their daily morning service. The gentle recitation and chanting of their prayer is a truly memorable experience, and will set you in the right frame of mind to appreciate everything ahead of you on this once-in-a-lifetime journey.
---
Join the monks for morning prayers and visit a sake brewery on our Trails of Japan tour

---
If you want to take part in these authentic Japanese experiences, take a look at our tours to find your dream itinerary. We're sure you won't be disappointed!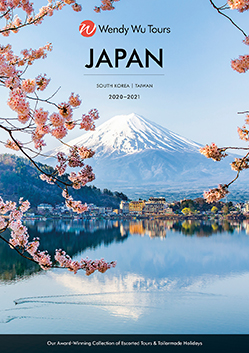 For the lowdown on when to go, take a look at our Best Time to Visit Japan page
Image credits: James Faulkner, Helen, Shirakawa-go image by Nerd Nomads, snow monkey image by Travel Pockets