The ancient art of Chinese calligraphy is a delicate and precious one. Examples of Chinese characters can be traced back to 4000 BC and while the style of the calligraphy has evolved over the years, the traditional techniques and brushwork are still practiced today as contemporary calligraphers look to keep the art form alive.
Ahead of a cultural tour of China you may wish to learn a bit more about Chinese writing and try to recognise certain characters. While our previous post on handy phrases to use on your China holiday can offer a simple cheat sheet to Mandarin, traditional calligraphy and being able to read Chinese is a whole other subject that can be difficult to understand and learn. Here we look into the history of this beautiful written form and where you can learn the art for yourself.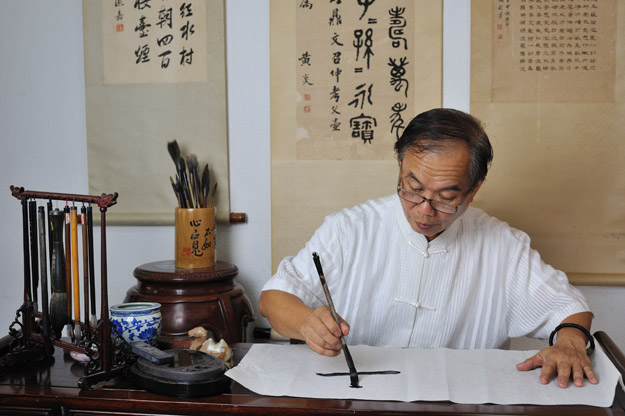 The Supplies
Before you give calligraphy a go, you will need the right tools for the job. What is so special about Chinese calligraphy is that there is a very special and traditional set of equipment that Chinese calligraphers use. The main tools you will need are:
The brush is the traditional tool for Chinese calligraphers. While today some calligraphy is done using a pen, the brush is still considered the most traditional and authentic implement. The inkstone is a tool that is used to grind the solid inkstick into liquid ink and is usually made out of stone, ceramic or clay.
You can source traditional calligraphy supplies from numerous websites online. The Asian Brushpainter is a particularly good supplier, with a great range of traditional products. Similarly, the UK Shaolin Temple Store has everything you might need to try out Chinese writing and calligraphy for yourself.
The courses
SOAS
For those who want to take their calligraphy to the next level, there are also some fantastic calligraphy courses that you enrol on to learn more about this ancient Chinese art form. Here we have got in touch with experts in the field of Chinese calligraphy so that they can offer advice and information on the practice and history of this writing method.
The London Confucius Institute's calligraphy workshops at the School of Oriental and African Studies operate on a drop-in basis and cost just £15 for a one-time session with all materials included.
Of course you can always just enjoy the Chinese calligraphy class on our Sichuan Explorer tour, where it is fully included in the price of the tour and learn the art whilst actually being there.
Hutong School


Hutong School is the leading foreign-owned Chinese language school in China. Founded in 2005, they have since gone on to teach countless individuals Chinese through various techniques and methods. Here they tell us a bit about their history.
"Since its foundation in 2005 by French, Belgian and German entrepreneurs, Hutong School has grown to become a leading provider of Chinese Language Programs in China over the past 10 years. Officially recognised by the Chinese ministry of Education and an accredited member of the World Youth Student & Educational Travel Confederation (WYSTEC), we have dedicated ourselves to teaching Westerners Chinese in a way that is both effective and pleasant, driven by a shared passion for the Chinese language and culture.
Our Intensive Chinese Program is the ideal opportunity for students wanting to immerse themselves into Chinese culture and learn Mandarin in China. We teach Chinese in small groups (with an average of 4 to 5 students), allowing our teachers to focus on each student individually. With our innovative teaching method – that separates spoken Chinese from character recognition, you will be amazed by the fast progress you will make in learning Chinese! Our weekly cultural activities, going from tea ceremonies to kung fu sessions and calligraphy workshops to cooking classes, furthermore give you a perfect insight into various aspects of Chinese culture."
They also teach Chinese calligraphy; here they tell us a bit more about the art's history:
"The art of writing Chinese characters, or 书法  shūfǎ, is one of the highest forms of Chinese arts. It serves the purpose of conveying thoughts while also showcasing the abstract beauty of characters. With a history of 4000 years, the art of calligraphy is rich and profound in content and has attracted the attention of artists the world over. Chinese calligraphy of each period in Chinese history has its particular forms and styles."
Ryuurui's Art Studio
Ponte Ryuurui is a Japanese calligrapher, writer and co-creator of Ink Treasures project. His studio, Ryuurui's Art Studio, not only showcases his latest art works, but is also a source of a vast amount of free calligraphy tutorials where the public can learn more about the art form and give it a go themselves. From calligraphy theory to practical tutorials, there is everything you might need in order to teach yourself Chinese calligraphy. Also on his website is information on preparing calligraphy ink and the implements used as well as information on books he has written on the subject such as the Etymology of Chinese characters, which are in the publishing process currently.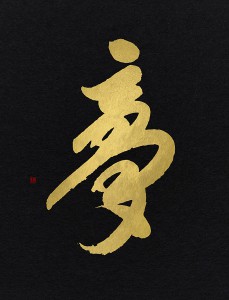 His talents even extend beyond that of calligraphy; you can book one-on-one and group photography workshops with him where you can learn skills such as photo retouching and photography on Tokyo photowalks.
Many of our inclusive China holidays include cultural experiences such as calligraphy classes. Browse through our itineraries to find one that is right for you.
---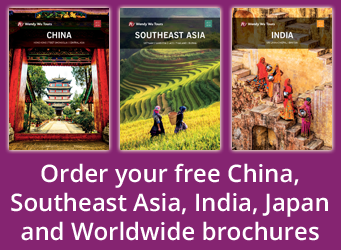 Visit China with the UK's leading China Experts, Wendy Wu Tours. Our award winning escorted, fully inclusive China tours visit all the major sights of China for an unforgettable holiday.
We also have amazing tours to Vietnam, Cambodia, Laos, Japan, India and beyond…
---
Image Credit: James Kim (flickr.com), Hutong School