Road works have been halted following the discovery of 43 fossilised dinosaur eggs by construction workers in the Guangdong province of China.
Found close to the centre of Heyuan City, the eggs range in size with the largest being an impressive 13cm (5 inches) in diameter. A total of 19 eggs remain fully intact.
Although researchers at the Chinese Academy of Sciences are currently unsure which species of dinosaur they belong to, most of the eggs found in this area have been species of Oviraptorid and duck-billed dinosaurs. Those on holiday in China will be able to see the eggs on exhibit at the Heyuan Dinosaur Museum alongside the other collections which gained the museum the 2004 Guinness World Record for the largest collection of dinosaur eggs in the world.
'Hometown of the dinosaur'
Some 17,000 eggs have been discovered in the city since a group of children found the first collection whilst playing at a construction site in 1996. These recently discovered eggs, however, are the first to be found so close to the city centre. Along with the eggs there have also been dinosaur skeletons and footprints discovered around Heyuan, contributing to the city's nickname 'Hometown of the dinosaur'.
With so many incredible discoveries relating to this extinct species being found in Heyuan, the city now boasts a dinosaur theme park alongside the museum, making it a popular stop with those on tours of China and Hong Kong.
Du Yuanli, the director of the city's museum, said that many other dinosaur remains are likely to be found in the sandstone beds around the city and that in order to preserve them, construction projects should be halted when they are discovered so that the discoveries can be safely removed and documented.
Check out the below video to see what the eggs look like:
---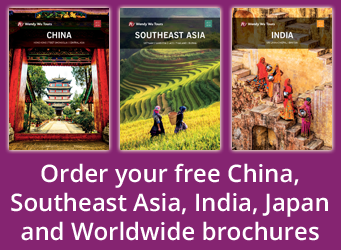 Visit China with the UK's leading China Experts, Wendy Wu Tours. Our award winning escorted, fully inclusive China tours visit all the major sights of China for an unforgettable holiday.
We also have amazing tours to Vietnam, Cambodia, Laos, Japan, India and beyond…
---
Image Credit: Audrey B. (Flickr.com)