Just off the coast from Shanghai, a small fishing village near the mouth of the Yangtze River stands as a reminder that nature may be the ultimate judge. Abandoned by its former residents because of over-fishing years ago, the village is slowly being taken over by nature.
Houtou Wan Village is located on Gouqi Island, which belongs to a group of 394 islands known as the Shengsi Islands in the Zhoushan Archipelago. Stacked against a hillside, the village now has a green shroud of ivy and other leafy vegetation covering it. Over the past few decades, nature has reclaimed the land and the buildings. The area is virtually void of a human presence except some curious tourists and elderly residents who have refused to leave the place of their birth.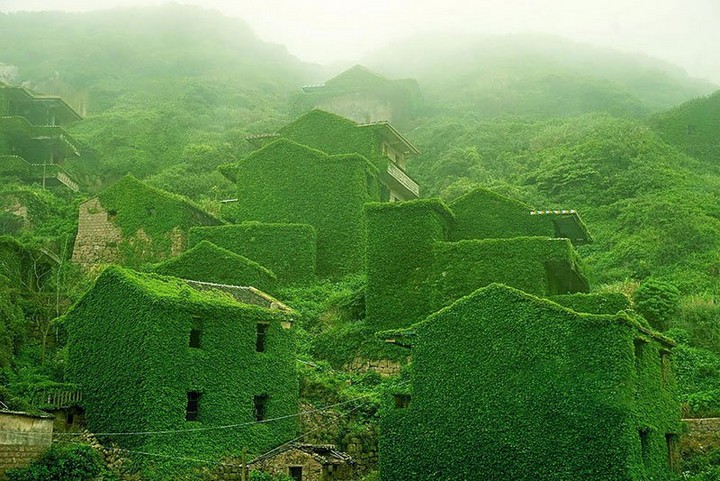 A local photographer has recently documented the phenomenon.
Many of the islands in the area have been decimated by a variety of factors. Some point to shifts in the economy, inaccessibility, and depletion of natural resources as some of the reasons some villages collapsed. Houtou Wan Village was gradually deserted when the small bay could no longer meet the needs of the increasing number of fishing boats.
But if you are interested in China tours, the Shengsi islands are still a popular tourist destination and is an important fishing area that attracts more than 100,000 fishermen every winter. There are many nice beaches and the region is well-known for their fantastic, locally-caught seafood.
At the Donghai fishing village, visitors can enjoy fresh seafood delicacies straight from the fishermen themselves. Alternatively, there are many fine local restaurants. A unique feature of Donghai are the blue seafood kiosks that dot the main harbour. They have an amazing choice of fish, clams, varieties of crab, squid, octopi and locally-grown vegetables.
These stands are operated by experienced chefs that will everything to order – complete with all the sauces and fixings. A Shengsi delicacy from these stands is the Thexiao huang yu of the "Little Yellow Croaker".  This once abundant Pacific fish is a delicacy in China and Korea. It has a light, pleasant flavour and is often pan-fried on the spot.
---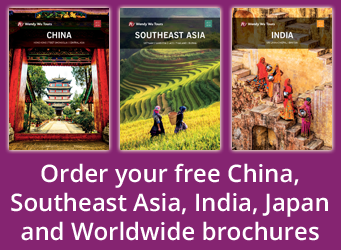 Visit China with the UK's leading Asia Experts, Wendy Wu Tours. Our award winning escorted, fully inclusive tours visit all the major sights of China for an unforgettable holiday.
We also have amazing tours to Cambodia, Vietnam, Laos, Japan, India and beyond…
---
Image Credit: Harvey Barrison (flickr.com), Jane Qing