It's not a bad thing when your city has been compared to "heaven" for centuries, but the leaders of Hangzhou want to make sure the city is environmentally sustainable so future generations can enjoy the locale.
At its centre, a shimmering lake reflects the city's skyline with its mixture of modern buildings and traditional temples. Built on the Yangtze Delta, it boasts riverside tea houses as well as China's National Silk Museum and the National Tea Museum.
Its location, cultural sites and natural beauty have made Hangzhou an important city for thousands of years. Marco Polo visited it when it stood as the capital of Song dynasty. At the time of Polo's visit, in the 1200s, Hangzhou was most likely the largest city in the world – home to around a million people.
For size and import, not a lot has changed for Hangzhou. The city is now home to more than nine million people and attracts more than 100 million visitors each year. Because of its natural and cultural beauty, Hangzhou is a popular destination for China nature holidays.
To keep its reputation as "heaven", city leaders have been focused on building and maintaining an environmentally-friendly infrastructure. They have cut levels of car ownership, build and promote a growing metro network. Hangzhou also has two museums dedicated to the cause: a Low-Carbon Museum and a Green Building Museum.
But what really helps Hangzhou stand apart is that it has the largest bike-share schemes in the world. With eight times as many rental bikes as London, people make a quarter of a million rides every day on bikes from 3,300 kiosks located all over the city.
"More people in China care about the environment," said Peggy Lui, chair of the Joint US-China Collaboration on Clean Energy in a recent interview. "It's something you see, breathe and sometimes even taste. More of us have air quality apps on our phones to measure air pollution. We're on a journey from survivability to livability."
The city has won a number of environmental advocacy awards including one from the United Nations.
---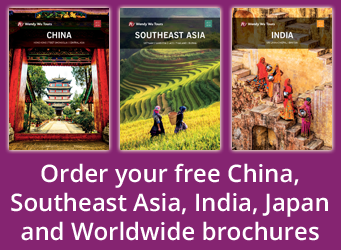 Book a tour of China with the UK's leading China Experts, Wendy Wu Tours. Our award winning escorted, fully inclusive China tours visit all the major sights of China for an unforgettable holiday.
We also have amazing tours to Vietnam, Cambodia, Laos, Japan, India and beyond…
---
Image Credit: decar66 (flickr.com)