A true wildlife haven, Costa Rica is just a fifth of the size of the United Kingdom, yet is home to more than 5% of the world's biodiversity.
National parks cover over 25% of the country, and in 2017, Costa Rica ran for over 300 days straight on renewable energy. Government incentives encourage businesses to adopt green initiatives, and by 2050, the country aims to go entirely carbon neutral. 2019 was also a milestone for Costa Rica as it marked 70 years without a standing army.
Just stop and think about that for a second. This is a country whose political and economic stability has allowed its biodiversity to thrive on an unprecedented scale. Its freshwater rivers, lush rainforests, cool cloud forests and vast Pacific and Caribbean coastline are a perfect nesting ground for the country's wildlife, so it may be of little surprise that Costa Rica is one of the most visited countries in all of Latin America.
Where should you visit, though? Here are my four favourite wildlife hotspots and why I think you should consider heading to these areas on your holiday to this jewel of Central America.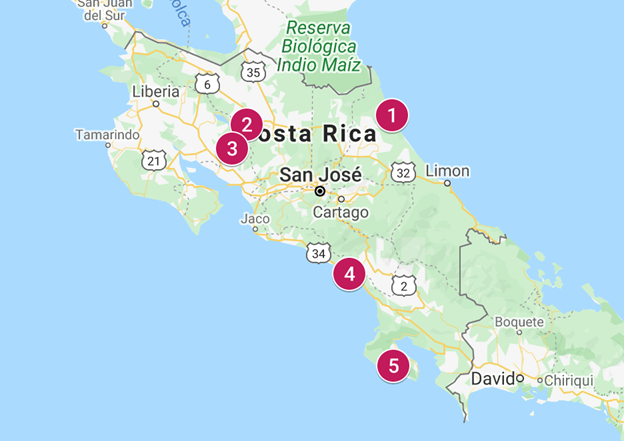 1 – Tortuguero
Nestled in the far northeast of Costa Rica, Tortuguero translates to 'turtle catcher' on account of the eating habits of pirates and traders many centuries ago. These days are long gone, however, and this remote part of the country is a real hotspot, with over 300 species of birdlife in the area, including colourful toucans and the aquatic blue heron. Other wildlife commonly found here includes river otters, caimans, howlers, capuchins and spider monkeys and many species of reptiles including one of Costa Rica's most iconic residents; the red-eyed tree frog.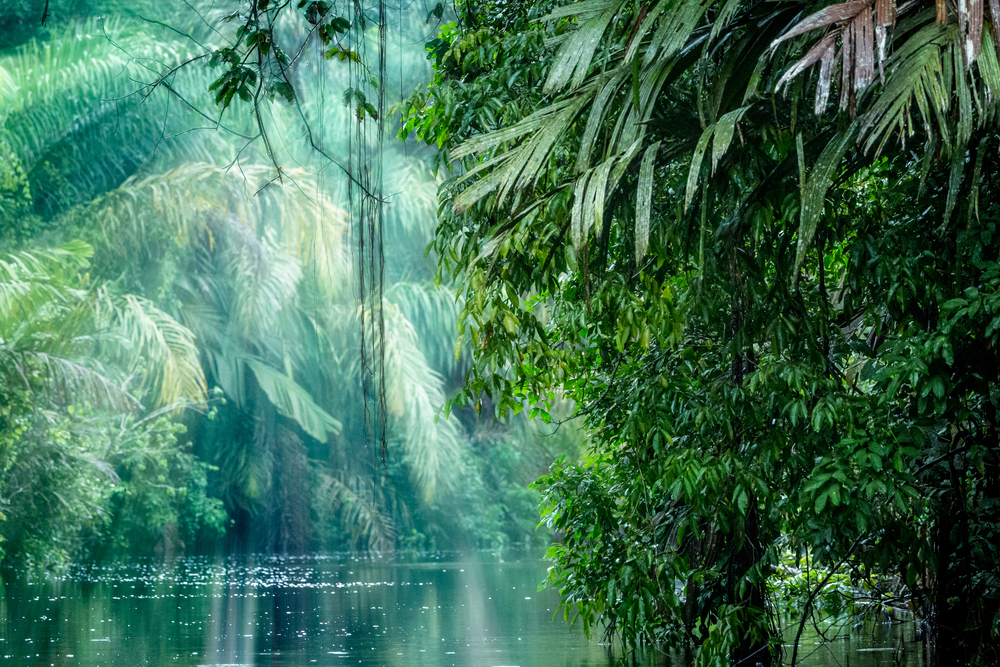 What's truly special about Tortuguero though is that you do not explore the region on foot. Rather, you'll explore its myriad of winding waterways and canals by boat, gently chugging downriver whilst your guide excitedly points out sloths hanging in the trees and birdlife all around. As I often describe them, these 'floating river safaris' are a wonderful way to experience Costa Rica's biological diversity. A visit to Tortuguero is also a great idea for those who lack mobility, as you can expect to be up on your feet for less time than at other destinations.
Tortuguero is also famous for its turtle hatching season, with July – October prime time for green sea turtles to hatch from their eggs on the beach before making the desperate dash to the Caribbean. Tortuguero is around 4-5 hours' travel from San Jose (half of which is by boat), but it's well worth considering in any itinerary and, in my opinion, is one of the best parts of Costa Rica.
2 – Arenal
This popular region is most famous for its volcano, which towers over the town of La Fortuna and man-made Lake Arenal. Admittedly, this area is one of the busier regions of Costa Rica. Still, its 29,000-acre Arenal National Park is home to various trails that wind their way through the rainforest, along the volcano's base and across old lava rocks left by eruptions long ago.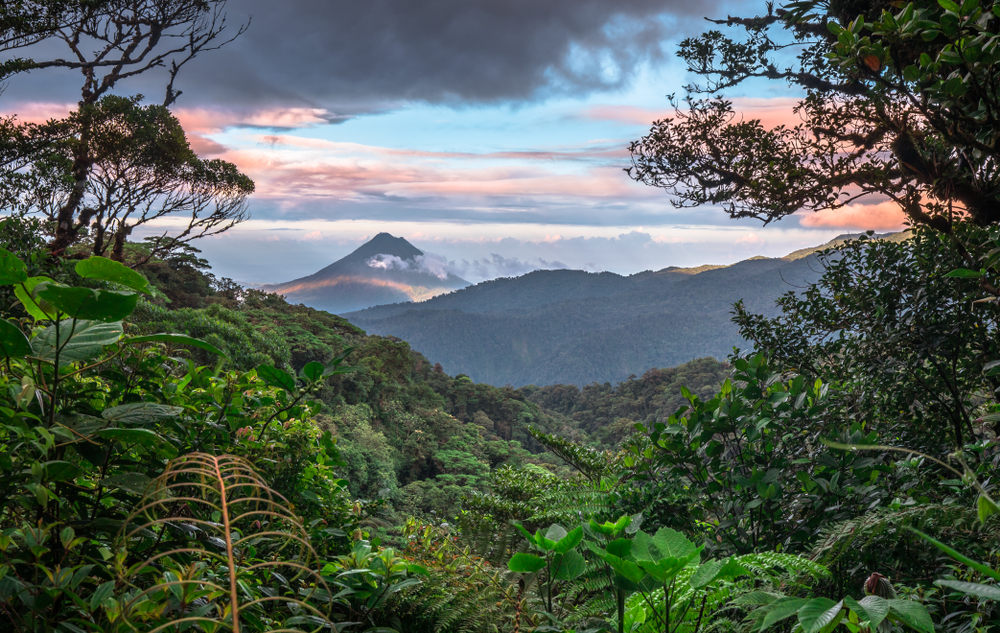 Kayaking trips across Lake Arenal can introduce you to its aquatic birdlife, and a tour of Arenal's hanging bridges will offer you the chance to see wildlife high up in the rainforest canopy that you wouldn't normally find on the forest floor – a fabulous experience. Another way to experience the wildlife here could be with a visit to Proyecto Asis – a wildlife refuge centre that serves to rehabilitate animals before their release back into the wild. The centre's volunteer scheme allows participants to undertake activities such as preparing food for the animals and cleaning enclosures.
3 – Monteverde
Arguably Costa Rica's most famous cloud forest, Monteverde, is situated southwest of Lake Arenal. It's at a higher altitude, so the warm sunshine of Arenal usually makes way for dense fog and plummeting temperatures as you wind your way up through the mountains and into the cloud forest.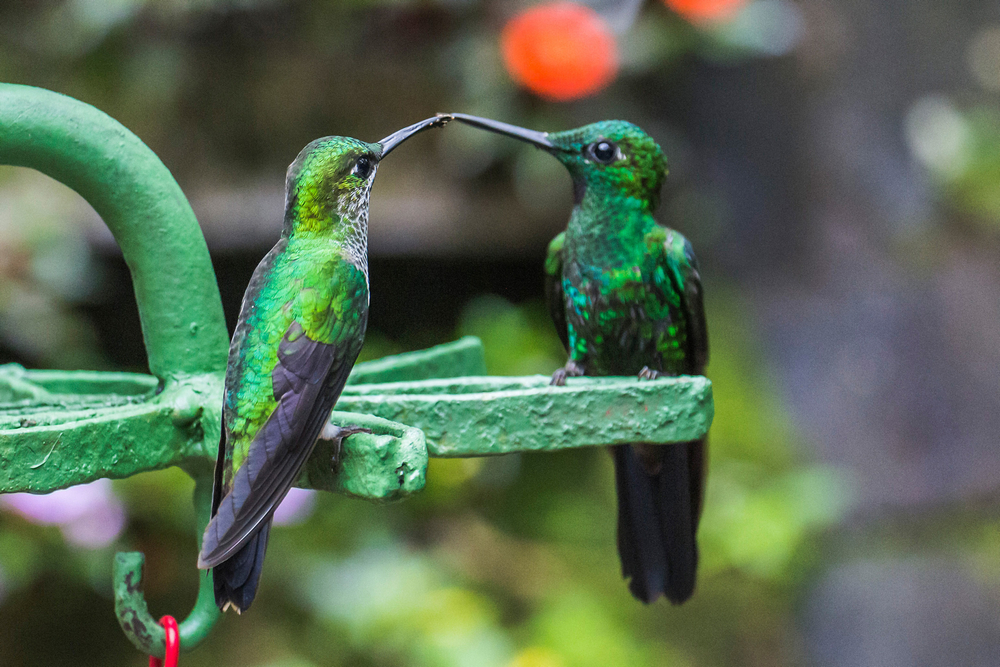 Monteverde is a true bird lovers' paradise, home to dozens of different species of hummingbird and the famous resplendent quetzal, a small bird with bright green feathers – only found in the cloud forests of Central America. Sightings of a quetzal are high on the list for avid birders! Whilst an early morning tour of various private reserves in Monteverde is the best time to see birdlife, real adventurists may be interested in night tours of one of Monteverde's private reserves. The cloud forest comes alive at night, with sloths, tapirs, bats, spiders and snakes lurking within its depths. Sightings, of course, depend on the conditions that day, but activities like these are highly educational, and will hopefully leave you with a profound sense of appreciation for Costa Rica's rich flora and fauna.
4 – Manuel Antonio
Manual Antonio is a small but vibrant oceanfront town, the gateway to the national park of the same name, and a gorgeous stretch of Pacific coastline. Although Manuel National Park is one of the country's smallest parks, it's also one of the best places in the country to see wildlife.
Birders will be in heaven with the 350-plus species of birds that call the park home, including toucans, parrots and hawks. The park is also home to several species of monkeys, including the endangered squirrel monkey and the white-faced capuchin monkey. These playful primates can be seen swinging through the trees and entertaining visitors with their acrobatics.

Sloths, iguanas and several species of snake also live in the lush rainforest here, and although rarely spotted, jaguars and pumas also patrol this immense jungle. Wildlife aside, Manuel Antonia National Park's stunning setting is an inspiration in itself. The park's white sand beaches, crystal clear waters and thick, dense forests give us a glimpse of what the natural might have looked like before human intervention.
When to visit?
Costa Rica's dry season runs from mid-December through to the end of April. Whilst rainfall does increase in May and June, visiting during this time can help to beat the crowds a little and find more competitive rates with certain hotels.
Tortuguero, Arenal and Monteverde can all be enjoyed on our Colours of Costa Rica Tour.
Costa Rica is a natural wonderland, filled with bountiful nature and incredible wildlife. Explore the abundant rainforest and cloudforest, keeping your eyes peeled for the monkeys, sloths and colourful birds that call it home.

Colours of Costa Rica
14 days from £5690pp
Tortuguero National Park - Sarapiqui - Arenal Volcano - Monteverde Cloudforest Reserve - Manuel Antonio - San Jose -
Order your brochure today