No one can bring our tours to life better than those who have seen, done and experienced it all first-hand, so we're opening up the blog to our wonderful customers who want to share their amazing Wendy Wu adventures!
Here David Beadling gives us the lowdown on our Myanmar Explorer Tour – a wonderful journey the takes in all of Myanmar's highlights, showcasing the magical culture, golden temples and magnificent scenery of Yangon, Bagan,Mandalay and Inle Lake.
David Beadling
Myanmar Explorer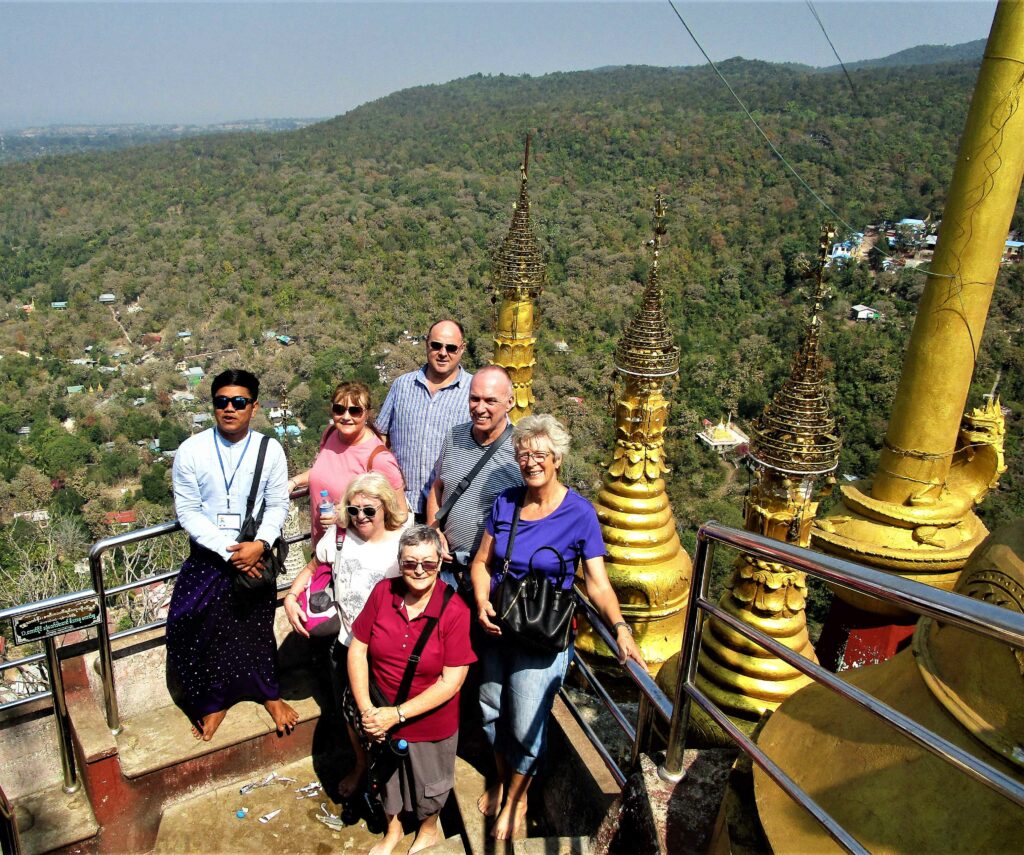 Dreaming of Myanmar
At a relatively early age I had a small encyclopedia which contained a picture of the Shwedagon Pagoda in what was then Burma. I must have been drawn to it subconsciously because once I had visited China it piqued my interest in the Far East, my thoughts moved to Myanmar. Once I had seen video footage of Mount Popa I was sold. On a selfish note it gave me the opportunity to visit somewhere my well travelled sister hadn't, but it was a mesmerising destination irrespective of who had visited it previously, unspoiled, unique and absolutely unforgettable Myanmar.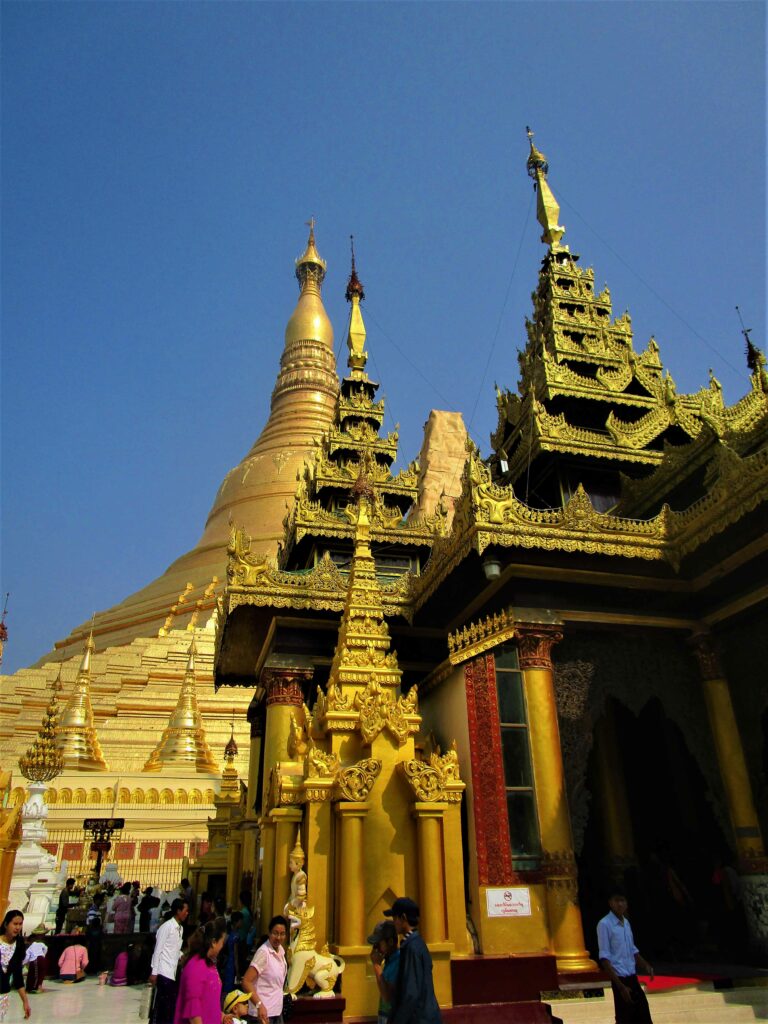 Great Guides
So what made it a great tour? Firstly fantastic local guides. All our guides were supremely knowledgeable, adaptable, customer centric, and nothing seemed too much trouble.
In Yangon this included retrieving a camera left by one of our group at the Shwedagon Pagoda, allowing us time for cocktails in the Strand Hotel, and even changing my remaining kyats for US$ at the airport. In Mandalay, in addition to helping me with my longyi, on quite a few occasions, our guide added a chance to see Ava, an ancient capital, which was fantastic and my personal favourite memory from that part of the tour. At Lake Inle our guide also allowed us to set our own pace, and introduced us to the magnificent Inedin Pagodas
However our personal favourite was William, our guide in Bagan. Clearly his sole aim was to provide us the best experience possible. In addition to the published itinerary he made several unscheduled stops for photo opportunities including getting pilgrims to take team photos at the top of Mount Popa, impromptu shopping and staying later than anticipated to enable us to finish our evening meal. At one point I asked about his family and he told me he had a 3 year old daughter, so I apologised for keeping him away from her, his reply was that whilst we were in Bagan we were his priority, – customer service par excellence.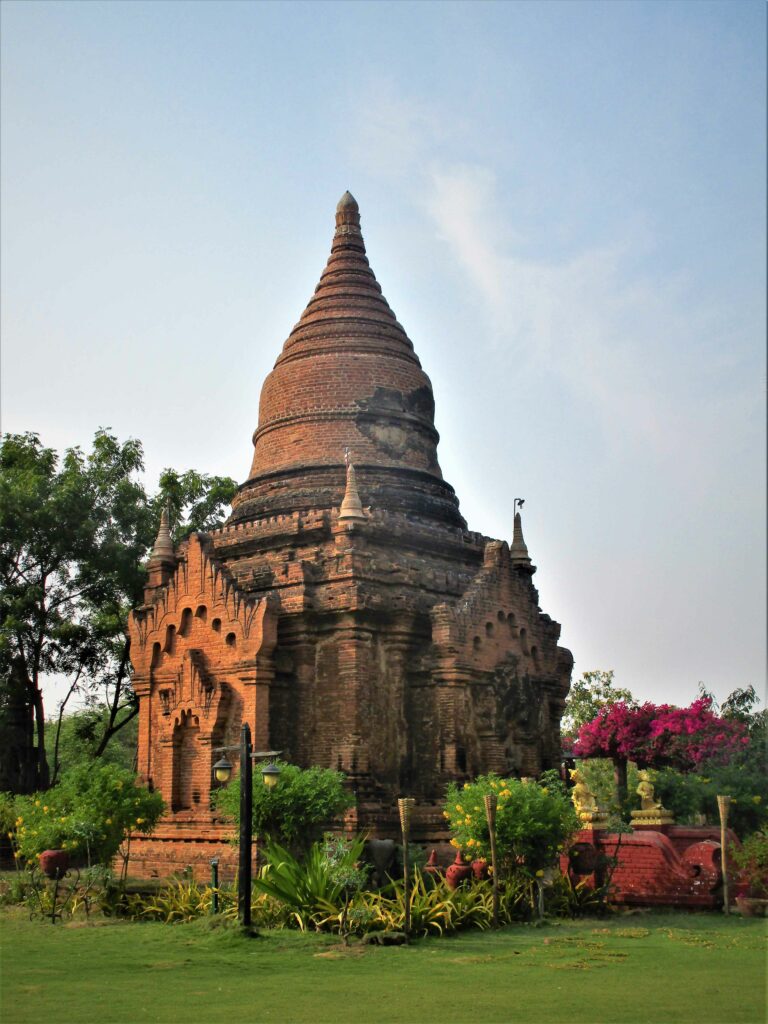 Hotels
Accommodation is key to enjoying a tour, and this did not disappoint. In Yangon and Mandalay the hotels were of international standards, not bad for a country that is supposedly 3rd world. At Lake Inle we stayed in a lakeside hotel which we accessed exclusively by boat and were provided with a lodge bigger than many homes. Our favourite was the Thazin Garden Hotel, a small hotel situated in old Bagan with the two storey accommodation set around beautiful gardens which featured a gorgeous cool swimming pool and some original stupas. Real Myanmar was on our doorstep! It was a world away from the international chain hotels, a real tonic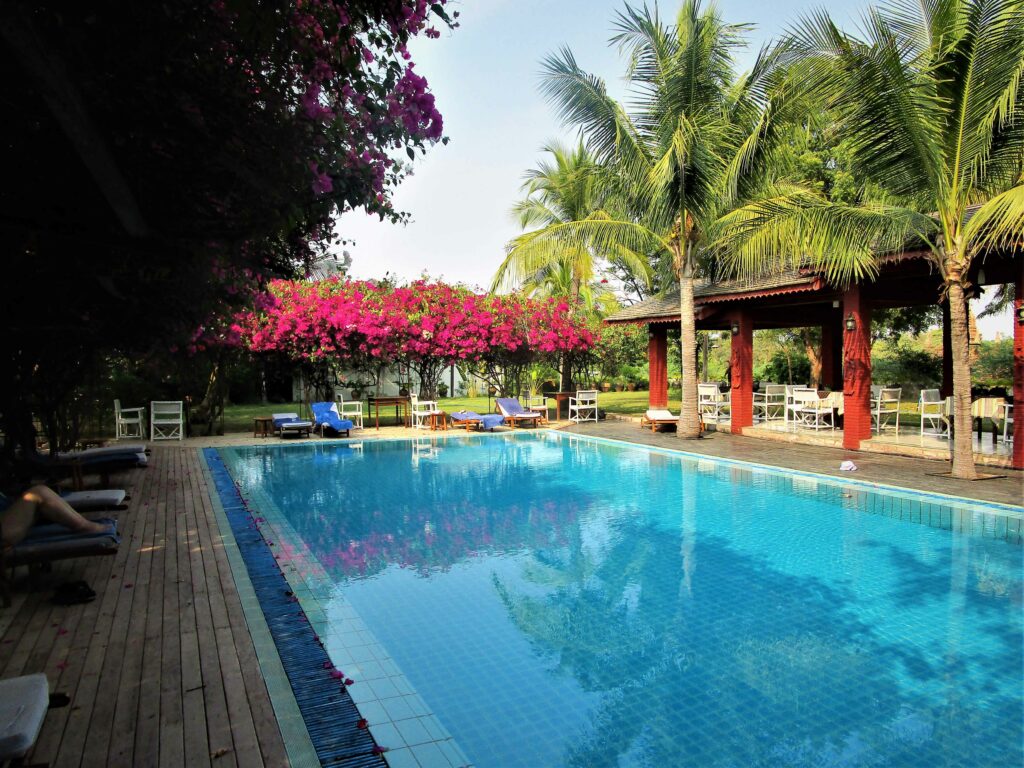 Delicious Dining
Food is also important and with Wendy Wu you can't go wrong, a cooked breakfast, a several course lunch and the same at dinner. It's not for the faint hearted or for those wanting to diet! Breakfast consisted of a mix of oriental and western dishes, most hotels had an egg station where delicious fresh omelettes could be obtained, but this was combined with noodles, rice and many other typically Asian dishes which were interesting to try and made the experience more authentic.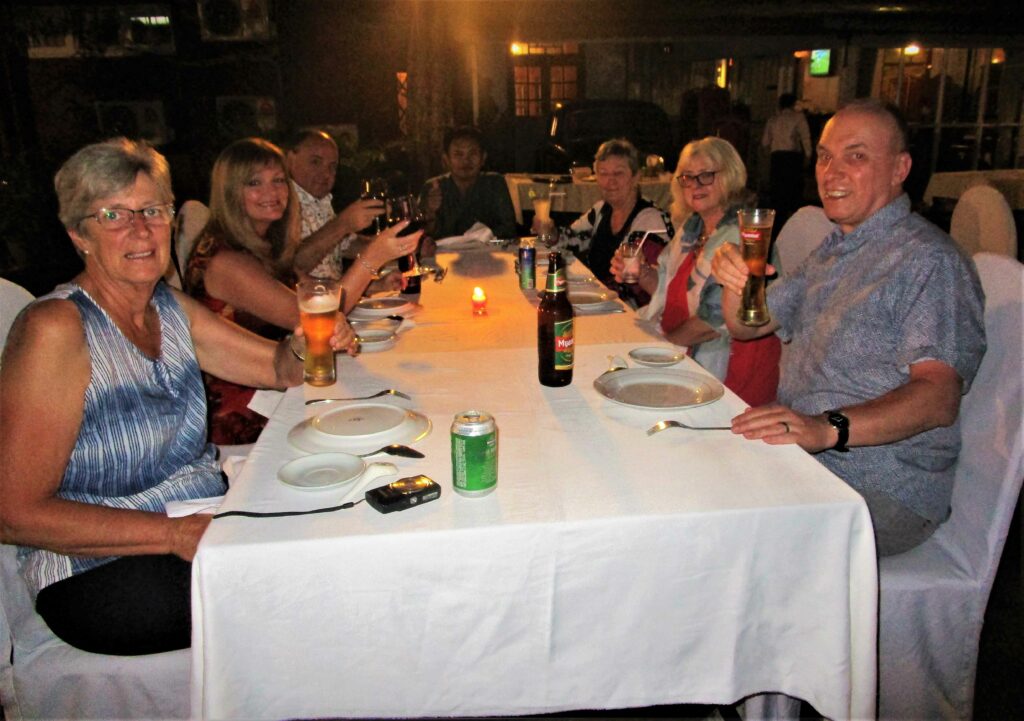 Unlike many tours we didn't eat exclusively in hotels, we ate in local restaurants to obtain a more authentic feel and meant we saw the real Myanmar, and mixed with the Burmese rather than the other tourists. The guides always allowed us input into what we ate and the level of spice, which meant we enjoyed the experience more; in doing so we were able to sample authentic dishes like authentic Burmese curry with tamarind and food with wonderful fresh flavors exuding a fusion of Indian, Thai and Vietnamese.
Unforgettable memories
Having researched the tour I had, what I thought, was a reasonable knowledge of many of the sights we were to visit, however nothing prepares you for the beauty of Lake Inle, the scale of the temples on the plains of Bagan and the majesty of the Shwedagon Pagoda.
However sometimes it is just the things that surprise you that impress the most. Sailing down the Irrawaddy was like a scene from A Passage to India. The views of and from the top of Mount Popa, together with the climb of 777 steps, and barefoot ! Great memories, we weren't expecting, that we will treasure forever.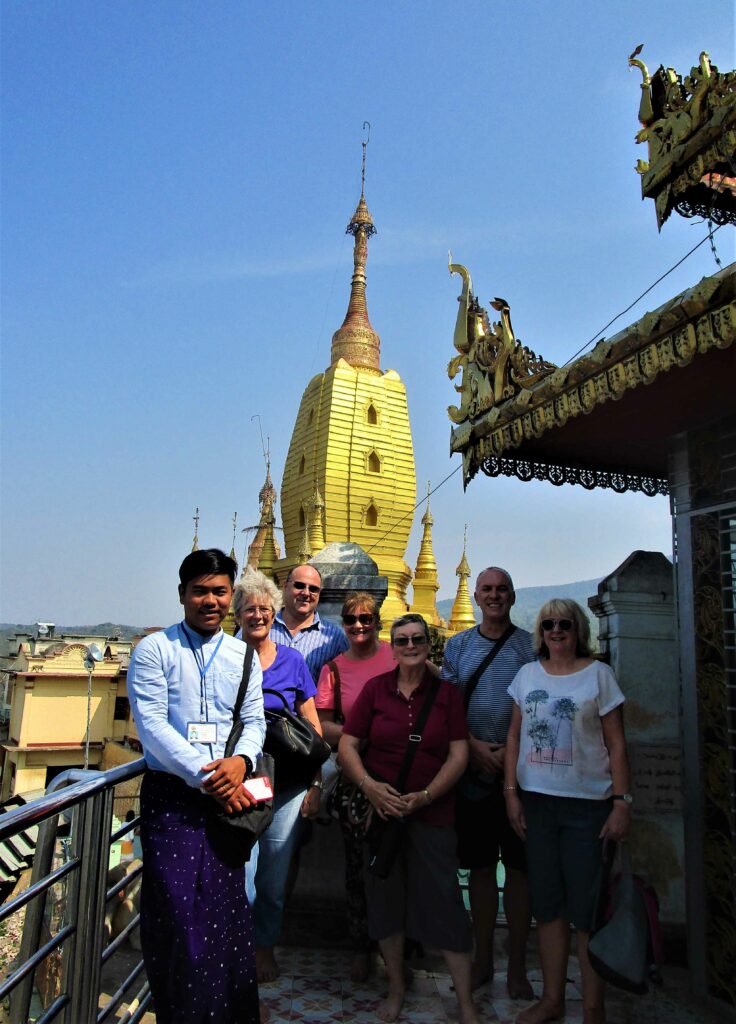 My Myanmar Top Tips
What you need to remember when touring Myanmar is that it is a developing country, particularly in terms of tourism, but for me that adds to the charm.
When boarding boats on the Irrawaddy there were no quaysides to help you step on to the boats gracefully, no you walk down a mud (albeit dry) bank and clamber in, on one occasion as our boat was the third one out we needed to walk along two planks to reach it, with only a bamboo pole held by two guys who were half the size of us to balance with.
The provincial airports are like something from the 1940s. Arriving at Bagan airport we headed for the baggage reclaim area, when we got there, there was no carousel, just an empty room. Then two men arrived dragging a cart with all our cases on and we just had to grab our own! Similarly when departing we went to check in, no computers were involved we merely gave our names, we were ticked off a list and given a colour coded sticker depending on flight and destination.
When crossing the river to Ava, we were in a small boat. Everything was going fine then we noticed one of the crew using an old margarine tub, to bail water out of the boat! But it all worked, and added to our memories.
Any regrets,? I would have loved an extra day in Bagan to perhaps have the opportunity to enjoy a dawn balloon ride over the plains and see the walled old city centre. But as always we have to balance obtaining a full itinerary with a finite timeframe, which Wendy Wu always manage to do with style!
However, no matter how good the itinerary is, a tour can be made by the people you travel with. And we were fortunate enough to travel with a small group who gelled immediately and made the tour complete.
As always, Wendy Wu, you made a holiday of a lifetime, a great tour with great people.