This iconic hilltop castle, dating back four centuries to the Edo Period, lies 60 miles west of Kyoto in Himeji, Hyōgo Prefecture. It is the largest castle in modern Japan and also known as the 'White Heron Castle' because of its stunning white façade. You may also recognise it from the 1967 James Bond film, 'You Only Live Twice', in which it was used as the setting of the Japanese intelligence service's fictional 'ninja training camp'.
Himeji Castle is a prime example of Japanese feudal architecture, having been first established as a fort in the 14th century, and extensively redeveloped in the 17th century at the beginning of the 265-year Edo Period (also known as the Tokugawa Shogunate period). Defended by a vast network of walls, gates, moats, baileys, mazes and arrow-slits, and clad in its distinctive fireproof white plaster (dozo-zukuri), it served as a private residence, political centre, military garrison and armoury.



The castle has guarded the western approach to Kyoto for centuries; however, as no battles were fought here, it is now the best-preserved example of a medieval castle in Japan. Many Tokugawa-supporting fortresses were destroyed following the 1868 Fall of Edo (Tokyo), when power was stripped from the Tokugawa Shogunate and fully restored to the teenage Emperor Meiji. We are very lucky that Himeji Castle survived for us to enjoy today.
Today, Himeji-jo remains one of Japan's most significant and beloved castles; in 1993, it was honoured as Japan's first UNESCO Heritage listed site, and the recent cleaning and restoration of the keep's beautiful white colour has left it more photogenic than ever. It's no surprise that this magnificent castle often finds itself at the top of visitors' must-see lists. 



Join us in visiting Himeji Castle and its traditional Koko-en gardens on many Wendy Wu tours to Japan, including Jewels of Japan, Japan Uncovered, Japan & The Scenic South and Off-Beat Japan.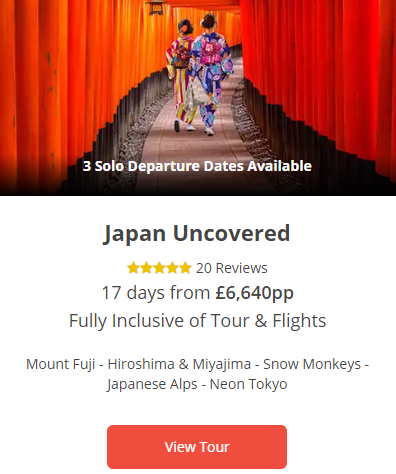 Japan Uncovered is our most extensive and most popular tour of Japan. It includes all the classic sights and key cultural activities. Featuring modern cities, historical sights and beautiful landscapes, Japan Uncovered ensures you get the most out of your trip to this fascinating land. If you've been wowed by Joanna Lumley's Unseen Adventures on ITV, this tour is the closest itinerary you can get to following in Joanna's footsteps
Want to see the beauty of Himeji Castle for yourself? Explore our fantastic range of Japan group tours, or perhaps create your own tailormade trip, and order a free Japan brochure below…