There are many excellent superlatives that you can use to describe Vietnam – exotic, compelling, enchanting to name a few – and they are all true, it is a country that boasts a rare and magical beauty. While its diverse and magnificent landscapes are a big part of that, it is the culture that really makes holidays to Vietnam so delightful.

Complex and distinct, Vietnam's culture is reflective of its history. As you discover more of the country, you'll see elements of Chinese, Champa and Khmer, and French heritage in things like architecture, food and language, left behind by invasions and occupations of times gone by. Add in the influence of indigenous cultures, ageless traditional values and, of course, the more recent influence of the West and together they form something unique, tangible and utterly fascinating.

Of course, it's easy to find culture no matter where in Vietnam you happen to be, but there are some places that display it more overtly and experientially than others – here are our Top 10 places that do just that: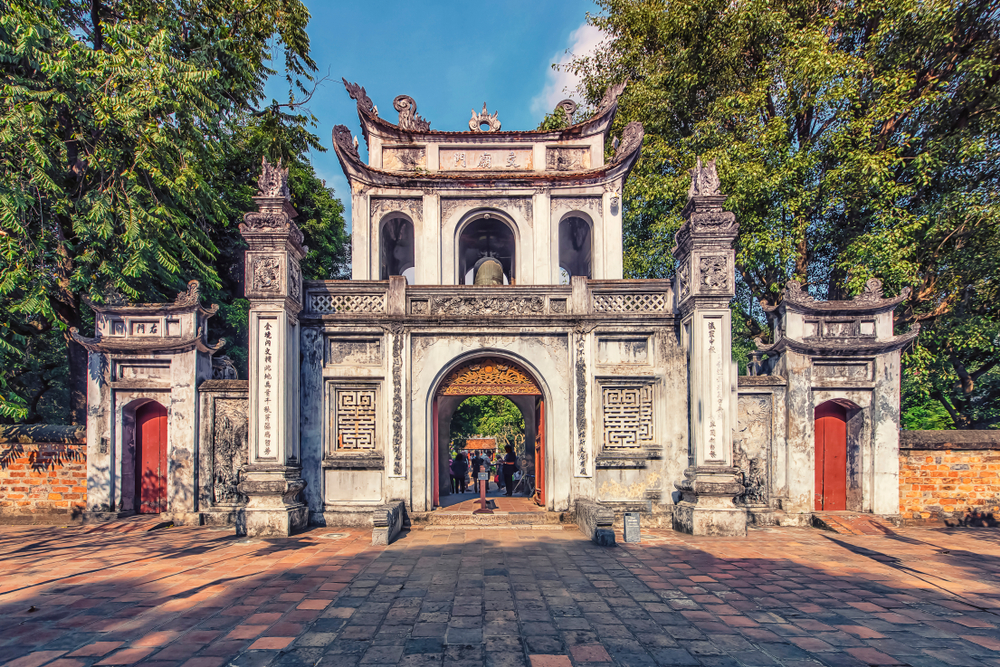 1. The Temple of Literature, Hanoi
A place of peace at the very heart of bustling capital Hanoi, the Temple of Literature is dedicated to Confucius and honours Vietnam's scholars. One of few good examples of traditional Vietnamese architecture, the temple was built in the 11th century by Emperor Le Thanh Tong and was also Vietnam's first university. Still today, academics hold an honoured place in Vietnamese society, so you'll likely see students visiting the temple to pray and leave offerings for good grades as you wander its gardens and precincts.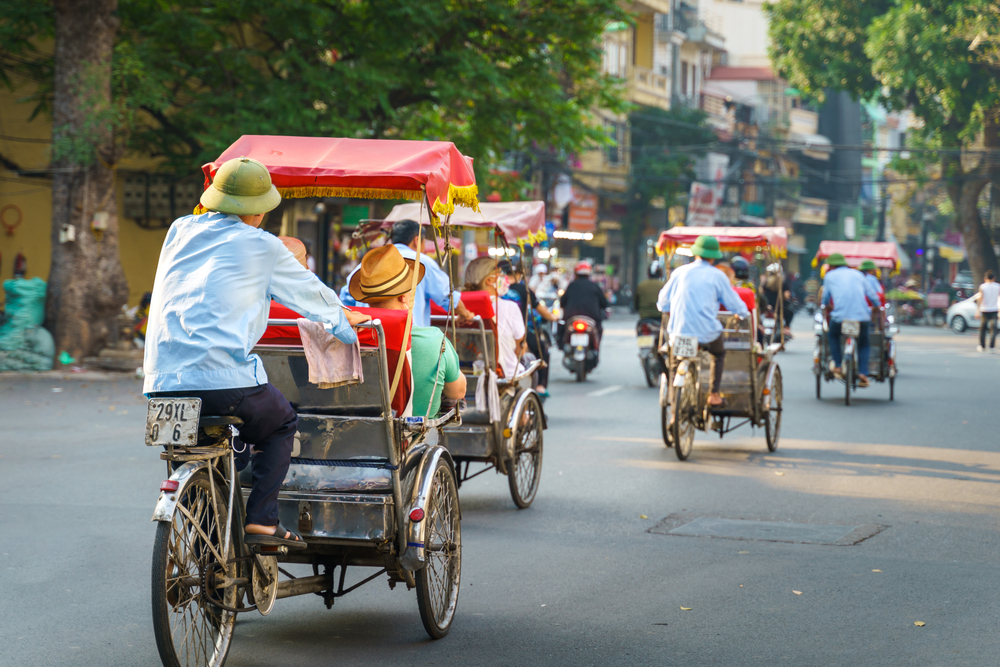 2. Old Quarter, Hanoi
A maze of narrow, busy streets, lined with old brick buildings that have long been the haunts of merchants and artisans, the Old Quarter has a timeless quality that allows you to feel like you've stepped back in time. At its heart is Hoan Kiem Lake where, legend tells, a magical sword was sent to Emperor Ly Thai To which he used to drive out the invading Chinese. A golden turtle then took the sword and returned it to the lake. Hoan Kiem remains a focal point of local life and you'll often see people performing Tai Chi on its banks in the mornings.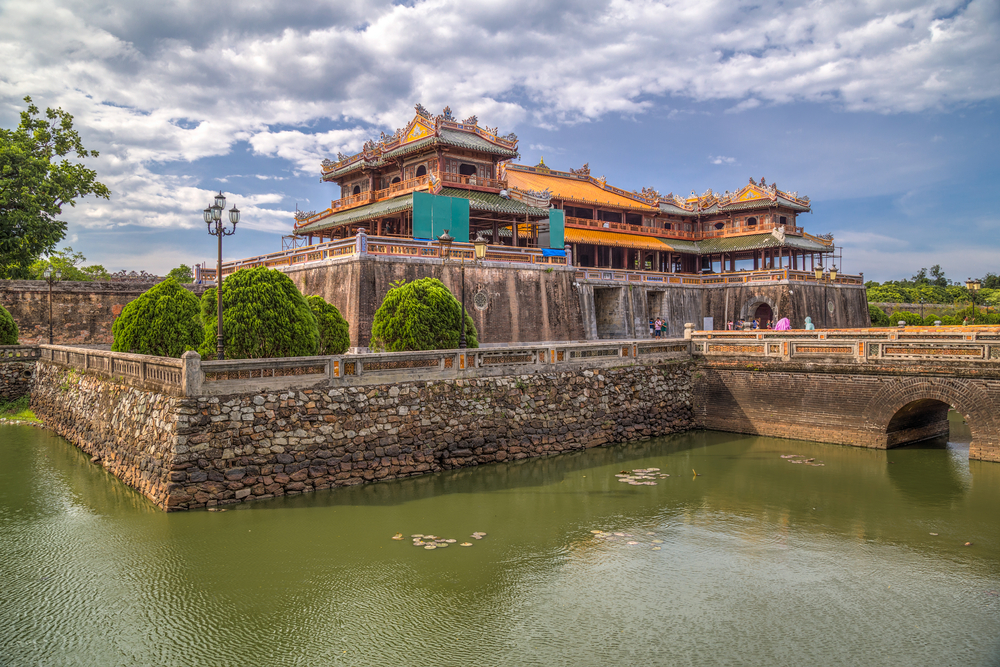 3. The Imperial Citadel, Hue
Having moved the capital from Hanoi in the early 19th century, it was from Hue's Imperial Citadel that the Nguyen Emperors ruled Vietnam from 1804 to 1945. Hidden behind two kilometres of ramparts and a moat, it is a city within a city, with the Forbidden City at its heart. Damaged by two wars, its grandeur remains intact, so it's easy to imagine the emperor, royal family and a whole court of concubines living a lavish life in what remains of the elaborate halls, pavilions and gardens.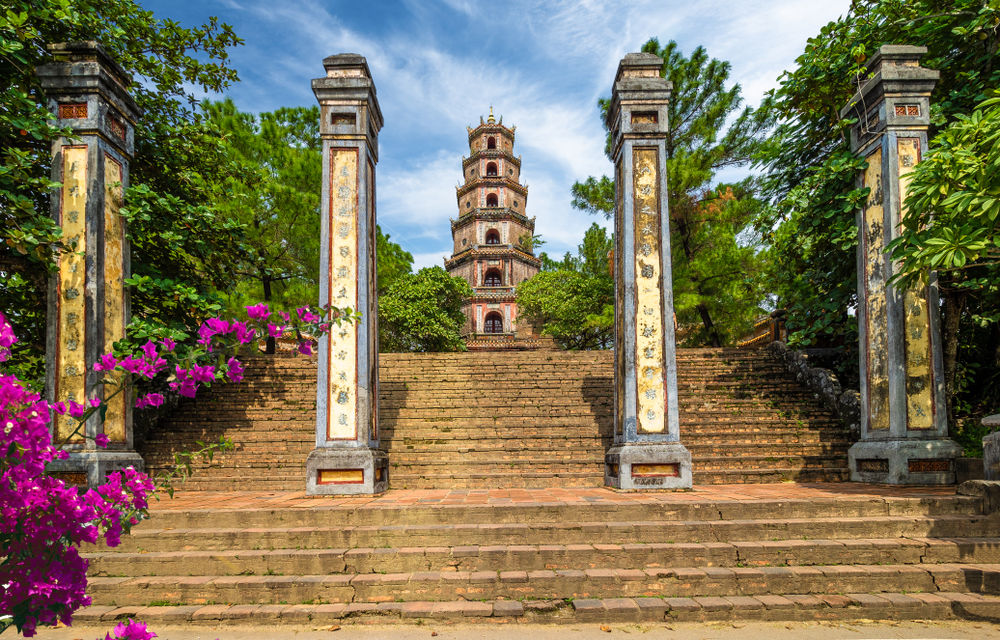 4. Thien Mu Pagoda, Hue
The Thien Mu Pagoda, considered one of Vietnam's loveliest religious sights, is a 21-metre-tall octagonal tower built on the banks of the Perfume River. Built in 1844, each of its seven storeys is dedicated to a manushi-buddha – a buddha in human form. Just outside of Hue, it is part of a greater monastery complex that has been an epicentre of political demonstrations since the 1960s, something that you can learn more about on a visit. When you've finished exploring it offers a picturesque, peaceful spot to sit and contemplate the beauty of life.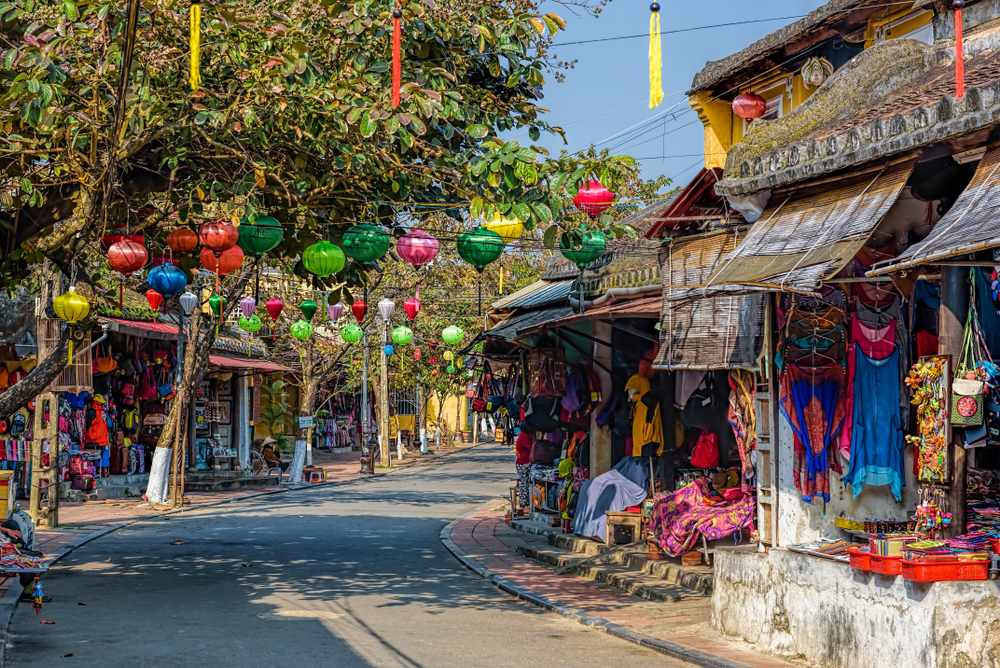 5. Hoi An
The town of Hoi An, a Unesco World Heritage Site, boasts the riverside setting and magnificent buildings that befit its status as a former major port, but has all the delights and charms of a small, historic town. Its cobbled streets are blissfully traffic free, festooned with lanterns, and lined with old warehouses, Chinese temples and Japanese merchant houses, many now occupied by lovely little cafes, shops and restaurants. At the heart of the Old Town is the Zen-inspired Japanese Bridge; built to connect Hoi An's Japanese and Chinese communities in the 1590s, it has become the symbol of the town and cooperation.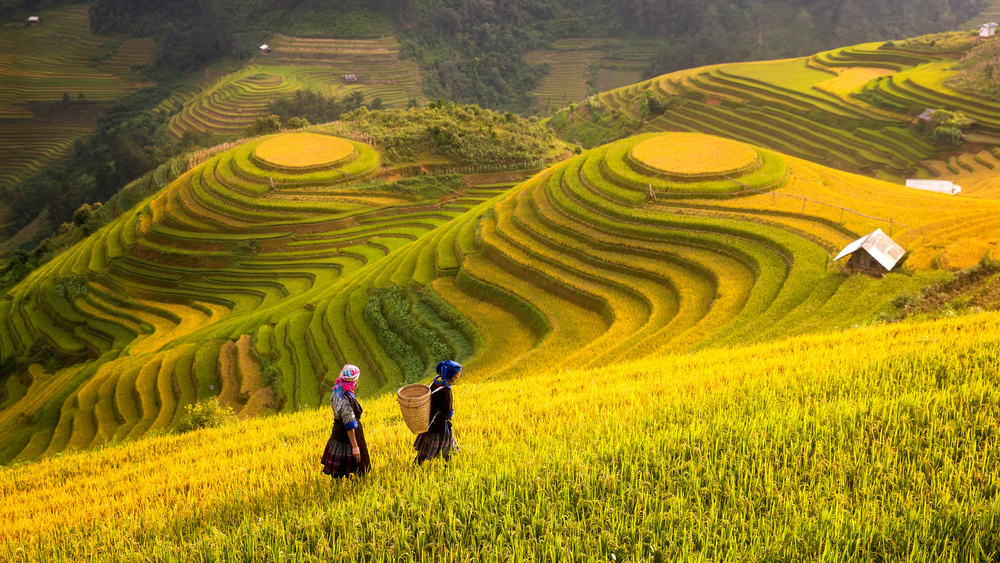 6. Sapa
In the mountainous reaches of northern Vietnam, Sapa was founded as a French hill station in 1922, its cooler climate offering a respite from the heat of the lowlands. Overlooking a plunging valley and miles of tumbling rice terraces, it is a breath-taking place, but another major reason to visit is the fact that it sits at the heart of an area populated by ethnic minority hill tribe communities. In Sapa itself you'll find members of the communities in their colourful, traditional dress selling handicrafts but if you embark on some of the spectacular hikes into the surrounding countryside, you may be able to visit a hill tribe village and learn about their culture and way of life.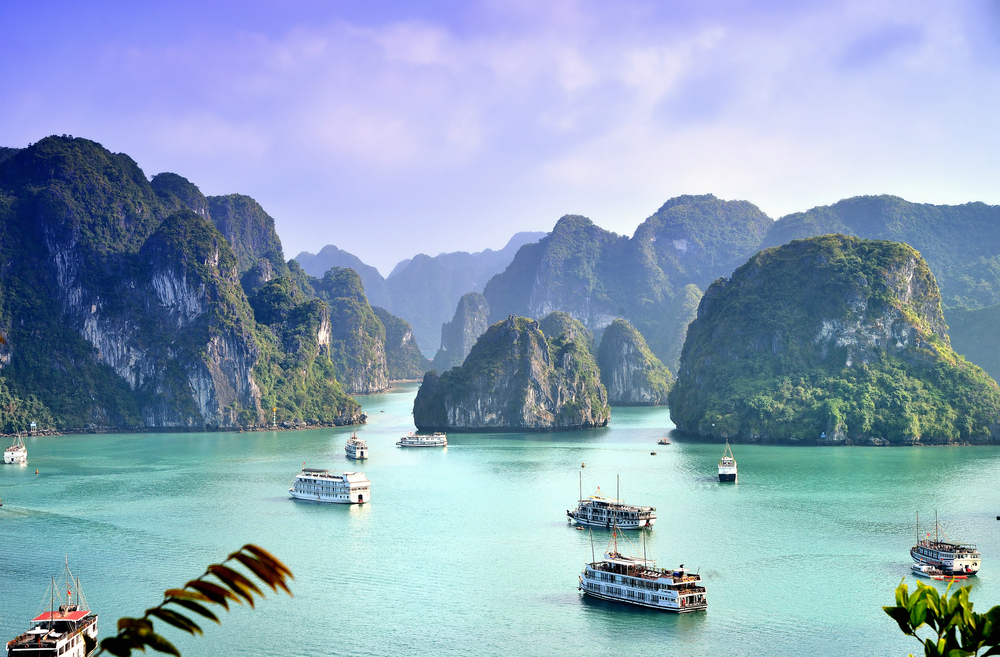 7. Halong Bay
While Halong Bay offers bucketloads of natural beauty, it's not as much of a cultural destination as the other places on our list; the legend behind it, however, gives a great insight into Vietnamese folklore. Myth tells us that the Vietnamese had to fight off invaders who attempted to enter Vietnam by sea, so the legendary Jade Emperor called on the gods to send Mother Dragon and her children to help them fight. The dragons heeded the call and went to battle, destroying the enemy in a blaze of fire. After the enemy was defeated, the teeth of the dragons appeared as giant emeralds in the bay forming an impenetrable barrier. Over 1,000 years the walls of emerald became the islands and columns that are in Halong Bay today. In their honour the bay was named Ha Long – 'bay of descending dragons'.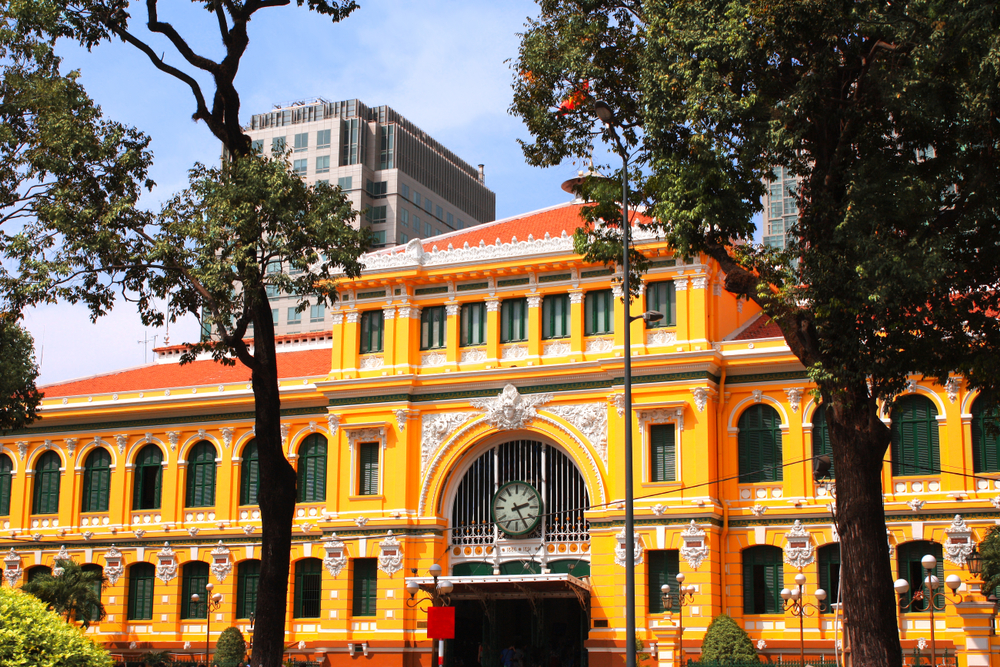 8. Central Post Office, Saigon
Who would expect to find a huge Gothic, Renaissance, French colonial building in the heart of Saigon, Vietnam's largest city? The Central Post Office is just that, with it, the Notre Dame Cathedral and Saigon Opera House just some of the city's architectural gems left behind by the French. The Post Office though is particularly magnificent; designed by Alfred Foulhoux, its bright yellow exterior hides tall domed ceilings, metal arches and tiled floors and all sorts of exquisite detail.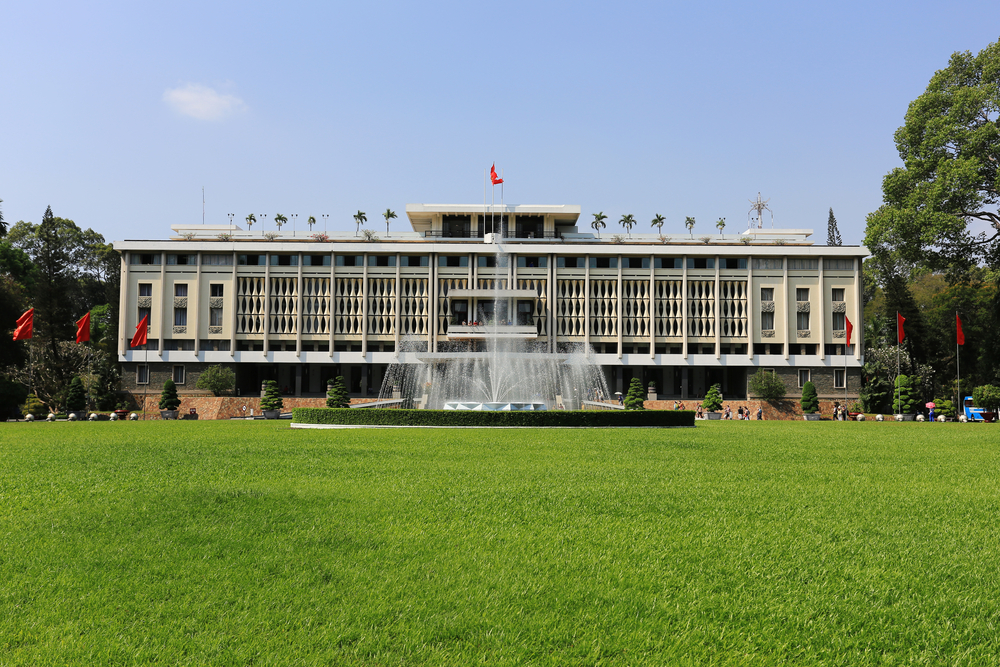 9. Reunification Palace, Saigon
Also called the Independence Palace, this airy Modernist government building is the site of one of the most important events in Vietnam's recent history. Deserted today, it was the South Vietnam President's offices and leaving quarters until, in 1975, Communist tanks burst through the metal gates as the city of Saigon fell to the Viet Cong at the end of the Vietnam-USA War. As well as its significant place in history, its also an excellent example of 1960s architecture!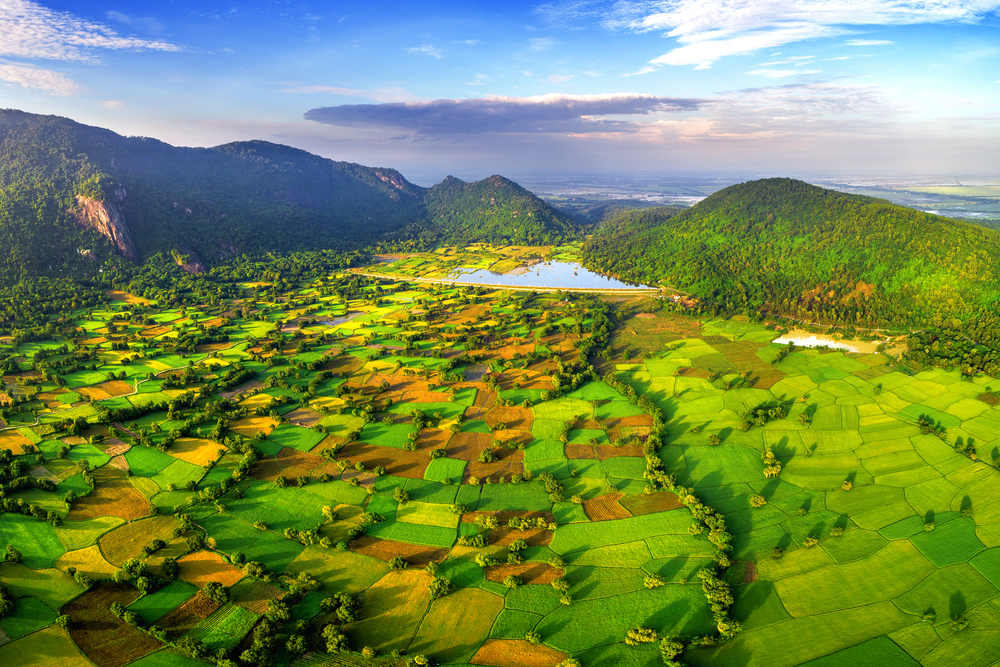 10. Mekong Delta
In the Mekong Delta you'll find the classic image of Vietnam – endless scenes of emerald rice paddies, wallowing buffaloes and conical hatted farmers working the fields. Called the 'rice bowl' of Vietnam, the delta is a lush, watery world where rice, fruit and vegetables are grown in abundance, where many homes and plenty of markets float on the rivers and canals. Nature is particularly ingrained in Vietnamese culture, especially life-giving rivers and paddy fields so it is an area that you can not only enjoy for its bountiful beauty, but for the reverence that it inspires in the local people.


Vietnam Panorama
18 days from £3240pp
Fully Inclusive of Tour & Flights
Mekong Delta - Cu Chi Tunnels - Po Nagar Cham Towers - Halong Bay Cruise
Order your brochure today