Basi the giant panda who lives at a zoo in Fuzhou city is now the oldest panda on mainland China and is the equivalent of 100 human years old.
The zoo that she lives in has kicked off celebrations for the panda, who will hit her 35th birthday in November.
In order to celebrate her birthday there are a number of things happening across the Fujian province, such as an animated film being produced of her life, paintings and drawings being made and members of the public being selected as 'Panda Ambassadors' in order to promote scientific knowledge of giant pandas in schools. It will be a busy time in the area, with the celebrations expected to bring more people than ever to the zoo and it will more than likely be a stop for those on holiday in China.
The most famous panda in China
Basi is the most famous panda in China as she was chosen as the prototype for Pan Pan, the mascot of the Beijing Asian Games in 1990.
Her life is a far cry now from what it could have been. She was rescued from a river in the Yongfu Village of Baoxing County in 1984 as she had slipped into it trying to get food and had got stuck between some stones. Li Xingyu, who was a farmer in the area, jumped in immediately to save her and pulled the panda up the bank to warm her up. The next day she was collected by the Wolong Giant Panda Protection and taken to their research centre in Sichuan, where they nursed her back to health and then moved her to Fuzhou Panda world, where she currently resides.
---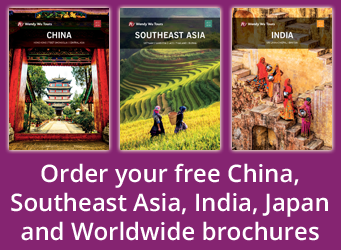 Visit China with the UK's leading China Experts, Wendy Wu Tours. Our award winning escorted, fully inclusive China tours visit all the major sights of China for an unforgettable holiday.
We also have amazing tours to Cambodia, Vietnam, Laos, Japan, India and beyond…
---
Image Credit: Andrew Lawson (www.Flickr.com)