Whether it's China, Vietnam, India or South America that you're looking to explore, sharing your far-flung journey with a group can be a fantastic travel experience!

Whether it's your first-time long haul or you're a seasoned globetrotter, arriving into a new destination can be an unnerving experience. With a group tour, you get the benefit of qualified guides who have in depth knowledge of your destination as well as getting the chance to discover some of the world's greatest treasures with a group of friendly, like-minded people.
Ever wondered how a group tour works, what to expect and how to make the most of travelling with others? We spoke to expert travel bloggers and first-time voyagers alike, answering the FAQs of touring together to create your guide to group tours.
The Group Experience
First Impressions
Travel in any guise is about getting out of your personal comfort zone and exploring the unique cultures, history and way of life around the globe. On a group tour, you'll have the opportunity to do just that with people who share your common interest. Together you can push your boundaries and see another part of the world with the security of a guide that knows your chosen destination well.
Wendy Wu's own Daniela had never been on a group tour before she was whisked off to experience enchanting Asia for herself. She tells us about her holiday to China and delves into the previously unknown world of social adventures:
"The first morning, we all met in the lobby of the hotel and I have to say that everyone was very friendly and chatty. We all had name badges so it was easy to remember everyone's names. By the time the group tour was 3 days in, I can honestly say that it was like my group was my own extended family!

"Even though we were all different ages, from different countries and walks of life, we all got on very well and it was lovely to share our experiences with each other. By the end of the tour, I was sad to see everyone go! We still all keep in touch via email.

"I always had the impression that group tours would be restrictive, but as long as you choose a tour that visits the places you want to see, it is a great way of travelling! The added information from local tour guides was invaluable, and I loved how I didn't have to research how to get to a certain place as it was all pre-arranged. I just had to worry about what I was wearing and make sure my camera was charged!"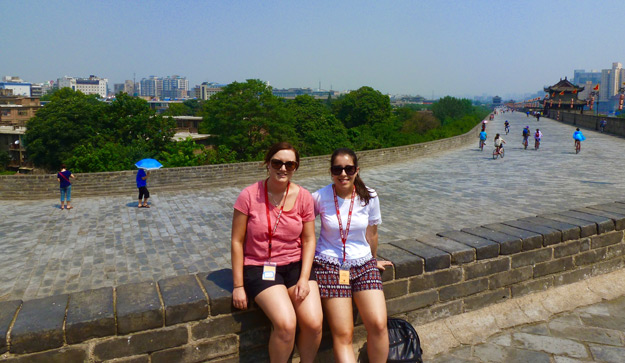 Making Connections
For many of us, a holiday is a chance to take a break, unwind and let someone else do all the organising. In the case of a group tour, it's a professional who plans all of the day to day sightseeing and explorations, allowing you to simply show up and enjoy the adventure. All these exciting new encounters, though, are experienced alongside people that you've never met before the trip.
As confident as we'd like to be, those initial introductions can sometimes leave us feeling a little shy. Blogger Charles has journeyed to destinations around the globe including the Americas, Africa and the Far East. Sharing what he's learnt on travel blog Don't worry just travel, here's his advice for those just starting out on group tours:
"Before I became a travel blogger, I sometimes joined group tours, when I felt too uncomfortable to explore a country alone.

"I recommend first-timers to be open minded and to listen to other people and their experiences without judging them too soon. Be open minded and friendly and make new friends.

"Don't be too scared of the new experiences. Try and do what the tour guide recommends because he knows what his clients like."
Wendy Wu's Daniela remembers meeting her tour companions for the first time too, adding:
"When you travel in a group, remember that the Tour Guide will be meeting you all for the first time as well! They will encourage conversation and will ask lots of questions, so don't be afraid to get involved."

Tailoring Your Tour To You
Taking advice from your tour guide is a great way to see parts of a country that you might otherwise have missed, but if you're keen to do some sightseeing at your own pace, tour companies are generally happy for you to break away before returning to the exciting itinerary.
Once you've decided where in the world you'd like to visit, it's well worth really doing your research before you decide on a tour in that region. It's likely, for example, that if you want to experience the diverse culture in a new place, a tour focusing on the area's nightlife isn't going to give you that opportunity. Look at what a tour entails, will there be a lot of walking? Are you given the chance to go off the beaten track or will you stay around known tourist attractions? These are just a few questions to consider when identifying your ideal group tour and the types of people you're likely to be travelling with.
Zoë Dawes, the voice or 'wordsmith' behind travel blog The Quirky Traveller, has not only visited a multitude of far-flung places but has lived in them too, settling in the likes of Greece, Hong Kong and Singapore while pursuing adventures abroad. She describes her time spent on tours:
"I've had various experiences of group travel, some good some bad. Good ones are generally smaller groups with like-minded people, sharing an interest in where we visit and also not fussed if people do their own thing now and again.

"One of the best was a group trip to Ecuador and the Galapagos Islands where we all shared a love of the wildlife, ecology, history and culture of the country. The tour company was excellent, it was very well organised and I loved every minute."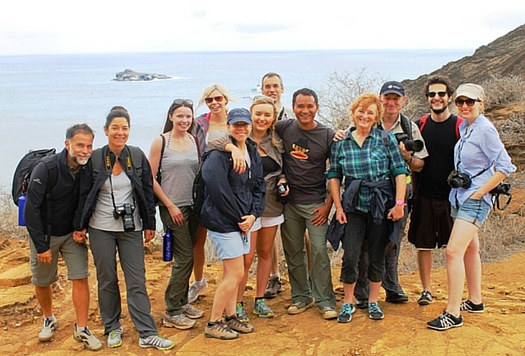 Before you travel
While opting for a tour affords you the luxury of not having to plan daily excursions, find places to dine or book accommodation, many holidaymakers may be feeling apprehensive ahead of their first experience of group travel. These simple tips will help you prepare ahead of departure:
"Make sure you know as much as possible about the tour company beforehand. Check out the age range and interests of fellow travellers if possible and also have a look at the itinerary," suggests Zoë.
Likewise, Daniela says "Study the tour dossier so you know where you will be going on a daily basis. Familiarise yourself with the local customs, learn a few phrases such as 'please' and 'thank you', and make sure you have plenty of memory on your camera!"
Think about any special requirements you may have and let your tour company know when booking. If you have allergies, health complaints that may dictate the kind of accommodation you can stay in or have special dietary needs, it's important to tell your guide so they can arrange any provisions for this and make sure you enjoy your time away.
Arriving in your destination, undoubtedly you'll want to get out and about exploring all that it has to offer without delay. To avoid having to stop and find a bank or bureau de change first, take care of the more practical aspects of your holiday before you set off.
Travelex provide tourists with over 50 currencies and services to help them look after their finances when overseas. When it comes to sorting your currency ready for the tour, Travelex explains:
"We always advise travellers to organise their travel money ahead of their trip, in order to avoid any unnecessary stress at their destination.

"At the very least we advise travellers to have some foreign cash on them for when they arrive, enough to pay for a taxi, in case they can't find a cash machine right away. We would suggest travellers order their currency online, to ensure a competitive rate.

"If travellers plan to take a lot of cash then we would recommend they take a prepaid card such as a Travelex Cash Passport, which is chip and PIN protected and not connected to a bank account."

Enjoy the ride
Striking up conversations
You've arrived in your chosen destination ready to start your tour, so what next? Well, enjoy! For many, tours a world away from home are a once-in-a-lifetime experience and you can make the most of it by simply relaxing, spending time getting to know your new tour friends and soaking up the culture.
For new arrivals, Daniela says:
"Don't be afraid to talk to the other people in your group! They're all on the tour for the same reason as you – to enjoy a new destination and learn all about its history and culture – and they would love to share their thoughts with you."
You'll likely be spending the majority of the day with others in your tour group and breaking the ice early on can get you all well on the way to sharing the exciting new explorations you undergo during your time away. As everyone in the group is in the same boat, undoubtedly you'll all be feeling the same way about approaching new faces, so why not be the first to strike up a conversation? You never know, you could make a friend for life.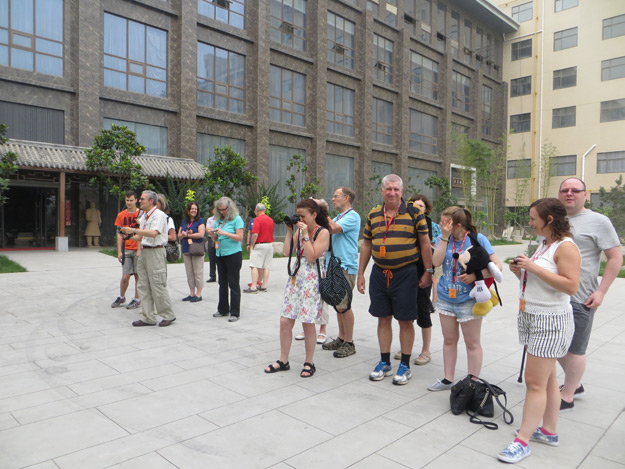 Daniela adds,
"On the tour, a great time to talk to the others in your group is when having lunch or dinner. In China, meals are served in large dishes which can be spun on a Lazy Susan to be shared, and conversation can strike up very quickly over Kung Po Chicken!"
Cultural connections
You can take further inspiration from the culture you're encountering to inspire discussions; after all you're all immersed in this journey of discovery seeing some of the world's most iconic landmarks, trying new things and witnessing a different way of life.
Charles adds,
"The absolute number one for me is to get out of the mind set box of your home place and to realise that other cultures solve the same problems in different ways. And of course to realise what a wonderful blue ball we live on and that we should take care of it.

"When I travel, I look at things and it makes me cheerful and happy to do so. Everyone is an explorer and if you explore, you're happy, you're in a flow."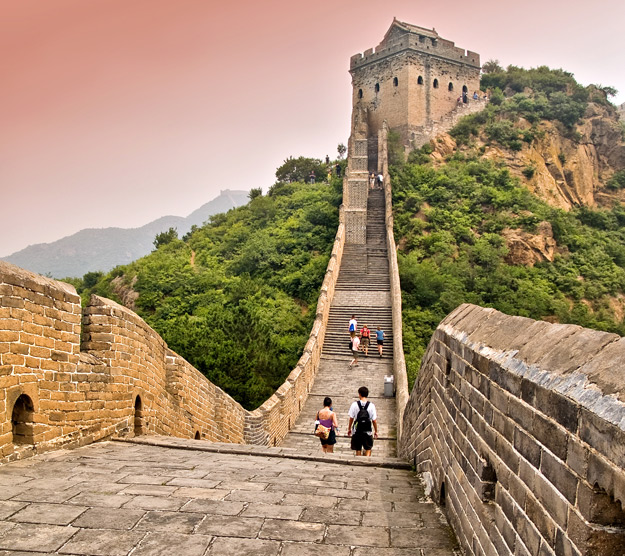 Whether planning a trip to a new and foreign place or simply looking for a more social travel opportunity, group tours are a great way to see exotic destinations safe in the knowledge that the organiser has arranged an exhilarating schedule, sorted all accommodation and transport and with first-hand experience of the country, can provide you with the best it has to offer.
Daniela says,
"I never thought that travelling in a group would be for me, but I can see why so many people choose this way to holiday. Group touring is always led by a guide, and nothing was too much trouble for him! We felt safe, educated and we all had a fantastic time.

"As Wendy Wu Tours' holidays are all fully inclusive, the whole group tour experience ran like clockwork, from the coach picking us up in the morning to sightseeing in the day to the evening meal to returning back to the hotel in the evening. We didn't have to think about any of the logistics – a group tour allowed me to simply enjoy the wonderful experiences of the destination."
Regardless of how you normally travel, a group tour is a must for anyone who loves to explore and wants to share the experience with like-minded people.
---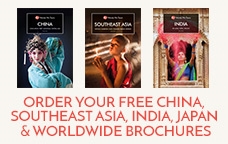 Book a group tour  with the touring specialists, Wendy Wu Tours. Our award-winning group tours include international flights, accommodation and all or most meals, and visit all the major sights. That's one unforgettable holiday!
We have amazing tours to China. Japan, India, Southeast Asia and South America.