Beijing's newest tourist attraction for those booking holidays to China is not an historical monument, but instead a death-defying glass bottomed viewing platform that's sure to terrify!
Located 40 miles from central Beijing, the new viewing platform protrudes over the edge of a 400m high cliff in the stunning Jingdong Stone Forest Valley. Eleven metres longer than its sister viewing platform that hangs over the Grand Canyon in the USA, it is now the longest glass bottomed viewing platform in the world.
Whilst it has only been open for one month, it has already attracted many day trippers from Beijing who, according to the Daily Mail Online, are "really stressed out at work and can use this to relax." Many tourists have struggled to walk along its length whilst others have enjoyed doing push ups on the glass, taking selfies or partaking in yoga.
The government hopes that it will attract both national and international tourists to stay in the Beijing area for longer. Whilst most tourists will visit the famous attractions of China's capital, such as the Forbidden City and Tiananmen Square with one day trip to see The Great Wall, the plan is to make the greater area around Beijing more attractive.
China's Love For Glass Bottomed Viewing Platforms
The viewing platform in Beijing is not China's first glass bottomed attraction. In fact, in the past two years there have been other glass bottomed structures built all across the country.
In 2015, a glass observation deck was built in Longgang National Geological Park in Chongqing and two glass bridges were built in Henan and Hunan province.
In July 2016, the world's longest and highest glass bottomed bridge is to be opened in Zhangjiajie National Park.
---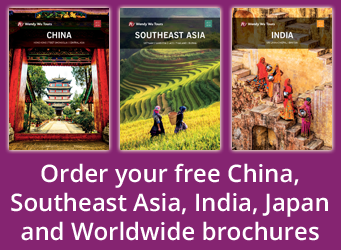 The UK's leading China Experts, Wendy Wu Tours, can help you plan your perfect holiday to China. Our award winning escorted, fully inclusive China tours visit all the major sights for an unforgettable holiday.
We also have amazing tours to Vietnam, Cambodia, Laos, Japan, India and beyond…