The Chinese capital is one of the most visited places in the world and for good reason: there is so much to see and do.
If you are heading on China holidays or tours later this year, or are considering a trip to Beijing in the near future, then check out the Wendy Wu Big 5 in Beijing to find out about the top five attractions in the city, the top five foods to eat, the top five free attractions in China and five specialist insider tips for visiting the city.
Top 5 Beijing Attractions
Temple of Heaven
One of the top Beijing attractions is the Temple of Heaven, a medieval complex that is commonly referred to as the Altar of Heaven.
Chris W, who is behind Chris Travel Blog, recommends going to see it.
In a recent post, Chris W talks about the temple,
"We went to the Temple of Heaven. Built back in 1420 for the Emperors of the Ming and Qing dynasties, the temple was used at the winter solstice on the highest terrace of the alter (heaven, the other two being earth and humans)."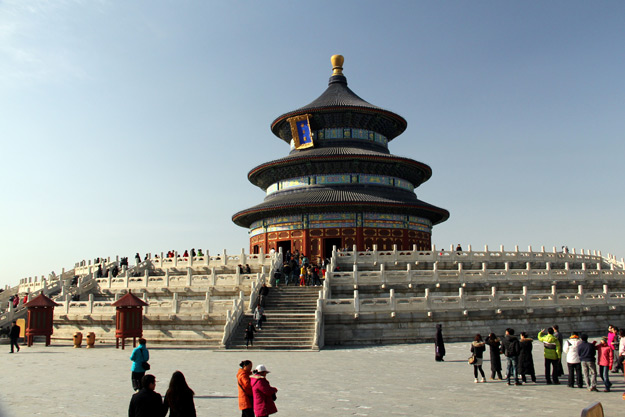 Forbidden City
Chris Travel Blog also recommends visiting the Forbidden City, which is located in the centre of Beijing. The Forbidden City is the imperial palace from the Ming dynasty.
Chris W adds,
"Home for the son of heaven, it runs from south to north and one can see the hierarchy of the Chinese society. We also looked through the jewellery museum, which is inside the palace."


The Great Wall of China
There is not a lot needed to be said about this UNESCO World Heritage Site except that it has to be visited, especially if you are in Beijing.
The Great Wall of China is an iconic symbol of the country and is one of the greatest wonders of the world. The wall stretches over 13,000 miles across deserts and mountains, and has a history that dates back over 2,000 years.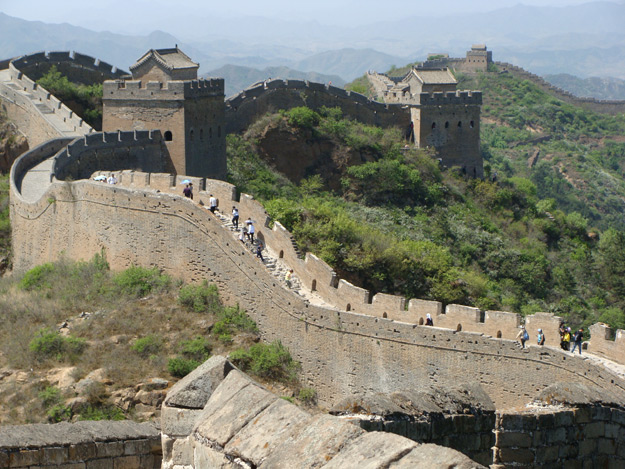 Tiananmen Square
Tiananmen Square is located right in the centre of Beijing and contains a number of monuments to the heroes of the revolution.
The National Museum of China and the stunning Monument to the People's Heroes are also worth a visit whilst visiting Tiananmen Square.


Summer Palace
Northwest of Beijing is the Summer Palace, the largest and most well-preserved royal park in China.
Visitors can expect to see stunning Chinese horticulture and landscapes, which is why it is named "The Museum of Royal Gardens". The Summer Palace is a must-visit and is perfect for stretching your legs.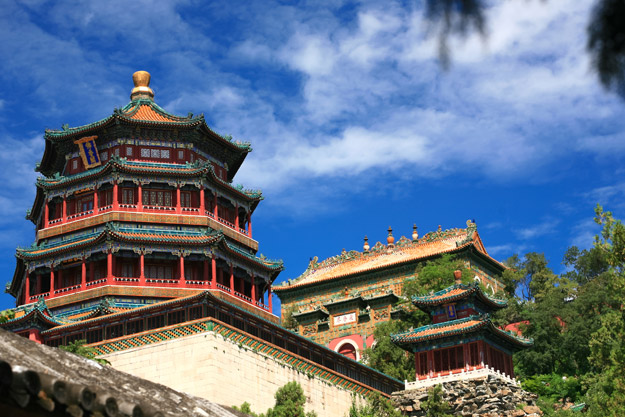 5 things to eat in Beijing
Peking Duck
According to Serious Eats, Peking Duck is a must-try food for visitors to the Chinese capital.
This post on Serious Eats tells you everything you need to know about the dish, from how it is made to how to order it and the best way to eat it.
Peking duck is crispy on the outside and is juicy on the inside. Diners are given small pancakes, into which you pile a slice of duck and accompanying sides, like spring onions and sauces.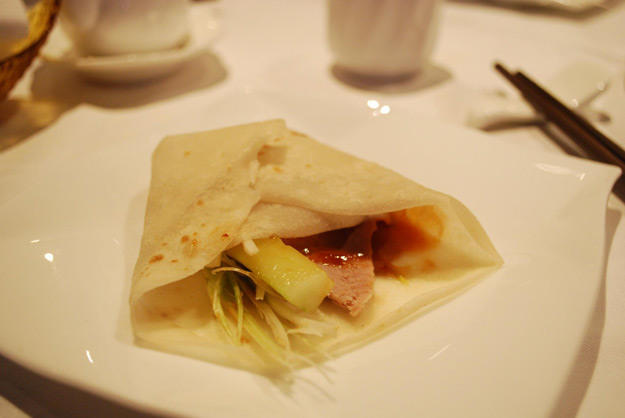 Dumplings
Dumplings have a wheat-flour skin with moist prawn or pork fillings. The dumplings are often served fried or in a soup.
Cōng yóubǐng
This crepe-like food comes laced with spring onions, but the dough is complex, chewy and flaky. It is cheap to buy, really tasty and a great option for a light bite.
Moon cakes
This cake is commonly filled with red bean paste that surrounds an egg yolk. This sweet snack is hugely popular across Beijing, but is particularly popular when the Mid-Autumn Festival takes place.
Any type of street food
In Y Travel Blog's 34 things to know before you visit China they say that eating street food in China is a necessity.
Caz and Craig, who are the founders of the Y Travel Blog, say,
"Chinese street food is delicious and it is everywhere! When choosing which vendor to purchase from, check to see where the locals are dining. If you see a queue, it's likely to be a safer bet."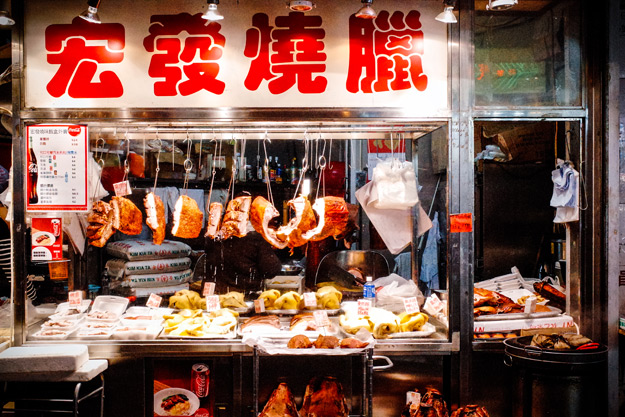 5 free attractions to see in Beijing
Beijing Museum of Natural History
The museum has a rich collection of exhibitions available to visitors. Similarly to the Natural History Museum in the UK, the Beijing Museum of Natural History has exhibitions on a range of animals, as well as Palaeontology and the Mystery of Humanity.
Learning Tai-chi at Ritan Park
In almost any park in Beijing there will be free Tai-chi lessons taking place. If you have always wanted to try it, then doing it whilst on a tour of China is perfect.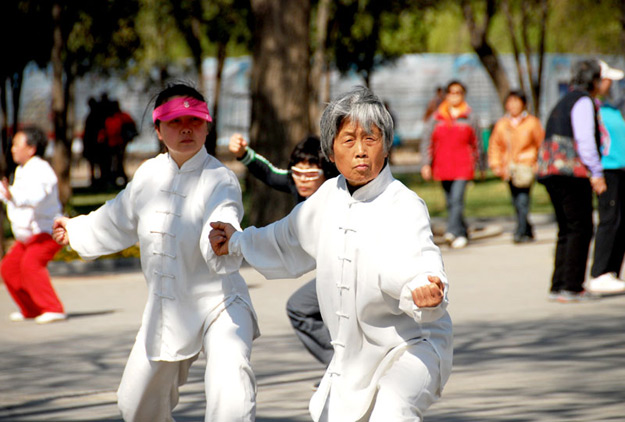 National Museum of China
The National Museum of China is home to some of the top treasures in the country and popular exhibitions include an Ancient Chinese Jade display, Ancient Chinese Bronze Art exhibition and a display of Ancient Buddhist Sculptures.
798 Art District
The 798 Art District in Beijing is an old factory that has been transformed into an area that showcases a range of stunning and bold pieces of art.
Visitors can also eat at the range of Chinese and Western food outlets that are located there.
A stroll through Beijing's hutongs
In the Xicheng and Dongcheng districts in Beijing there are preserved hutongs – meaning a small alleyway or lane. They are typical of the old part of Beijing and show how its residents used to live. This is a great way to get an insight into Chinese culture.
A walk through the hutongs is free, but visitors could pay a small price to take a rickshaw tour instead.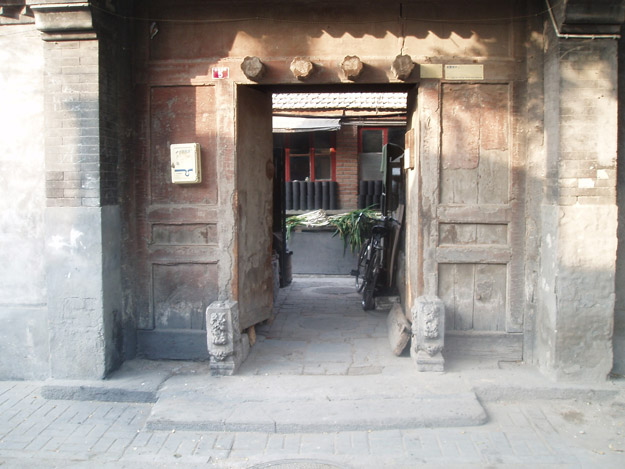 Insider tips for visiting Beijing
As China specialists we have loads of insider tips that will help you have the best holiday in China ever! We've listed our top insider tips below that will get you off to a great start.
Wangfujing Street
Our Business Development manager Mark Harris recommends the lively Wangfujing Street, famous for its night market. He says
The night market at Wangfujing Street lets you see Beijing as a local. There's all manor of street food available here, including the weirder type of street food such as snakes and scorpions! Try them if you dare!
Panjiayuan Market
Tom Cranshaw, our Senior Product Executuve, spent a year studying in Beijing as a part of his degree in Mandarin. He says,
For shopping, nothing beats the Panjiayuan Antiques Market, home to jade sculptures, hand-carved wooden furniture and Mao memorabilia. There's around 3,000 stalls so you can easily spend half a day here or more.
Houhai Lake
Houhai can be found in Xicheng District, central Beijing. The hutong neighborhood around it has become known for its nightlife. Tom says
Check out the lively bars, pubs and restaurants along the banks of the Houhai Lake. Enjoy a drink or dinner whilst being surrounded by koi fish, Chinese paintings and ornate wooden tables.
Sanlitun
Sanlitun is full of international shops, bars and restaurants. It has the largest Adidas store in the world and 40% of Beijing's bars are here. Tom recalls,
Sanlitun, also known as 'The Village' or 'Bar Street', offers a great selection of bars for the perfect night out Beijing style. It's great to explore by day or by night.
Beijing in the Winter
Beijing is very cold in winter: temperatures can easily hit -10 degrees and lower in the depths of winter. But if you're visiting, you're sure to experience a white, snowy wonderland. Tom says,
My favourite memory is taking a sledge across the frozen top of the Kunming Lake at the Summer Palace on Christmas Day. The snowy views were breathtaking.
---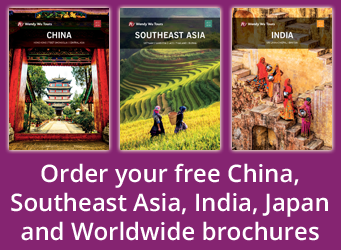 Book a city break to Beijing with the UK's leading China Experts, Wendy Wu Tours. Our award winning escorted, fully inclusive tours visit all the major sights of China for an unforgettable holiday.
For tips on when to go, take a look at our Best Time to Visit China page
---
Image Credit: Ana Paula Hirama, Jon Wick, Alpha, Anton, faungg's photos, IQRemix (flickr.com)