China is preparing for its annual Spring Festival as it anticipates over 2.8bn trips during the 40-day period. 
Running from the 19th February this year, the Chinese Spring Festival is set to be a highlight amongst overseas visitors on Spring China holidays as the festival stands as one of the most important in the Chinese calendar, with a history of the Chinese welcoming in the Lunar New Year dating back some 4,000 years.
'Book early'
While cities around the world look to host their own celebration of the festival and mark the Year of the Sheep, nowhere can compete with experiencing the festival atmosphere in its home country. However, visitors should be warned as the period proves notoriously difficult to purchase travel tickets, with articles recommending 'it's vital to book early' as it is a time where many look to travel home to their families.
This being said, it is also recommended as a great time for foreign travellers to visit China's tourism hot spots as locals travel home to regional parts of China, making attractions less busy than at other times of the year. So again it is recommended to pre-book China tours months and even a year in advance to ensure your place during this hectic but exciting time.
As the grandest festival in the Chinese calendar, the Spring Festival is a great time to visit the country, not just for the chance to see the tourist highlights escaping the crowds but also to experience the hub of activity and cultural experiences that occur at this time.
China as a whole has been preparing for the influx of travellers and the many cultural events that take place, with lanterns and traditional food being prepared. The time celebrates family reunion and sees Chinese families carry out traditions such as cleaning their homes ahead of the Lunar New Year, purchasing plenty of food and new clothes, pasting red scrolls with poetic couplets at each gate and pasting the Chinese character Fu on each door.
To find out more about the Year of the Sheep and the Chinese zodiac signs, see this previous article.
---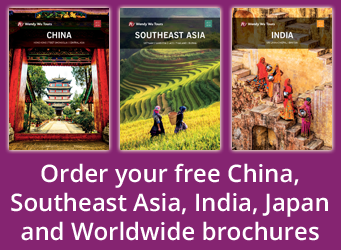 Visit China during Spring Festival with the UK's leading China Experts, Wendy Wu Tours. Our award winning escorted, fully inclusive tours visit all the major sights of China for an unforgettable holiday.
We also have amazing tours to Cambodia, Vietnam, Laos, Japan, India and beyond…