American online news aggregator The Huffington Post has published pictures of one of China's most historic cultural arts. Images captured by Getty Images photographer Kevin Frayer depict the ancient art of Kazakh eagle hunting during an eagle-hunting festival that took place last month.
The festival was organised by a local hunting community based in China's Xinjiang province in the north west of the country in Qinghe County, where eagle hunters compete in the festival in an attempt to promote the community's traditional hunting practices.
Keeping tradition alive in China
The festival, documented by Frayer's images, depicts an attempt to keep one of China's most intriguing customs alive. While visitors to the country on cultural China holidays can still see and experience many of China's celebrated customs, such as the Spring Festival and Naadam Festival, this hunting practice traditionally undertaken in China, Kazakhstan, Russia and Mongolia is at risk of dying out, so China's ethnic Kazakh minority is attempting to revive it.
The art of eagle hunting consists of hunters on horseback using eagles who have been trained and handled in line with a strict set of ancient rules, which the community are attempting to preserve for future generations of hunters.
The photographs by Frayer, as seen here, depict this art beautifully along with illustrating the majestic nature of this traditional community based in the mountains of China. The festival, which was held in late January earlier this year, is an attempt to preserve such practices, where it is hoped future generations will take to the hunt. The BBC reported in April last year of a 13-year-old girl hunting with eagles who appeared to have mastered the practice of her ancestors, stating "You don't really control the eagle. You can try and make her hunt an animal – and then it's a matter of nature."
China's fascinating traditions and culture have certainly made all-inclusive China tours popular with western travellers hoping to see such great traditional practices at work.
---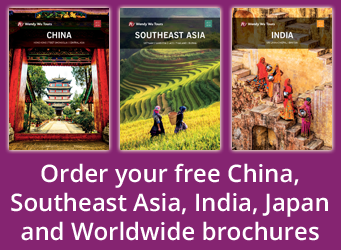 Explore China's Xinjiang province with the UK's leading China Experts, Wendy Wu Tours. Our award winning escorted, fully inclusive China tours visit all the major sights of China for an unforgettable holiday.
We also have amazing tours to Vietnam, Cambodia, Laos, Japan, India and beyond…
---
Image Credit: Altaihunters (commons.wikimedia.org)