People are always telling us that one of the main reasons for travelling to China is to taste authentic Asian food; having enjoyed a taste of China at home, the next step is to travel abroad and discover the roots of these tastes. Before you jet off on a foodie China tour, why not have a go at making an authentic Chinese dish yourself using one of the recipes below? If you've got a big pot and a heavy wok (not non-stick) then you're good to go on creating these Chinese recipes!
We've contacted some of the best Asian food bloggers out there, and they've kindly provided us with their favourite recipes for you to try at home, from classic Chinese soups to Malaysian street food.
Hot and Sour Soup Recipe
Eating China is a fantastic blog if you want to learn about the history and culture of Chinese cuisine, as well as make it and taste it. Stephen Jack provided us with his favourite recipe and his favourite food fact, which we found quite surprising!
"I would choose hot and sour soup (which the Chinese call 'sour and hot soup'). This is the Taiwan version, so hearty and chunky it is like a Chinese minestrone, almost a meal in itself. It is quite easy to prepare but you have to get that fine balance between the hot and the sour just right (the 'hot' part is a very mild spiciness)." – Stephen Jack, Eating China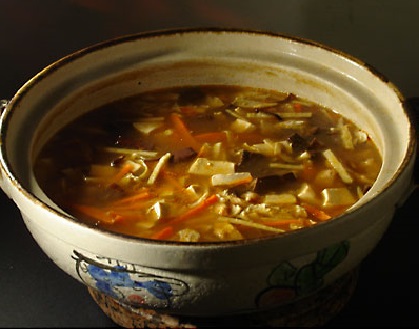 Ingredients
4 dried shiitake (black) mushrooms
1 dried wood ear mushroom
120g lean pork, julienned
2 tsp cornflour
300g regular tofu, cut into 1 cm cubes
150g congealed pig's blood, cut into 1 cm cubes
1.650l chicken stock
3 large slices of ginger
25g carrots, julienned
75g bamboo shoots, julienned
120ml white rice vinegar
3 tbsp soy sauce
11/2 tsp chilli sauce
31/2 tbsp cornflour mixed in a small amount of water
1 egg white
4 spring onions, finely chopped
Get the full recipe here.

Favourite food fact – The True Origin of Kiwifruit
"Thanks to that name, very few people – including Chinese – are aware that kiwifruit did not originate in New Zealand. It was very clever (and cheeky) for the New Zealanders to rebadge the Chinese gooseberry as the kiwifruit." – Stephen Jack, Eating China
There's more to read about this fact here on Eating China blog.
---
Wonton Soup Recipe
Chinese soups are truly wonderful and often overlooked, which is why Elaine Luo from China Sichuan Food chose Wonton Soup as her favourite recipe to recommend trying at home. This recipe is tasty, nutritious and pretty easy too once you've got the hang of assembling the wontons, and both mild and spicy versions are included in the full recipe.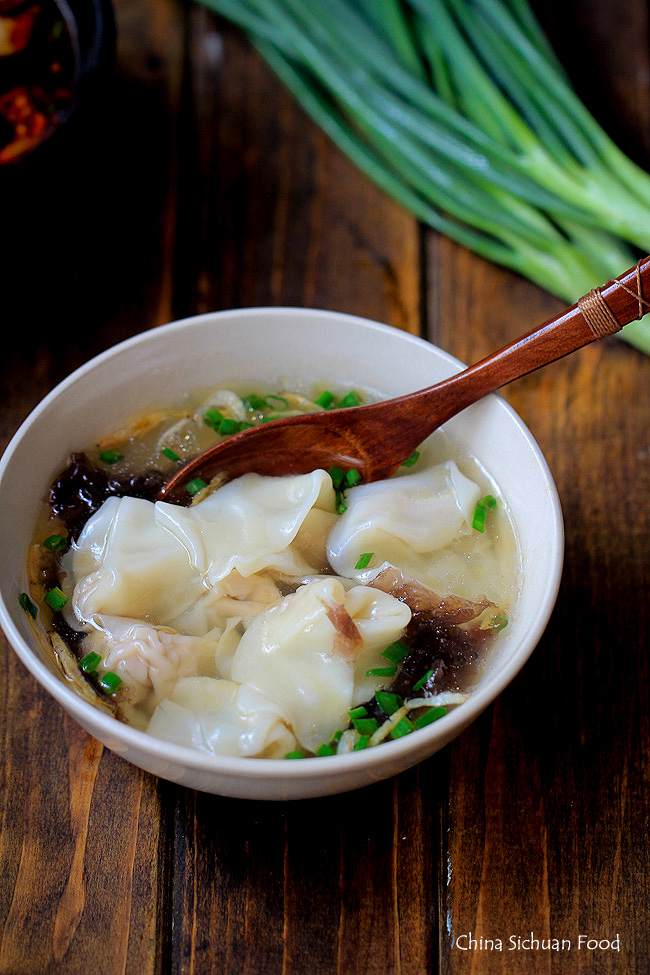 Ingredients
1 package of wonton wrappers (around 225g)
Small bunch of vegetable leaves (optional – lettuce, bok choi or other green vegetables)
Water or stock for soup
Meat Stuffing:

2 tbsp finely chopped green onion
1/2 tbsp grated ginger
1 egg
225g minced pork
165g chopped shrimp
½ tsp black pepper powder
½ tbsp sesame oil
1 tbsp oyster sauce
salt to taste

Sauce for Spicy Version:

1 tbsp sesame oil
1 tbsp soy sauce
1 tsp chilli oil
1 tsp vinegar
1 tsp smashed garlic
chopped spring onion
salt to taste

Sauce for Mild Version:

1 tsp dried sea shrimp
1 tsp sesame oil
chopped spring onion
1 small piece of dried seaweed
salt to taste
Get the full recipe here.

---
Lion's Head Meatball Recipe
The Hong Kong Cookery blog offers plenty of inspiration for both beginners in the kitchen and skilled chefs. From getting the simple stuff right, such as cooking perfect boiled rice on the hob, to complex yet delicious festival dishes, like the zong zi rice dumpling, you could spend hours delving through the recipe index. When we asked for them to provide their most popular traditional recipe there was a clear winner: Lion's Head Meatball.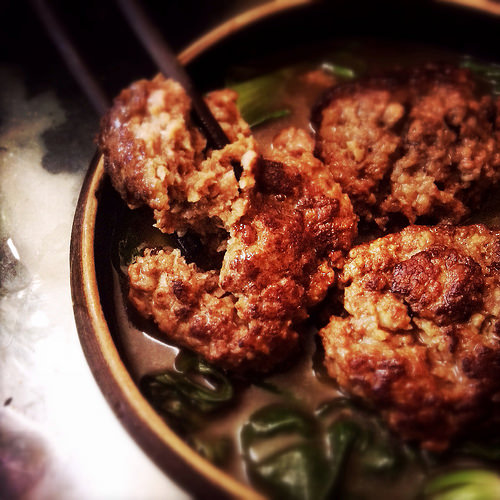 Ingredients
1 tbsp oil
10 baby bok choi (or 2-3 leaves napa cabbage, cut to strips)
1 spring onion, cut into 1″ long pieces
1 tbsp ginger, cut to matchsticks
230ml Shaoxing Rice Wine
470ml chicken broth
Meatballs:

440gminced fatty pork
1 1/2 tbspShaoxing Rice Wine
1 tspsalt
2 tbsplight soy sauce
1 tbspdark soy sauce
1 tspsesame oil
1 1/2 tspsugar
1 tbspoil
2 tspcornflour
Get the full recipe here.
---
Kaya (Coconut Egg Jam) Recipe
You haven't really tried Asian food until you've had breakfast Asian style, something which you're unlikely to experience at home. When we got in touch with Pat Tanumihardja from Pickles and Tea to ask for her favourite recipe, it was kaya that emerged the winner – try it on toast, it's delicious! The recipe created by Pat has simplified the complex process and made it achievable for the typical cook, which certainly makes it worth a try.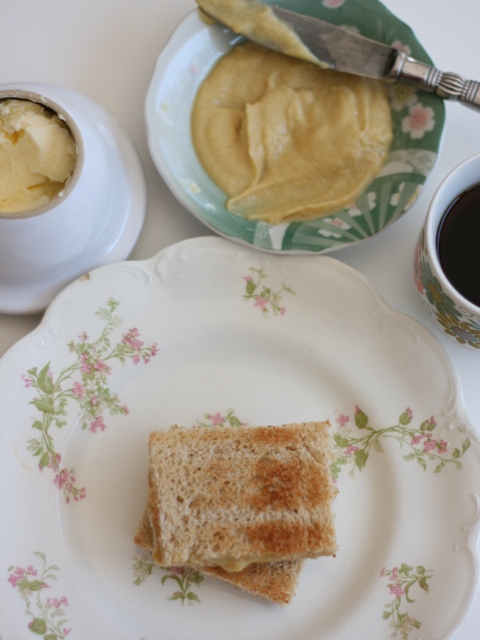 Ingredients
180ml unsweetened coconut milk (not light coconut milk
4 egg yolks
100g palm sugar (2 discs), crushed, or 100g sugar
2 to 3 pandan leaves, tied into a knot
Get the full recipe here.
---
Red Cooked Pork Recipe
Over at Red Cook, the traditional recipe of choice was Red Cooked Pork, which is essentially delicious pork belly in a sticky, sweet sauce with anise flavours. Make sure to follow the instructions thoroughly; although blogger Kian Lam Kho stresses that "there is no one single correct way to prepare this dish", he has experimented with different cooking techniques and used his findings to create the ultimate dish that both looks and tastes sublime.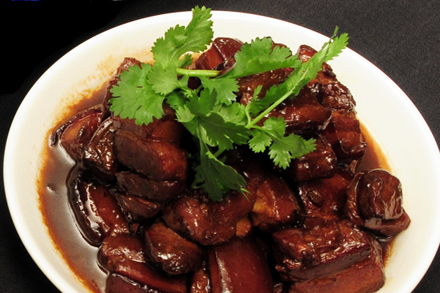 Ingredients
700g pork belly meat
3 tbsp vegetable oil
2 tbsp sugar
3 cloves of garlic peeled
2 scallions, cut into 2" long pieces
3 whole star anise
2 tbsp dark soy sauce
60ml Shaoxing Rice wine
350ml clear stock (or the liquid from the par-boiling step) or water
Get the full recipe here.

---
Assam Laksa Recipe
Robyn Eckhardt from EatingAsia has tasted food from all across Asia and when it comes to Asian street food reviews and tips there is no better authority; she is a regular contributor to the New York Times, Wall Street Journal Asia and Saveur. It also helps that this kind of food is right on her doorstep as she lives in Penang, Malaysia. With all this in mind, it had to be a Malaysian dish that got her top vote and it is one that you could try yourself on a tour around Southeast Asia.
"My favourite Asian street food is asam laksa, a specialty of Penang, where I live. The dish consists of thick chewy noodles made of tapioca and rice flours in a fish and chili-based broth soured with tamarind and/or asam keping, dried slices of a sour fruit called buah asam (asam means "sour" in Malay). The dish is topped with slivers of pineapple and cucumber, shredded torch ginger flower bud and fresh mint. It's hot, sweet and sour, and slightly fishy – the flavors are quite Thai-ish." – Robyn Eckhardt, Eating Asia
Read more about Robyn's love of Assam Laksa here.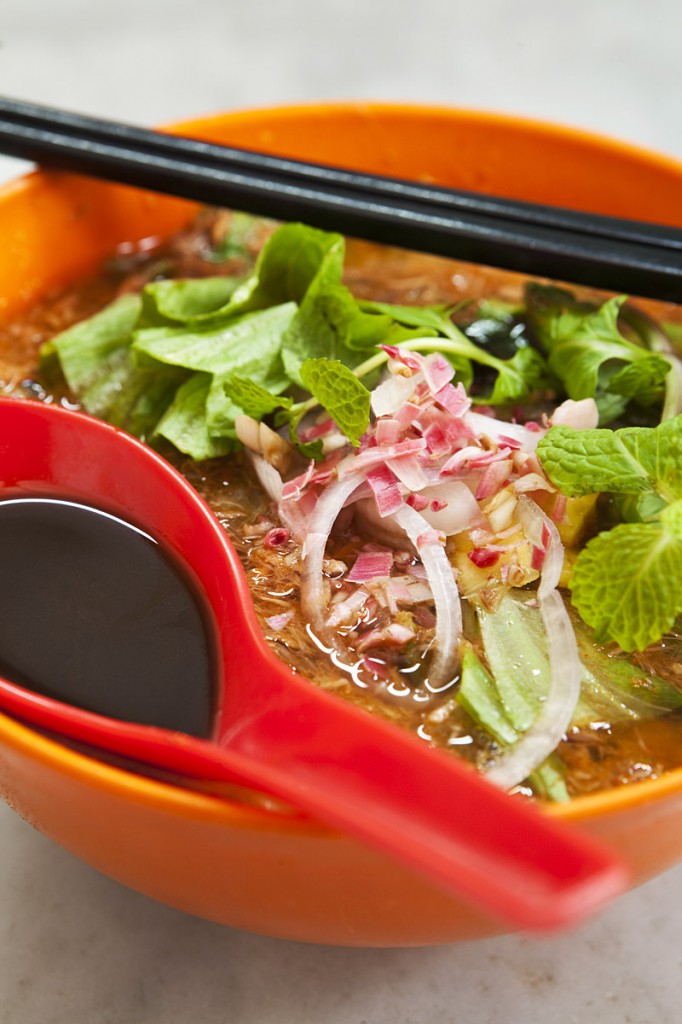 Ingredients
440g Mackerel fish
1.9l water
5 pieces assam keping (peeled tamarind)
1 pack dried laksa noodles
Spice Paste:

12 dried red chillies (seeded)
5 fresh red chillies (seeded)
8 small shallots
2 tsp belacan
1 stalk lemon grass (use only the white part, about 6 inches)

Tamarind Juice:
Tamarind (about golf ball size)
120ml water (repeat 3-4 times)
Seasonings:
1 tsp salt
2 tbsp sugar
1 tsp fish sauce
Garnishing:
1 cucumber (julienned)
1 bunch mint leaves (use only the leaves)
1 bunch polygonum leaves/Vietnamese mint leaves (daun kesom/daun laksa)
1 bungan kantan (cut into small pieces)
1 red onion (sliced thinly)
1 lettuce (thinly cut)
1 red chilli/3-4 bird's eye chillies (cut into small slices)
1 small pineapple (cut into short strips)
Condiment:
Heh Ko/Prawn Paste
Get the full recipe from Rasa Malaysia here.

---
Spicy Sichuan-style prawns
If you like seafood then why not try cooking this Spicy Sichuan-style prawns dish, which is a classic Chinese seafood dish that includes delicious stir-fried shellfish with spicy tomato, chilli bean sauce and ginger that adds an aroma of flavours.
Ingredients
1½ tbsp groundnut oil
2cm piece ginger, finely chopped
2 garlic cloves, coarsely chopped
1 spring onion, finely chopped
450g raw prawns, shelled and de-veined
1 tbsp tomato purée
3 tsp chilli bean sauce
2 tsp Chinese black vinegar or cider vinegar
2 tsp golden caster sugar
2 tsp sesame oil
Coriander leaves (to serve)
Sliced spring onion (to serve)
Get the full recipe here.
---
Thai Chicken Sauté
Thai Chicken Sauté brings together a range of typical Asian flavours. This particular dish features coconut milk, fresh ginger and fish sauce.
On the Cooking Light website it says the dish "makes for an exotic weeknight dinner that comes together quickly".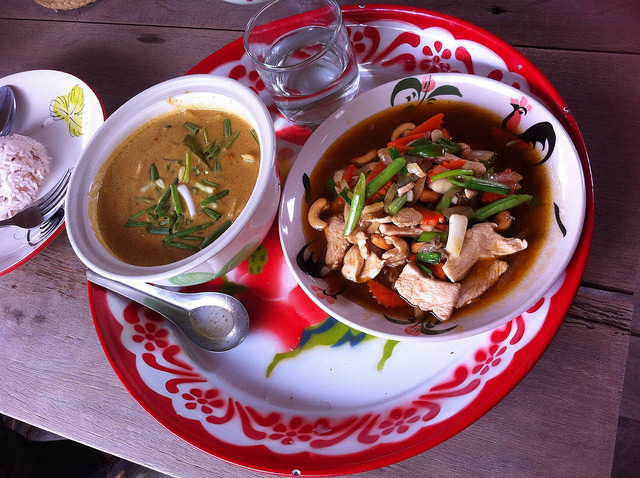 Ingredients
1 (3 1/2-ounce) bag boil-in-bag rice
1 1/2 pounds chicken breast tenders
1 tablespoon cornstarch
1 tablespoon fish sauce
4 teaspoons canola oil, divided
1 cup sliced onion
2 teaspoons minced garlic
1 teaspoon ground fresh ginger (such as Spice World)
1/2 cup light coconut milk
2 tablespoons Sriracha (hot chilli sauce, such as Huy Fong)
1 tablespoon sugar
1 tablespoon fresh lime juice
2 tablespoons chopped fresh cilantro (corrainder)
4 lime wedges
Get the full recipe here.

---
Beef and Broccoli
Another delicious and traditional Chinese dish is Beef and Broccoli, which according to Rasa Malaysia is the poster child of American-Chinese food.
The beef should be tender and broccoli flashed cooked and then stir-fried with the beef, whilst the brown sauce should not drown the beef and broccoli and instead lightly cover it.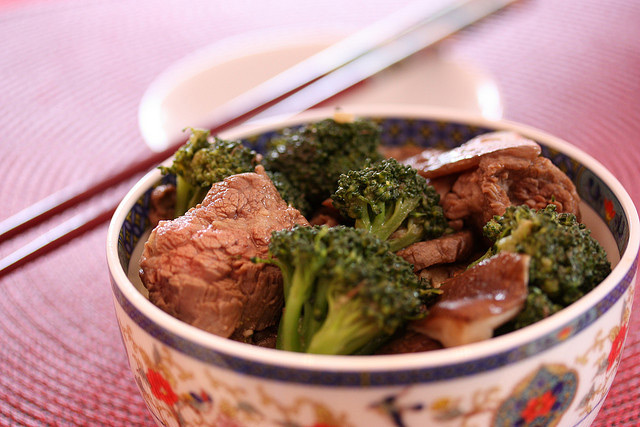 Ingredients
8 oz (250 g) beef tenderloin, flank steak or flap meat, cut into pieces
6 oz (175 g) broccoli florets
Water, for boiling
2 1/2 tablespoons oil
2-in (5 cm) ginger, peeled and sliced
Marinade:

1/2 tablespoon soy sauce
1 teaspoon rice wine or sherry
1/4 teaspoon sesame oil, optional
3 dashes white pepper
1 tablespoon corn starch

Sauce:

1 tablespoon soy sauce
tablespoon oyster sauce
1/4 teaspoon sesame oil
1/2 teaspoon sugar
1 teaspoon corn starch
4 tablespoons water
Get the full recipe here.
---
We'd love to know what the results are if you try any of these recipes: get in touch via our Facebook page and on Twitter and share your Chinese cooking with us!
---
For a mouthwatering tour of this amazing region, call our specialists on 0808 274 8594. If you would like to learn more when to go, check out our best time to visit China page
For tips on when to go, take a look at our Best Time to Visit China page
---
Image Credits: TheBusyBrain (flickr.com), Stephen Jack, jh_tan84 (flickr.com), China Sichuan Food, The Hong Kong Cookery, Pat Tanumihardja, Red Cook, David Hagerman, Amy Zirkle, Meal Makeover Moms (flickr.com)