Earlier this week, the new Shanghai Natural History Museum opened its doors to the public after nine years of design and construction. 
Formerly located in a 1920s Cotton Exchange building, the museum now has a new home in a five-floor structure in the Jing'an Sculpture Park, which is a superb home for the fascinating collections. As one of China's largest natural science museums, visitors on sightseeing China tours can explore ten sections, which display more than 11,000 different specimens.
Providing a much improved space for the extensive displays
Collections range from those showcasing habitats in Africa to those going back in time,to a period when dinosaurs walked the earth. This includes a 140-million-year-old skeleton of a Mamenchisaurus, which is complete and can be viewed up close by those visiting. Other specimens on display include a Yellow River mammoth, giant salamander, giant panda and Yangtze Alligator, which cannot be found outside of China.
The outer wall of the Shanghai Natural History Museum is designed in the shape of a cell's nucleus, giving the building a striking appearance, while reflecting the contents of the museum. This also helps the museum fit in with the surrounding sculpture park, which is home to a variety of stunning artworks.
The building was designed by Perkins + Will, and is said to represent the harmony between man and nature, with an element of Chinese art and design. This includes a centrally placed pond, with a series of rocky garden terraces, which are very similar to traditional 'Mountain and Water' gardens favoured by the Chinese.
It is thought that more than 10,000 people visited the museum on its opening day, with large queues continuing to gather, despite the notices that recommended returning the following day. Visitor capacity for the museum is 5,544, although officials were stopping admissions once 4,000 people were inside to ensure a comfortable and safe environment.
---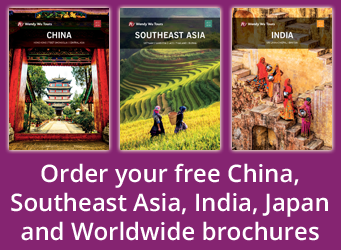 Visit China with the UK's leading China Experts, Wendy Wu Tours. Our award winning escorted, fully inclusive China tours visit all the major sights of China for an unforgettable holiday.
We also have amazing tours to Vietnam, Cambodia, Laos, Japan, India and beyond…