In looking for a unique holiday in China, sometimes it is a good idea to slow down.
With everything getting faster and faster, the Chinese seem to be leading the race to creating one of the planet's largest high-speed rail networks. According to the National Railway Administration of China, its rail system is enormous. At 120,000 kilometres long, it is the second largest in the world after the United States. It has the highest passenger-per-kilometre ratio in the world – 1,060 billion passengers in 2013.
One Steam Train Remains
Despite these tremendous numbers, in a contrast to its speed and technology, China is also home to one of the last remaining steam train services in the world. Constructed in 1958, the narrow-gauge Jiayang Railway brings together the towns of Shixi and Bagou in Qianwei County, in the southern Sichuan Province. Originally built to transport coal across the country, the rail line still operates on steam engines built nearly 70 years ago.
The Shixi-Bagou steam train, and the lives of the people who ride it, was recently brought to life by award-winning Getty photojournalist Kevin Frayer. He spent several months capturing on film a part of China that seems more in place in the past than in 2015.
"So much of the view of China these days is about development and fuelling economic growth," Frayer told the International Business Times. "It is a country of megacities, sprawling buildings and has one of the most sophisticated transport systems in the world.

"Yet there are still places where you can get glimpses of an older China, where the pace is slower and the infrastructure less advanced. The steam train line in the hills of Sichuan looks exactly as it has for decades."
Although there is a local service for regular passengers, operators have recently added air-conditioned carriages for tourists. With the assistance of a tour guide, travellers on holidays in China get the chance to enjoy the 20km journey through the mountainous Sichuan basin. Amidst the mist, the train passes by rapeseed fields, bamboo plantations and rice paddies. There are tiny villages on the route that return riders to a time long before industrial and economic progress.
---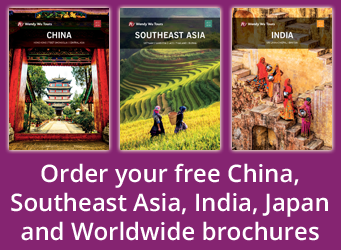 Visit China with the UK's leading China Experts, Wendy Wu Tours. Our award winning escorted, fully inclusive China tours visit all the major sights of China for an unforgettable holiday.
We also have amazing tours to Cambodia, Vietnam, Laos, Japan, India and beyond…
---
Image Credit: George Lu (flickr.com)