Your long-awaited holiday is almost here, but first you need to get through the long-haul flight. Whether you're unfazed by flying or look forward to having your feet back on the ground, flights longer than six hours can still be daunting. However, with the right preparation, you can make sure that your long-haul flight experience is as comfortable and relaxed as possible.
In order to help those about to embark on China tours from the UK, we got in touch with a variety of travel experts and product manufacturers, and asked them to share their top tips for surviving a 10-hour plus flight.
Make the most of pre-flight luxuries
It is highly advised that you arrive at the airport in good time, so you are not stressed and flustered before your long-haul flight. Two hours beforehand is often the standard suggestion, but why not make use of the airport's facilities and take some time to chill out before you fly? What's more, it will extend your holiday for even longer. Travelling expert, Paul Johnson, from A Luxury Travel Blog has some tips to bear in mind before boarding.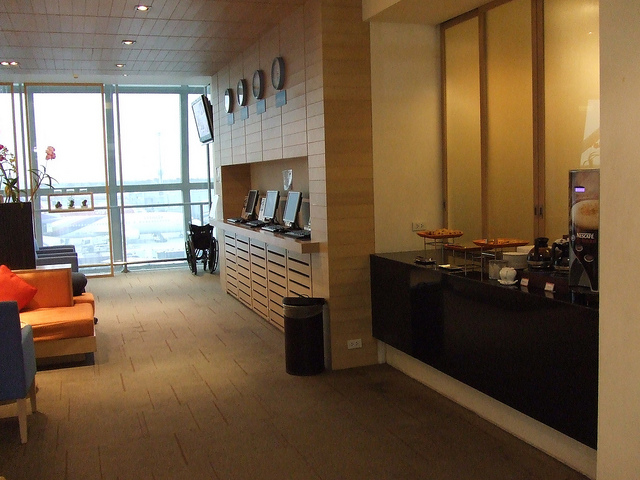 "Make use of the airport lounges where you'll find comfortable chairs, a relaxed atmosphere and free food and drink. Unbeknown to many, you don't have to be travelling first or business class.  In fact, there's a number of different ways to gain access. In North America (less so in Europe and Asia), you can purchase day passes to many of these lounges. Secondly, many regular users of lounges will be allowed to enter with a guest so another way in is to blag yourself a pass. Believe it or not, there are forums out there where this kind of thing is discussed, so plan ahead, and you might be lucky. Thirdly, some credit card companies have tie-ins with airport lounges, so check your own. And finally, if you're a frequent traveller, look into the possibility of lounge membership." – Paul Johnson
Nicola from Jetlag and Mayhem also recommends arriving at the airport with time to spare, especially if you're unable to specify your seat at the time of booking.
"Get in early to book a decent seat. Some airlines will allow you to pre-book your seat, although you might have to pay extra. If not, make sure you are online 24 hours in advance to check-in." – Nicola
With regards to seating, Elle Croft from a Bird in the Hand Travel has a clever hack that will have you wondering why you never thought of it sooner.
"My biggest tip is to choose your seat wisely. A trick my husband and I use is to book a window and an aisle seat – that way, if the flight isn't full we'll have the middle seat to allow us to stretch out (and if it is full someone will usually be glad to swap out of the middle seat)." – Elle Croft
Sleep
While maybe the most obvious suggestion, it's often one of the hardest to make happen, especially if you are unprepared. Screaming children, snoring passengers and chilly air conditioning can all be factors that stop us from enjoying a comfortable sleep on a long-haul flight, but there are many items which you can bring along to help you snooze away the hours to your destination.
Earplugs are a product that should most definitely be packed in your hand luggage, and Alpine Hearing Protection provide the perfect product. Not only will Fly Fit earplugs filter disruptive ambient noise, but they can also prevent painful pressure on your ears during take-off and landing.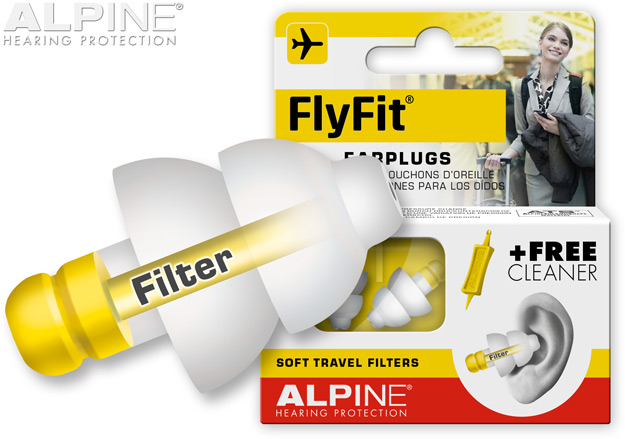 "The renewed FlyFit has a number of unique properties. The hearing protectors are made of the special AlpineThermoShape material, which provides a comfortable fit in your ear. Also, thanks to the new soft and flexible filters, you can doze off comfortably while on the plane. Disruptive ambient noise is absorbed, but it is still possible to talk to your fellow passengers.

"Painful pressure on your ears during the take-off and landing of an airplane – those who have been in an airplane know how it feels. Thanks to the unique design of the AlpineAcousticFilters in the earplugs, painful pressure in your ears is now a thing of the past. The filters regulate the pressure difference and in doing so, prevent painful pressure on your ear drums during take-off or landing. With the FlyFit in your ears, you'll always have a relaxed flight." – Alpine Hearing Protection
An eye mask is an essential travelling accessory that takes up little space in your baggage, yet can really help you get some sleep when flying. Here, The JetRest stresses just how useful an eye mask can be when trying to get forty winks on a plane.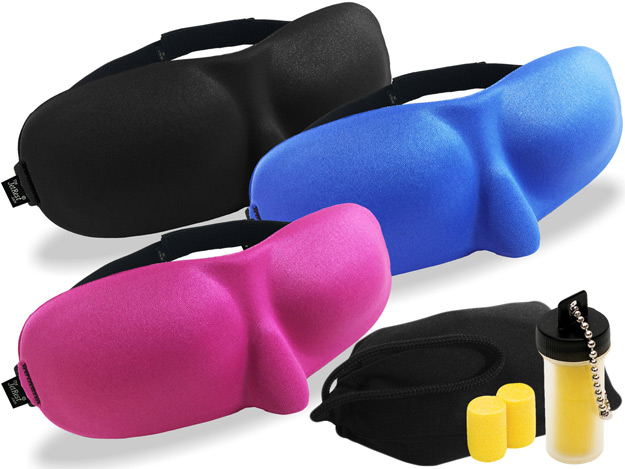 "Ensure your eye mask doesn't let any light through the fabric as this can really interrupt your rest, although we all have different shaped noses so it would be rare that an eye mask would stop all light coming up the side of the nose. With this in mind, I would look at contoured 3D style eye masks like The JetRest Sleep Mask, where not only does the mask not let any light through the fabric at all, but it is also moulded to shape over the nose and helps really block out all light. We have a range of eye masks in this design with many colours to choose from." – The JetRest
While all of the above will aid your sleep, you will find it incredibly difficult to nap well if you are uncomfortable. This is where an in-flight pillow can make all the difference, especially if flying in economy, or sitting in an aisle seat.
"The award-winning J-pillow was invented by a former flight attendant, Gemma Jensen, who noticed how people struggled to sleep while on planes, mainly because their heads were not properly supported. It's a side sleeper pillow which slots perfectly into the side of your head, filling that void between your head and shoulders, and keeping the neck supported and naturally aligned. At the same time the pillow's ingenious 'J' curls snugly under the chin to support your head from the front – this stops your head snapping uncomfortably forward while sleeping. The result could just be the best sleep you'll ever have sitting up!

"One of the best things the J-pillow offers over other travel pillows is that it's multi-positional, which is a real bonus when travelling long-haul as it's recommended we change positions several times to prevent getting stiff. Plus another advantage is that you don't have to clamber for that window seat to rest your weary head, as the J-pillow works just as well in both an aisle or window seat." – J-pillow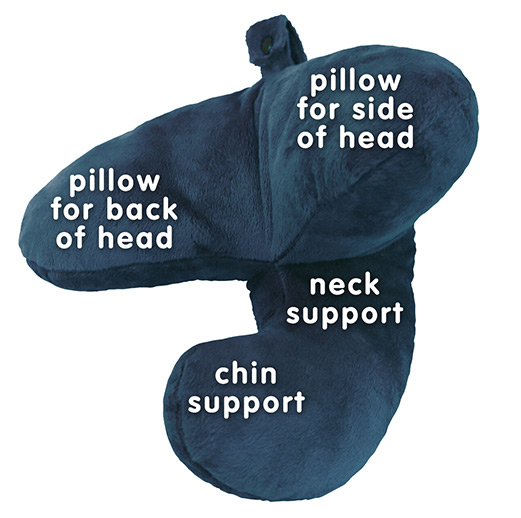 To increase your chances of sleeping even further, or instead to ensure you don't interrupt others trying to take a kip, remember this top tip.
"If you are lucky enough to be able to sleep during a flight, pick the window seat for a better nap, but if you're likely to stay awake, go for the aisle which will allow you to get up and stretch from time to time." – Elle
Beauty products
Due to the drying atmosphere of a plane, there are a number of beauty products that you will want to take along with you, providing they comply with the airline's regulations. From moisturisers and wet wipes to a hydrating face mist and toothpaste, you'll be super grateful for anything which keeps you fresh during your journey. If you are unable to find travel size versions of your favourite products, GoToobs can be a great solution for carrying an appropriate amount on a flight with you.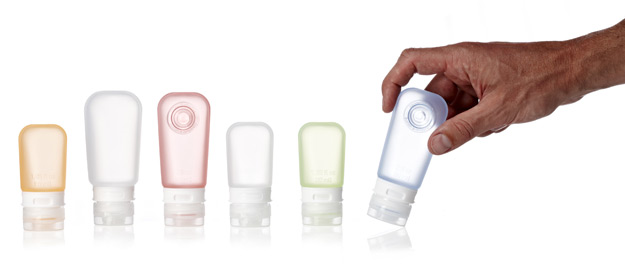 "The award-winning and patented GoToob is made from soft yet rugged silicone, so it's easy to squeeze, and it dispenses the product right away. A special, "no-drip" valve helps the cap stay clean, and the collar has a handy content indicator ring. A large opening means it's easy to fill and clean your GoToob. The small 1.25 fl. oz. size slips easily into pockets, bags, purses, and other tight spots. The medium 2 fl. oz. size is the only size to feature a handy suction cup that can briefly attach to walls for moments when you need your hands free. And a large 3 fl. oz. size gives you maximum volume for longer times between refills. All GoToobs are approved for airline carry-on, they're food-safe (FDA), and they're 100% BPA-free and PC-free. They are also covered by a lifetime warranty." – Humangear
When on a plane, it can be frustrating having to root around in your bag to try and find the item you're after, especially with limited elbow room. However, with a see-through clutch, you can look through all your belongings with ease, which can also help while boarding too.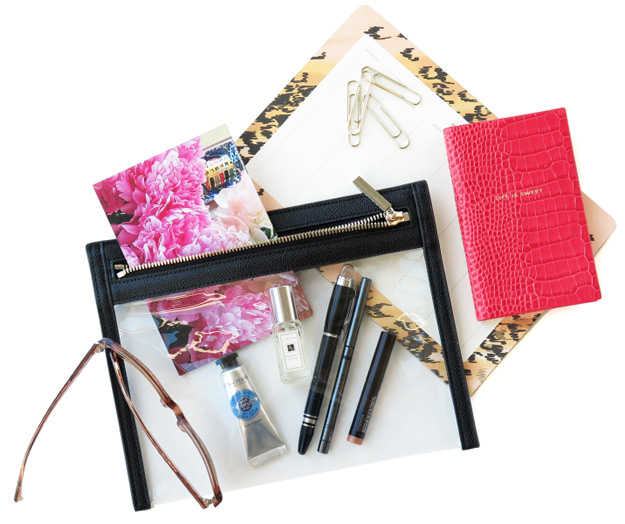 "Our Clarity Clutch Small and Clarity Pouch Small are TSA-approved for your carry-on, and are the perfect size for your small travel essentials. Our larger Clutches and Pouches, as well as Document Cases, are ideal for easy access to your passport, travel documents, electronics and itineraries. Our goal is for our products to make you feel effortlessly put together, wherever you're off to." – Truffle
Entertainment
When you're not sleeping, you'll want to make sure that you are entertained in one form or another. It can be the ideal opportunity to catch up on your emails, finish that romantic novel, or get to the next level on your Sudoku app, but don't forget to fully charge your items beforehand, or bring along a portable charger with you.
"Unfortunately I've learnt not to rely too heavily on the plane's entertainment due to too many broken TVs! Load your tablet up with movies and books and stock up on magazines at the airport." – Nicola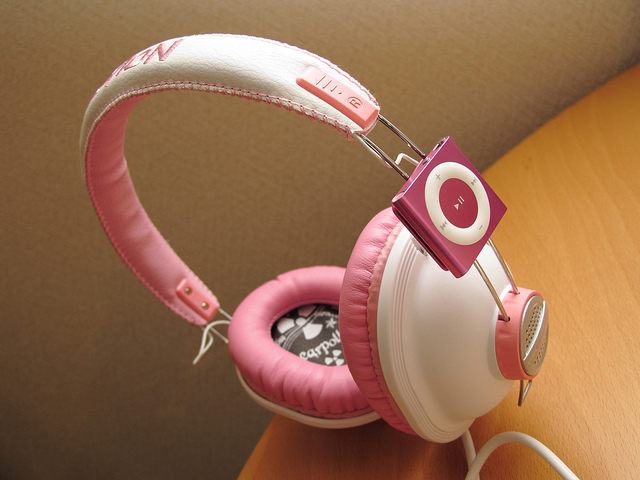 Listening to music is also a great way to pass the time, and can also help drown out the sound of others on the plane, especially if you have noise-cancelling headphones.
"Almost everyone these days has an iPod and we'll have those with us, fully charged and chocked full of music and podcasts (I recommend the entire back catalogue of Joy The Baker), but on my last flight I really wished I owned an iPad like the guy next to me; fantastic battery life, your own TV shows and movies, games, what more could you want?" – Rachel Phipps
Food
Make sure to do your research beforehand, but if you are able to take food on your flight, both your stomach and wallet will reap the rewards. According to the Gatwick Airport website, fruit, vegetables and solid foods can be taken onto the plane in hand luggage, and drinks less than 100ml can be carried in a re-sealable airtight bag. For those who forget to pre-pack, you can always purchase snacks in the departure area before you board too.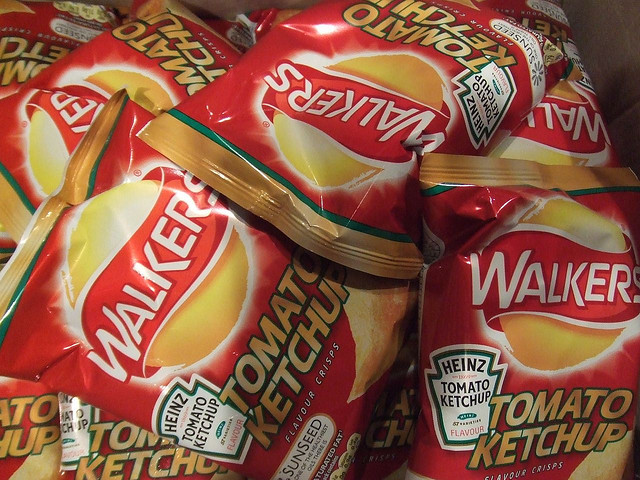 "Bring your own food. I do this for two reasons: One, I've been delayed on planes where they haven't handed out any refreshments. Two, plane food can be disgusting!  I like to bring something healthy from home whether that's homemade popcorn or a few sandwiches." – Nicola
When you land
If you have to stopover for a couple of hours, a number of international airports even have showering facilities, which can be a lifesaver for people mid-flight. For a small fee you can have a refreshing wash, before continuing with the rest of your journey.
However, on arrival at your destination, you will probably want to head straight to your accommodation to unpack and settle in to your temporary home for the duration of your stay. But for those who can, Elle suggests a wonderful way to unwind after your long flight, especially for those returning to reality after a active holiday in China.
"Ultimately, the best way to enjoy a flight is to book a massage at the other end, so your sore muscles will forget the 12 hours of cramping & pressure!" – Elle
---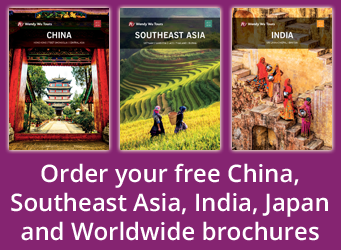 Visit China with the UK's leading China Experts, Wendy Wu Tours. Our award winning escorted, fully inclusive China tours visit all the major sights of China for an unforgettable holiday.
We also have amazing tours to Vietnam, Cambodia, Laos, Japan, India and beyond…
---
Image Credit: David Spinks, shankar s., Flyfit, Kristina D.C. Hoeppner, The JetRest, J-pillow, Humangear, MIKI Yoshihito, Tess Watson (Flickr.com)