The Wudalianchi nature reserve in China's Heilongjiang Province has won a UNESCO conservation award.
UNESCO's Michel Batisse Award was awarded to Wudalianchi at the Fourth World Congress of Biosphere Reserves in Peru. The esteemed prize, awarded every two years in memory of Dr Michel Batisse, is given for excellence in the management of biosphere reserves according to the recommendations of the Seville Strategy.
According to China's People's Daily, a documentary about Wudalianchi was aired at the ceremony. This documentary depicted the challenges of managing its delicate ecosystem and China's success at creating solutions to tackle these environmental challenges head on.
Wudalianchi's has now been formally recognised as China's best example of conservation and sustainable development, which will help the country on its way to becoming a greener Economy. This has recently been unveiled in their Five Year Plan, which for the first time lays great emphasis on the environment and tackling problems with increasing carbon emissions.
Wudalianchi's Award: Great for Tourism
It's now expected that tourism to the Wudalianchi nature reserve will rise – and efforts to continue its conservation will double. Located 350km north of the city of Harbin, tourists can take a bus or train to the entrance and continue their tour of the reserve by private minivan. Tourists on China holidays will not only discover clear-blue lakes and stunning forests, but also many local Buddhist temples. UNESCO's data from 2007 quotes that 56,730 people live in the Wudalianchi nature reserve, and their cultural customs can be seen all around it.
It's also expected that scientific tourism will grow exponentially. Biologists will be encouraged to study the biodiversity of the reserve. The area is rich in volcanic soil as Wudalianchi is home to Asia's youngest volcanic field, allowing for a wide range of plant species to flourish in its mineral rich ground.
---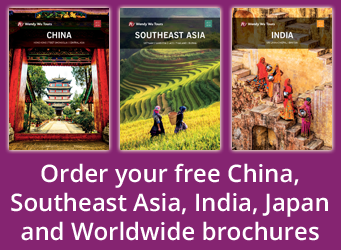 Book a escorted tour of China with the UK's leading China Experts, Wendy Wu Tours. Our award winning escorted, fully inclusive China tours visit all the major sights of China for an unforgettable holiday.
We also have amazing tours to Vietnam, Cambodia, Laos, Japan, India and beyond…