There's no better time to visit Hong Kong than right now. 
A popular city break in Asia, Hong Kong is a bustling, modern city of over 7 million people spread over 3 large islands and over 200 islets. The name 'Hong Kong' conjures up an image of skyscrapers, bright lights and busyness. Whilst this is the case, there is more under the surface of this amazing city.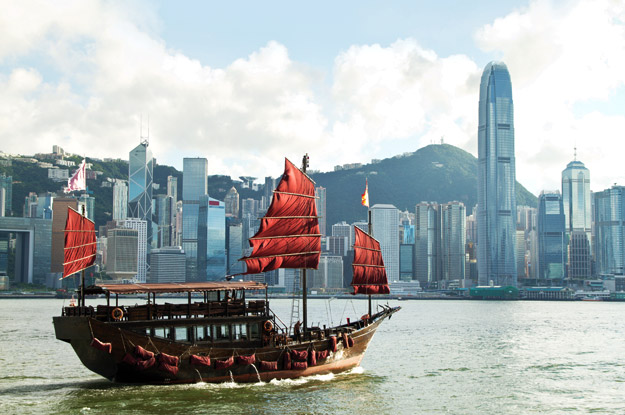 So here are our reasons why you should visit Hong Kong right now!
East Meets West & Tradition Meets Modernity
Hong Kong is a melting pot of influences which has shaped it into the city it is today.
Part of China, it was invaded by the British and Japanese, and all three have come together to create a Hong Kong where East meets West and ancient traditions compliment its modernity.
In Hong Kong you can find modern apartment buildings with gaps in the centre where Feng Shui 'spirit dragons' can pass through. The city's streets are a unique style of modern suburbia and old fashioned street signs with colonial double-decker trams. You can wander the Nan Lian Garden: an example of Chinese horticulture from the Tang Dynasty. Known as a huge financial capital, Hong Kong is also known as a major city of arts, cinema and culture.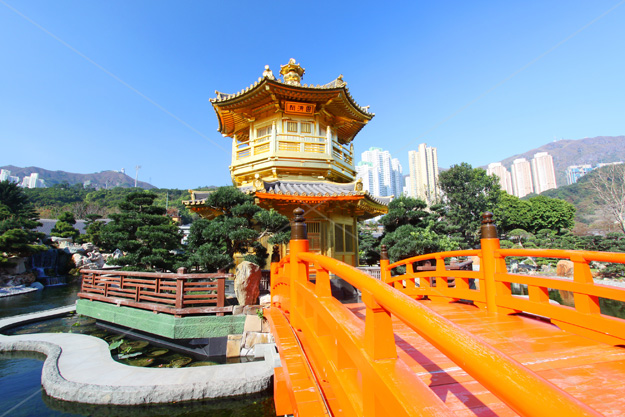 It's an atmosphere unlike any other!
Delicious Food
There's an unlimited variety of different cuisines on offer in culinary Hong Kong.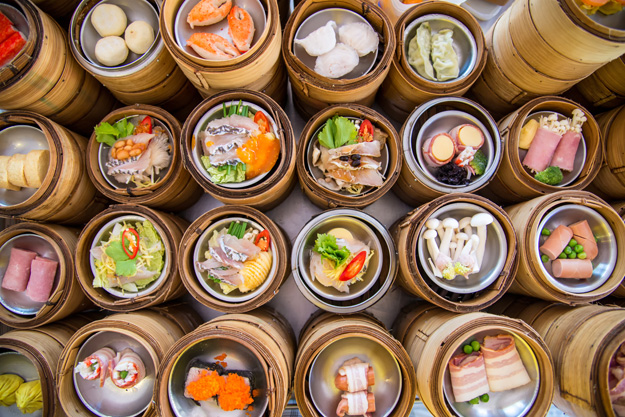 The influence of Cantonese, Western and Japanese flavours have produced a fusion of food that's both tasty and diverse. From world famous noodle stalls on the city streets to opulent Afternoon Tea in atmospheric restaurants, steamed dumpling feasts to Chinese BBQ, there is something to look forward to at every meal!
We recommend you to try Congee for breakfast, traditional Dim Sum for lunch, Kau Kee Beef Brisket for dinner and a sweet Pineapple Bun for dessert in true Hong Kong style!
The Views
Everyone has the chance to take an iconic photo of Hong Kong's skyline to rival that of any professional photographer.
Ascending Victoria Peak – Hong Kong's highest mountain and most popular tourist attraction –  by its iconic tram allows you to see the city from above via a slow ascent. Once at the top, you'll be greeted by spectacular, panoramic views of the heights of the city. Many will return in the evening to see the city switch from day to night as Hong Kong's lights switch on and the city comes alive.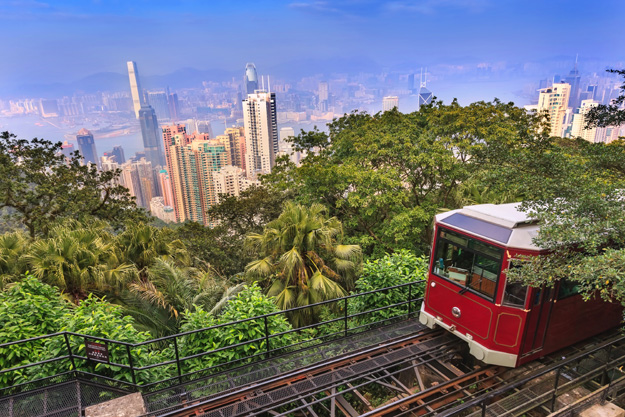 A great evening activity is to watch Hong Kong's nightly light show called 'A Symphony of Lights,' where the skyscrapers along the harbour are lit up in a festival of colours. Free to watch and the world's largest permanent light show, this spectacular view of the city can be enjoyed from the Tsim Sha Tsui waterfront.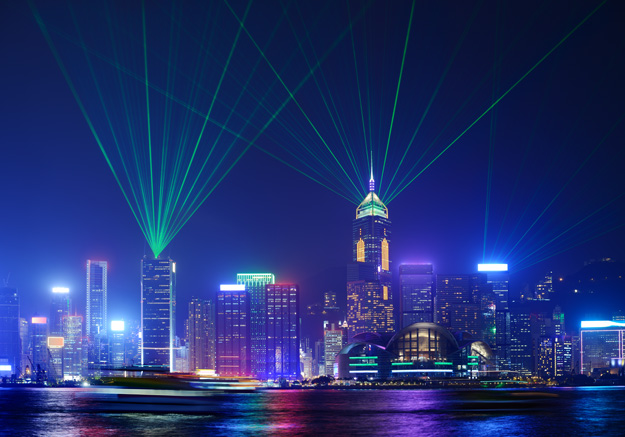 Shopping
From street markets to high end shopping centres, you can shop to your heart's content in this wonderful city.
A shopper's paradise, there's a wealth of both home grown and international brands across many dedicated shopping streets and department stores. Causeway Bay is the most popular shopping area, and it looks like a mini Tokyo with its neon advertising boards and busy streets. Open until gone 10pm, a day of sightseeing is perfectly complimented by a night of retail therapy. Most of all, most items are duty free!
Bargains can be found in the local markets. An area of the city called Mongkok is full of hidden street markets that sell everything from cheap Chinese handbags to fake designer goods. You can also try excellent local snacks as you peruse the stalls.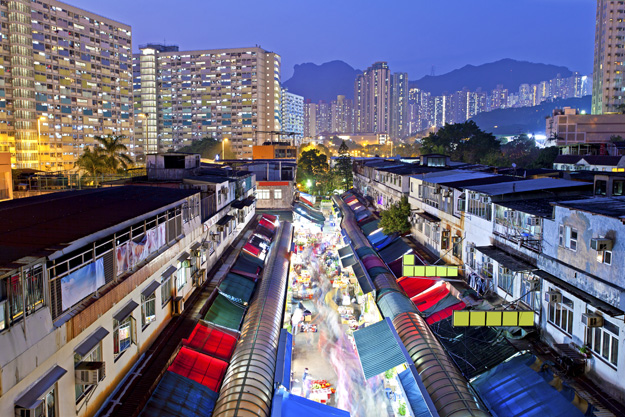 Beyond The City Lights
If you decide to stay for longer in Hong Kong, or return a second time after a China holiday, there is more to see than the bright city lights of Hong Kong Island and Kowloon.
You may opt to travel to Lantau Island where you can see the famous Big Buddha statue. Accessible via the Ngong Ping 360 cable car – an incredible journey in itself – the Big Buddha is a 34 metre tall statue enthroned on a lotus leaf altar.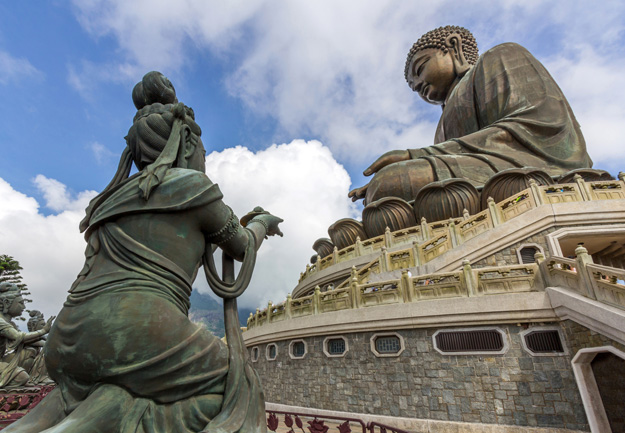 If hiking is more your hobby, then there are many trails and walking routes in the hills and mountains surrounding the city.
There's also many beaches to relax on around the city, including Cheung Sha and Tai Long Wan beaches. Each are easily accessible via public transport.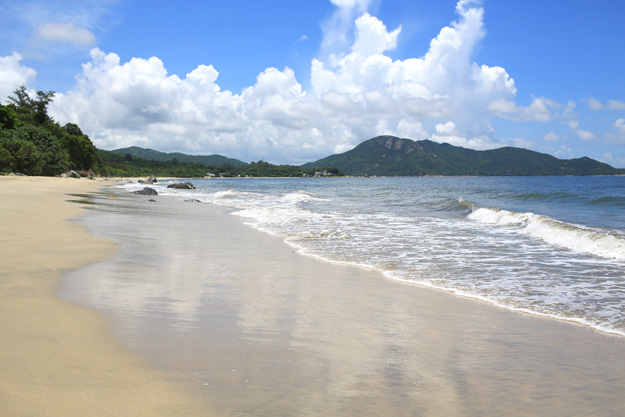 So don't delay: Hong Kong is waiting to be explored! An easy extension to any holiday in Asia, or a solo city break in itself, all you need to do is buy your guidebook and plan your itinerary!
---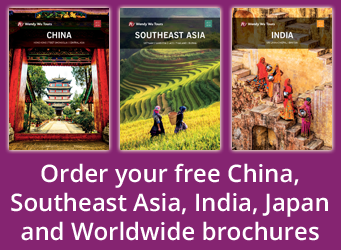 Visit Hong Kong with the UK's leading Asia Experts, Wendy Wu Tours. Our award winning escorted, fully inclusive tours visit all the major sights of Asia for an unforgettable holiday.