As the seventh largest country in the world, India can be difficult to navigate. Its sprawling cities and vast landscape mean finding and travelling to the country's most famous sites can be a tricky task. This is just one of the reasons why escorted tours of India are the best way to experience everything the country has to offer. If you're not convinced, read on to find out about 10 amazing things you can see on a tour of India, and to find out more about what's included in your once-in-a-lifetime holiday.
1.  Varanasi – One of the world's oldest cities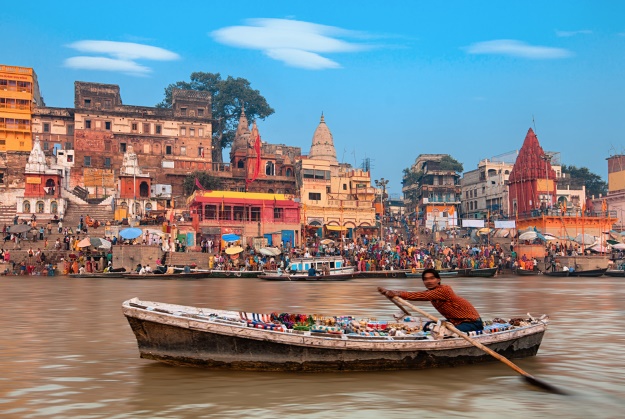 Also known as the City of Light, the holy city of Varanasi is one of the world's oldest continuously inhabited cities. Dedicated to Lord Shiva, the Hindu god of creation, Varanasi dates back to 6th century BC, and sits on the banks of the River Ganges. It's estimated that the city is home to around 23,000 temples, so once you arrive in Varanasi, the strong sense of religion and community is hard to ignore.
Anna Phipps, travel writer and blogger at Global Gallivanting, fell in love with India and is now living in Goa. Having explored the country extensively, Varanasi left a lasting impression on Anna. She told us more about what makes this city so special:
"India is heaven for spiritual seekers and history buffs. One place you simply can't miss in India is Varanasi. Situated on the banks of the holy Ganges River, it's one of the holiest places in all of India and one of the oldest inhabited cities in the whole world. Many pilgrims come to the holy city to dip in the holy Ganges river as they believe that it will wash away a lifetime of sins.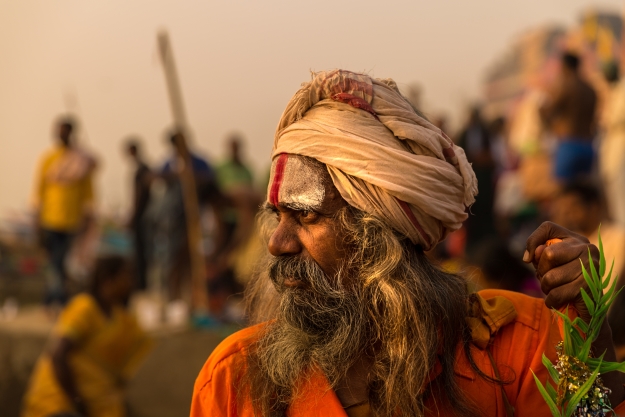 "Visiting Varanasi is quite an experience and an assault on the senses as Hindus believe that dying here releases you from the cycle of death and rebirth, and being cremated along the holy river Ganges is very auspicious for Hindus. Seeing the rituals played out along the river bank is a unique and unforgettable sight, and Varanasi is undoubtedly one of the most interesting, spiritual and historic places to visit in all of India."
As Anna has a clear passion for Varanasi, we asked her about the highlights of visiting the city: "Most of the spiritual activities in Varanasi revolve around the ghats, so the best way to understand this city is simply to walk along the ghats and soak it all up, it's most atmospheric at sunrise.
"My highlight of visiting Varanasi was taking a sunrise boat ride along the holy Ganges River. Everything is bathed in a magical dewy glow and you can see all the rituals of life, and death, played out along the river bank. Another highlight is the evening Ganga Aarti. Just after sunset every evening, a huge crowd of hundreds of pilgrims gathers at Dashashwamedh Ghat to watch a Pooja (prayer) where Hindu priests lead a ceremony of fire, chanting and music worshipping the river Ganges and Lord Shiva."
On an escorted tour of India you'll get the chance to enjoy a boat ride and visit Varanasi's iconic ghats. As for Anna's top tips? "My top recommendation for people visiting Varanasi is to take your time, don't rush, go with an open mind and learn about the culture and religion of India. Varanasi can be a hot, crowded, intense and overwhelming city, and you also need to be mindful of scams. Also, I really wouldn't recommend you take a dip in the Ganges as it's very dirty."
2.  Tigers in Ranthambore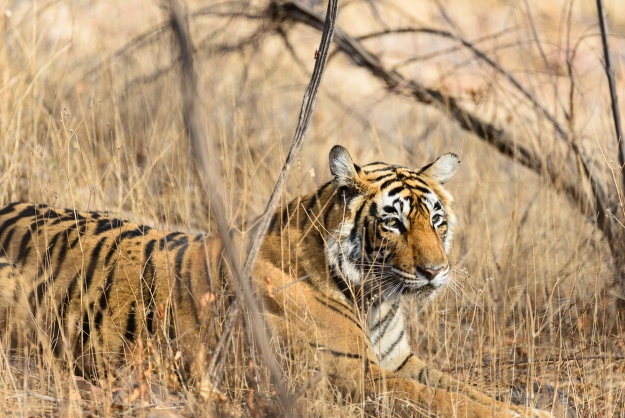 If seeing tigers in the wild is on your bucket list, Ranthambore National Park won't disappoint. Covering 109 square miles, the park in northern India serves as a sanctuary for Bengal tigers, meaning you can spot these majestic creatures in their natural jungle habitat. As well as Bengal tigers, you can spot Indian leopards, wild boar, striped hyena, rhesus macaques and mugger crocodile. You can visit Ranthambore on a tour of India, which includes a safari through the various sections of the park to see its resident wildlife.
3.  Jaipur – The Pink City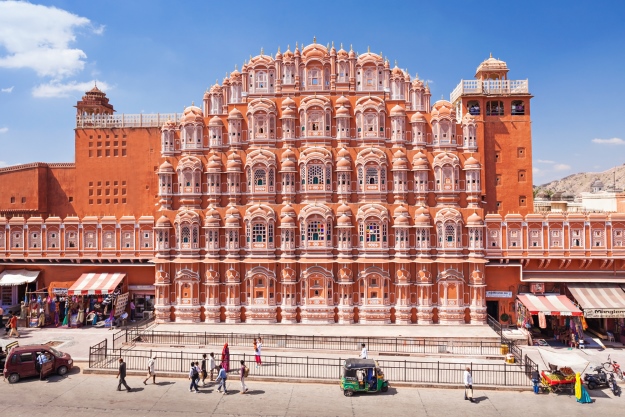 Forming one part of India's Golden Triangle (Delhi and Agra taking the other two), Jaipur is the capital of the state of Rajasthan. Its striking pink buildings, such as City Palace and Hawa Mahal, are some of the most photographed in India. Remarkably, these structures were painted pink, the colour of hospitality, to welcome the Prince of Wales for a visit in 1876.
To find out more about the highlights of visiting Jaipur, we spoke to Ami Bhat of travel blog Thrilling Travel. Ami writes about her experiences and aspires to provide a virtual tour of various destinations to help them plan their own trip. We started by asking Ami what she loves most about Jaipur: "The beautiful fusion of culture, tradition and heritage that the city offers. It is seen through not just the various historic sites but also, in their markets and streets as well as through their people."
As for the highlights? "I loved visiting their forts the most," said Ami, "Jaigarh Fort was my favourite. Hawa Mahal within the city was a delight to discover, as was the city palace. One intriguing place is the Jal Mahal, which is closed to the public.
"A visit to the Jantar Mantar is a must for it showcases how the ancient art of time telling still holds good today. Don't miss the Sisodia Rani Gardens for its nature and heritage. Leave some time for shopping, for there is some amazing stuff to take home and also, try a dinner at one of the Rajasthani restaurants."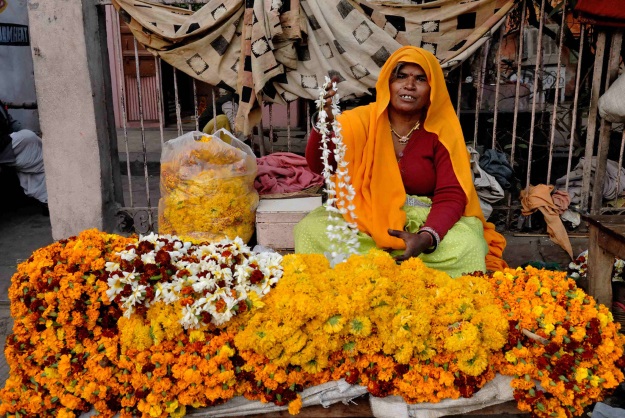 Travel blogging couple Sandy and Vyjay of Voyager are based in Bangalore in southern India, and also highly recommend visiting Jaipur. "The Pink City has so much to see and experience. We would recommend that the first attraction you must see is the Amer Fort which needs to be explored a little leisurely. One can also see the City Palace, Jantar Mantar, and Hawa Mahal. The day can be rounded off with an evening of shopping in Bapu Bazaar which is located in the old city dotted with pink-coloured buildings."
We also asked Sandy and Vyjay for their top piece of advice for first-time visitors to Jaipur: "When you're shopping in Jaipur, especially the old city, be aware that you can bargain for some good deals. Be prepared to do some considerable walking in City Palace and Amer Fort."


4.  Grand Chittor Fort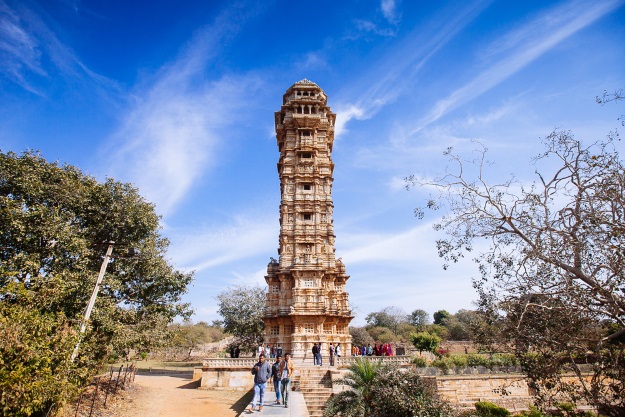 Spread over a hilltop, this UNESCO World Heritage site is one of the largest forts in India. Chittor Fort was once the capital of Mewar, a region of south-central Rajasthan, and sits high above the plains of a valley drained by the Berach River. The expansive site is formed of palaces, temples, gates and two striking commemorative towers. Dating back to the 7th century, Chittor Fort has seen many invasions, though the fort is still in excellent shape, making it one of the most fascinating historic sites in India.
5.  The blue buildings of Jodhpur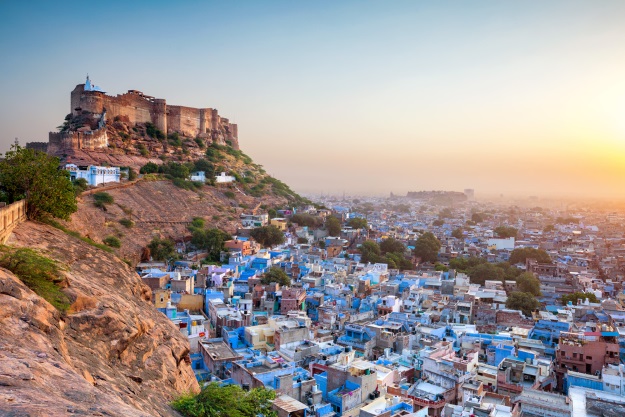 Overlooked by the imposing Mehrangarh Fort, the city of Jodhpur exudes a beautiful blue glow. Its painted buildings are scattered below the hilltop, protected by a 16th-century city wall. Wandering through Jodhpur's jumbled streets will be a highlight of your India tour, as medieval streets, bazaars and street food stalls entice your senses.
Documenting his solo budget travels around the world on his blog, Journey Era, Jackson Groves is a seasoned adventurer. His travels took him to India three times in 2017, including the vibrant city of Jodhpur. "The blue city was amazing," said Jackson. "Each night sitting on the rooftops chatting to the kids as they fly their kites was a buzz. The Mehrangarh Fort looms in the background and then is lit up as the centrepiece of the city. Jodhpur is unique for more than just its blue walls – it holds a rich history."
We asked Jackson what he'd recommend people see and do in Jodhpur if they have just a short time to visit: "Mehrangarh Fort. Wander through the alleys of the blue houses, visit Toorji-ka-Jhalara (Jodhpur Stepwell)."
6.  Churches in Kerala's backwaters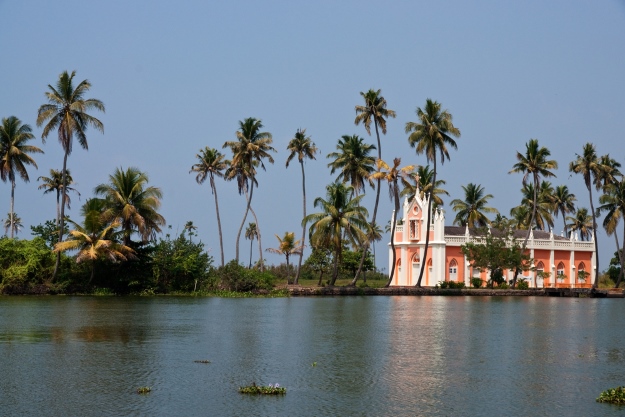 On India's tropical Malabar Coast, the state of Kerala is considered to be India's most relaxed state. Palm tree-lined beaches and a network of picturesque canals (backwaters) draw visitors from far and wide hoping to get a taste of a less chaotic India. On your tour of Kerala, you'll get the chance to experience the state from the water, drifting gently by villages and fishermen, as well as many extravagant churches. Clearly visible behind the palms, Kerala's churches are painted in beautifully bold colours and are regularly attended by Keralans. This experience is a wonderful way of getting an understanding of local life in southern India.
7.  The Taj Mahal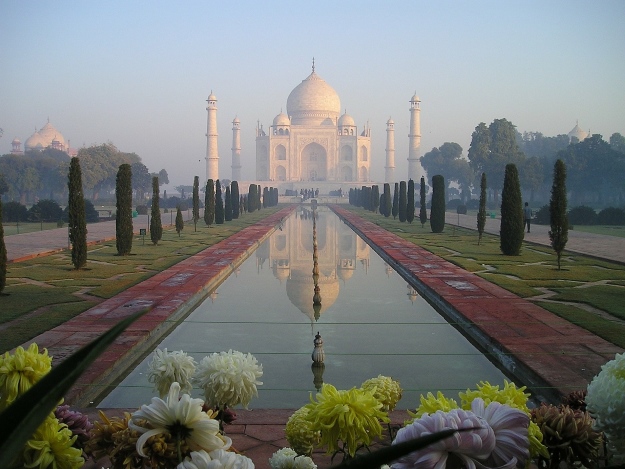 Although we're familiar with images of the Taj Mahal, nothing can quite prepare you for seeing it in person. The opulent mausoleum, built in tribute of Shah Jahan's wife, Mumtaz Mahal, who died while giving birth to their 14th child, is considered to be the world's greatest feat of engineering. The white marble appears to change colour at sunrise and sunset, and reflects a beautifully symmetrical image into water before it. Visiting the Taj Mahal will undoubtedly be a highlight of your holiday to India.
8.  Intricate red sandstone buildings of agra fort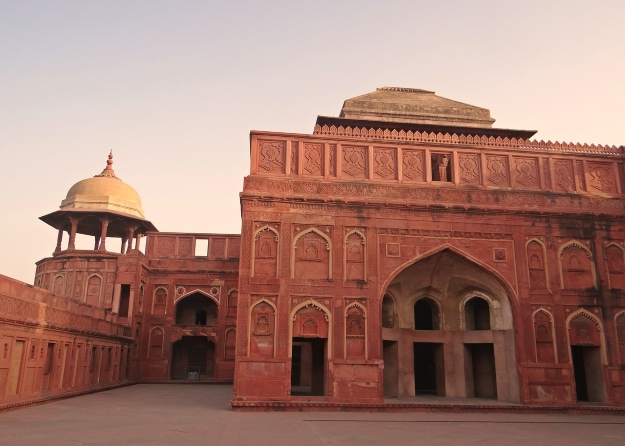 Despite the Taj Mahal being one of the world's most famous sites, it's important not to forget its neighbouring attraction, Agra Fort, just 2.5 kilometres away. This impressive red sandstone fortress is an architectural marvel. Construction of Agra Fort began in 1565 by Mughal Emperor Akbar as a military base and royal residence. Protected by 21-metre high walls, the fort contained palaces, audience halls and mosques, surrounded by perfectly-landscaped gardens. Today, you can walk around the fort and discover its fascinating history for yourself.


9.  The towering Himalayas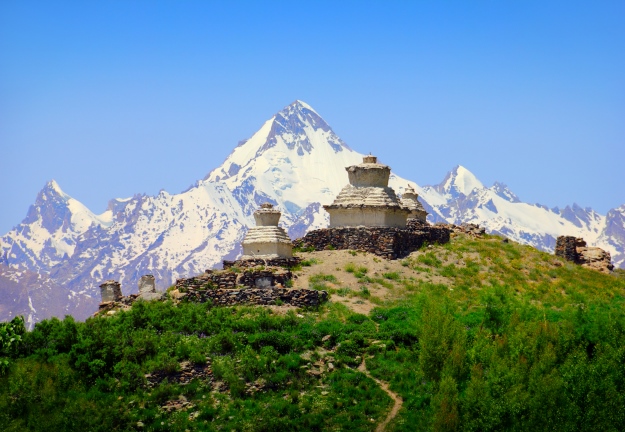 Home to the world's highest peak, the towering mountain range of the Himalayas forms a barrier from the Plateau of Tibet in the north to the plains of the Indian subcontinent in the south. More than 110 mountains in the Himalayas rise above 7,300 metres, so visiting this dramatic mountain range is quite humbling. It is a place where you may feel overwhelmed by the sheer scale of the mountains, and the tranquillity of their surroundings. While many visit the Himalayas to scale Mount Everest in neighbouring Nepal, there's so much more to this beautiful region. On your tour of India, discover ancient villages, temples and forts nestled in the Himalayas to see a different side of this world-famous mountain range.
10.   The holy town of Pushkar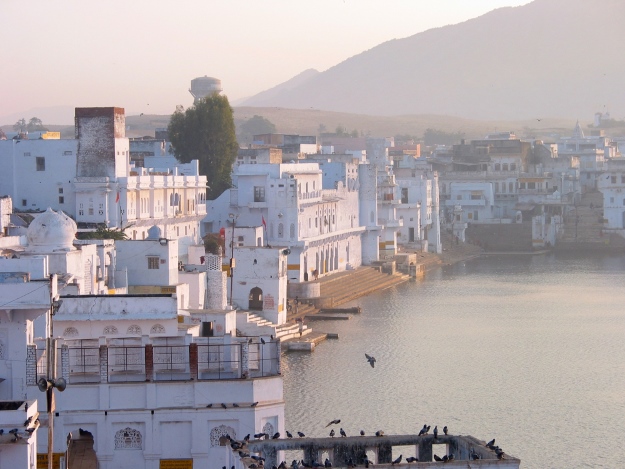 Bordering the Thar Desert in north-eastern India, Pushkar is perhaps one of India's most picturesque towns. It nestles the bank of Pushkar Lake, a sacred Hindu site with many ghats where pilgrims bathe. Devout Hindus generally visit the town at least once in their lifetime. Although not a particularly large area, Pushkar has roughly 400 temples, each as beautiful as the last. As you explore the area, you may hear the gentle sounds of prayers and chanting. Pushkar is a tranquil, holy place and a very worth stop on your tour of India. A visit here will give you a window into the religion and culture of the country.
---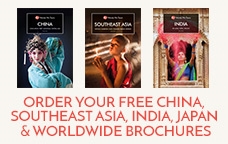 Book an escorted tour to India with the UK's leading Asia Experts, Wendy Wu Tours. Alternatively,  work with our tailormade team to create your dream India holiday. Whichever you choose, we can guarantee you an unforgettable trip.
For more information on when to go, take a look at our Best Time to visit India Page
---
Image credits: MM