From the backwaters of Kerala to the bustling streets of Delhi, India is one of the most diverse and culturally fascinating countries in the world. Whether you're joining an escorted tour or going it alone, travelling in India will undoubtedly open your mind. To get an idea of India through the eyes of local and international travel experts, we asked bloggers to send us their favourite photos of India, and to tell us about their experience in the country.
Heather Cowper
Heather on her Travels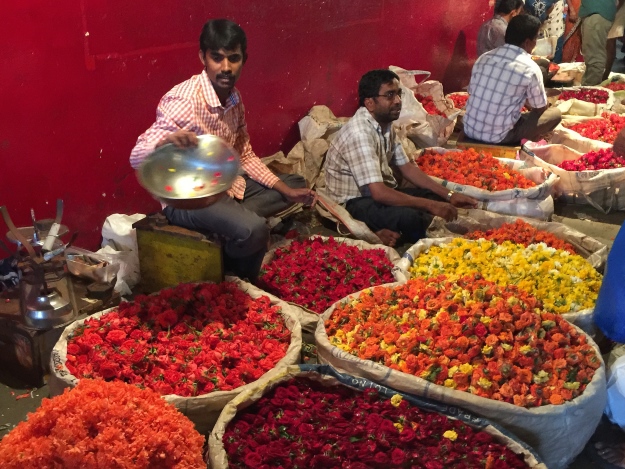 Heather Cowper is an experienced traveller, providing advice and inspiration on her travel blog Heather on her Travels. As a child, Heather travelled through Europe extensively with her parents. Over the years her passion for travel developed and she began exploring further afield to the likes of Hong Kong and Ecuador. Heather has now visited India three times, working with a charity in rural Andhra Pradesh, a coastal state on India's south-eastern coast. We asked Heather to tell us more about her favourite photo of India:
"I flew to Bangalore or Bengaluru a couple of years ago and had just a day to explore – one of my favourite moments was visiting the flower market where huge baskets of roses and other flowers were on sale. There's a whole industry around making garlands which are used in India to greet any guests coming to visit or welcome people home after a journey. I had a few of these garlands draped around my neck during the trip and the smell of rose and jasmine was intoxicating."
Ellie Cleary
Soul Travel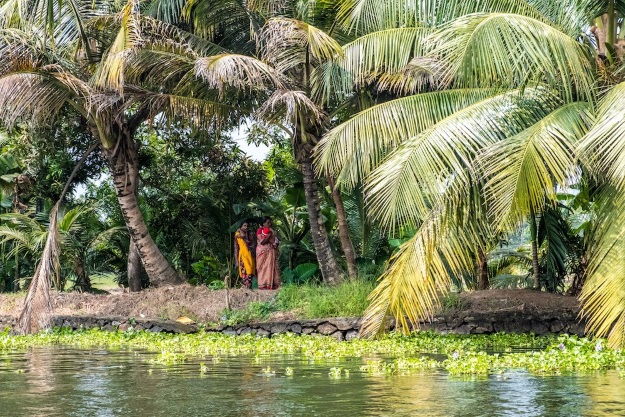 Ellie Cleary of responsible travel blog Soul Travel has travelled extensively in India, spending roughly seven months there in total. Her first trip to India was in 2015, since then she has travelled to the country by herself and with her partner, who is Indian.
"This January we spent a month in Kerala, exploring options for more responsible and sustainable ways to see this beautiful state," said Ellie. "We loved the homestays, coffee plantations and staying in villages in Wayanad (northern Kerala) as well as the chance to see the backwaters away from some of the crowds in sleepier Kumarakom. We found that from tea plantations and hills to backwaters and beaches, Kerala has a lot to offer!

"Kerala's backwaters are well known, one of our favourite ways to explore them was not on a private houseboat, but instead by local ferry, where we got plenty of glimpses of quiet, local life – such as these colourfully dressed ladies!"
Nick and Dariece
Goats on the Road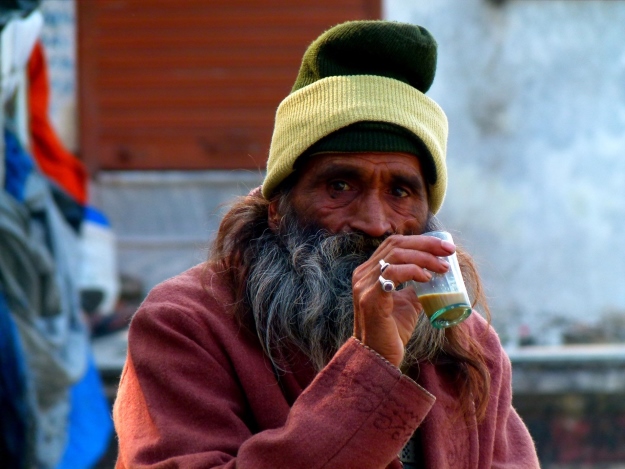 Nick and Dariece, a Canadian couple and the brains behind travel blog Goats on the Road have spent a considerable amount of time exploring India over five months, on three different trips. Their travels have taken them far and wide, and as a result, the duo have had a unique insight into life in Indian communities. "On our last trip to India, we spent 3 weeks in a beautiful ashram in Rishikesh," said Nick and Dariece. "Upon leaving the Ashram for a walk one day, we stumbled across this man happily drinking his chai (tea) on the banks of the Ganji. We couldn't help but to take this photo!"
Vicky Philpott
Vicky Flip Flop Travels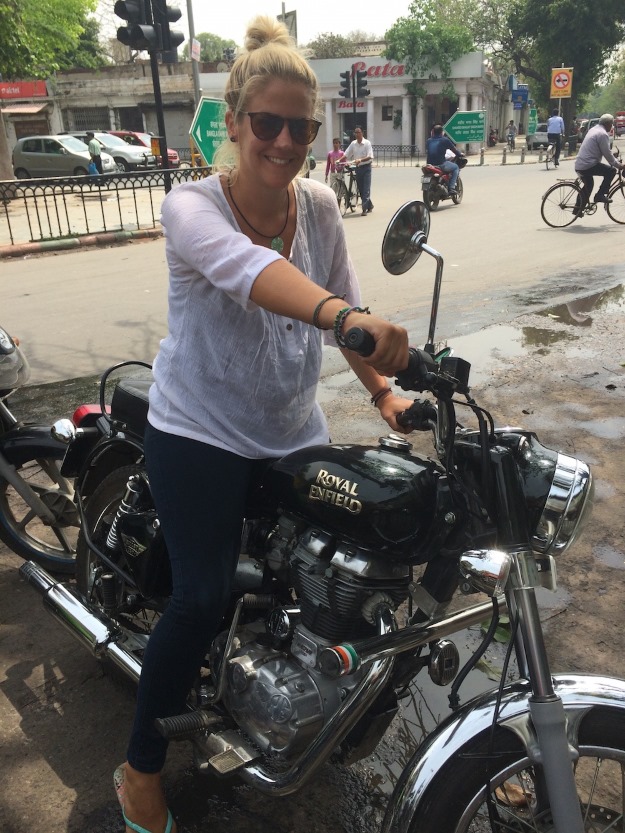 When we asked Vicky of travel blog Vicky Flip Flop Travels for her favourite photo, she sent one which reflects a truly memorable experience from her holiday to India. Her passion for local food and drink and her sense of adventure have led Vicky to travel extensively and inspire people to travel to places out of their comfort zone via her blog.
"I'd been on a trip to the Taj Mahal with a tour group and had a brilliant few days," said Vicky. "I got on really well with the tour guide and so when we got back to Delhi he said he'd take me out the next day on his Bullet Bike. I had no idea what one was. He turned up on this and drove me round the streets on Delhi – it was awesome. He found it very entertaining because everyone was looking at us. I liked it because his bike was cool (and now I want one), and we went for choley at his favourite place. It was a fun day, totally unexpected and not what tourists usually do in Delhi. The last day of a great trip!"
Shalu Sharma
Shalu Sharma's Travel Guide to India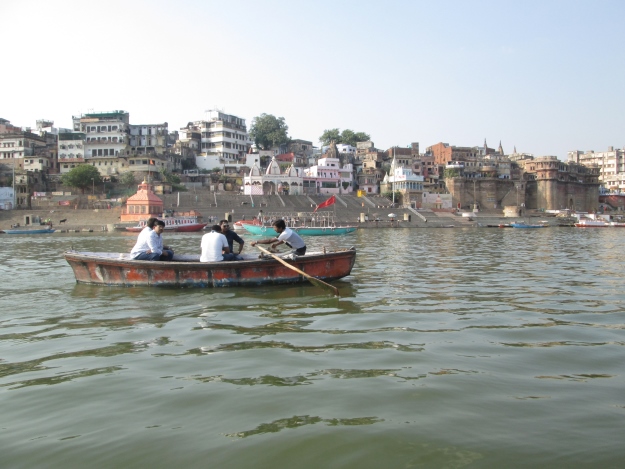 Shalu Sharma, a resident of the North Indian state of Bihar, has used her extensive experience of living and travelling in India to create her blog – Shalu Sharma's Travel Guide to India. With a wealth of knowledge and insider information, Shalu's website is an incredibly helpful resource for anyone planning a holiday to India. When we asked Shalu for her favourite photo of India, she sent us this shot of life on the River Ganges in Varanasi.
"People don't visit India for a relaxing holiday but to experience India and Indian culture," said Shalu. "One such place if you truly want to experience India in its raw form is Varanasi. Varanasi (also known as Banaras) is a must place if you want to understand Indian culture. Varanasi is the one of the holiest cities of the Hindus. It is considered as the oldest inhabited city of the world. Here you will be able to experience India, its people, culture, food and the Hindu religion.

"When you are in Varanasi you should visit the ghats (or river banks) and take a boat trip around the popular ghats on the River Ganges. What you will see might change your view about life forever! In addition to the famous ghats, you can visit numerous temples, take a cultural and heritage walk with a tour guide, visit Sarnath (where Buddha gave his first sermon) and shop for famous Banarasi silk sarees."
We hope these beautiful photos and stories have inspired to book a holiday to India to see this amazing country for yourself. If you've already travelled through India, we'd love to see your holiday photos!
---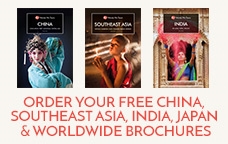 Book an escorted tour to India with the UK's leading Asia Experts, Wendy Wu Tours. Alternatively,  work with our tailormade team to create your dream India holiday. Whichever you choose, we can guarantee you an unforgettable trip.
For the lowdown on when to go, explore our Best time to visit India pages
---
Image credits: Heather on her Travels, Soul Travel, Goats on the Road, Vicky Flip Flop Travels, Shalu Sharma