Everyone knows the lures of Japan in the spring; the beautiful pastel shades of pink and white from sakura and the many celebrations that take place during this very sacred part of the year. But what happenswhen that finishes? When you're left wondering how to enjoy summer in Japan?
The summer is the most active and celebratory season of the year in Japan. Thousands of festivals and events take place, new food is on the menu and everywhere is buzzing with life, as Hollie Mantle, the Marking and Communications Manager for Japan National Tourism Organization says:
"Japan in the summer months is ablaze with festivals and excitement all over the country. We recommend going to the Sumida River Fireworks Festival in Tokyo – where fireworks in the shapes of Hello Kitty and various other popular characters are always a great crowd pleaser. Or for those looking for some spectacular examples of Japanese craftsmanship and creativity, the Nebuta Matsuri in Aomori showcases enormous paper floats depicting creatures from Japanese folklore, carried down the streets by thousands of festival-goers."

"Summer in Japan is a great chance to try out some Japanese fashions, and you'll get used to wearing the oh-so-comfortable Japanese 'yukata' out in the streets more quickly than you may first imagine. We also highly recommend indulging in cooling Japanese summer dishes such as soba, or trying the energising 'unagi-don' (eel on top of rice) which is traditionally eaten in the hotter months."
There is so much on offer for every kind of person, those seeking tranquillity on a holiday to Japan, or exploring culture and ancient history at the many festivals. But before you go you'll need the details, the inside track for where to go and what to do in the summer in Japan.
Festivals
There are over 100,000 festivals that annually take place in Japan, with the most traditional and popular taking place between July and August. Firework or dance, you will be able to try the best summer foods on offer in Japan, all while enjoying the best festivals in Japan.
Gion Festival July 1-31, Kyoto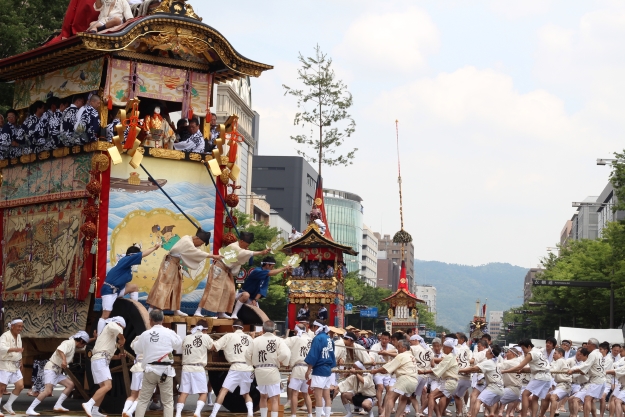 Lasting an entire month, the Gion Festival is 1,100 years old and preserves historic tradition in the country. It is one of three great festivals in Japan that has continued to be celebrated at Yasaka Shrine in central Kyoto.
Not only is the Gion Festival the biggest in Kyoto, it is also one of the biggest in the whole of Japan. It is an authentic celebration of the city's culture, the festival was originally been held as pray for deliverance from plague.
Awa Odori, 12-15 August, Tokushima
The Tokushima Awa Dance Festival is a spectacle that will stay with you forever. One of the most popular events in Japan during the summer, thousands of people flock to the streets to dance no matter their level of ability. If you're someone who likes to slip on your dancing shoes then you can, anyone and everyone can participate.
Awa Odori can be dated back to 1587 when a party was organised to celebrate the newly-built Tokushima Castle by Lord Hachisuka Lemasa (1558-1638).
The festival is held during the Obon week, which is an annual Buddhist event that allows people to commemorate their ancestors and a time when their spirits return to this world to visit their relatives. It is an occasion that is both passionate and significant for the Japanese people, but when you see everyone dancing without a care in the world you will be compelled to join in.
Fireworks
With more than 1,000 events held each year you're likely to come across a full range of celebrations and while the hot and humid conditions may leave you reluctant to be involved during the day, there is plenty going on at night.
Fireworks (called hanabi in Japan), which originated in Asia were originally used to keep evil spirits at bay and have a long standing history in Japan. They have become an integral part of the summer in the country with millions of people staring up into the sky at the beautiful displays.
Throughout late July and August the skies above Japan burst with bright colours as fireworks dazzle thousands of spectators below.
Sumida River Fireworks Festival
It is believed that the Sumida River fireworks is the oldest fireworks festival in the world, drawing in over one million people to the banks of the Sumida river in Tokyo each year. It dates back to 1733 when, following a severe famine and a rise in the price of rice enraged the locals. To raise their spirits, the Shogun (Yoshimune) allowed for there to be a fireworks festival on the Sumida River.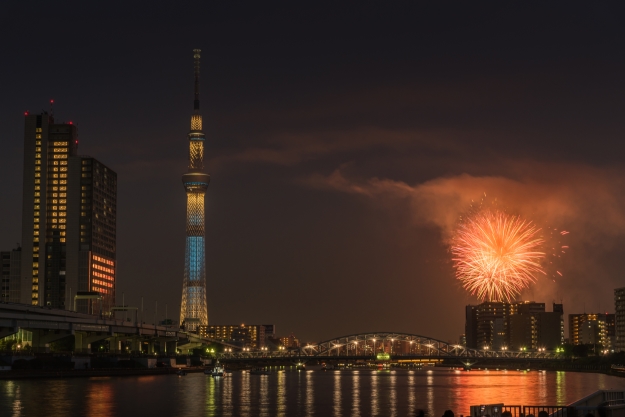 Many of us will have only really experienced fireworks in a muddy field for a small town celebration, perhaps the New Year celebrations. Putting those against the Sumida festival is like making a sloth race a cheetah. Expect more than 22,000 fireworks, millions of spectators and countless other festivities.
Omagari Fireworks Competition
It may not be quite the size of the Sumida festival, but the Omagari Fireworks Competition certainly holds its own as one of the most spectacular events during the summer in Japan. More than 750,000 spectators descend upon the Tohuku region for its biggest fireworks festival.
Omagari is a national competition, where at least 30 firework makers from across Japan compete for the crowds. Displaying their skill, craft and technique, this has been running for over 100 years, when fireworks were used as an attraction during a festival at the Suwa-jinja shrine in August 1910.
Held on the 4th Saturday in August every year, the competition takes place on the dry river bed of the Omono-gawa in the city of Omagari, this is a really special occasion not to be missed.
Food and Drink
Japanese cuisine is known the world around, famous for its raw ingredients and health benefits. However, not many people know that there are actually specific summer dishes.
The seasons affects what foods you have on offer as well as taste, ingredients and even the temperature of dishes. This is why you will find a wide selection of colder meals, as well as iced options, while in Japan.
Somen
Food is very seasonal. While you may enjoy a stew in the winter you'll be tucking into something lighter in the warmer months. This is no different in Japan, and is why a dish like Somen is a great option for anyone tackling the humidity of a Japanese summer.
The traditional meal is a version of noodles, but served cold. Across the country you can find a wide choice of cold noodle dishes, but the hallmarks of Somen are the thin white noodles that have been dipped in tsuyu (a sauce) and left to cool. It is refreshing while filling and is readily available across Japan.
Kakigori
If you're not up for a full meal then the delicious Kakigori is a must. Simply put, it is shaven ice in a cup which alone may not sound that appealing, but when you have added the syrup it becomes the Japanese equivalent of a Slush Puppy or snow cone, just tastier and presented much better. There are a great range of flavours to savour, ranging from strawberry, cherry and melon to green tea.
Unagi
Popular as a lunchtime meal in Japan, grilled Unagi – freshwater Japanese eel – is quite expensive in comparison to other dishes you will try, but it utterly unique and delicious. Mixed with a sweet soy sauce and rice, the slight crisp to the Unagi makes it a real treat.
It is sure to give you plenty of energy which will be vital during the hot Japanese summer and has been a stamina food since the Edo period (1603-1868). Packed full of vitamins, protein and omega 3, it is guaranteed to boost your mood and satisfy your stomach.
Mount Fuji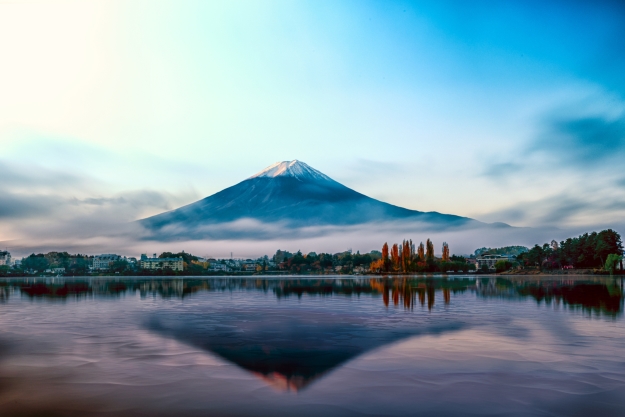 It may not be the biggest, but Mount Fuji is certainly one of the most iconic volcanoes on Earth. Steeped in religious and cultural significance, Fujisan – as it is known in Japan – is classed as a religious centre and a World Heritage Site for culture.
Almost 200,000 people work their way up the side of the volcano each year, with times ranging between four and eight hours.  Mount Fuji climbing season officially begins on July 10th and runs through until September 10th, with it closed off the rest of the year due to adverse conditions.
For the best experience of the stunning views it is advised that you aim to reach the summit for either sunset or sunrise. Though it is busy and you will feel it in your legs once you start getting close to the top, it is totally worth it and a must if you are in the area during the summer.
Where to go in Japan this summer
Osaka
If you're in Osaka during the summer months, head to Shirokita Park and the Sakuya Konohana Kan, where the exotic flowers burst into bloom. Osaka manages to cater for both those looking for a quieter time and those looking to throw themselves in the deep-end. For the latter, check out the biggest festival in the area, Tenjin Matsuri where a fleet of brightly coloured barges travel up the city's rivers bringing together lively performances and fireworks.
Elsewhere, Osaka Castle is a beautiful site to visit in the warm summer season, or you can visit the many festivals that celebrate the rice harvests throughout July and August.
Japan's Islands
Hokkaido
Home to just five per cent of the country's population, Hokkaido is Japan's wild frontier. A far cry from the modernisation you find in the major cities, this is the northernmost and least developed of Japan's main islands.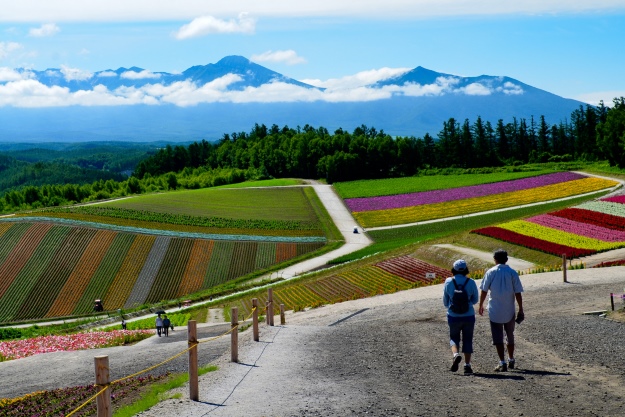 Ancient forests cover much of this forgotten land, which is exposed to the elements for much of the year. But this does mean that it is a much more comfortable destination during the summer, as Sharon from Where's Sharon explains:
"To escape the humidity altogether – as well as the worst of the heat – Sapporo on the island of Hokkaido can be great choice of destination. Sapporo's summer festival centres on a massive beer garden. It's one of the country's better hydrated festivals."
Lin Ying, the creator of Bumble Bee Mum, had to agree:
"Nobody in Japan welcomes summer more than the people in the northernmost island of Japan, Hokkaido, where they spend pretty much half a year in winter. To welcome the summer, the city of Sapporo celebrates with two major festivals in the month of June: Yosakoi Soran Festival and Hokkaido Shrine Festival."
"In July and August, the flower fields in Furano and Biei region reach their full bloom and this is the best time to check out the rainbow coloured assorted flower fields, purple lavender fields and yellow sunflower fields. And if you're after fireworks, spend a night in the onsen town of Lake Toya where fireworks light the sky every night from late April to late October. If you are planning to visit Hokkaido in summer, be sure to pack some warm clothing just in case as the weather there is pretty erratic. Last year, it actually snowed for a bit in June!"
Yaeyama Islands
You would be forgiven for picturing Japan as a blend of beautifully untouched rural countryside with neon-bright skyscrapers. You probably didn't think of a tropical paradise.
The Yaeyama Islands in the province of Okinawa are the most remote islands in Japan, but as Stefan and Sebastian from Nomadic Boys, who created their own Japan itinerary, say, it's a place that cannot be missed:
"We think all travellers to Japan this summer should check out the tropical Yaeyama islands in the south."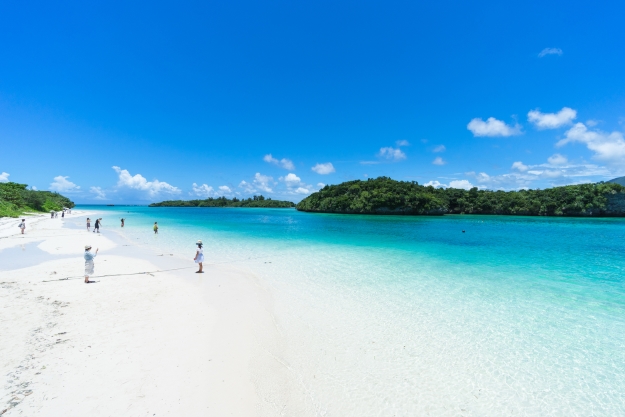 "The Yaeyama islands make up the southernmost inhabited archipelago of Japan, some 2,000 kilometres (1,242 miles) from Tokyo. This group of untouched islands offer a total change of scenery in a subtropical climate."

"This is the ideal destination to unwind and experience the natural beauty of the Japanese jungle, unspoiled beaches and pristine reefs."
If you were to head off to the islands, Stefan and Sebastian would recommend dividing up your time between Ishigaki Island and Iriomote, allowing you to discover the Japanese rainforest and one of the most secluded parts of the country.
What to wear in Japan in the summer
There is no way around it, Japan is hot and humid during the summer months. You will be rarely offered a moment's respite but the summer is the liveliest time of the year.
To combat the weather, you need to pack and dress appropriately. Summer really kicks off in July, as June can fall into the rainy season and as Hollie from JNTO says, you need to be prepared:
"Pack lots of light, airy clothing but also something waterproof – especially in June, when rainy season tends to hit the country. If you haven't got suitable clothing you can always visit UNIQLO when you arrive in Japan, which sells clothes specifically designed to combat the heat (it's also much cheaper to buy UNIQLO items in Japan)."
You will find that the Japanese dress similarly to those in the west, though older generations can be quite conservative. That said, you are more than likely going to come across some daring and colourful outfits amongst younger people in the cities. Sharon suggested what to pack for Japan in the summer, particularly in the more humid areas:
"Summer on Japan's main island of Honsu (where most attractions are) can be really humid. This is especially true of the Kanto region around Kyoto. So packing light summer clothes, especially cotton garments, will help. With the longer summer days more people tend to be out and about in the evenings, which can be much nicer than the days, and this can be the best time to explore."
If you are looking for a holiday to Japan you know that you'll be treated to surreal scenery no matter the time of year, but at least you can be sure that the warmer months are full of festivities and that you now know exactly what to do in the summer in Japan.
For the lowdown on when to go, take a look at our Best Time to Visit Japan page
---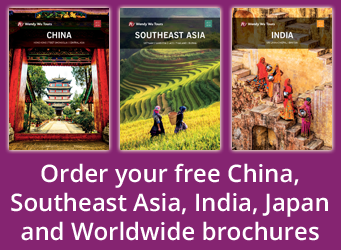 Book an escorted tour of Japan with the UK's leading Asia Experts, Wendy Wu Tours. Our fully inclusive tours visit all the major sights of Japan for an unforgettable holiday.
We also have tours to China, Vietnam, Laos, Cambodia, India and beyond…