For the best weather the best time to visit Cambodia is between November and April, but the weather isn't everything is it?
We're here to talk you through exactly when to go, where to go for relaxation, culture and history, what to wear, what the weather is going to be like, how to be respectful at temples and religious sites and exactly when to visit Cambodia.
When is the best time to visit Cambodia?
Cambodia is a stunning destination regardless of when you go. That said, we all have our own personal taste that come together to make the dream trip. You may be willing to don the waterproofs for the reward of fewer crowds then you may wish to travel between May and October. Otherwise you can embrace the tropical climes during November and March. As Paul Johnson, editor of A Luxury Travel Blog explains, it really is up to you:
"The best time to visit Cambodia really depends on whether you're wishing to dodge the crowds or dodge the downpours of the wet season. From November to March, it'll tend to be dry but busy, whilst from April/May to early October, it is common to experience downpours in the afternoon. That said, it's much quieter during the latter period, the countryside is lush and green, and the rainfall only a minor disruption to what are usually otherwise sunny days."
Like in most places, there are four annual seasons in Cambodia:
Cool and dry: November-February
Hot and dry: March – May
Hot and wet: June – August
Cool and wet: September – early November
Following the rainy season (September – early November) the temperatures rise slightly and the humidity levels are at their lowest, this also tends to be when the temples and other tourist spots are relatively quiet.
It's always hard to tell what exactly suits you best and it's even harder predicting the weather. But take Rob's advice and do some research. Having quit his job alongside his partner Natalie, they decided to set up their brilliant blog, Love and Road:
"We have travelled Cambodia two times, one to visit Angkor Wat and another to enjoy the beaches around Sihanoukville. Before traveling we did a lot of research and decided to keep our travels within the dry season and mild weather. We were in Angkor Wat and Siem Reap in early December, the weather was gorgeous, sunny days and temperatures around 30C. On our visit to Sihanoukville on late March we also got sunny days but the thermometer was hiding 35C easily. Even on the beach it was very hot. I would recommend to travel to Cambodia between November to January, so you can get sunny days and pleasant temperatures."
But Cambodia is glorious in full-bloom. From June-August tends to be the country's green season, where there is an abundance of fresh fruit, vegetables and greenery.
If you're looking to enjoy the beaches and stunning coastline on holiday to Cambodia then perhaps March to May is the best time for you. But others who may be looking to do a bit more exploring on a tour, might lean towards the cooler weather from November through to February.
Month by Month Guide
Visiting Cambodia in January
January is Cambodia's driest month with a comfortable average temperature of 26°C. This is a great time to visit the temples of Angkor and explore anywhere in the country.  Perfect for relaxing on the beautiful beaches too!.
Visiting Cambodia in February
February is much like January with little rain and average temperatures in the high twenties, still comfortable for exploring. The water levels on the vast Tonle Sap lake are still high, making this a great time to visiting the stilted villages and for taking a river cruise down the Mekong.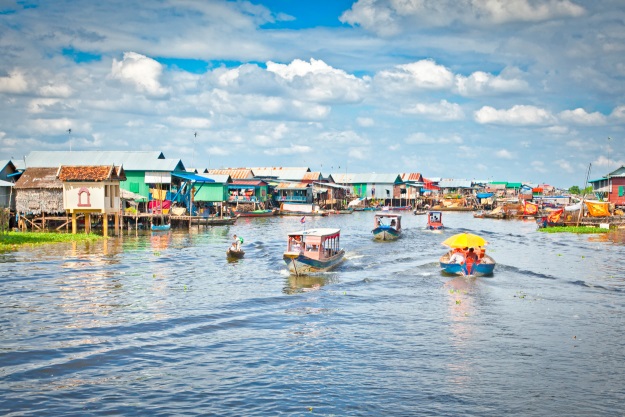 Visiting Cambodia in March
The most popular time for visitors to Cambodia so expect some company at all of the main sites and be sure to book a long way in advance! Average temperatures begin to rise into the low thirties and the water levels of Tonle Sap begin to fall.
Visiting Cambodia in April
April is still a popular time to visit Cambodia and the dry weather continues, the rains are generally expected in early May. Average temperatures to rise above 33°C so whilst that's perfect for the beach, you'll want to restrict your sightseeing to early morning and in the late afternoon.
Visiting Cambodia in May
With the wet season on the way, you take a chance on seeing some wet weather in May. You will see showers but can also expect plenty of sunshine to bless your days. Although the humidity begins to rise, this is still a good time to be out and about exploring.
Visiting Cambodia in June & July
June and July are firmly in Cambodia's wet season with plenty of showers, heat and humidity. Mud roads can become boggy and travel disrupted from time to time.
Visiting Cambodia in August
Temperatures begin to fall in August making touring more comfortable but the rains continue throughout Cambodia. Showers generally last a few hours at most. The positive side of this wet weather is the levels of Tonle Sap begin to rise again and the whole country looks incredibly lush and vibrant.
Visiting Cambodia in September
The wettest month in Cambodia with heavy showers expected every day. Although torrential, they usually last an hour or two at most so exploring can still be pleasant. Some remoter areas with mud roads may experience some disruption to travel.
Visiting Cambodia in October
A lovely month to visit. Temperatures continue to fall with averages in the high twenties and the rains beginning to abate. The peak season crowds are also yet to appear.
Visiting Cambodia in November
One of the best and most popular times to visit Cambodia with average temperatures a lovely 26°C and dry days the norm. The wet season has left the country looking lush the high waters levels of Tonle Sap lake are perfect for exploring.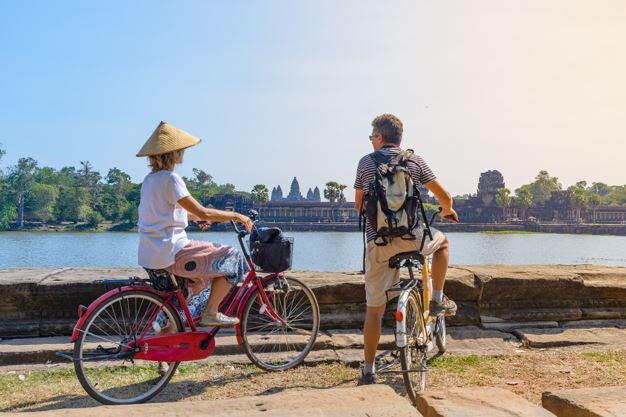 Visiting Cambodia in December
The weather is perfect in Cambodia during December. Temperatures average in the high twenties and this is one of the driest months of the year. Christmas is an exceedingly popular time to visit Cambodia so be sure to book up well in advance.
What to wear
Packing can be a challenge when you have booked to go away on a holiday. You have to consider the beliefs and cultures of the local people, while ensuring that you are comfortable and protected from the weather.
A few months ago we wrote a guide on what to pack for a holiday to Cambodia in which we mentioned how you should be appropriately covered up when visiting particular sights. This is a point that JB from Will Fly for Food echoed:
"Remember to dress appropriately when visiting the Angkor temples in Siem Reap. Wear pants or skirts that go below the knees and shirts that cover the shoulders. Skirts, small shorts, tank tops, and other items of revealing clothing are not allowed within temple grounds."
JB, who has written a travel guide to Siem Reap, emphasised the importance of respecting the local people and their customs:
"This dress code was implemented in recent years to combat the wave of nude pictures tourists would take at these sacred sites. They'd post them on social media, presumably for a laugh. These temples are sacred to Cambodians so please be mindful of their customs. Respect their ways, don't be entitled, and keep your clothes on."
You ultimately want to be comfortable, dressed practically and appropriately so if you are heading to a temple or religious site consider the following:
Lightweight, loose trousers (or bottoms that cover your knees), dresses/long skirts
Buttoned up shirts, t-shirts
Sarongs or similar to cover your shoulders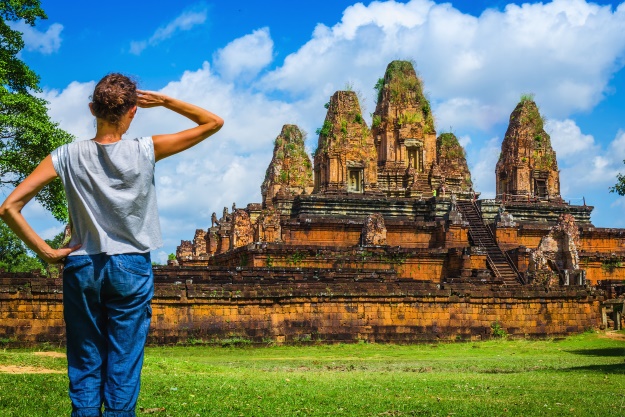 Avoid vests or anything that is sleeveless and will expose your shoulders, as well as any shorts or skirts that are too short. Ripped and tight trousers can also be deemed as inappropriate and too revealing.
Having documented dozens of travels across Asia alone on her blog, Wanderlust Storytellers, Joelen Ejmont was more than happy to tell us more about how you should dress in Cambodia:
"Whilst your holiday in Cambodia will most likely be a really hot one, do make sure you pack at least one outfit suitable for temples.  You will need to have your shoulders and your knees covered.  Even though you will see people who disregard this requirement, it really is always a good idea to be respectful of the customs of the country you are visiting.

But elsewhere, while still being respectful, dress in something that is comfortable. You will be able to explore so many of the beautiful sights around Cambodia, so pack a pair of shoes that can withstand walking, hiking and general exploring."
Where to go
Visit Sihanoukville
If you are longing for the feel of sand between your toes as you relax on a gorgeous slice of coastline, then it's Sihanoukville that you seek. Granted, the town itself may not win any beauty pageants, but its beaches have made it Cambodia's only major beach resort since 1955.
Ochheauteal is certainly the most popular beach in the area. You can spend the day relaxing in the until the sun sets, when the barbecues are lit and late-night parties begin. For a quieter time, head west to Victory Beach and Hawaii Beach.
Elsewhere you can find Otres. Considered to be the best choice, it is a balance of the quieter beaches and Ochheauteal. With beach bars and restaurants lining it, you can stick to the busier stretch or walk along to find the plentiful quieter spots for a bit of respite and relaxation.
Sihanoukville with its white-sand beaches, sun-kissed islands and laid-back atmosphere is a perfect destination for any weary traveller in need of a bit of r&r.
Phnom Penh
Cambodia's capital city is overlooked by those on holiday in Cambodia. Remembered most vividly for some of the darkest days in its country's history, it is often forgotten that Phnom Penh was once the Pearl of Asia.
Effortlessly it brings together its troubled past of the country with a go-getting drive, which is evident through the modern buildings popping up across the city. If you needed a visual representation of organised chaos, then Phnom Penh would do a very good job. Motorbikes, scooters and tuk-tuks zip around the lively streets, markets paint a rainbow of colour and entice you in with the smells of spices and fruits. All the while you're overwhelmed with a sense of urgency as everyone has the get up and go attitude.
There is plenty to do in Phnom Penh. Of course, you can learn more about the hard history of Cambodia at the poignant Killing Fields, but the city today offers one of the best gastronomy scenes in South East Asia, as well as a bustling café and bar scene.
Of course, you cannot visit the capital without heading to the Royal Palace. While the rest of the city has a very raw and wild feel about it. The residence for the king of Cambodia, it is as sobering as the Killing Fields, but in a much more positive way.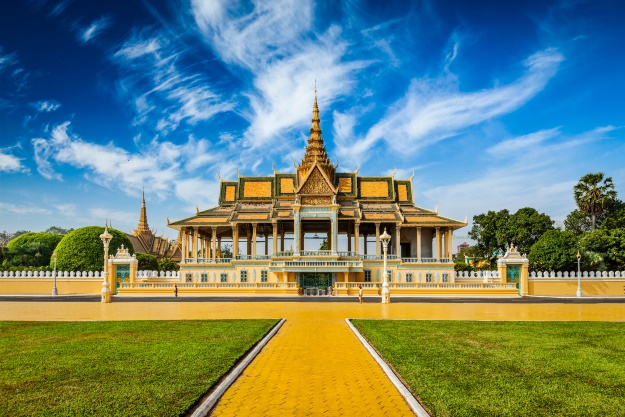 Nothing can compete with the sight of the Palace in the skyline, and although the massive compounds are closed to the public, the Silver Pagoda is open. Also known as Wat Preah Keo, its floor is covered with five tons of silver across 5000 tiles. The lavish interior and design runs throughout, with a life-sized gold Buddha sitting with 2086 diamonds, as well as several other gold and bronze statues occupying the Pagoda.
Angkor
Not only is Angkor the number one attraction in Cambodia, but it is one of the most incredible places on Earth. North of the Great Lake and not far from Siem Reap, around one million people head to this part of the country each year. You can marvel at the star in its crown – Angkor Wat, or any of the one thousand plus temples and ruins that are scattered across this corner of Cambodia.
The city of Angkor has a long and rich history. The Khmer Empire was a massive force in South East Asia and can be dated back to 802, when Angkor stood in the middle of the empire. Over time is grew into the largest known pre-industrial settlement, reaching 3,000 square kilometres in size – almost the size of Los Angeles.
Angkor Wat is of course the star attraction. The largest religious monument in the world, it is surrounded by a large moat making the temple accessible by a causeway only. But elsewhere, we highly recommend checking out the Terrace of Elephants, The Baphuon, Temple of Bayon and Ta Prohm to name just a few.
When you walk through ancient monuments and historical sites which have been lost to nature, it's easy to forget that this really was a bustling city full of life. It would have been the hub of region, Cambodia and much of this part of Asia.
Getting from A-B
The streets in Cambodia are like few others you would have experienced before. You might think the streets of London or New York are busy and loud, but they are nothing like those that you will find in the bigger cities in Cambodia.
It makes walking from place-to-place a challenge, with no assistance from pavements, crossings or signals to help. It leaves you with a few options; you can either fork out for a taxi and play it safe, hire a motorbike or scooter and have the most heart pumping journey of your life, or go for the most popular mode of transport, the tuk tuk.
Yafieda Jamil, from Travel Chameleon, explained to us why this was her favourite way to get around town and how it makes your experience that bit more authentic:
"The remork (or tuk tuk) is one of the most popular local transportation in Cambodia. There are also other rides that can take you across the city such as the friendly motodop drivers (motorcycle), the cyclos (traditional bicycle trishaw) and the modern metered taxis. What I love about the traditional mode of transportation is that it's quicker."

"You'll also get to see the city better as the driver takes you through backstreets and small lanes to get to your destination. If you're observant enough, you'll be able to spot senior citizens taking a walk at the boulevards, street vendors selling corn, or locals shouting in delight when their favorite boxing player wins on live television."
Head to Kampot and Kep
Cambodia is a country full of surprises and curiosities, and Kampot and Kep are two perfect examples of this. Kep itself is a very small coastal province which has a treasure trove of stunning tropical islands, sleepy beachside villages and some of the best crab you'll ever try. Michael, the brains behind his travel blog Time Travel Turtle, told us where to go around Kep:
"Most people think of Angkor and the area around Siem Reap when they are planning a trip to Cambodia but there is so much else in the country to explore. I would suggest spending a night or two in Battambang, exploring some of the coastline and islands near Kep, and seeing some of the sights in Phnom Penh."
But if you need somewhere where you can press the pause button on life, let everything slow down and really appreciate the smaller things, then head to Kampot. Instead of the frantic streets laden with traffic and life in larger towns and cities, Kampot's are wide and dusty with the odd scooter whirring down or a dog running across.
Joelen Ejmont is another who fell for the relaxed charm of this area:
"In my eyes Cambodia is truly a kingdom of wonders! It is an amazing country with majestic temples including the iconic Angkor Wat! We recommend you try to get away from the touristy Siem Reap and get amongst it with the locals. See how they live and see how they work. And our favourite places for that are Kampot and Kep."

"In Kampot and Kep, you can check out salt fields, pepper farms, take a scooter ride to the Elephant Mountains or even go on a sunset river cruise to see magical fireflies and bioluminescent plankton. Head to the famous Kep Crab Markets for a feast on delicious freshly-caught crabs and take a trip to the relaxing laid-back Rabbit Island."
Nothing about Kampot is false. Very little is specifically tailored to the money of tourists and holiday makers. It is authentic, honest, warm and unbelievably charming. Before you may have thought that you'd like to pack it all up and move to the South of France, or the US, now, you'll be property hunting in this province of Cambodia.
A holiday is a personal experience. Some people just want to unwind and relax, others want to be on their feet exploring and having constant adventures. But whatever your choice is, ensure you respect the local people and their beliefs.
---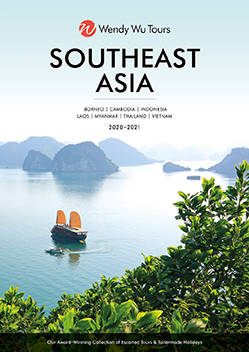 Book an escorted tour of Cambodia with the UK's leading Asia Experts, Wendy Wu Tours. Our fully inclusive tours visit all the major sights of Cambodia for an unforgettable holiday.