Look at Chile on a map and you'll see a thin strip of land clinging to the edge of South America. Stretching for over 2,600 miles from top to tip this is a country full of incredible sights and experiences. Here, the great outdoors truly is great, the cities are chic and cosmopolitan, and the wine is always delicious making it the perfect destination for your holiday to South America.
But where to begin? Here's our top Chile highlights
No Paine no gain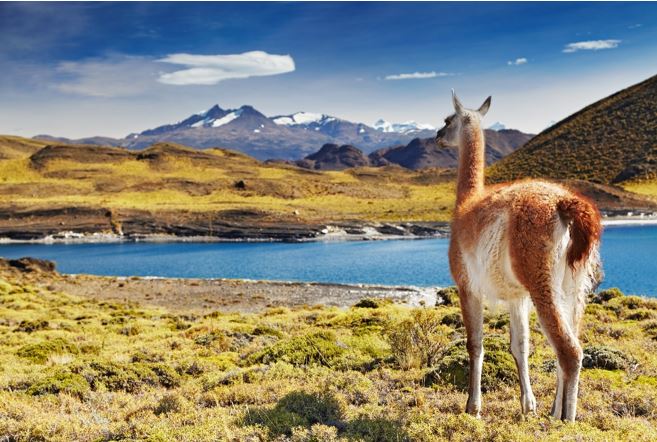 The Torres del Paine National Park is a picturesque and staggeringly beautiful place packed with waterfalls, lakes, glaciers and jagged peaks. The park's best-known view is of the jagged granite towers from which the park takes its name. Spend yours days walking amongst the breathtaking scenery spotting condors soaring overhead and admiring the iceberg waters of the park's lakes.
Savour Chilean vintages

Chile is one of the world's top 10 wine producers, making over a million tonnes of the good stuff every year.
Many of the country's most famous wine regions are within easy reach of the capital Santiago. The closest Maipo, which specialises in ruby red Cabernet Sauvignon, is virtually a Santiago suburb, whilst Casablanca, known for Chardonnay and Sauvignon Blanc, is handily situated on the road to the seaside city of Valparaiso, and makes a perfect stop-off.
If you're short on time there are plenty of fabulous bars and restaurants in Santiago with extensive wine lists – just make yourself at home and get tasting!
PPPick up a penguin. Well look at one anyway.

Chile is one of the best places in the world to see penguins, and who can resist a penguin?
A number of species of these cheeky birds – Magellanic, rockhopper, king, Humboldt and macaroni – can be found along the southern coast and on the shores of Tierra del Fuego, right on the southern tip of the continent. Here, they gather in huge colonies, some over 100,000 strong, where they live year-round, or simply stop for a few months to lay their eggs and raise their young.
Get star-struck in the Atacama Desert

One of the driest climates on the planet, high altitude and a lack of light pollution makes the Atacama Desert one of the world's best locations for stargazing; so much so that many international observatories call it home. Don't imagine for a minute that all the fun happens at night though. The charming village of San Pedro de Atacama sits within a starkly beautiful is a landscape of lunar like deserts, bone-white salt flats, volcanoes, geysers and hot springs.
Ride the funiculars of Valparaiso

Valparaiso is Chile's most colourful and charismatic city.
The cliff-tops overlooking the historic port are home to higgledy-piggledy neighbourhoods, complete with pastel-coloured mansions and cobbled streets. You can climb up steep streets and stairways to explore this UNESCO World Heritage upper city, but it's much more fun, and easier on the legs, to ride one of the late 18th century funicular lifts that slide effortlessly up the incline.
At the top, wander along the vibrant avenues, full of boutiques, bars and cafes, admiring beautiful views out over the Pacific and the magnificent and imaginative street art that graces many of the quaint streets.
Meet the moai of Easter Island

A small dot of land besieged by thousands of miles of ocean, Easter Island (Rapa Nui in Polynesian) is an isolated and enigmatic place to explore.
The famous stone heads, moai, are a big part of the mystery – no-one is sure how they were moved across the island from the stone quarries they were carved in or, in fact, their purpose. Standing facing them, as they gaze stoically out to sea, is a striking experience as you try to fathom out their secret for yourself.
With its roots in Polynesia, there is also plenty of fascinating culture to discover, some dramatic volcanoes, lush landscapes and beautiful beaches.
Hike a Volcano

As part of the Pacific Ring of Fire, Chile's landscapes are dotted with volcanoes; extinct, dormant and active. Many of their symmetrical peaks add to already spectacular scenes, be it in the barren panoramas of the Atacama Desert or amongst the lushness of the glorious Lake District. Some hardy souls choose to climb these loft peaks but not all of us are made of such stern stuff. So how about a nice gentle stroll instead? We'd recommend Volcan Osorno for a lovely potter about, close to the town of Puerto Varas in Chile's Lake District.
Intrigued? Take a look at our fabulous Chile: Top to Toe tour to experience this wonderful country for yourself