If you're planning a tour to India, the chances are that one of the first items on your itinerary is sampling some of the country's sensational food. Indian ingredients and dishes have become famous around the world, as people have fallen in love with India's curries, snacks and desserts.
Lloyd and Yaya from Hand Luggage Only comment,
"Travel really does add to the variety and spice of life. Wherever you go, you should always savour the opportunity to try new and unexpected cuisines.

"One of the best things about travelling to places like India, Sri Lanka and South East Asia is the multitude of different foods on offer. Make sure to try a whole variety of food and places. Eat where locals do, find the busiest restaurants and immerse yourself in the foody delights of a new and exciting place. After all, travel and food go hand in hand!"
If you want to sample the best of the culinary world of the Indian region you're visiting, you'll need to know what to try before you arrive. So, here is our quick guide to the different regions of India through food.
North India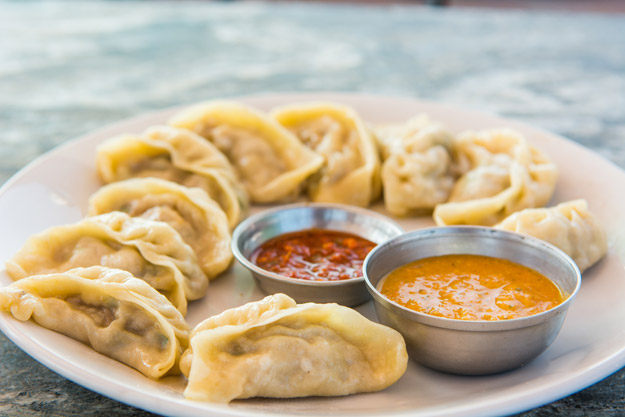 A classic curry in Andhra Pradesh
Mike from Vagabond Summer asks,
"Who can really resist the splendid aromas, colours and textures that Indian food can offer? Indian food is very labour intensive and their cuisine is more often than not passed on in family recipes from generation to generation. It's no wonder that Indian curries with their endless intoxicating spices and complex flavour. Indian curries are a crowd favourite around the world."
He is certainly right, and one of the first things people want to do when they visit India is sample authentic Indian curries!
If you're looking for a classic curry, head to Andhra Pradesh. Nikita Mandhani says in an article for India.com,
"This is the state that has given the world one of its most savoured dishes: biryani. Andhra Pradesh deserves a visit, especially for the authentic Hyderabadi biryani."
Consisting of layers of warming rice and delectable meats such as chicken, or a combination of vegetables, Biryani is a must for anyone visiting Northern India.
Himalayan Momos
The Himalayas are like no other place on Earth, and this region offers not just geographical highs, but also culinary ones: momos. Buzzfeed explains that momos are a "variation on the traditional dim sum, native to the North Eastern states that border Nepal (where the dish originated), eaten with a fiery red chutney."
These bitesize pieces of culinary heaven are perfect for a quick mid-evening snack, an afternoon energy boost, or frankly for any meal of the day. Once you've tried momos, you'll never forget them!
Punjabi plates
Punjab is famous for a variety of foods, from sweet to savoury. Lassi is a particularly well-loved dessert that originates in this region. A traditional yoghurt-based drink, this milkshake-esque beverage features spices and sometimes fruit, making for a deliciously refreshing drink for those hot days exploring India.
However, Punjabi has much to offer for those without a sweet tooth. iDiva says,
"Daal is no doubt a staple in most Indian regions. But we assure you that Kaali daal, made of black urad, is anything but ordinary."
This dish was created in the Punjab area, and features a rich tomato-based gravy with whisked full cream, served with hot jeera rice. Perfect for a wholesome group dinner.
Kashmiri Kalaadi cheese
If you want to try something a little different to the typical Indian cuisine that comes to mind, why not try something like Kalaadi? India.com explain that Kalaadi is a "traditional local hill cheese usually made from cow's milk". Native to the region of Kashmir, this unique cheese is considered a delicacy of the land, and will provide the perfect comfort food, a little like halloumi, served with tomatoes, onions and cabbage.
Central India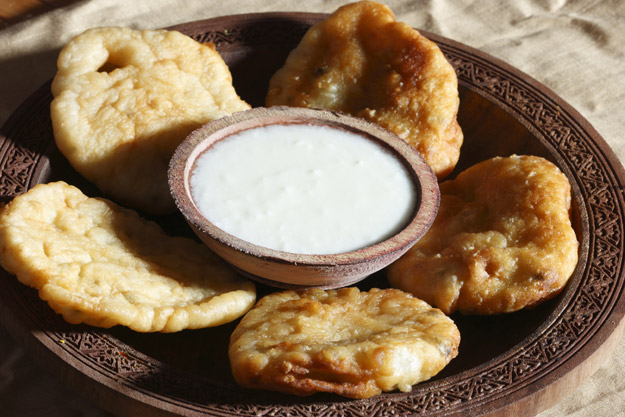 Malpua in Madhya Pradesh
Craving something sweet? Malpua will satisfy your sweet tooth in moments. These are pancake-like desserts fried in ghee and then dipped in sugar syrup. These delicious bitesize snacks are deeply moreish, and are often served with rabdi – an Indian equivalent of rice pudding.
Chhattisgarh dumplings
If you're looking for a healthy yet delicious snack to try around central India, Muthia is the perfect choice. These boiled dumplings are often served for breakfast in rural Chhattisgarh, particularly during the winter months. Rice batter, made into dumplings hard boiled and seasoned with the spices and various other flavours the land yields. This is food fresh from the soil, and it's sensational.


West India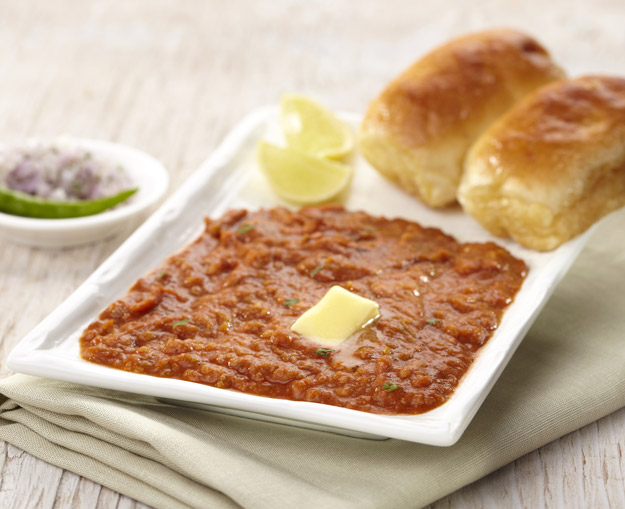 Mumbai's street food
Melvin from TravelDudes.org says:
"Mumbai and Pavbhaji are almost synonymous. In fact, it has achieved an iconic status among the wider variety of street foods in home to Bollywood."
This is a thick and rich vegetable curry prepared with butter, cauliflower, potatoes, carrots, peas, capsicum and beans, then served with a bread roll. This is an incredibly nostalgic dish for many people who have lived in or visited Mumbai as it is so often served by vendors. Melvin continues
"Vada Pav is another from the list of must-not-miss Mumbai street foods."
This dish consists of a deep-fried potato patty with garlic and spices served in a bread bun with various chutneys. All of these snacks are perfect to pep up your energy on a city trip to Mumbai during a tour of India.
He adds,
"If you are craving for more twist and taste for your jaded taste buds, channa bhatura, Kheema pav and Chicken tikka deserve a mention."
Whereas bhatura is a crispy dough-based snack which, served with channa masala, makes for a popular street food, Mumbai-style Kheema Pav is a light, airy bread roll filled with delicious mutton meat either cooked curry-style or prepared dry style. Aapplemint explains:
"Pav was created for fast food, to be had on the go. Available on every nook and corner of the city for just Rs. 1 per piece this bread feeds the masses. And when combined with other street favourites, the results are almost always irresistible."
Goan grilled fish
It's not just the full-bodied flavours of coastal cuisine that is so appealing: it's the whole experience. Travel bloggers Jonathan and Kach from Two Monkeys Travel and Mrs and Mrs Howe say:
"The best food we tried in India was in a small beach hut restaurant called Duck N Chill, on the picture-paradise beach of Agonda. Sitting on cushions on the floor, a cool breeze blowing in across the sea, we ate a dinner of grilled fish, vegetables, and rice. It could have been Mediterranean except for the blend of herbs and spices which took something simple and turned it into something uniquely Indian. It's still our favourite restaurant of all our three months in India!"
Eastern India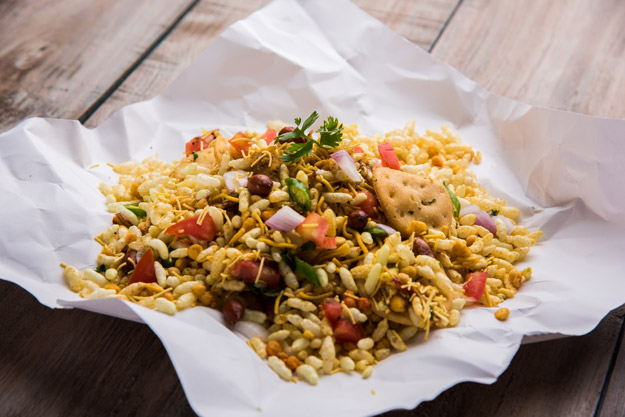 Maharashtrian Moments
Melvin from TravelDudes.org recommends sampling the local seaside food in India, saying:
"Bhel Puri is a very common pick-up as evening snack to enjoy by the seaside."
Bhel Puri is a savoury dish originating in Maharashtra, made from puffed rice and thin, crispy fried noodles called Sev. Combine this with the salty, sweet, tart and spicy flavours of onions, potatoes, Chat masala and chutney and you have a delicious plate full of complex yet complementary flavours.
Bengal's best
If you're a fish lover, there is no better dish to sample that macher jhol. This Bengali fish stew is tangy, earthy and interesting. Tomato-based gravy is tempered with mustard and cumin seeds and sweet flavours. Prerna Singh from Indian Simmer says,
"In this particular kind of fish curry, shallow fried fish is cooked in a thin broth made of mainly ground mustard seeds."
Simply try it with steamed rice and enjoy!
South India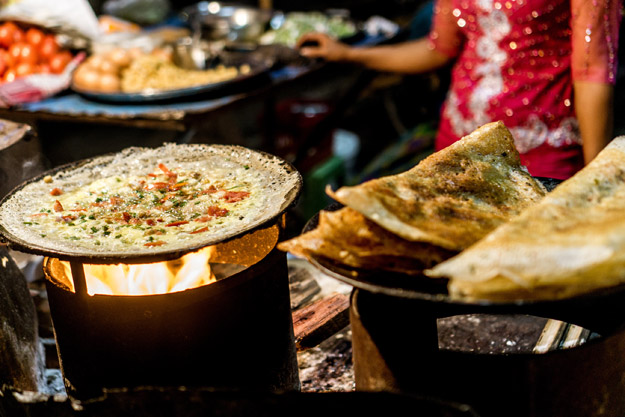 South Indian snacks
Vada is a South Indian snack staple made of a lentil or flour batter fried into a doughnut shape this is the perfect neutral carb to accompany your craving for chutney and lentils.
Tamil Nadu's famous dosa
Of course, you can't travel to South India without trying dosa. In Tamil Nadu you can find the most authentic dosa dishes which is now the most famous South Indian cuisine eaten around the world. Travelling around the region, you will encounter many types of dosas, but the most popular is the masala dosa. Here, a fermented crepe made of rice batter is filled with potatoes and served with sambharand coconut chutney. Delicious!
Kerala's culinary secrets
Incredible India note,
"Not many tourists who go to Kerala try out beef specialities."
Kerala is of course home to many delightful fish dishes, but for something a little different, try beef roast with porotta. Thick chunks of beef in a thick onion and tomato gravy will warm you from within, best tried with porotta, a soft layered bread.



Editor's Note: This blog was originally published in October 2016 and has been refreshed.