Unfortunately North Korea grabs most of the headlines due to its erratic leader, leaving its neighbour in the south slightly in the shade. However South Korea has some great natural and cultural draw cards, including its relaxed capital Seoul. It probably first came to the world's attention during the summer Olympics in 1988 with the now infamous 100 metres race with Ben Johnson and his drugs scandal.  I was looking forward to sampling it for myself.
SEOUL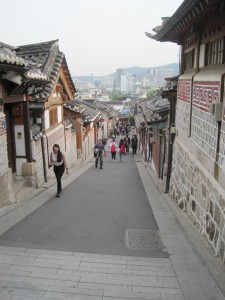 From the outset, Seoul seemed to have a good vibe and was fairly ordered for a large Asian capital city. It doesn't have the frenetic feel of many Asian cities, like Bangkok or Hong Kong for example. The city is split up into many different districts, arty ones, modern ones, cultural quarters and student areas. It was also very clean and felt safe even late at night. Seoul felt like it had found its own identity and was very comfortable with it.
I loved the traditional tea houses, which can be found all over Seoul but there are areas well known for this traditional craft, such as the Palace quarter, Insadong. It is customary to take off your shoes before entering and sit on the floor beneath low, hand crafted wooden tables. The menu of teas, both hot and iced was mind boggling but I settled on a '5 flower iced tea' which was recommended. It turned out to be a great choice. But you could have had all manner of teas including Jasmine, ginseng, plum, ginger and lemon.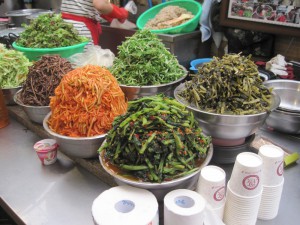 For our first night, we went to a local restaurant called 'chicken in the kitchen' as seen on the Hairy Bikers TV show. A local place serving fried and roast chicken, all washed down by the local beer. We found out that fried chicken is the fast food of choice for most young Koreans. In fact they are obsessed by it! It was absolutely delicious.
The Gyeongbokgung Palace is one of the key draw cards in Seoul. This was the first royal place to be built by the Josean dynasty. It was certainly an impressive sight and had echoes of the Forbidden City in Beijing.
I am always a big fan of local food markets and Seoul has one of the best I have visited. Gwangjnag market is the perfect place to observe the locals go about their business. There were amazing food stalls that you could pitch up to and choose a dish. The variety of vegetables, meat and fish on display was astonishing. Definitely a place not to be missed in Seoul.
BUSAN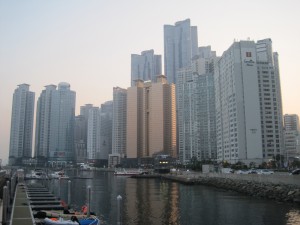 Busan is the second largest city in South Korea. The high speed KTX train takes you there from Seoul in 2.5 hours. Busan is a major port and lies only a couple of hours from Japan by ferry, handy if you wanted to combine the two.
The Jagalchi fish market is a great place to go to give an insight into the main industry of the area. You can actually buy the fish and then take it to the restaurant upstairs to cook it for you. There's even a hotel in the same building, which struck me as a bit odd to say the least. The odours would make for an interesting night's sleep!
The city has a nice stretch of white sand beach, backed by lots of hotels, restaurants and bars. It is a very popular holiday destination for South Koreans as well as other Asian holidaymakers.
Outside of Busan, there are many other cultural sights including the beautiful Buddhist Bulguksa Temple complex, which is perched high into the mountains and the Tombs in Gyeongju.
FOOD & DRINK
I was very impressed by the food in general in Korea. Most meals have lots of small dishes to share with rices, broths, meat and vegetables. It is also customary to take off your shows in most local restaurants and sit on the floor. Not always comfortable but at least it felt like you were living like a local!
A BBQ is also very popular, where you have your own personal BBQ in front of you on the table. They light the coals for you and then give you the raw meat and vegetables and leave you to it. A great idea and provided a great talking point.
Wherever you go on your travels, there is always the local 'firewater' to try. One of the most popular is a type of rice wine called Seju. Fortunately it wasn't as potent as others I have tried but it was a tasty accompaniment to the local food.
DMZ – Demilitarised Zone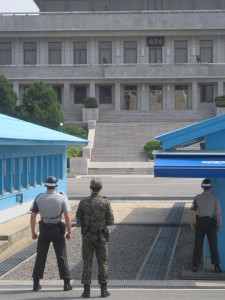 Of all the sights that South Korea promised, it was perhaps the DMZ that I was most looking forward to. This 4km area between the north and south borders, divided the country in two at the end of the Korean War (1950-1953). This was a strange place to visit as it is both a major tourist sight as well as being potentially a very dangerous place to be. We were led around by two American soldiers who were based there as part of the UN force. There were also members of the South Korean army or ROK to accompany us.
There were very strict rules as to what you could and couldn't do. At one stage we were standing about 200 yards from a North Korean guard staring right at us with a pair of binoculars. Very unnerving! At a certain point on the ground, in the meeting hut where north and south generals gather to talk, you can have one foot in North Korea and one foot in the south. The obligatory photo had to be taken of course.
One of the most quirky things we discovered is that the North Koreans built a fake town just over the border. They did this to show that seemingly everyday life in North Korea was a nice place to be. If you looked closely however, you will see that only the facades of buildings exist and the lights that come on are set on a timer. All quite amusing until you think about the reality of living in North Korea and the aspects of life the authorities don't want you to hear about.
IN CONCLUSION…
So all in all, I would thoroughly recommend South Korea as an extended touring option. Whilst Seoul can be enjoyed in a few days, there is more than enough to occupy at least a week exploring one of Asia's most mountainous, relaxed and cool countries.
---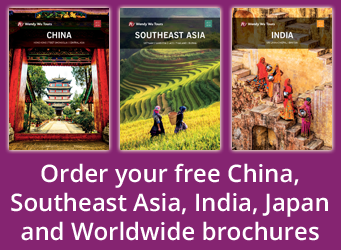 Go on a South Korea holiday with the UK's leading Asia Experts, Wendy Wu Tours. Our award winning escorted, fully inclusive tours visit all the major sights of Asia for an unforgettable holiday.
We have amazing tours to China, Cambodia, Vietnam, Laos, Japan, India and beyond…