Emily Andrews, a member of our Marketing team, travelled to Thailand, spending a whirlwind 24 hours in its lively capital, Bangkok.
Many people pass through the city on their way to Thailand's beaches, highlands and cultural wonders and it is so easy to get a real flavour of Bangkok in just one day. Here's Emily's guide to 24 hours in Bangkok to inspire your Thailand holiday…
Morning
My day began with a traditional Pad Thai – a delicious noodle dish that is a must-try dish whilst in Thailand and readily available almost everywhere – and only cost me about 50 Baht (about £1)! There are plenty of stall along the streets selling you freshly cooked food to takeaway, or if you'd prefer to sit down and start your day in a restaurant, you're also spoilt for choice.
I decided that hiring a tuk-tuk for the day would allow me to see all the sights I wanted to see. It was so easy to find one, and the driver waited for me at each place and then took me onto the next.
The first stop was the Grand Palace – and I must say, it really was grand! In my opinion this is the number one attraction to visit whilst in this city; you'll see so much history and beautiful architecture here. It really impressed me, especially as I'd never seen anything like it before. One piece of advice I would give is to make sure you're wearing suitable clothing so that you can enter these religious temples – cover your shoulders and either wear long shorts or dresses or skirts down to the knee plus closed shoes (if you wear sandals or flip-flops you may be asked to wear socks!).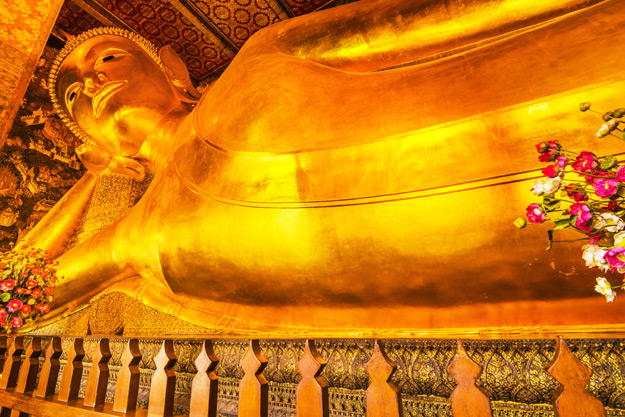 Wat Pho was next on the list, a Buddhist temple known to many as the Temple of the Reclining Buddha. I travelled on the tuk-tuk from the Grand Palace to get there, but it's only a ten minute walk if you'd prefer. Wat Pho wasn't as busy as the Grand Palace, so it's a little easier to explore its crevices. What was impressive about it was the 15m high, 43m long gold reclining Buddha housed inside one of it's bigger temples, which is Wat Pho's main feature.
I walked around by myself and absorbed all the culture and temple surroundings, but I did see that there were a number of English speaking guides, which seemed to be very reasonably priced. It was interesting to see all of the local Thai people going about their everyday lives here – I could have spent hours just watching and listening.
Afternoon
There are plenty of places to pick up a traditional Thai lunch, be it in a restaurant or from a street stall – there are plenty of super flavourful soups, salads and curries to try! I then took a boat ride on the Chao Phraya River, the main river that flows through the city. This allowed me to see numerous golden temples that dotted the river banks as well as lots of grand hotels and towering apartment blocks that make up the city. It also opened up parts of Bangkok that I'd never have otherwise seen and I really got to see how local Thai people live.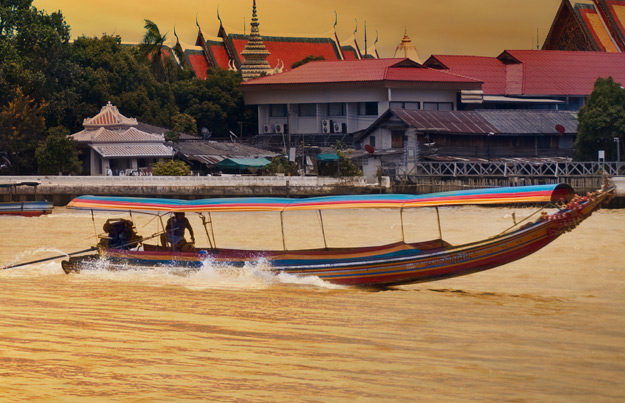 We drifted past houses on wooden stilts, standing in the river, before heading down smaller tributaries to see the deep parts of the city. Of course, it wouldn't be Thailand if we weren't stopped along the way and given the opportunity to buy souvenirs and refreshments from locals in their own small boats. There was a big selection of fruit and vegetables to buy; and the locals were friendly and happy for any business. With only having a short time in this city, this was a great way to view many of the main sights and gain an understanding of how the people of Bangkok live, whilst also sitting back to relax and soak up the sights after a jam-packed morning of temples.
Next, time for shopping – Bangkok has some incredible markets! I was excited to find out what the markets around Kho San Road had in store. I'd heard a lot about this famous street from fellow travellers and friends and was eager to find out for myself what it was really like. By day or by night, it was full of market stalls selling lots of different wares – mainly clothes and gadgets, as well as Thai street food. Bartering is certainly key when shopping here as well as expected – and if you're persistent, you really can bag a bargain! It was a great experience – you find all walks of life in Kho San Road and the surrounding streets. Alternatively, the huge MBK mall is an experience unto itself and is particularly good for electronics, whilst EmQuartier mall is packed with designer names. If you happen to be in Bangkok at the weekend, don't miss the opportunity to shop in one of the world's biggest markets, the labyrinthine Chatuchak Weekend Market – you'll find everything you've ever dreamed of!

Evening
The evening is a real chance to spoil yourself with some incredible nightlife options. Bangkok boasts 17 Michelin-starred establishments for those who love to tantalise their tastebuds, whilst rooftop bars and restaurants like the Banyan Tree's Vertigo and Moon bar, and The Dome at Lebua's Sirocco and Sky Bar  have magical views, cool breezes and tasty cocktails. Alternatively you can do what I did and find a nice little local restaurant to try a variety of tasty dishes with an ice cold bottle of Chang beer.
In conclusion
I would strongly recommend visiting Bangkok: it's a buzzing city that's full of interesting culture and history. If you're passing through – on a stopover or en route to other parts of the country, make sure you give exploring Bangkok a thought, it's well worth it!
---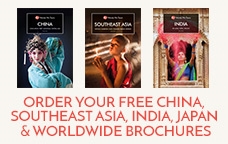 Would you like to spend 24 hours or more in Bangkok? We can sort you out with a stopover or tour extension to Bangkok or a group or tailormade tour of Thailand that includes Bangkok. All you have to do is ask!
Wendy Wu Tours offers group and tailormade touring across Asia and South America.