Vietnam is a country of undisputed beauty and is synonymous with exotic travel. However, it has a lot more to offer than rainforests and rivers. Considering Vietnam is half the size of Texas, the range of landscapes is incredible and so we have collected together the top ten must see features and amazing phenomena that you should see on holiday in Vietnam.
The world's largest cave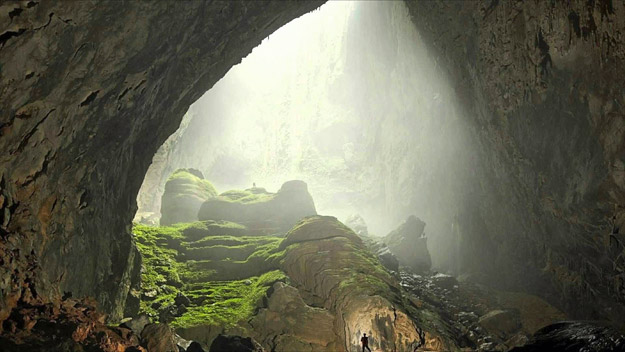 Home to the world's largest cave, Son Doong at Phong Nha-Ke Bang National Park this cave was only officially discovered in the last decade. Initially a local man, Ho Khanh, found the cave on a scouting trip and mentioned it to two members of the British Cave Research Association, though it took years for them to locate the cave again. In 2009 the first expedition into Hang Son Doong (which translates as 'Mountain River Cave') was halted by a 60m high calcite wall that was dubbed the 'Great Wall of Vietnam' and was overcome on a second expedition in 2010, when the entire cave was explored in full. Not only is this the largest cave in the world, it also includes some of its tallest stalagmites, reaching over 70m, and abnormally large cave pearls. Normally cave pearls are under 1cm wide, but the pearls formed in Son Doong are described as 'the size of a baseball'.
The Global Grasshopper explains
"This nature reserve is recognized by UNESCO and is the location of Son Dong, the largest cave in the world, as well as another 300 caves and grottos. Within Son Dong is a 13 meter long underground river and beautiful stalactite and stalagmite formations. Other significant and beautiful caves in the park include Tien Son Cave, Thien Duong Cave and the Von cave system. The unusual and beautiful rock formations are due to the area being in a 2000km square limestone zone. Enjoy the tropical vegetation and evergreen forests with 500 year old trees."
Hot springs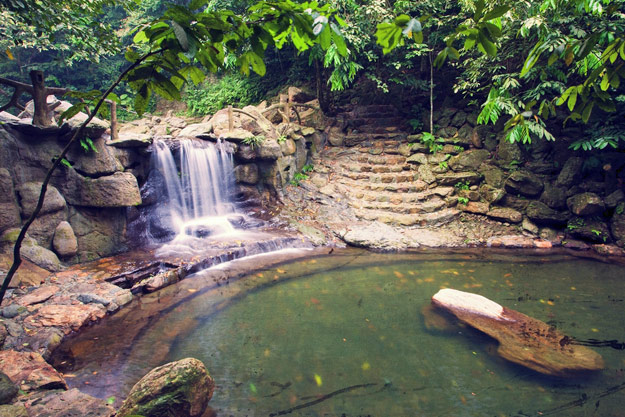 In 2003, the World Travel Organisation recognised Bin Chau Hot Springs as one of its 65 sustainable eco-tourism developments. The springs have a history, both recent and legendary. As Vietnam Tourism describes,
"In 1928, a French doctor named Sallet discovered the hot mineral spring in his survey of southern Vietnam, where a cluster of 70 visible gushers spout water at temperatures ranging from 40°C to 82°C, forming a huge natural pool of hot water and mud. Legend describes the thermal springs as a hot water pot that the Vietnamese "Goddess of Boiling Water" spilled into the place in anger after her husband went hunting and was a long time returning. She got angry and threw the boiling water pot away, and it became the marvellous stream of hot water still running now."
Regardless of the Goddess' anger, wooden walkways have been constructed over these pools so visitors can truly enjoy the splendour of the area. The resort has expanded so not only can you amuse yourself by boiling eggs in under ten minutes in the hotter pools, but also feed crocodiles and river fish. They have also fashioned a romantic Moon garden within the forest and a thousand seat theatre.
The hot waters of the spring are thought to have fantastic health benefits. As the water contains silica, sulphur, chlorine and sodium, those with rheumatism and circulation issues are advised to wallow in either one of the pools or mud baths.
A scented river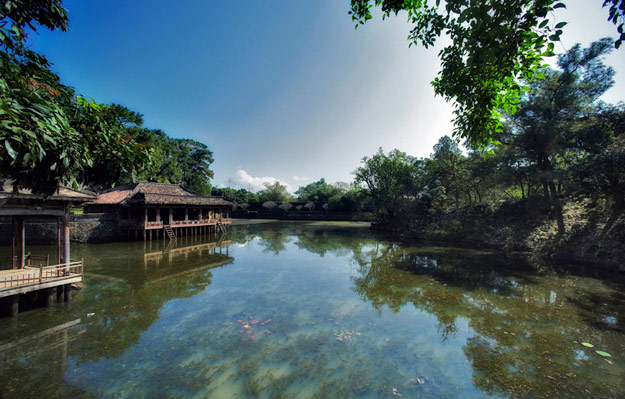 The Perfume River crosses the city of Hue in central Vietnam, and if you are looking for some serenity during your Vietnam tour then be sure to visit it.  It gains its name from the floral scent it assumes during the peak of autumn, when the tropical orchids on the trees above the area upstream fall onto the water. Once it was a hive of activity, as boats were the only way to cross in to the other half of the city. Now however, as more bridges have been built, a river ride is an opportunity to get some time to yourself and relax in the stunning scenery. Sunset is the best time to enjoy a traditional dragon boat ride as not only does the city come to life in neon technicolour but wildlife can be seen at the water's edge, with water buffalo often visible.
Rare unique species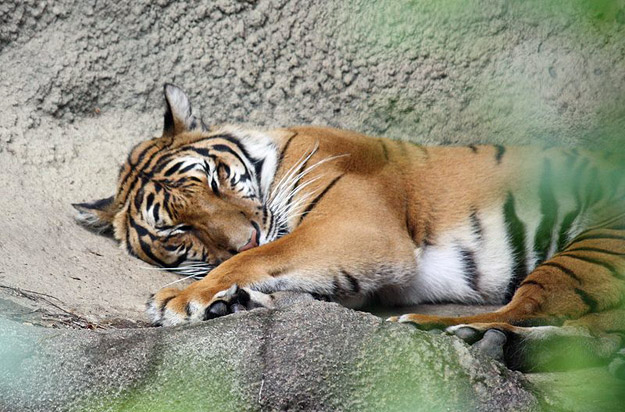 With Vietnam's unique geography and habitats, it is not unexpected that Vietnam is host to a collection of rare species. Unfortunately some of these have recently been made extinct. This is the case of The Hoan Kien turtle. It was one in only four known living individuals from its species, and was considered a sub-species of the Yangtze turtle. However, the last remaining individual died earlier in 2016.
The Delacour's langur, or Delacour's lutung can still be found in Vietnam, however it is a critically endangered species of lutung monkey endemic to Vietnam. It is considered to be one of the world's most endangered primate species. They often spend the day sleeping in limestones caves, although they sleep on bare rocky surfaces if no caves are available. They swing by their hands when travelling through trees, and use their tails for balance when scrambling over steep rocky terrain, which may allow them to move more rapidly than other related lutungs. Cat Ba island is where most of the remnant population inhabits and since 2001 there has been a slight increase in population. This is due to a strictly protected sanctuary that has been created at one end of Cat Ba Island and is connected to the main island that houses other isolated subpopulations.
Vietnamese Pheasant is a variant of Edwards's pheasant and is endemic to central Vietnam. It was discovered in 1964 but since, due to destruction of its habitat and high levels of hunting, its population has been in serious decline. It is expected to be upgraded to the Critically Endangered list in the near future. Phong Dien and Dakrung Nature Reserves have seen a large percentage of the remaining population incorporated into their conservation areas. This coupled with a long term initiative to protect Khe Nuoc Trong Forest (the least disturbed block of moist lowland evergreen forest in the pheasant's historical range) should see an increase in population.
The Indochinese Tiger was found throughout Asia, however in recent years, due substantial habitation loss and poaching, the specie is in danger. The largest population of Indochinese tigers (also known as Corbett's tiger) is currently found in Thailand, with Vietnam estimated to have less than 20 in the wild. This could be changed however with pressure to create Yok Don National Park in to a tiger reserve. This would be particularly effective if properly managed as Cambodia have recently announced the intent to reintroduce tigers into the Mondulkiri Protected Forest which borders this area of Vietnam. The more tourists express an interest in the conservation of these tigers, the more likely this is to happen.
Serene Waterways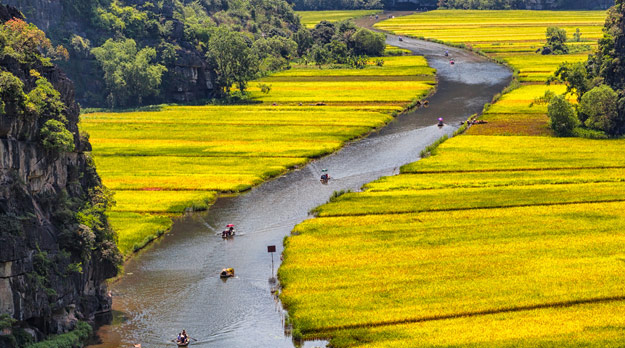 The Red River delta hosts the city of Ninh Binh, which is the capital of the Ninh Binh province. Meg Jerrard from Mapping Megan believes,
"Ninh Binh is often underrated by many foreigners which is a real pity as it offers a stunning scenery, relaxing boat rides and extraordinary pagodas surrounded by Vietnamese villages. A charming, small city located in the Red River Delta of northern Vietnam, you'll find the scenery here is even more beautiful and relaxing than that of the famous Ha Long Bay. Between green valleys, karst mountains, and the UNESCO World Heritage listed Trang An grottoes, the region has a significant natural allure, and there are many hiking trails and caves."
It is from Ninh Binh that you can travel down the Ngo Dong River and in to the stunning landscape of Tam Coc.
The Tam Coc scenery is a combination of rice fields, rivers and limestone cliffs, creating outstanding results. Tam Coc consists of three river caves (Hang Ca, Hang Hai and Hang Ba) that you float through on the way down the Ngo Dong River. The serenity of the area is completed by the rhythmic paddling of the local women propelling your boat as you glide between lush paddy fields, overshadowed by karsts. It is often best to go between late May and mid-June when the paddy fields turn a stunning shade of yellow.
Marek from Indie Traveller felt this was the most surprising element of his travels in Vietnam. He says,
"Many people will have probably heard of Ha Long Bay, but I think one of the most spectacular natural landscapes in Vietnam is surely the area of Tam Coc. Karst cliffs tower over lush green rice fields, with the Ngô Đồng River snaking its way through this otherworldly place. You can take a boat down this river and see the landscape in all its splendour, while visiting several mysterious river caves along the way. I had heard of the islands of Ha Long Bay and the rice terraces of Sa Pa before my trip, but it was Tam Coc that impressed me most."
A mountain flower garden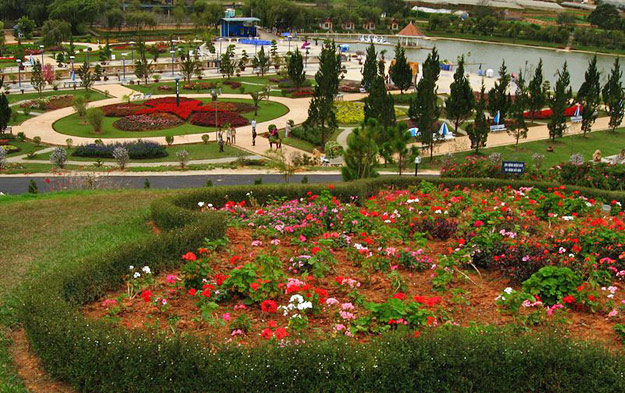 Logigear Magazine recognises the exclusive experience Da Lat has to offer to any Vietnamese holiday:
"In Da Lat, mist often covers the peaks and valleys, earning it the name "City of Eternal Spring." The temperature here stays between 15-25°C year round, making it ideal for agriculture, and a welcome relief to tourists. Renowned for its orchids, roses, fruits and vegetables and surrounded by pine trees, it's somewhat akin to what one finds in Northern California."
This former French hill station still has traces of its heritage with nods to French architecture and iconic patisseries which, when coupled with the pine forests, lends the town a Swiss charm unique within Vietnam. Due to the unusual climate, Da Lat's flower industry is able to trade in hydrangeas and golden everlasting flowers, or starflowers, as well as revelling in tree marigolds that blossom in winter. Reigning almost 5000 feet above sea level, this town is almost deserted of foreign tourists as it is mostly a holiday and honeymoon destination for the Vietnamese.
For the traveller looking for adrenaline, the area has a lot to offer in the form of adventure sports. Chris Stevens from Backpacker Banter insists Da Lat was one of his favourite experiences,
"For me landscape wise, the area surrounding Da lat was incredible. I love the coast but this area was full of incredible mountains and the cooler temperatures were a welcome relief from the humidity of the rest of the country! I had an epic day canyoning and abseiling down waterfalls here too, well worth checking out"
Ancient floating markets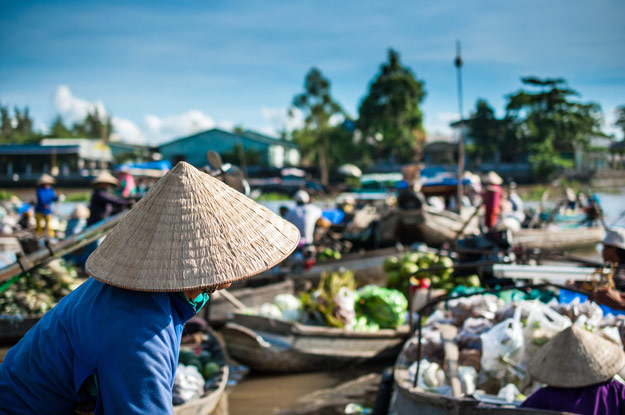 Floating markets are a natural evolution of river life, and as everything else is conducted on the water, a gathering of boats in order to trade does not seem out of the ordinary. Cai Rang is one of the most fascinating floating markets in the world. Situated in the Mekong Delta region, it is thought by some historians to have been operating since the early 1900s during the Nguyen dynasty. It is also one of the largest markets on the delta, competing with Phon Dieng and Nga Nam.
With their unusual setting, these markets are distinct from any other in the world. Unable to call out their wares due to distance, the sellers have found an alternative. Each boat is fashioned with a bamboo mast that a sample of the produce is then hung from. This is to promote their goods so buyers can see from a distance which boats to visit. These markets all begin well before sunrise, with some starting as early as 3am and are finished by mid-morning. Many tourists therefore miss the bustle of the markets if going on a day tour, so specific floating market tours are always best.
Red beaches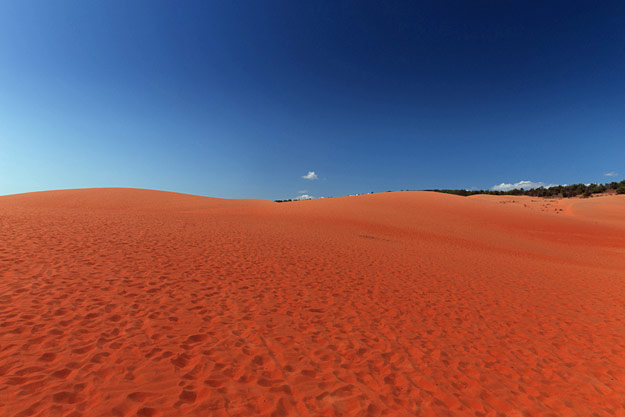 A desert is the complete opposite to landscapes you associate with Vietnam, and yet they have it in two colours. The white sand dunes are pristine and endless in the barren landscape beneath an impossibly blue sky. The wind sculpts the sand in to Sahara-esque formations taking you a million miles from Vietnam. The Huffington Post notes the nature of displacement the red and white dunes around Mui Ne can evoke:
"Whether you jump, run, or slide, it's hard not to let the beauty of the dunes overwhelm you. Stretching for what seems like miles, the dunes are something you'd expect to find in Africa. Instead, they're here, only a few minutes away from one of the best places in the world to learn to kitesurf."
Ancient hill carvings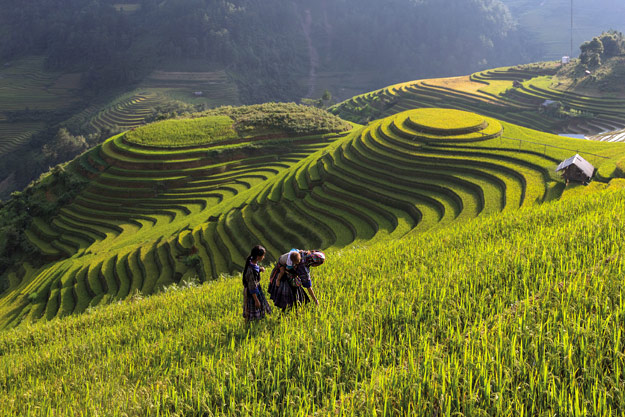 The terraced fields of Sapa are purpose built to make a mountainous landscape fit for agricultural use. The Huffington Post explains that
"The terraces in Sapa were carved over two thousand years ago by hand and are still inhabited primarily by the Black Hmong tribespeople. These mountain dwellers live off the land, planting and harvesting rice year in and year out in order to sustain their families."
If you are seeking a little exercise beyond sunning yourself, Sapa is the perfect launch pad. Audrey from That Backpacker experienced this first hand. She says:
"If you're looking for landscapes that will take your breath away, I'd urge you to travel to Sapa. Located in north-western Vietnam, just a few kilometres from the border with China, this little town is a great place for trekkers. Multi-day hikes depart from Sapa and take you on scenic journeys through verdant rice terraces perched on the hills of the Muong Hoa Valley."
Nick and Hannah from Salt in our Hair trekked through the region and also commented on the unforgettable views:
"Sapa area in northern Vietnam is near the Chinese border. Hiking up and downhill through this area gave us endless views of rice fields. Views that are graved in our thoughts forever."
Bethaney from Flashpacker Family had a similar experience and urges people to visit Sapa for a true Vietnamese experience. She recommends:
"Get up to the mountains and enjoy Sapa in Vietnam's north. It's a misty mountain town surrounding by rice terraces. You can go on lots of treks around the terraces and hills to surrounding villages and meet lovely hill tribe people along the way."
Hidden war wreckage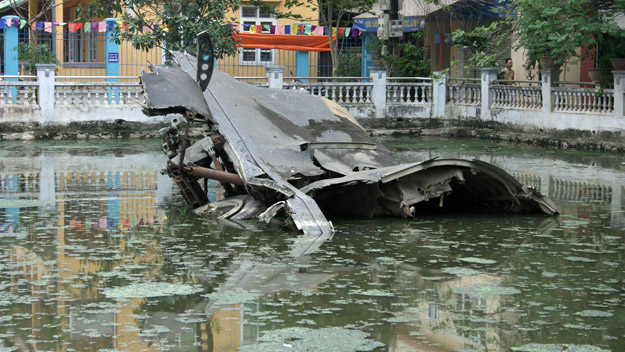 As a little lake in a residential area, Hun Tiep shouldn't have much to recommend it to this list, however Hun Tiep has been nicknamed Ho B-52 due to its unusual past. This lake has become less of a natural site and more of a historic attraction. Indeed, it is not very pleasing to the eye, with its murky green waters. However, the Hun Tiep Lake is worth a visit in its status as a location that embodies the clashes of human culture and nature. This is because, in the middle of the lake lies, half-submerged, a B52 American Bomber wreck. With day-to-day life going on around it and weeds growing from the wheels of this enormous piece of machinery, it feels far removed from the horror of December 1972 when it actually crashed.
According to the Pulitzer Centre,
"During the 1972 Christmas air raids, Vietnamese soldiers in Hanoi shot down a B-52 bomber. The plane crashed in Hun Tiep Lake, where it has remained ever since. About the size of a backyard swimming pool, Hun Tiep is not much of a lake. Plastic bags, candy wrappers and other garbage drift about its murky green water."
Though this may not be the most breath taking landscape on the list, the cultural significance of the wreckage, and therefore its importance, is inescapable.
---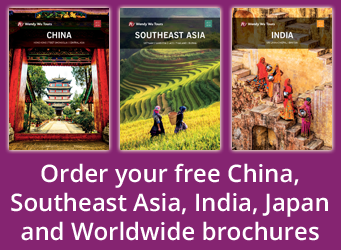 See Vietnam's landscapes for yourself when you book a tour of Vietnam booked with the Asia experts, Wendy Wu Tours. Our fully inclusive, escorted Vietnam holidays visit all the major sights for an unforgettable time.
We also have amazing tours to China, Cambodia, Laos, Japan, India and beyond…
---
Image Credit: Nguyen Tan Tin (flickr), Aleksey Gnilenkov (flickr), Ltshears (Wikimedia Commons), Tuan Mai (flickr), Hector Garcia (flickr), Anna Moskvina (flickr), Vtoanstar (flickr), James Antrobus (flickr)