A land of unparalleled history and intrigue, the Silk Road was not an established route from A to B, but rather a loose collection of trade networks that linked East and West.
As a consequence, these routes connected many cultures like never before and reminders of this can still be seen today. It's no understatement therefore to state that the Silk Road is one of the most historically significant areas on the planet. I hope my list inspires you to visit!
Here are some of my favourite sites along the Silk Road that captured my imagination like no other.

1. Bukhara, Uzbekistan
An architectural marvel and of the most famous cities along the world's most famous trade route, Bukhara is peppered with a stunning collection of madrasahs, mosques and minarets. The Uzbek government has gone to great efforts to preserve many of Bukhara's buildings and rightly so, as Bukhara was a pillar of medieval Islam. You'll see this yourself, as you meander through the alleyways and bazaars of this atmospheric and historical city. Anyone with an interest in history or architecture will feel well at home here.
Bukhara's historic centre was designated a world heritage centre in 1993.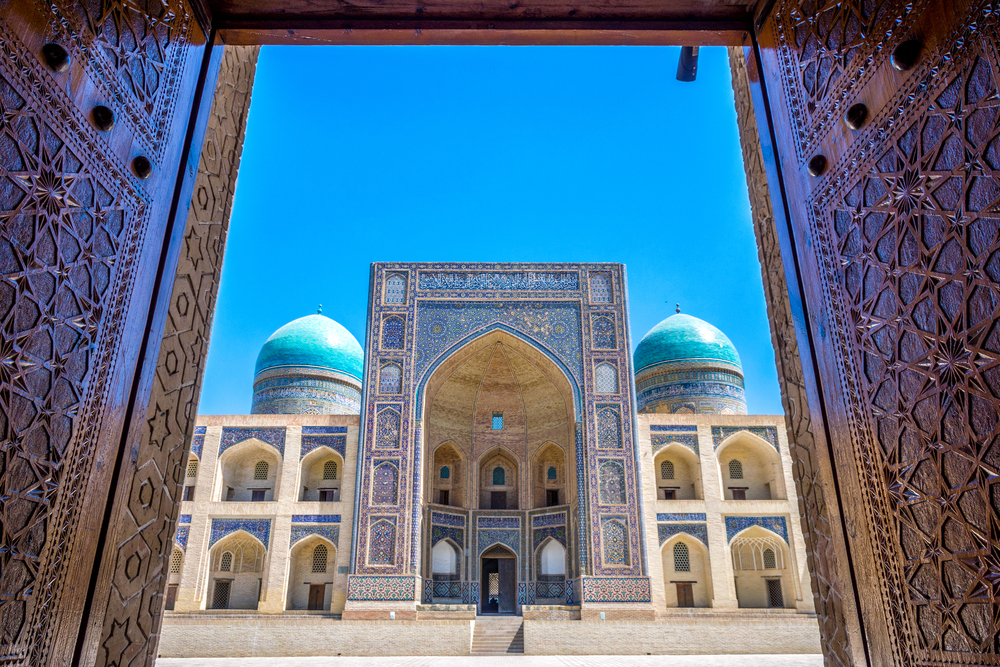 Of particular note is Labi-Hauz, a plaza where local men gather to chat, play dominos and drink pot after pot of Persian tea. The Ark of Bukhara is another significant site, as this fortified residence of the former ruler of Bukhara houses palaces, barracks, a mint, a prison and a museum within its vicinity. If you have the time also, I'd suggest you head 4km out of town to visit the summer residence of the former Emir (ruler) of Bukhara, a palace constructed with a wonderful blend of ancient Islamic and Russian-style architecture.
2. Registan Square, Samarkand, Uzbekistan
Vying with Bukhara as the most evocative city along the Old Silk Road, Samarkand is home to some of the most intricate and beautiful islamic architecture in all of Central Asia. Samarkand has also been an object of desire throughout the centuries, with the Sogdian Empire, Alexander the Great and the hordes of Genghis Khan all laying claim to Samarkand's dazzling riches, with the latter looting the city and conscripting much of the city's population into his army in the 13th century.
A thousand years ago, the Silk Road route was commonly known as 'The Road to Samarkand', such was the city's prestige and wealth through commerce on this ancient trade route.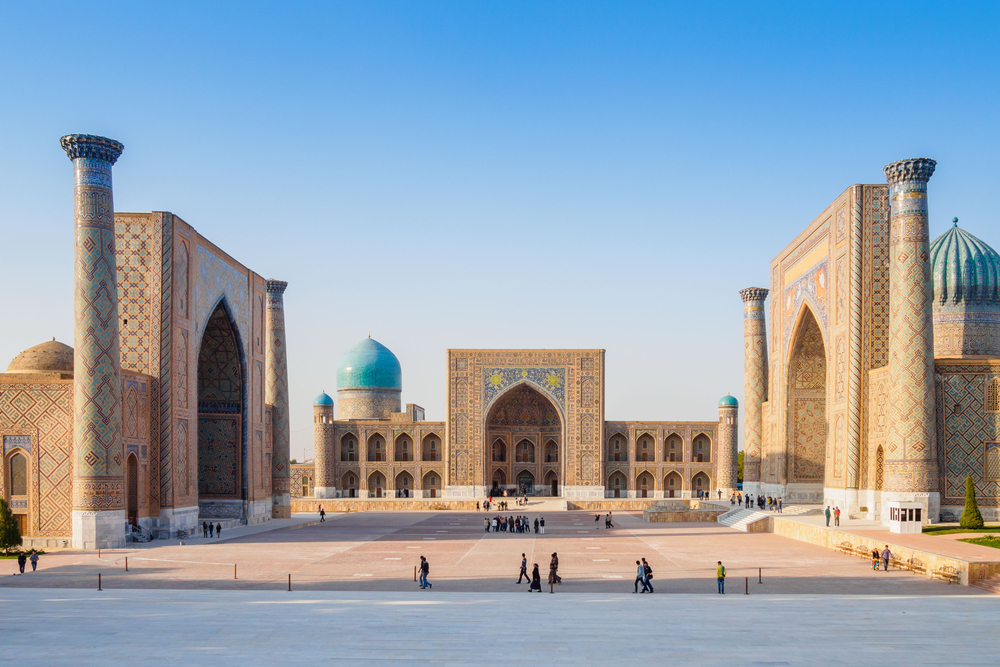 Nowadays, a visit to Samarkand is like stepping back through time, as this cultural jewel of Uzbekistan contains dozens of UNESO World Heritage Sites including Bibi Khanum Mosque and Gur Emir Mausoleum. None is more famous however than the spectacular Registan Square; a beautiful inner-city plaza that is encircled by 3 towering golden madrasahs (Islamic centres of learning). Registan Square is a hive of activity during the day, but visit at sunset and the square truly comes alive, with lighting beautifully illuminating the turquoise domes and the meticulously-carved patterns of the facades. No visit of the Silk Road is complete without a stop in Samarkand.
3. Darvaza Gas Crater, Turkmenistan
The nicknamed 'Door to Hell' is a 230ft wide / 60ft deep crater within Turkmenistan's Karakum Desert. Interestingly though, this flaming desert pit is not a natural phenomenon. In the 1970s, Soviet scientists drilling for oil in the area broke beneath the thin crust of earth here and found a massive pocket of methane gas bubbling underneath. With this flammable natural gas leaking into the earth's atmosphere, the scientists were at a loss at what to do, so decided to set fire to the crater in the hope that the flames would extinguish themselves. Their optimism was short lived however, and the flames have been burning continuously ever since 1971.
In 2013, a Canadian named George Kourounis, on a mission to collect soil samples, became the first person to reach the base of the crater.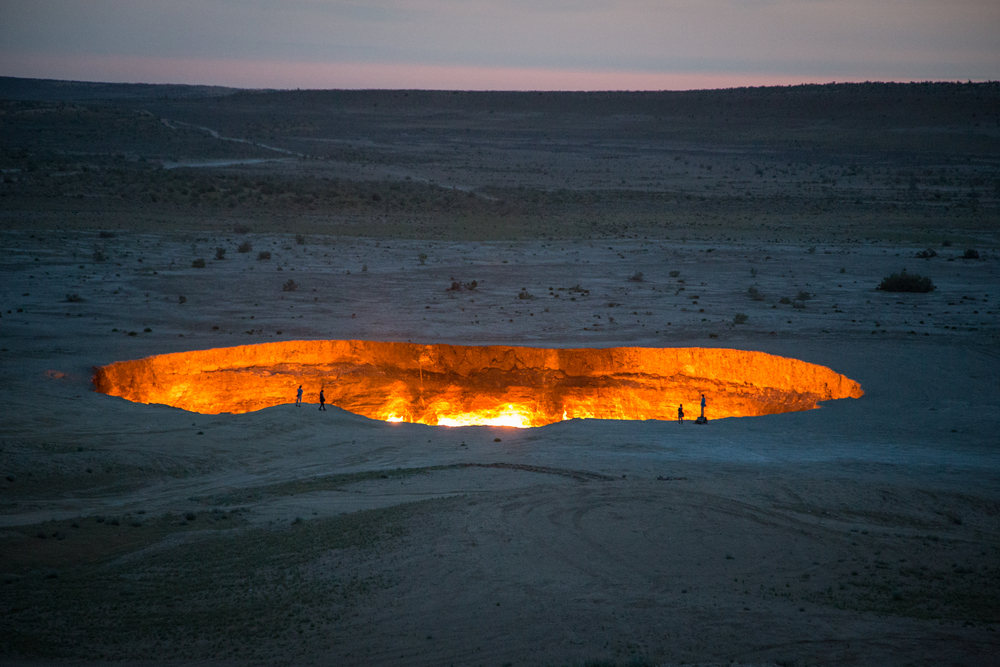 Nowadays, this gas crater is one of Turkmenistan's most famous sites, with tourists flocking to this accidental man-made wonder. Its remote location hardly dissuades visitors, with tourists making the 160-mile trip from Ashgabat, Turkmeninstan's capital, deep into the desert. Arguably the best time to visit this crater is sunset/nighttime, as the flames licking the night sky can be seen from miles away and makes for a truly unique setting.
---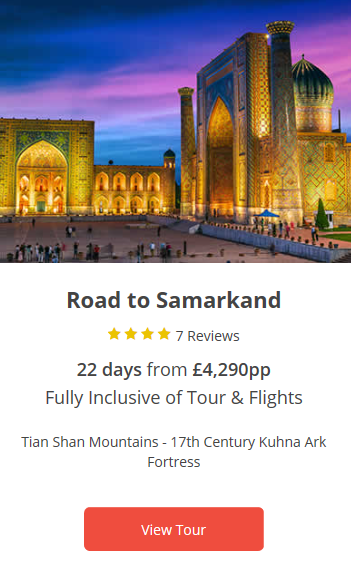 Journey through the heart of Central Asia crossing starkly beautiful deserts and magnificent mountain landscapes. Discover ancient cities full of intricate Islamic architecture, thriving bazaars and a mystical old-world atmosphere, all inextricably linked with the legends of the Silk Road.
---
4. Lake Issyk-Kul, Kyrgyzstan
After Lake Titicaca in South America, Lake Issyk-Kul is the world's next largest mountain lake. Beyond its crystal-clear turquoise waters is the rugged Tian Shan Mountain Range where China lies on the other side of the snow-capped peaks. These colossal mountains actually also shelter the lake from extreme temperatures and the lake never freezes over in wintertime. During spring and summertime, the caravanserais here (ancient rest stops) would have been busy with many merchants and tradesmen passing through on their arduous journey from Europe to China. The area is also particularly rich in flora and fauna, boasting close to 300 species of bird and over 30 of fish. Mountains goats also commonly dwell here, as does the elusive snow leopard.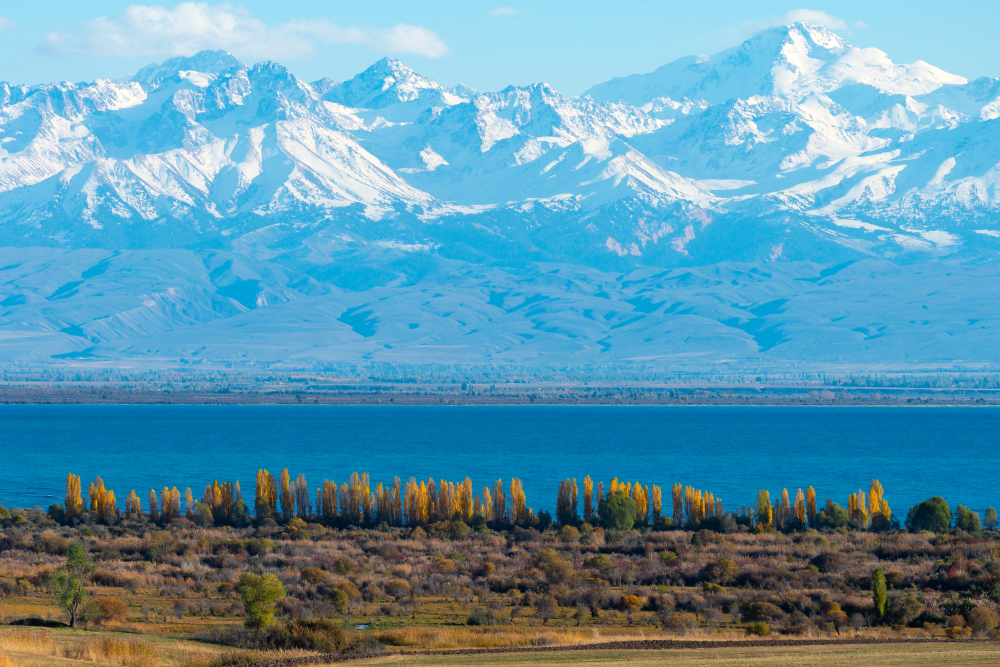 Marine archaeological excavations have discovered artefacts and structural ruins on the lake bed, indicating to the possibility of an advanced civilisation some 2,500 years ago before water levels rose.
As one of the most scenic spots in Kyrgyzstan, Lake Issyk-Kul is fantastic for its hiking, bird watching and fishing. Regular public transport from Bishkek runs from June to September, and guesthouses offer simple accommodation for a night's stay by the lake.
5. Charyn Canyon, Kazakhstan
Naturally formed through millions of years of erosion from the harsh natural elements, Charyn Canyon sits within a national park of the same name and follows the Charyn River. Over time, the rain and wind altered the colour of the red sandstone to brilliant shades of burnt orange and brown and are visually stunning, especially when the light hits through the clouds. The canyon is over 150km long and nearly 1000 ft deep in places.
Charyn Canyon has earned itself the unofficial nickname as the Grand Canyon's little brother.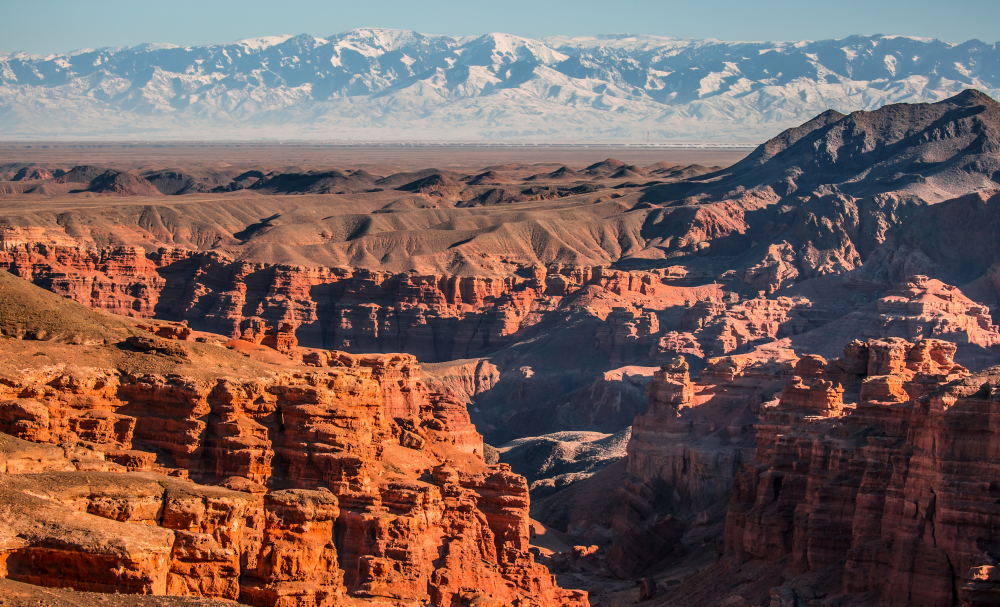 Around a 4 hour drive from the Kazakh city of Almaty, a gentle 3 km hike through the Valley of the Castles (the most famous area of Charyn Canyon) will introduce you to arguably some of the most impressive views in all of Kazakhstan. Avid hikers may be interested though in continuing to Temirlik (iron), Uzunbulak (moon) or Bestamak (red) Canyons, where the landscape is more rugged and you can really escape the crowds. All three canyons sit within the national park, but for some, Charyn Canyon is enough.
What are you favourite sites along the Old Silk Road? Are there any that you would add to my list? I'd love to know.
I do hope you've learnt something about this fabulous part of the world and are now inspired to see this region for yourself! A journey along the Silk Road may be one of the most memorable holiday you've ever had, and I do hope you make it a priority post-lockdown.
---

Travel from Bishkek to Ashgabat on this 27 day 'Five Stan' cultural experience. This in depth tour will see you visiting the Silk Road gems of Samarkand, Bukhara and Khiva, the quirky Turkmenistan, colourful markets, fascinating villages and Swiss Alps type scenery. Retrace the footsteps of Marco Polo and Alexander the Great on this unforgettable Central Asian journey.
---
If you'd like to read more of Michael's travel writing – check out www.michaelonthemove.org