A report has found that Chinese food is Britain's favourite foreign food, with almost four in five Britons having eaten the cuisine in the last three months.
The Asian cuisine was found to be popularly eaten both in British homes and ethnic restaurants in the country and was a more popular choice than that of India or Mexico, suggesting food is a particular appeal of China touring holidays. The study from research organisation Mintel found that as many as 1 in 10 Britons eat Chinese food at least once a week, further illustrating the region's secured status as producing our favourite World cuisine.
Soy sauce vs mint and apple
The study also found that the consumption of soy sauce in Britain has risen immensely in recent years, bringing it now on par with traditional British staples of mint sauce and apple sauce. 2014 saw sales of soy sauce reach four million kg, a whole million kg up on the previous year. This figure is equal to that of mint sauce and apple sauce, with Richard Ford, Senior Food Analyst at Mintel, saying, "The fact that Soy sauce is now on a par with British favourites such as Mint and Apple, reflects growing consumer interest in oriental cuisine."
Additionally, sales of green tea have also risen significantly, with sales rising by 30 percent between 2011 and 2013 from £23 million to £30 million, equating to 1 in 10 Britons drinking one cup of green tea at least once a day.
These figures show an increasing interest in Asian food and drink with more Britons trying new foods from this region of the world and looking to make Chinese dishes, possibly ahead of a tour of China itself. A rising number of famed Asian chefs, such as Ken Hom and Chin He-Huang, as well as the increasing availability of traditional Chinese ingredients in our supermarkets have seen a rise in Chinese cooking in the British home, and you can give some authentic recipes a go yourself with the help of this previous article.
---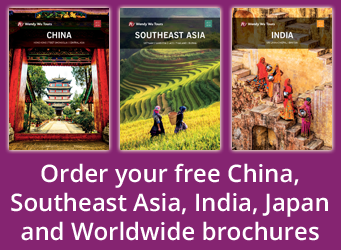 Visit China with the UK's leading China Experts, Wendy Wu Tours. Our award winning escorted, fully inclusive China tours visit all the major sights of China for an unforgettable holiday.
We also have amazing tours to Vietnam, Cambodia, Laos, Japan, India and beyond…