"Chile is one of the most beautiful places I've ever been" – Wendy Wu, Chairwoman and Founder of Wendy Wu Tours.
Where else will you find Volcanoes, Ski-resorts, Glaciers, Stunning landscapes and modern cities with mountainous backdrops? As there are so many faces of Chile, it's important to make the most of your time there and see as much as you can on your Chile Holiday. That's why we put so much thought, care and attention into our 'Chile Top to Toe' tour, to ensure you experience everything.
Within our Chile Tours all international flights, taxes, domestic transportation, accommodation, tours, tickets and meals are all included within the price so all you need to worry about is packing your camera!
Travel the entire length of Chile, from the barren beauty of the Atacama Desert and Altiplano of the north, via the lakes and volcanoes of the Lake District, to the spectacular mountains and glaciers of Patagonia in the south.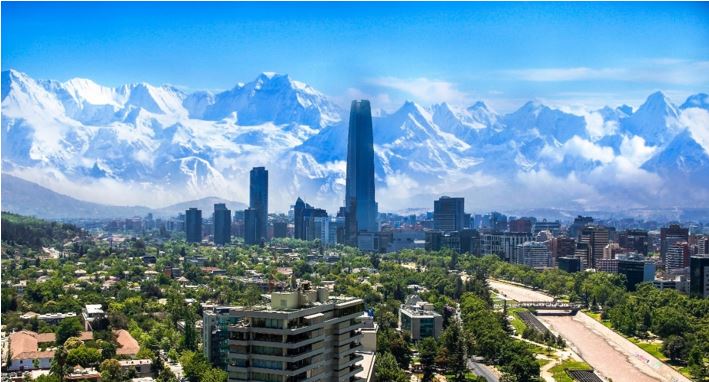 Days 1-2 – Fly from the UK to Santiago
Start your journey in the capital city, Santiago. You'll be met at the airport and transferred to your hotel (which has been carefully selected and vetted by our experts). For those that like to get straight out an explore there is an optional walking tour of the city you can join, which will take you around the city, explaining all the history and showing you the sights such as the Royal Court Palace and the Government Place. You'll also see the Plaza de Armas, which is the central square of the city (and the heart of the old colonial centre). There's a total of 32 comunas (boroughs) within the city, all with their own distinct character and you'll get a feel for these, as you walk. For those that would like to rest from the flight, and ease into the Latin America feel, the afternoon is at your leisure, before meeting with the rest of the group for a welcome dinner.
Day 3 – Explore Valparaiso
You'll be collected by a coach or minibus to head towards the coast to visit the UNESCO World Heritage Site Port town of Valparaiso – considered to be the most captivating and unique city in Chile. The journey here is approximately 3 hours. When arriving at Valparaiso you'll have the chance to fully explore and take in all the colours and sights of the city and admire the coloured houses dotted up the hillside. You'll also take a ride on the traditional funicular, up into the hills to visit the famous Chilean poet 'Pablo Neruda's' house. You'll be taken back to Santiago late afternoon and the rest of the evening is yours.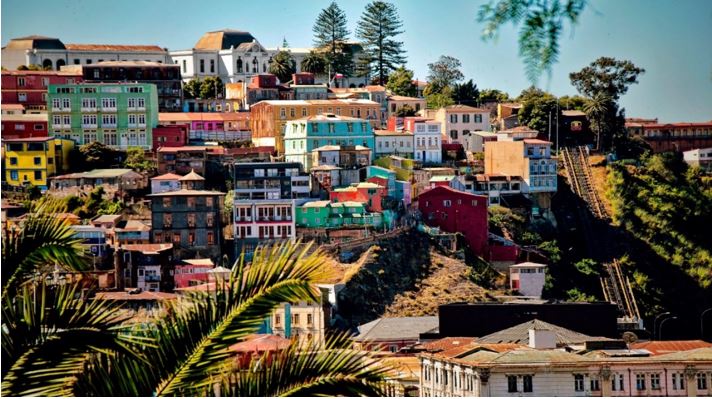 Day 4 – Explore San Pedro de Atacama
After an early breakfast, you'll head to the airport and fly north to the city of Calama (approximately 2 hours by air) where, once landing, you'll continue your journey to the desert town of San Pedro de Atacama. Upon arrival you'll enjoy a traditional lunch in the ancestral village of Ayllu de Coyo where you'll see local people working in their local farming habitat and living in Atacamenas, which are traditionally constructed with adobe, straw, cane, carob tree and Chanar. Once arriving at San Pedro you'll explore some of the worlds most famous landscapes with a drive out to Death Valley and Moon Valley, some of the driest spots in the world! Films such as James Bond: Quantum of Solace, Spy Kids and Space Odyssey: Voyage to the planets, have been filmed in and around these valleys and the Atcama desert, so you may recognise some of the landscapes!
You'll enjoy the tranquillity of the desert and watch as sunset draws in, turning the rocks from orange to red and then to purple. Moon Valley is at its most impressive at sunset as the backdrop of hills of the Atacama Desert add to the stunning hues of the sun setting over the rocks.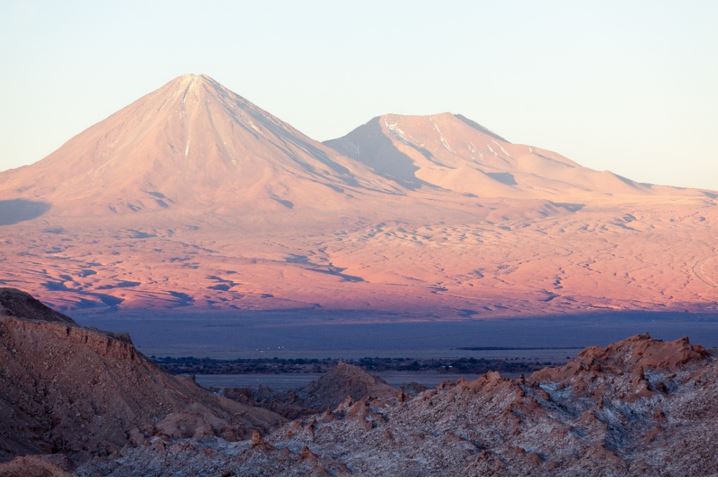 Day 5 – Salar de Atacama
Travel around 2 hours to reach Salar de Atacama, the largest salt flat in Chile, which was formed by evaporated water that flowed down from the Andes. Within the salt flat basin there are numerous lakes, some of which are a favourite place for flocks of flamingos. From there you'll head to Chaxa Lagoon in the Los Flamencos National Reserve whilst on route to reach Miscanti and Miniques Lagoons, which sit on the high plains at the base of two volcanoes. The views here are out of this world, and we highly recommend taking a moment to just take it all in. From here you'll travel to the village of Scoriae, where you will see ancient agricultural terraces and irrigation channels and enjoy lunch.
After lunch you'll take a short drive to Toconao, another peaceful village known for its Colonial architecture, which was built in Liparita (volcanic stone). After you've spent time exploring the village, you'll head back to your hotel for the evening.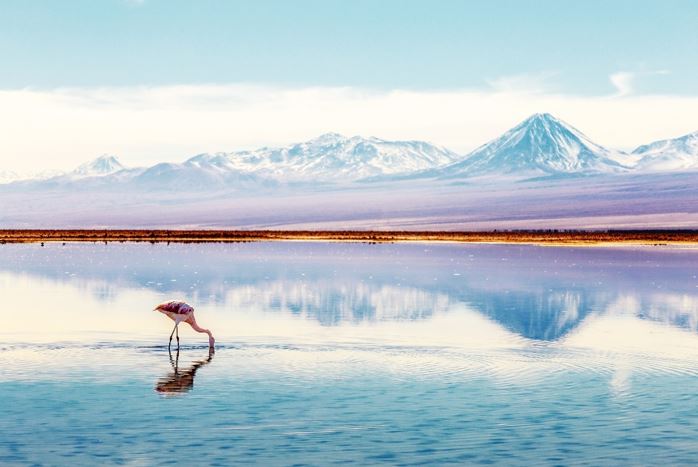 Day 6 – El Tatio Geysers
Today is an early start, with a 4:30am departure for a 2-hour journey into the Atacama Desert to visit the El Tatio Geysers. Surrounded by a ring of volcanoes, you'll find 80 lively geysers and fumaroles, which are best seen at sunrise (hence the early start). You'll then take part in a guided walk around the mud craters and bubbling geysers and have time to finish wandering the area at your leisure, before departing and travelling through the Andes Mountian Range with impressive views of Putama volcano and the Tocorpuri Mountains.
You'll then arrive at the small desert village of Machuca and see the traditional way of terrace farming, mud houses with straw roofs and the wild alpacas, llamas and flamingos that roam the area. After lunch, you'll travel to an archaeological site, to see petroglyphs and other stone sculptures of shamans and alpacas. The day doesn't stop there as you'll then travel on to visit the Rainbow Valley and spot wild Vicunas as you travel back to San Pedro.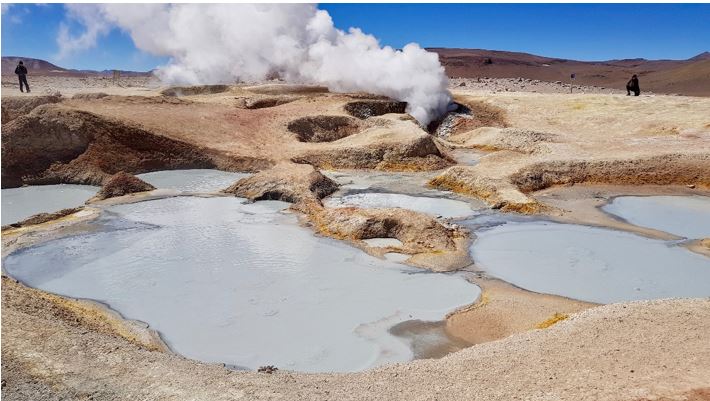 Day 7 – Puerto Varas
After a leisurely breakfast, you'll transfer back to Calama for your flight to Puerto Montt, which takes approximately 5 hours. Once you land, there is a further one hour's journey to Puerto Varas, which is the gateway to Chile's spectacular Lake District. Puerto Varas is located on the Llanquihue Lake and is a charming town, known as the 'City of Roses'. Stunning views from the town spread over the lake to its two dominating snow-capped volcanoes called Orsono and Calbuco. Once arriving and checking into your hotel, the rest of the day and evening is at your leisure, so you can explore or relax, depending on your personal mood.
Day 8 – Osorno Volcano
Osorno volcano is as a 2,652-meter volcano located in the Los Lagos Region of Chile and is noticeable for its similar appearance to Mount Fuji in Japan (albeit, Mt. Fuji is 1,124m higher than Osorno!). Today you'll travel further around Llanquihue lake stopping in the beautiful village of Ensenada at the base of this stunning volcano. From here you'll take an easy hike to 1,240 meters where the Osorno Ski Mountain Centre can be found and admire the resort. As most people start suffering with altitude sickness at 2,500-meters (8,000ft) this is the highest you will go today, however, what's waiting for you after the climb back down is worth the walk!
You'll travel through the Perez Rosales National Park, to Petrohué Falls where you can admire the turquoise waters and lush greenery from a series of boardwalks over the Petrohué river. Your day will end with a boat trip tour across the Todos Los Santos Lake, providing breath-taking views of the forest, mountains and the mighty Osorno Volcano.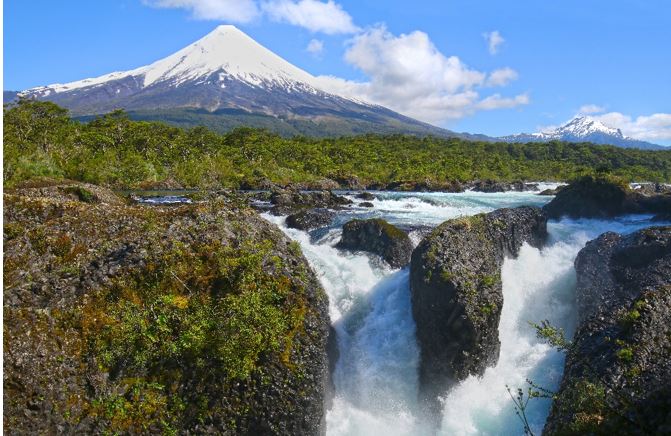 Day 9 – Puerto Natales
Just a drive away from Argentinian Patagonia, Puerto Natales was founded in 1911 as a port for the booming sheep industry. Nowadays it is more commonly known as the gateway to the Torres del Paine National Park, with tourism being a key contributor to the town's economy.
On route you will visit a local fish and artisan market this morning before heading to Puerto Montt. From there, fly to Punta Arenas and then transfer to your hotel in Puerto Natales.
Day 10 – Puerto Natales
Today is a day of two choices. Relax, unwind and take in the delights of Puerto Natales, preparing for a full day of touring the next day, or you can choose one of two of our 'Optional Tours'.
Option one is a boat trip along Chile's most famous fjord, Ultima Esperanza (a.k.a Last Hope) on route to the Mount Balmacada Glacier, and then a continued journey on foot to the wonderful Serrano Glazier. Both of which are stunning and must be seen to be believed.
Option two is a trip to visit a local Estancia to experience a glimpse of daily life on a traditional ranch and enjoy a typical Patagonian asado lunch.
Day 11 – Torres Del Paine National Park
After breakfast you'll travel to the UNESCO World Heritage Designated Torres del Paine National Park, which lives up to its title. Packed full of waterfalls, lakes, glaciers and jagged peaks you'll always have something to look at. Today involves a lot of walking on uneven ground, so sturdy walking shoes are recommended.
Spend the day amongst the breath-taking backdrops of the Torres del Paine Mountains. Spot large herds of Guanacos grazing freely as you walk through one of the most beautiful national parks in the world. You'll visit the Salto Grande or the Pehoé river, and then visit Lake Pehoé, Lake Grey and Lake Glacier, before sitting down for lunch. On the way back to Puerto Natales (after lunch) you'll stop at where the remains of a prehistoric animal were discovered in the last century.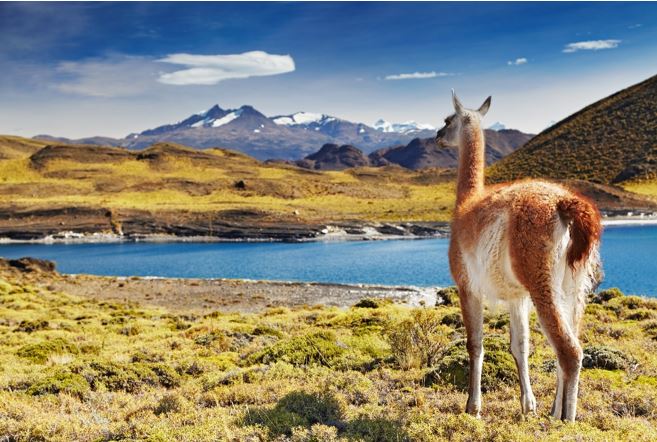 Day 12 – Santiago
You'll transfer back to the airport in Punta Arenas and fly approximately 3 and a half hours to Santiago. Once you have arrived, you will be met and taken to your hotel for the evening, and the rest of the day is at your leisure, with a farewell dinner in the evening to finish the trip in style.
Day 13-14 – Depart Santiago
After breakfast transfer to the airport in time for your flight back to the UK, arriving home the next day.
A few things to note
A portion of this tour is at high altitude (approx. 4,300m above sea level) which has a risk of causing altitude sickness. The local guides will have advice and information on how to deal with this, but symptoms can include dizziness, fatigue, nausea and shortness of breath. One way to help overcome this is to properly acclimatise and keep hydrated, eat light meals and keep a light schedule for the first few days. There is medication you can take to help ease the symptoms, and most of the hotels have free oxygen for use if required.
UK passport holders do not require a visa to enter Chile, however you do require to have a minimum of 12 months validity on your passport from your return date. You must also have a valid Travel Insurance policy.
On this tour you will be travelling through a series of different terrains with diverse climates, from deserts to Glaciers, therefore we ask all guests to pack accordingly.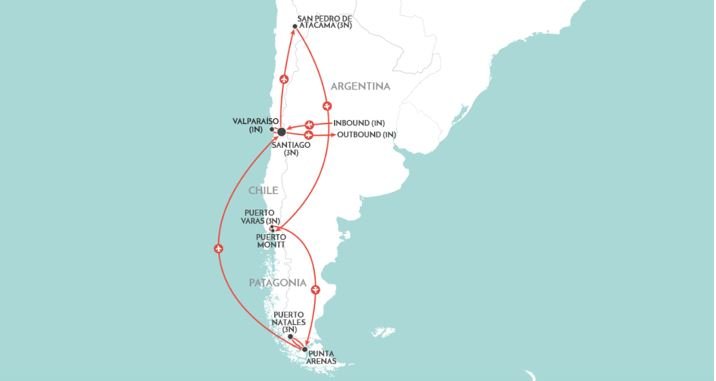 Easter Island Extension
If you're not feeling ready to leave Chile just yet, Easter island is one of the most isolated and enigmatic destinations on the planet. Dotted 3,700km away in the Pacific Ocean, it's certainly worth a visit – especially when travelling to Chile.  Our 5-day Easter Island Tour extension is the perfect addition to your Chile Holiday, so let us tell you a little more.
Day 1 – Arrive in Easter Island
Fly from Santiago to Easter Island, where you will be met and transferred to your hotel. The flight from Santiago to Easter Island is approximately 5½ hours.
Day 2 – Explore Easter Island
After Breakfast, start your exploration at the archaeological site of Vinapu before visiting Rano Kau volcano and the ancient city of Orongo, where you will see fascinating petroglyphs. Followed by a visit to the Roihi Archaeological Centre and the Puna Pau quarry, where the red stone pukao hats of the Moai statues were made.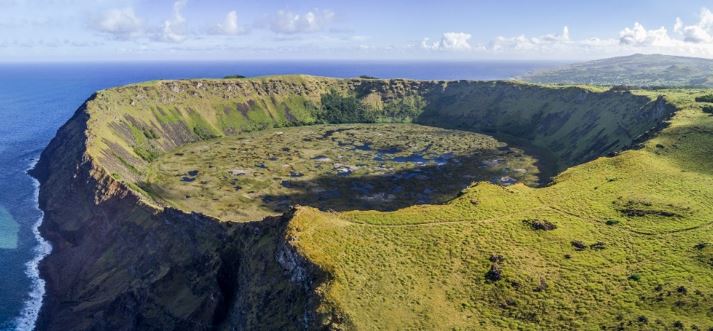 Day 3 – More Exploration
Start your day with visits to Hanga Roa village – the capital of Easter Island, which is located in the lowlands between two extinct volcanoes (Rano Kau and Tervaka). 87% of the island's population live here, which is a minimal 3,304 people.
You will then continue on to Akahanga Archaeological Centre to see the Moai and the burial place of the first king of Easter Island. You'll be taken back by the Moai here due to their sheer size and weight, not to mention the mystery surrounding their creation.
This afternoon is dedicated to the world-famous Moai statues as you travel to a volcanic crater called Rano Raraku where the stone for the Moai was quarried and figures were carved. You'll hike to the crater for breath-taking views and of course more Moai. On the way back, you'll stop off at Ahu Tongariki to admire the 15 biggest Moai on Anakena Beach, which is considered as the cradle of Rapa Nui culture.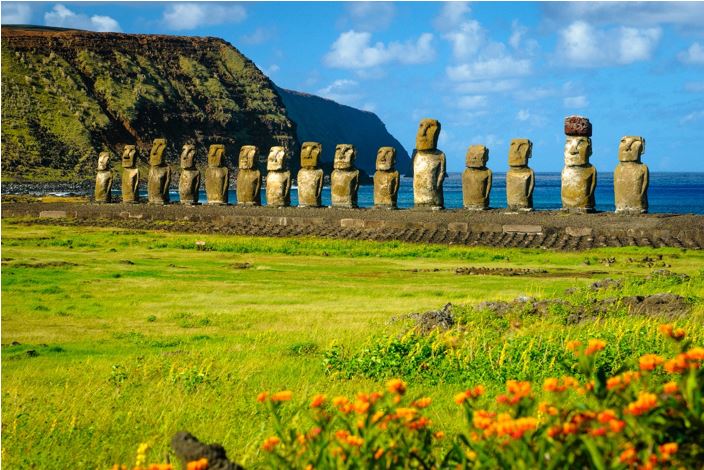 Day 4 – Arrive back in Santiago
After breakfast, you'll be transferred to the airport for your flight back to Santiago. Once landed, you'll be met at the airport and transferred to your hotel for an overnight stay. This evening is at your leisure.
Day 5 – Return to the UK.
As your trip comes to an end, enjoy your last breakfast in Latin America and check out of your hotel ready for your transfer to the airport for your flight back to the UK.
If we've whet your appetite for a trip to Latin America, then why not take a look at our other South America tours.