The number of international holidaymakers travelling to Cambodia rose in 2015 compared to the previous year.
International visitors heading on tours and holidays to Cambodia increased from 4.5 million holidaymakers in 2014 to 4.8 million in 2015, according to Thong Khon, the tourism minister for Cambodia revealed at a seminar.
Cambodia set to thrive
Thong Khon also revealed that he expects the number of foreign visitors holidaying in Cambodia to rise to 7.5 million in 2020.
As a result of this increased popularity it is expected to generate a staggering $5 billion (approximately £3.4 billion) and will create around 800,000 jobs in the process.
This popularity was recently shown by the fact that Phnom Penh International Airport, the biggest airport in Cambodia, set a new record for the number of passengers it received in one year after surpassing the three million mark for the first time since it opened.
Airports in Cambodia have in general been welcoming more international visitors through their gates as, in 2014, 5.7 million visitors from across the world visited Cambodia through their airports. This has also seen Phnom Penh and Siem Reap international airports provide around 500 flights per week to around 30 foreign cities.
The tourism minister also announced the plan to make Cambodia a cleaner and more environmentally friendly destination for holidaymakers with the launch of its "Clean City, Clean Resort and Good Service" campaign.
Speaking with the Khmer Times, Ho Vandy, an advisor to the Chamber Commerce of Cambodia, said that creating a new tourism campaign promoting the improving cleanliness and eco-tourism that Cambodia can offer will attract even more people to visit the country.
The visitor numbers increasing will only be boosted by the news that Cambodia and its attractions such as Angkor Wat will be featured in new films. 'First They Killed My Father', a film to be aired on Netflix, is currently being filmed in Angkor Wat and the surrounding area and features Angelina Jolie.
You can see all the majestic sights of Cambodia on our fully inclusive tour – Around Cambodia.
---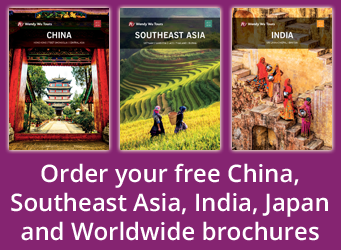 Visit Cambodia, with the UK's leading Asia Experts, Wendy Wu Tours. Our award winning escorted, fully inclusive tours visit all the major sights of Cambodia for an unforgettable holiday.
We also have amazing holidays to China, Vietnam, Japan, Laos, India and beyond…