Wow – What is that and where is it I hear you asking? Well, let us tell you all about it.
This is a picture of the amazing archaeological structure of the Vardzia Cave Monastery, found on the slopes of Erusheti Mountain, southern Georgia – No, not Georgia USA, but Georgia in the Caucasus.
These caves, listed as a UNESCO World Heritage site, stretch across five hundred metres and up to nineteen tiers and were built in the second half of the twelfth century, under the reign of King Tamar, the first woman to be crowned as a King in Georgian history. She co-ruled the Kingdom of Georgia with her father. The name was derived when Queen Tamar got lost in the caves and called out 'ak var dzia' to her uncle, meaning 'here I am'.
This spectacular city housed thousands of monks in over 400 rooms, had 13 churches and 25 wine cellars as well as a reception chamber, bakery, chapels and a huge church. Access was through a secret tunnel near the Mtkvari River. The monks lived a self-sustainable lifestyle from the extremely fertile land surrounding them.
The complexes main structure was the Church of Dormition – also known as the Church of Assumption – and was the heart of the complex with a valuable series of murals – from the life of the Christ, on the upper walls, the Georgian royal family painting, to a portrait of the Queen herself. These were significant in the development of the Medieval Georgian mural painting.
An earthquake in 1283 destroyed more than two-thirds of the city, making visible most of its' hidden caves. A partial re-build of these caves allows for a small monastery community to continuing living here today.
And if the caves aren't enough then don't forget to bring chewing gum when you visit, as there is a special 'bubble gum tree' where people stick their chewing gum to the tree and make a wish!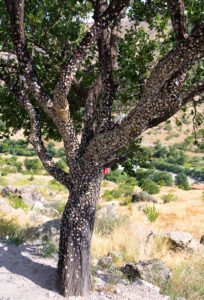 ---
Come experience this unique site for yourself, on our Georgia, Armenia and Azerbaijan tour. An adventure through the Caucasus at the point where East meets West, this tour highlights a real contrast of cultures. See beautiful mountain scenery, enjoy delicious food and wine, and wonder at ancient fortresses, cathedrals, mosques and temples.
---
Delve even deeper into the wonders that await in Central Asia with our new 2021-22 brochure, packed with inspiring tours, authentic cultural experiences and so much more.

Georgia, Armenia & Azerbaijan
23 days from £5140pp
Fully Inclusive of Tour & Flights
Baku - Gabala - Sheki - Telavi - Tbilisi - Dilijan - Goris - Yerevan - Gyumri - Akhaltsikhe - Kutaisi - Mestia - Kutaisi - Gudauri - Tbilisi
Order your brochure today