Have you been given the wanderlust by Joanna Lumley's Unseen adventures on ITV?
We know just how you feel. Joanna is the perfect travel companion to explore the far flung corners of the world. Her curiosity is infectious, her enthusiasm unbridled and she shows us that the destinations we thought were outside of our comfort zone are within our reach.
The shows inspired us to go back and binge watch the incredible original travelogues. Here's a rundown of our favourite highlights from those shows and how to enjoy them with Wendy Wu Tours.
Joanna Lumley's Japan
First aired 2016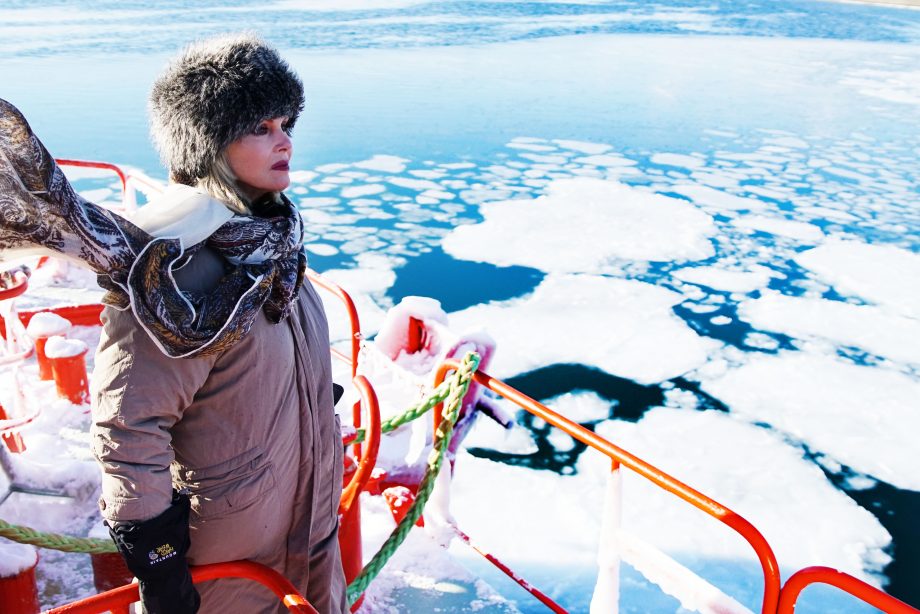 "Isn't it odd, we feel we are so familiar with Japan, with sushi and Toshiba, kimonos and Hello Kitty, tsunamis and sake… and yet when we travelled around that spectacular country I couldn't even guess at the unknown wonders that were in store for us. Every moment was thrilling, fascinating and often very moving. With my hand on my heart I can say: please come with me… to Japan!"
Our Japan Uncovered tour is our most extensive and popular tour of Japan the closest you can get to following right in Joanna's footsteps including Tokyo, Kyoto and the Snow Monkeys. Much like the unseen hardships of filming the show this tour took us three years of preparation to perfect.
Joanna undertook the journey of a lifetime across Japan from the icy Siberian seas in the far north to palm fringed islands of the south. Travelling by plane, train, boat and on foot she covered more than 2,000 miles.
Joanna began her Japanese odyssey in in Hokkaido, where she meets one of the country's most iconic and culturally important animals, the red-crowned crane. She soaked up the incredible ice sculptures of the Sapporo Snow Festival and watched snow monkeys frolicking in natural hot springs, before travelling into the Fukushima exclusion zone and taking a bullet train to Tokyo.
While in Tokyo, Joanna headed out to a nightclub to see a Japanese girl band before a real change of pace, travelling to the Kiso Valley to walk in the footsteps of samurai on the Nakasendo Way, an ancient route that once linked Tokyo to Kyoto.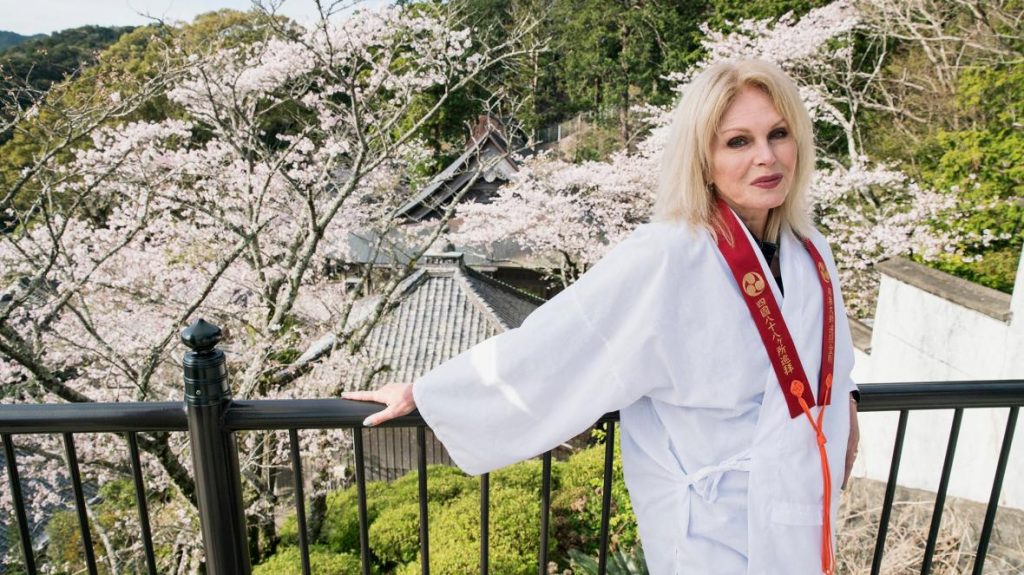 Joanna was wowed by the cherry blossoms at their peak and met a geisha in Kyoto before journeying on to visit a school in Nagasaki, the site of the second atomic bomb to be dropped on Japan in 1945. Journeys end is in the far south amongst the WWII battlefield sites of Okinawa and the idyllic beaches of Kohama.
---
Our Japan Uncovered tour is the closest you can get to following right in Joanna's footsteps in Japan including Tokyo, Kyoto and the Snow Monkeys. Our most extensive tour of Japan includes all the classic sights and key cultural activities. Featuring modern cities, historical sights and beautiful landscapes, Japan Uncovered ensures you get the most out of your trip to this fascinating land.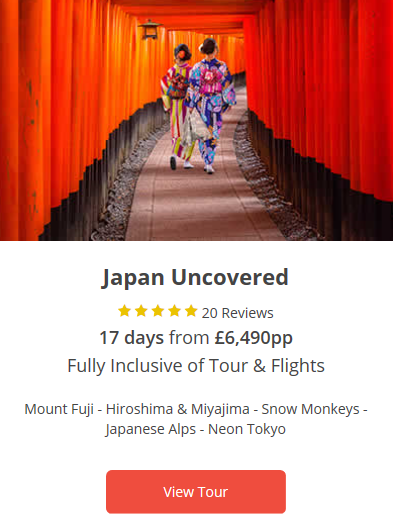 If you'd like to experience Sapporo whilst the famous Ice Festival is in full swing then our Sapporo & Snow Monkeys tour is just perfect for you. Join the largest and grandest Snow and Ice Festival in the world, come face to face with the Japanese Snow Monkeys who reside in the Japanese Alps and discover Japan's many treasures – old and new – in the spectacular cities of Tokyo and Kyoto.

---
You can catch Joanna Lumley's Japan on Amazon Prime Video
When to go to Japan?
The best time to visit Japan is during spring (March to May) when the cherry blossoms are bursting into life and autumn (September to November) when the scenery is ablaze with colour. For more information on what's happening throughout the year take a look at our Best time to Visit Japan pages
Joanna Lumley's Silk Road Adventure
First Aired 2018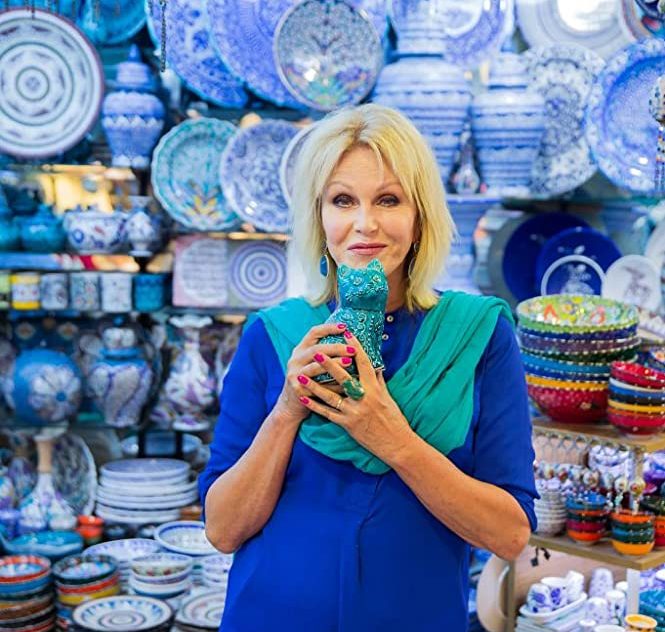 "The Silk Road isn't a single road – it's the ghost of a series of roads – and when we started mapping it on paper you could see it spreading out across the world. But it was one of the most extraordinary trips I've ever done and it was wonderful to meet and spend time with those who are still living and trading along all these roads."
This series was Joanna's grandest and most challenging journey yet, an adventurous trip from Venice to the Chinese border along the paths of the old Silk Road. Joanna's adventure saw here discover a spectacular array of fabulous landscapes, crossing deserts, mountains and vast rolling grasslands, as she followed the path trodden by merchants, armies, emperors and adventurers in centuries past.
Joanna journeyed from the Black Sea to the Caspian, travelling across the little known countries of Georgia and Azerbaijan. It's a journey of real contrasts from the cosmopolitan seaside resort of Batumi, on Georgia's Black Sea, through picturesque villages in the heart of the Caucasus Mountains and lush vineyards to perfectly preserved towns and ultra modern cities. On the way she learned about traditional silk production, a thriving wine industry and how these very different countries are still finding their way in the modern world.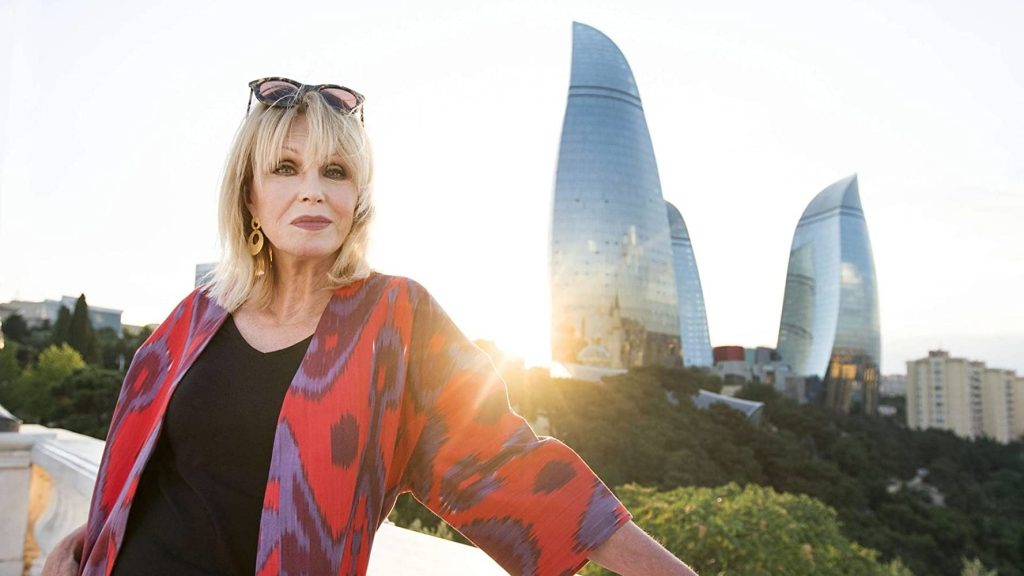 Joanna fell in love with Georgia's capital city "When I live here…" she daydreams wistfully in Tbilisi. "It's stunning. It's a spa town and very, very grand. Its houses were beautiful, with balconies and ornamentation. And the city has stupefyingly good food."
---
Our Eurasia Explorer explores both Georgia and Azerbaijan as well as Armenia. An adventure through the Caucasus at the point where East meets West, this tour highlights a real contrast of cultures. See beautiful mountain scenery, enjoy delicious food and wine, and wonder at ancient fortresses, cathedrals, mosques and temples.

---
The series culminated in central Asia, amidst the towering minarets of the archetypal Silk Road cities of Uzbekistan and the mountainous beauty of Kyrgyzstan.
Joanna trekked through Uzbekistan's Kyzylkum desert, learned about Khiva's distinctive chugirma hats and is awestruck by the vast turquoise domes of the Registan, Shakhi-Zinda and Bibi Khanum in Samarkand. In mountainous Kyrgyzstan she meets DJs, K-Pop groups, eagle hunters and yak herders before her journey ends near the Chinese border, at the old Silk Road caravanserai of Tash Rabat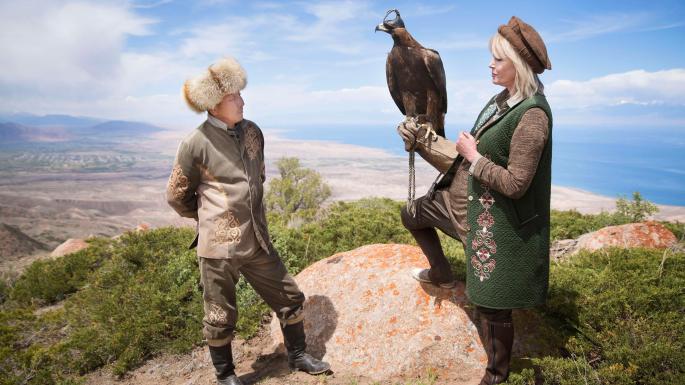 ---
If you want to follow in Joanna and centuries of merchant adventurer's footsteps along the old Silk Road our Road to Samarkand is the tour for you. Journey through the heart of Central Asia crossing starkly beautiful deserts and magnificent mountain landscapes. Discover ancient cities full of intricate Islamic architecture, thriving bazaars and a mystical old-world atmosphere, all inextricably linked with the legends of the Silk Road.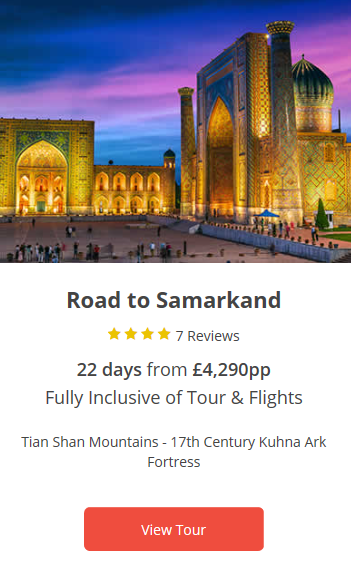 ---
When to travel the Silk Road?
Very hot summers with temperatures reaching above 40°C and cold winters mean the best time to vist Central Asia is from April to May or from September to October
You can catch Joanna Lumley's Silk Road Adventure on Amazon Prime Video
Joanna Lumley's India
First aired 2017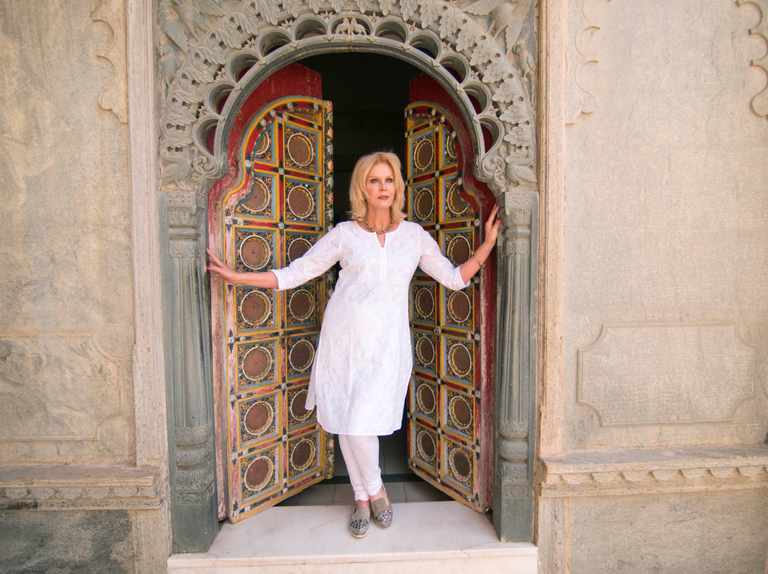 "I want people to not be afraid. There's a kind of nervousness among people who like to have a hot shower every day in the same place…be brave and bold. You will experience something wonderful."
Joanna travelled back to the country of her birth to journey the length and breadth of India. Exploring India's kaleidoscope of landscapes, cultural traditions and people, Joanna experienced an incredible variety of sights, sounds and experiences that only India can deliver.
The first episode took Joanna all the way from tropical the southern tip of the country to the snow capped mountains of the Himalayas in the north. She discovers the multi-coloured Meenakshi Amman Temple in Madurai and explores the lush tea plantations and hill stations of the Western Ghats before concluding amidst the towering mountain giants of Sikkim.
Episode two begins in front of Mumbai's iconic Gateway of India before journeying on to the incredible Ajanta and Ellora Caves and Ahmedabad in Gujarat. The famous sites of princely Rajasthan and the golden triangle are next with Joanna soaking up the iconic attractions like the Taj Mahal before experiencing two very different sides to the state, spending time both with nomadic camel farmers and amongst the regal opulence of the Udai Bilas Palace.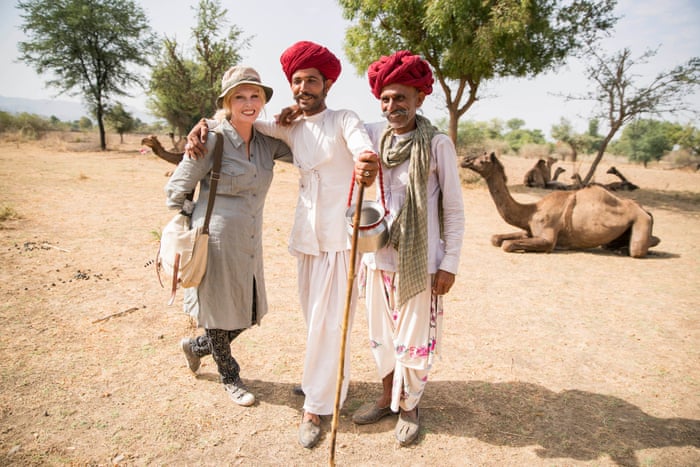 The final episode sees Joanna encountering regal tigers in Ranthambore National Park and retracing her family's past in Delhi and Srinigar (where Joanna was born) . She flies in to Himalayan Dharamsala for a moving audience with the Dalai Lama and relaxes on a houseboat in Dal Lake.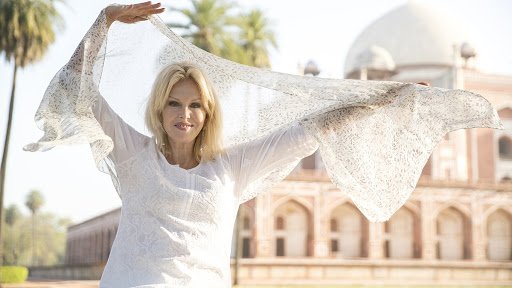 ---
Our Grand Tour of India covers so many of the highlights from Joanna's travels in India including Delhi, Agra, Ranthambore, the Thar Desert, Mumbai, the Ajanta & Ellora Caves and much more besides.

---
Our Northern India Discovery tour visits Dharamsala, the home of the Dalai Lama as well as Amritsar, the northern hill stations of the Himalayas and the fantastically iconic Golden Triangle of Agra, Jaipur, and Delhi.

When to Go?
The best time to visit India is from November to March when you'll enjoy pleasant warm dry days and low humidity. However the Indian subcontinent covers vast distances and altitudes and is affected by regional monsoons . For a more detailed look month by month take a look at our Best Time to Visit India pages
You can catch Joanna Lumley's India on Amazon Prime Video