No one can bring our tours to life better than those who have seen, done and experienced it all first-hand, so we're opening up the blog to our wonderful customers who want to share their amazing Wendy Wu adventures!
Maureen Rae gives us the inside story on one of our most popular and all-encompassing tours of India, a journey from the deserts of Rajasthan in the north, to the backwaters of Kerala in the south, that really showcases this land of extraordinary contrasts.
Maureen & John
Grand Tour of India
August 2018
Growing up in the last village in England (Sennen) I would never have believed that when I was seeing other parts of the world, on huge scroll down charts at school, that I would ever visit some of them.
Roll on many years, work, marriage, children and retirement, and 2 years ago I mooted the idea to my husband to go to visit India. We had done our own road trips to USA, New Zealand, The Rockies and lots of package holidays but, for my 70th I wanted somewhere more exciting – so picked on India!
Lots of research proved fruitless as my "chosen list" of must see were only partly covered by others – until that is I found the 28 day trip "Grand Tour of India" with Wendy Wu. That was it, with only 1 place missing from my extensive list, little persuasion was needed. We booked.
It was over a year in advance but it gave us something to plan and look forward to. Amazing how quick it all comes around, and how many give their advice; what to wear, what NOT to do, "You'll like it", "You'll loathe it", In the end we ignored it all.
From the minute we were picked up at the door to go to the airport, to the dropping off four weeks later, it was the most amazing holiday ever.
Welcome to India
No one can prepare you for the heat, the sights, the colour of India and most of all the friendliness and warmth of the people. It makes India what it is – a truly amazing country.
A gentle first few hours were spent soaking up India from a hotel window watching monkeys and pinching myself we are really there. Our surprise came hours later on meeting our fellow travellers, all 17 of them came from either Australia or NZ and we knew then we were in for a fun trip. Our guide MK, who was with us for most of the holiday, was the best guide ever. Informative, sometimes firm and often funny, but at all times we felt safe. Our drivers were also great especially given the traffic and road conditions in many of the places we visited.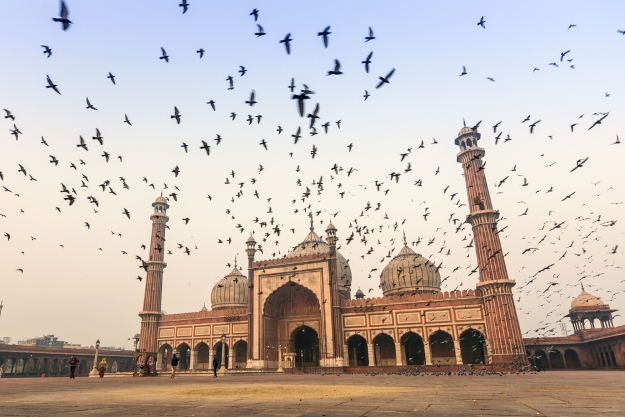 So Many Highlights!
Delhi was a gentle intro to a totally different country, the rickshaw rides – somewhat scary – foretold of the wonders to come.
Our first real experience of India was a few days in, when visiting Varanasi. It has always been on my must see list. MK did try to warn us of the impact it would have, not just the pungent smells, cows in the streets, the first sighting of the Ganges and the morning ablutions and the Ghats, but also the spiritual side of the most holy place in India. Words cannot express how special it was to everyone.

Then the calm and beauty of the Khajuraho temples. After the hectic bustle and noise of Varanasi it was a great welcome and contrast. Such beauty in the often exotic/erotic carvings was unforgettable.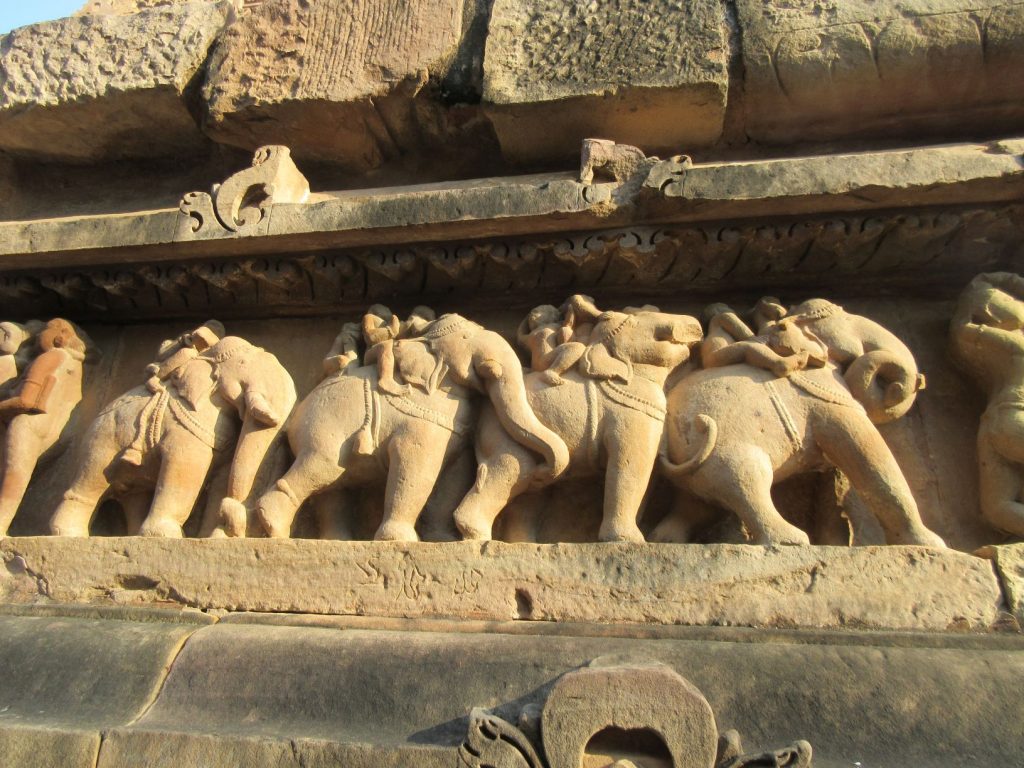 A manic India train station and ride to Agra was followed by a very early morning wake up call to be the first tour into the Taj Mahal, but it was worth every lost minute of sleep. The colours change in minutes, it was magical.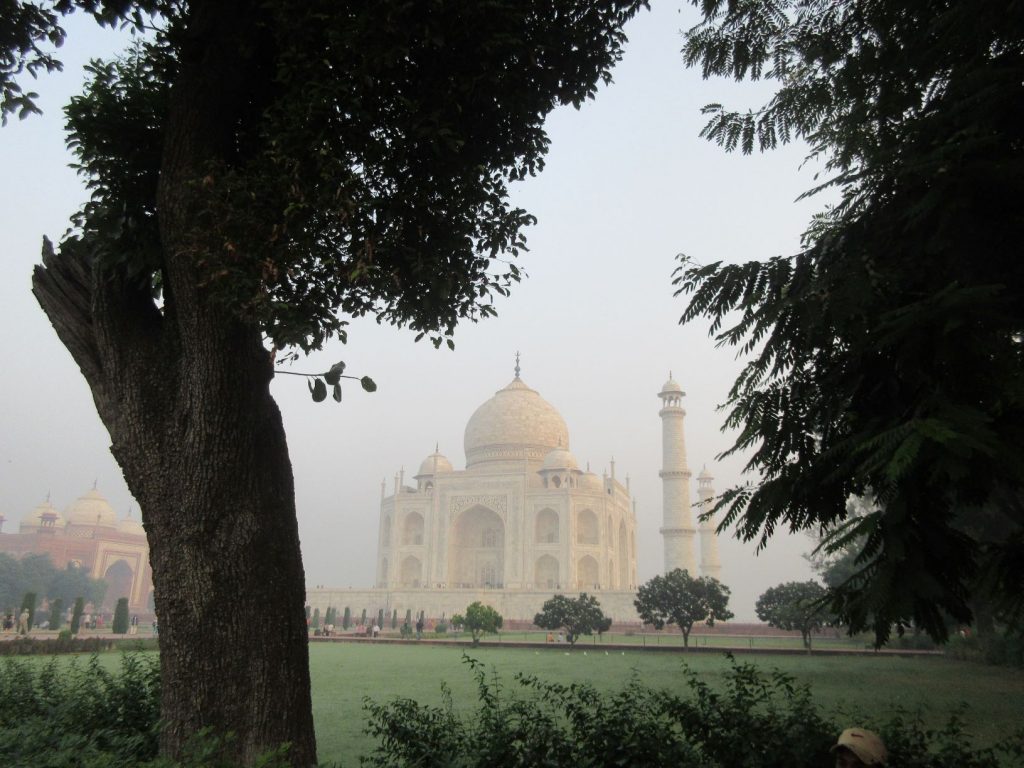 Jaipur was high on my 'top favourite places' bringing to life the books I have read on India, the palaces majestic and beautiful and the wealth of the past – unbelievable.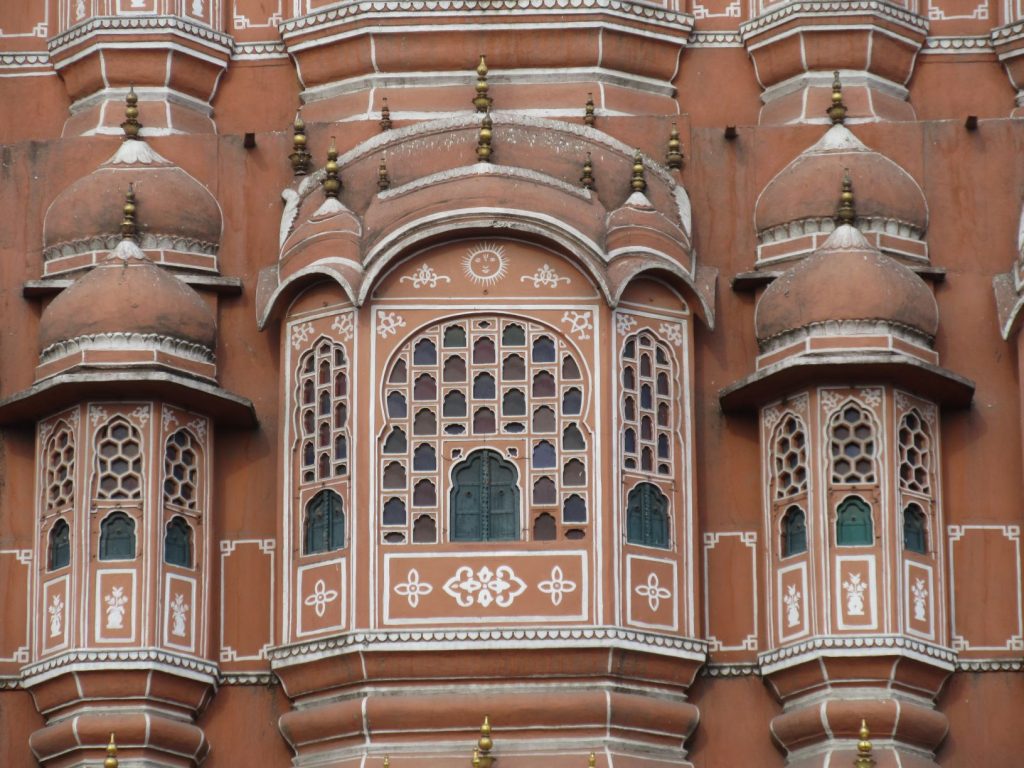 Pushkar, Jaisalmer, Jodhpur and Udaipur were all very different and equally stunning but a camel ride into the Thar Desert for the view of the sunset was simply unforgettable.

Then it was onto the Ajanta and Ellora Caves – nothing could prepare you for these. Late monsoons meant roads turned to mud baths, with marooned or overturned vehicles but despite a 4.5 hour journey we still got to Ajanta – worried we might not make it back, an amazing, if somewhat anxious, day.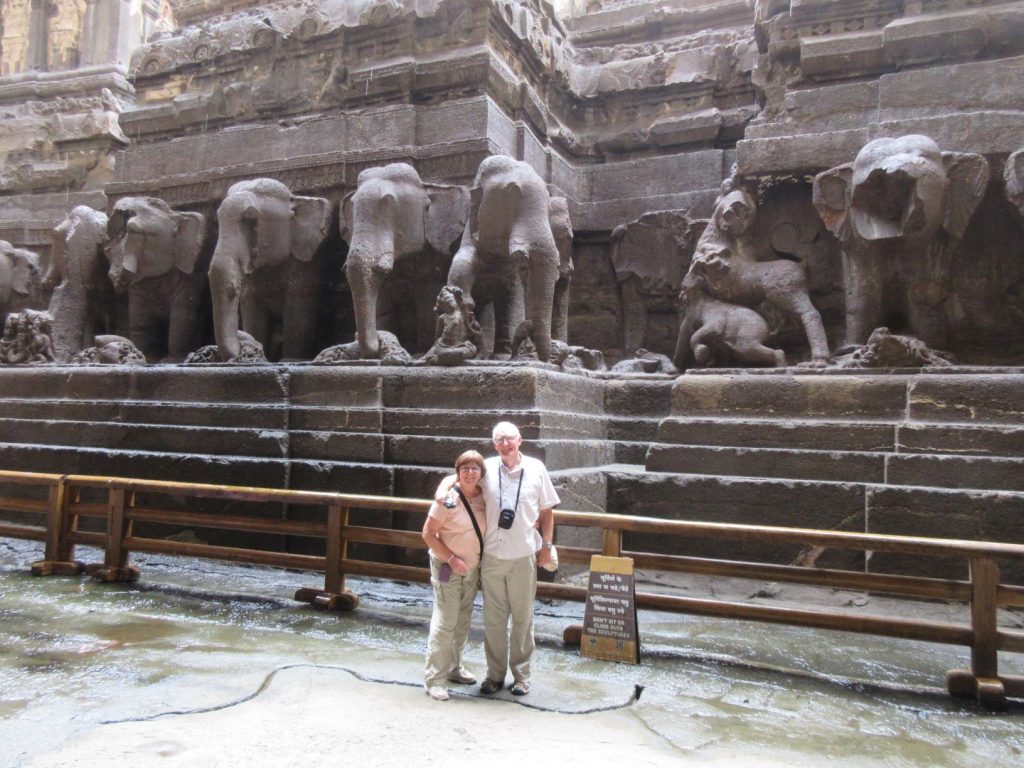 Farewell to MK
At Mumbai, after a half day sightseeing, we finally had to bid farewell to MK. A very sad moment for us all. He had been the focus of our days, encouraging us to go out when we could to meet the people, and see the real India, and we did. Lots of unscheduled stops too, a sick cow hospital, local markets to taste local snacks, or buy decals or fireworks for Divali. Visiting a cotton and millet farm meeting the brothers and family that ran it, the list is endless.
Kerala and the South and the last few days didn't feel like the same country, and although lovely and more relaxed, we preferred the hectic bustle of the northern India, with its cows on the road and wild pigs rummaging in the rubbish – that felt more real somehow.
My Verdict
The food was excellent, everywhere, with mostly curries of course, lunch and dinner, but lots of different choices and varied in each region we visited.
We had cultural shows too, dance/theatre which I think the women enjoyed more than the men! But the accommodation, which we were a little worried about, was all good and it just seemed to get better! The top two in our minds were a Summer Palace in Pushkar which was stunning. Two days later we were in a 500 year old fort at Khismar, and eating our dinner that night on the ramparts as the sun went down, a special moment.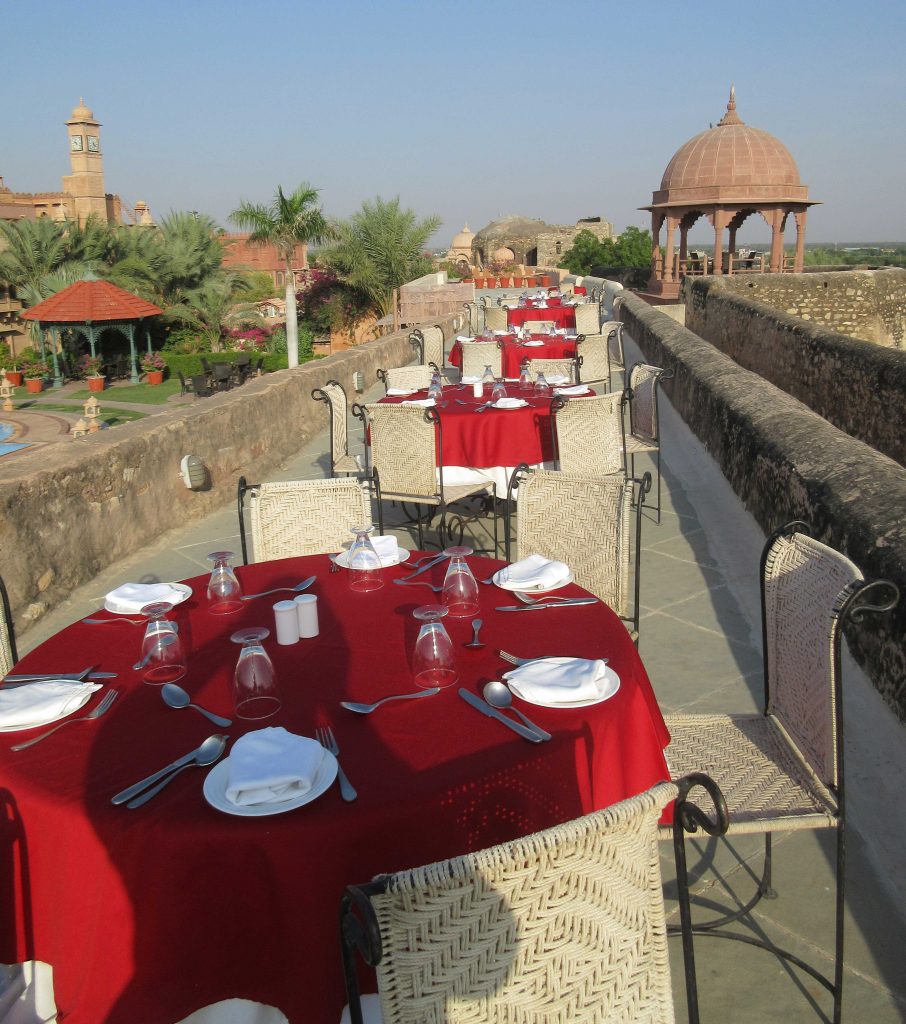 Yes there are some very early mornings, and some long days of travel but there is so much to see and learn from the scenery beyond the windows. MK told us about not just the places we were to visit but also snippets of Indian culture, heritage, religion, and what it meant to him to be part of the country.
Our days on the road were often broken up by stories, and 'open mike' sessions so they were never dull and our fellow travellers all helped to make each day a trip to remember. There was little down time to relax by a pool or read, but we were there to see India – to experience every minute possible to soak it up!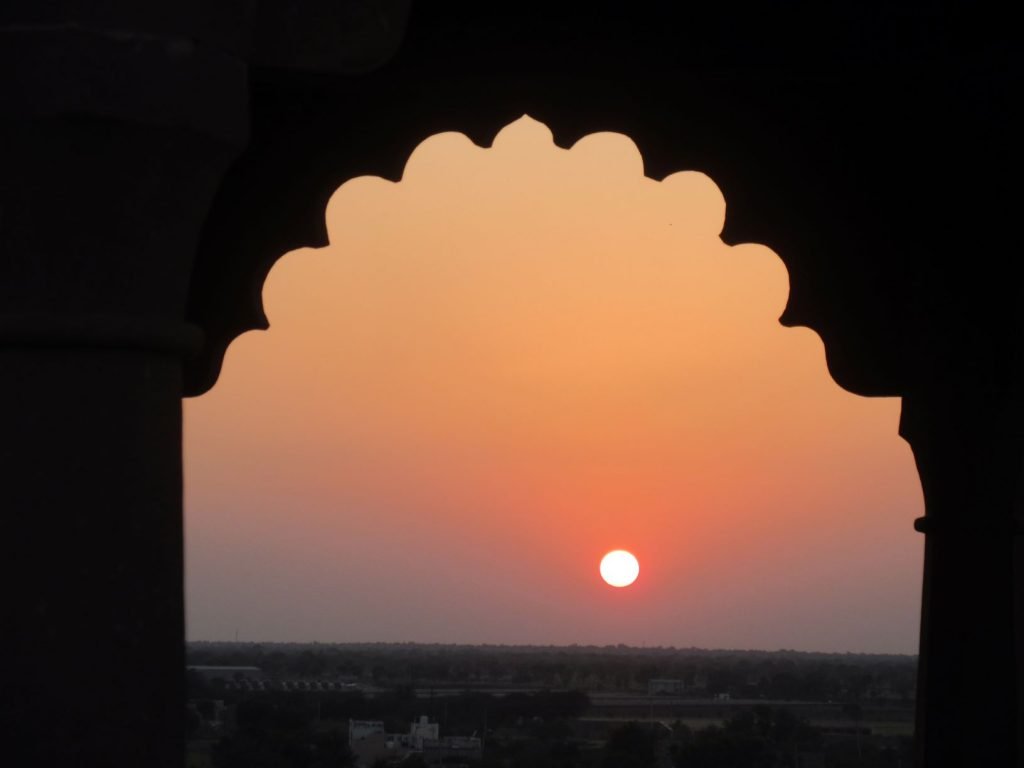 Any minor issues, transport delays etc were dealt with by MK and he worked so hard behind the scenes that the whole trip was faultless.
We didn't take hundreds, but thousands, of photos, a holiday never to be forgotten and now that we have had time to reflect on it the best photos, best memories we will turned into a photo book. We have already regaled our family and friends with some of the stories of our adventure that makes it all come alive once more.
If you are hesitating over a future holiday in India, don't, just do it. Go with an open mind, and an open heart. The poverty is hard to see and accept, but the warmth of the people, the colour and culture of the country so vast and different that you need to go and see for yourselves. An amazing holiday and one I will remember forever. India just visit and see it – to believe it!
Thank you to Maureen for writing this great review and sending her fantastic photos.
Maureen and John travelled on our Grand Tour of India, one of our most popular tours of India. On this all encompassing journey you will become acquainted with one of the most vibrant countries in the world. Embark on a journey from the deserts of Rajasthan in the north, to the backwaters of Kerala in the south, to experience this land of extraordinary contrasts.

If you'd like some guidance on when to go – take a look at our Best time to Visit India page.