If you are looking for the lowdown on what makes Japan so special, who better to talk to than someone who was born and raised there? We talk to our Graphic Designer Kimi Nakanishi for the inside scoop.
Japan has become increasingly popular, more so in the last few years in particular. Why do you think that is?
Japan has a very unique culture – that can only be experienced there. Japan also has a long history which people are able to revisit at any time. The modern side of Japan is also very attractive to tourists, especially the technology and fashion districts.
You will also see different landscapes, ways of life and food depending on which prefecture you visit, there are 47 (prefectures) in total. For example, to eat the best seafood (especially crab) and enjoy snow, you can go to Hokkaido. If you want to relax and experience an Onsen (hot springs) – head to Beppu which its famous for.
What was it like growing up in Japan?
My grandmother has always grown rice, vegetables and fruit, and I always enjoyed eating her delicious dishes. She is 85 years old, and like many elderly people in Japan, she stills works and farms. When I was a kid, I went outside a lot to go fishing with my friends, and I loved going to the Dagashi-ya – a traditional snack shop where all kids love to go, it's still open today and here you'll find very vintage Japanese snacks.

Tell us a little bit about your hometown in Japan.
I am from a small town called Kishigawa, located in Wakayama prefecture. Kishigawa is well known for its rice fields and strawberries.

You'll find small markets selling all sorts of strawberries, the local people also enjoy picking them. Some unique varieties of premium strawberries only come from here. They are huge, less sour and amazingly sweet!
Kishigawa's station is Kishi, where you can catch a train to Wakayama city. The station is famous for a cat called Tama, who used to live at the station when it was about to be closed due to lack of people using it. After the community voted to keep the station working, they also decided to announce Tama as the mascot and he became an official station manager. Sadly Tama passed away a few years ago, and now his cat friend, Nitama is managing the station.
Visiting Kishi station has become one of the best attractions in Kishigawa. Some of the trains are themed in unique ways such as cat, toy and strawberry. You might want to check the timetable before travelling and so you can choose which train you want to experience.
Koyasan is also located in Wakayama and it has become one of the popular destinations for overseas travellers. It is a sacred place, featuring a number of temples and cemeteries. Koyasan is surrounded by mountains, and it is colder than the main city. I suggest you bring a warm jacket if you are planning a visit.
My favourite place in Koyasan is Okunoin, where you can find ancient tombstones for historical warriors. It's roughly a 2km walk surrounded by trees that have been there for hundreds of years. The feeling of peace and calmness with clean air is indescribable, it's something you can only experience when you are there.
What would be your recommendations for a first time visitor to Japan. What would be the quintessential Japan experience?
Depends on what you are looking for on your trip, but most people visit Tokyo, Kyoto and Osaka on their first trip to Japan. By visiting all those cities, you will be able to experience both the modern and traditional parts of Japan. People might think Tokyo = modern city, but you are still able to find the historical part of Japan in Kamakura which is an hour by train from Tokyo.
What is a must try dish?
Takoyaki & Okonomiyaki – If you are visiting Osaka, these are definitely a few must try dishes. One of the best places to have these are in Dotonbori, in fact this is one of the best places for street food – there is so much to choose from. It's also impressive to just watch the different food being cooked.
Where is your favourite place to holiday in Japan and why?
Kyoto is one of my favourite places to visit. It's not too far from my hometown and there is a range of unique sweets you can try, especially Wagashi (Japanese traditional sweet). I also love Gion Street where you'll find small gift shops in traditional buildings.

What is one thing you think would surprise people about Japan?
You might be surprised that you won't find rubbish bins on the street or even at train stations in Japan. It is because we consider rubbish as an individual responsibility and we respect our surroundings.
Thanks Kimi
Discover Japan with Wendy Wu Tours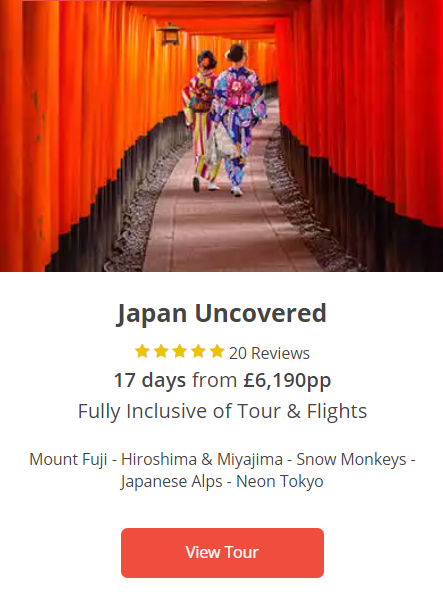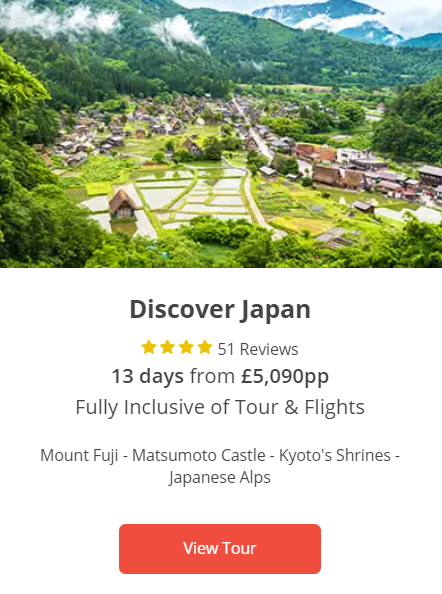 For the lowdown on when to go, take a look at our Best Time to Visit Japan page
If you'd like to visit the unique Kishi station or the shrine of Okunoin talk to our Tailor-made travel team.