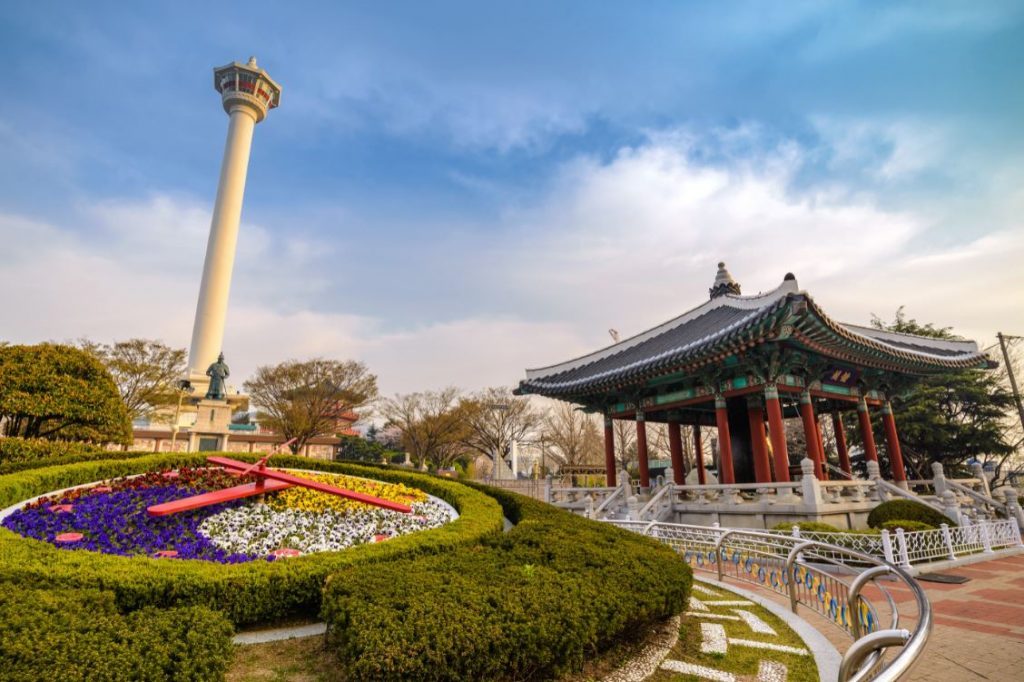 From skyscrapers to scenic views, South Korea is one of the most varied tourist destinations in the world, providing the perfect juxtapose experiences for everyone.
Whilst South Korea is well known for technology, its biggest export to date is the erupting K-pop music scene which has found its way into the UK charts, remember that classic hit, Gangnam style? There's no disputing that South Korea is vibrant and energetic and when you add in the culture of its traditional towns and villages (such as the UNESCO World Heritage Hanhoe & Yangdong historic villages) you will be left hungry for more, an appetite which can all be cured on our new bespoke tour!
With 12 UNESCO world heritage sites nestled in its borders, it's no wonder that tourism numbers have increased in the past 5+ years. Here at Wendy Wu Tours, we like to harness the beauty and excitement of every destination we cover, which is why so much care and attention was put into creating our Scenic South Korea tour. Our 13-night tour is a 'bucket list dream', covering the perimeter of the country from Seoul to Busan and Mount Seorak. Here's 13 reasons why you should take our guided tour of Scenic South Korea:
1.Fly from the UK to Seoul, the dazzling capital city of South Korea. Depending on your time of arrival, the rest of the day is yours to start soaking up the local culture. You'll meet your National Escort and fellow travellers in the evening and enjoy dinner at a local restaurant.
2. Explore Seoul and soak up culture and tradition whilst being surrounded by skyscrapers and the best nightlife. Discover Gyeongbok Palace including the changing of the guard ceremony followed by a visit to the National Folk Museum.
3. Once you've worked up an appetite sightseeing, you will then attend a Korean cooking class to learn how to make a traditional Korean dish – and then enjoy it for lunch! After lunch, take a leisurely stroll in the Insadong Antique Alley and visit the UNESCO-listed Jongmyo Royal Shrine.
4. Ascend the world-famous N Seoul Tower and experience panoramic views of the city to end your day of sightseeing in this unforgettable city.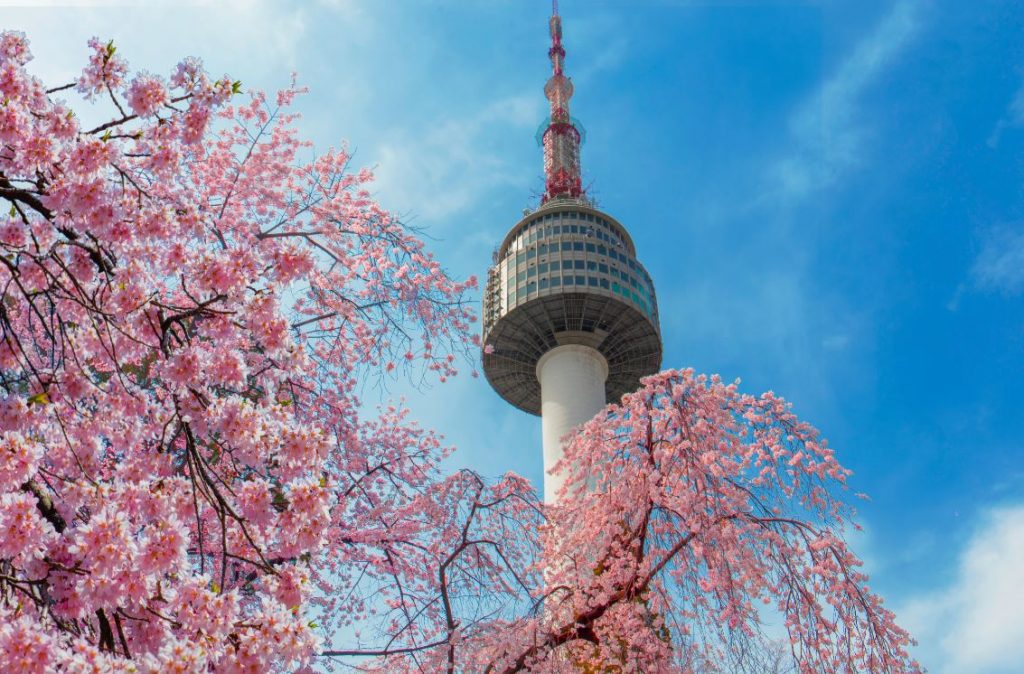 5. Escape the hustle and bustle and head to tranquillity. Visit a private garden built in the 16th century which features essential elements to bring harmony with flowing water, beautiful trees and grasses. Wander the bamboo forest of Juknokwon before continuing to Gwangju, where you'll spend time discovering this artistic hub full of fascinating history.
6. Enjoy a tea tasting ceremony and a visit to a green tea plantation as well as immersing yourself in traditional Korean lifestyle and a chance to take part in a handkerchief dyeing experience. Continue to Suncheon for a stop at the 6th-century Seonamsa Temple. A UNESCO World Heritage Site, the temple grounds are also home to a beautiful arched stone bridge.
7. Ride the cable car in Yeosu over beautiful scenery and open water to Dolsan Island and then continue to Odongdo Island for more spectacular landscapes and take time to appreciate the array of wild flowers in bloom before travelling to the port city of Busan.
8. Busan is a city full of character and traditional features as well as mountains, beaches, temples and exquisite seafood, the complete opposite to the bustle of Seoul. Start the day with 360-degree views from the top of Busan Tower, before browsing the wares at Kukje Market and Jagalchi Fish Market to see where locals shop for produce. Travel to the Oryukdo Skywalk, a glass bridge set on a seaside cliff, and walk over it (if you dare!) towards the sea. Soak up the peaceful nature of Dongbaekseom Island and feel the sand between your toes on Haeundae Beach. End the day with a Drive to Gyeongju.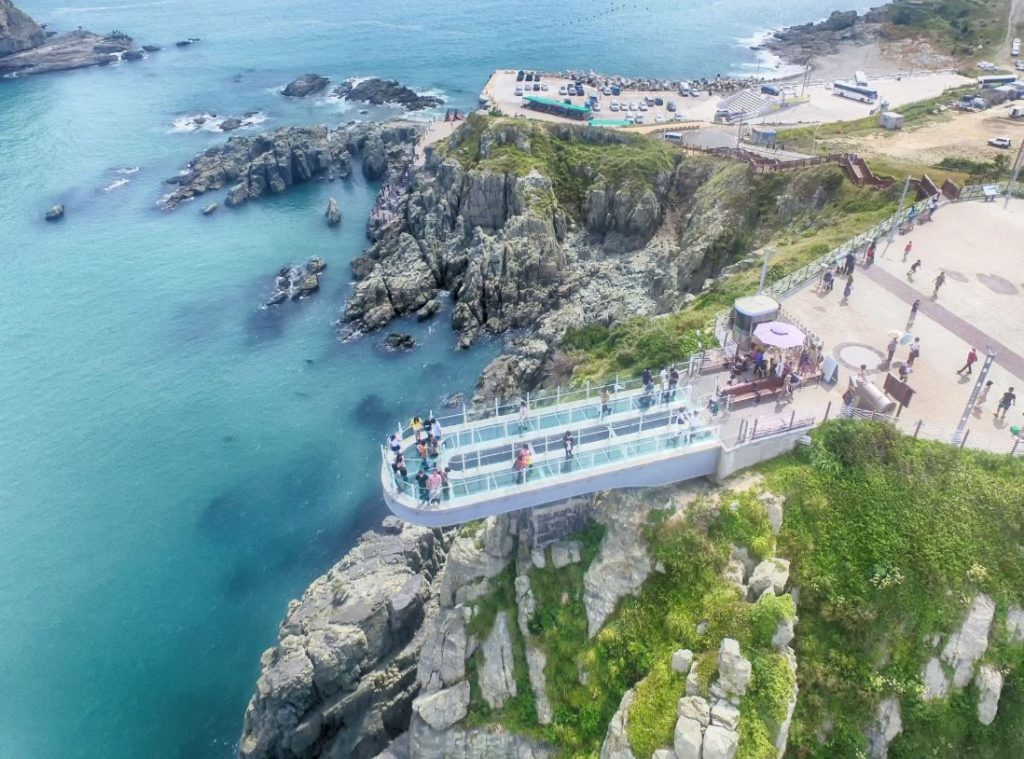 9. Gyeongju is called 'the museum without walls'. Capital of the Silla Kingdom for over 1,000 years the city is home to a staggering number of tombs, temples, statues, ruins and relics most of which you will see and get to explore. Begin at the Gyeongju National Museum before visiting Tumuli Park, a collection of royal tombs, and Anapji Pond. Then head out of the city to the magnificent UNESCO World Heritage Bulguksa Temple, considered the pinnacle of Silla architecture, and Seokguram Grotto.
10. Explore the 1,300-year history of the Naksansa Temple, a seven-storey stone building overlooking the East Sea whilst on route to Sokcho.
11. Head to Mount Seorak National Park, a spectacular scenic area of high, cloudy peaks, craggy bluffs and fragrant pine forests. Awarded a UNESCO title as a Biosphere Reserve and habitat for many rare species of plants and animals, it is one of South Korea's most dramatic natural treasures. Enjoy a short, easy hike along a beautiful valley and see the mountaintop Gwongeumseong Fortress by cable car.
12. Then make your way to Gangneung and board a highspeed train back to Seoul. After lunch the time is yours to continue exploring the city. Later meet up with the group and guide for a moving non-verbal performance of 'Nanta', an award-winning show which incorporates the traditional Samulnori rhythm.
13. Unique to our tour (and where possible) spend your last day in South Korea visiting the DMZ Zone and Freedom Bridge. Created as a buffer zone between North Korea and South Korea at the end of the Korean War, this area is heavily militarised so don't be alarmed, it's just something to bear in mind when you are walking around the area. Unwind and relax as you head back to Seoul to stroll through the Gwangjang Market and enjoy a farewell dinner with the tour group and guide. The next day is yours until your flight home.
Panoramic views of Seoul and Busan are a highlight of this tour, with entry to the N Seoul Tower (at dusk) and the Busan Tower included within the cost. Both towers are a must-do for anyone visiting south Korea. Avoid the queues and long wait times, as we've taken care of it all, ready for you to rise above the cities and take in the breathtaking views. Also, if parts of the tour aren't for you (such as the Oryukdo Skywalk for example) you can still experience the real South Korea within your comfort zone.
*tip* If you're a fan of the world-famous cherry blossoms, you can also find this in South Korea, with late March through to April being the best time to see the country in bloom. Many have said that cherry blossoms in South Korea are even more beautiful than Japan – so we'd love to know what you think!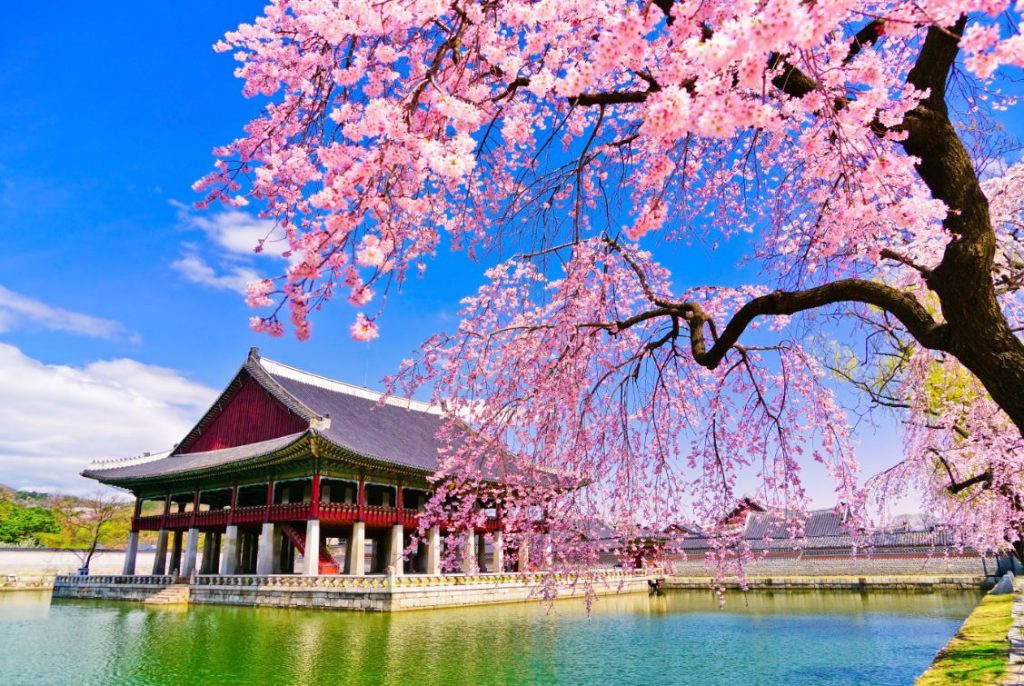 With all your internal transport provided (including cable cars) you can enjoy the tour with ease knowing everything is taken care of.  Whether this be on a group tour or a private tailor-made tour, we arrange everything, including your accommodation – which is handpicked by our destination experts ensuring you have a comfortable and stylish rest in between excursions. We only use the best airlines to fly you comfortably to your destination where you have the option to choose from Economy, Premium Economy or Business class to really make the experience your own!
One of the many benefits of travelling with us is that you get the chance to take the tour at your pace with plenty of time at your leisure, especially in the evenings and on arrival and departure days. This all means you to get the opportunity for a last-minute travel fix or to relax and reflect on the experience.
South Korea Top Tips
To help you on your way, here are three top tips to help you feel like a local in South Korea:
J-walking is NOT a thing. 99.9% of people in South Korea will stop at a crossing and wait for the light to turn green (even if there's no cars to be seen for miles!) so bear this in mind when exploring.
When taking a photo, Koreans say 'Kinchi' instead of cheese, so get practising for your holiday photo album!
Most restaurants will deliver food to your door when asked and even serve it on proper plates and provide cutlery!
---

With its complex history, soaring skyscrapers and centuries-old temples, this tour has something for everyone. From bustling cities to stunning countryside and UNESCO world heritage-listed national forests. It is a tour full of contrasts.
---