Lisa & Nick travelled with Wendy Wu Tours through Cambodia and Vietnam just as the full impact of the Coronavirus hit and still had a wonderful time on our Classic Mekong Tour. Our most popular tour of Vietnam and Cambodia journeys from the temples of Angkor to the magnificent beauty of Halong Bay and also includes three nights aboard our magnificent new ship – the Victoria Mekong.
Lisa & Nick
Tour: Classic Mekong
March 2020
Marvellous Mekong – Cambodia to Vietnam


There were many highlights to this holiday, in particular the three nights on the Victoria Mekong. The Victoria Mekong is a recently launched ship and a great addition to Wendy Wu holidays. The capacity is 70 guests and 32 crew. We learnt that despite this sailing being fully booked, the other groups had cancelled and we would therefore have the ship to ourselves.
As an incredible birthday treat Nick surprised me by upgrading our cabin to a VIP Suite. I can only describe the suite as perfect. It was like walking into a brand new penthouse flat (not that I have done so). Everything about it had that inviting clean modern feel. It smelt fresh and new with great attention to detail. The furnishings and decoration had been carefully chosen including the beautiful grey painting of a floating market above the bed. I have unsuccessfully tried to paint a version of it myself during lockdown in the UK.
It has a full sized bathroom and with the blind open, you can sit in the bath and look out to the river whilst sailing. The bedroom itself has the most wonderful panoramic views from a great expanse of windows leading to our own balcony at the back of the ship.
Another strong memory is seeing the sun rise on the deck whilst doing Yoga. I had also never tried yoga before, but was excited to join in. Not expecting many participants Shabir had got out 4 mats but had to keep going down to the gym to get more. Once we started we had 11 out of the 22, which was the most that Shabir had had for any of his sessions even when, at full capacity.
Starting out
However, I'm getting ahead of myself. We went on our first Wendy Wu holiday in November 2016 to celebrate our 25th Wedding Anniversary – a once in a lifetime treat to China ("In pursuit of Pandas"). In March 2019 we enjoyed another Wendy Wu trip with them, this time to India (Golden Triangle + Goa Extension). On return we planned our next trip – Classic Mekong for March 2020.
This holiday felt very different from the start. At the beginning of 2020 reports were emerging of the virus that had hit Wuhan and as the weeks went on I became more doubtful that the trip would take place. I phoned the Wendy Wu office to check and each time was patiently advised that the holiday was still going ahead.
Full of Unexpected Positives
Our holiday was full of unexpected positives brought about by the gradual shutting down of borders. The approach to Heathrow was oddly quiet with no problems parking. The flight from Bangkok to Cambodia was where we first noticed the major effect on tourism. There were only 12 passengers on the flight (Airbus A320 capacity 150 passengers). This felt very strange. On arrival in Cambodia, we were met by our Wendy Wu tour guides and found that other travellers had cancelled their bookings. This meant that there were now 22 people on our trip, split into two groups of 11 This was a good number and the group got on very well.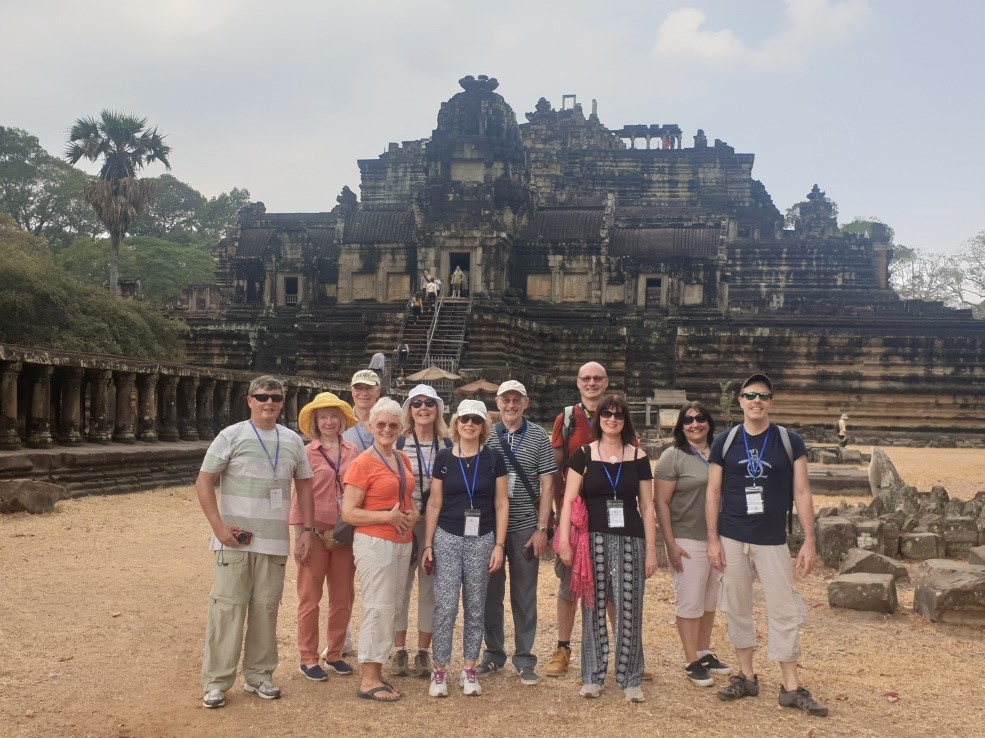 Our first major attraction was in Siem Reap. We had been dazzled by the early morning splendour of the Taj Mahal in India last year and had not expected to find anything to match this. We had not realised how vast the temple complex of Angkor Thom and Angkor Wat would be. There was so much to see and large areas still being excavated.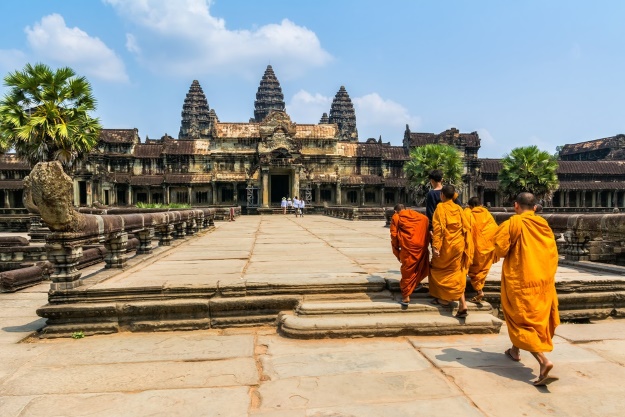 ---
Classic Mekong
Lisa & Nick travelled with us on our hugely popular Classic Mekong Tour, a glorious adventure starting amongst the magnificence of the temples of Angkor. Spend three-nights aboard the Victoria Mekong, the greenest ship on the Mekong, for a deluxe river cruise down the Mekong with shore excursions designed to give you an authentic glimpse of local life. Cross into Vietnam to discover its many treasures; explore vibrant Saigon, charming Hoi An and historic Hanoi and sail the waters of Halong Bay.

---
Like Travelling 30 years ago
Again an advantage for us was the reduction in tourist numbers. Borders had been closed with China and with the absence of Chinese tourists we were informed that the tourist numbers at the temple complex was reminiscent of around 30 years ago. This meant that we had a clearer view of the ancient temples and areas where we would have had to queue for half an hour, we were able to just walk up the steps and admire the stunning views.
Our knowledgeable tour guide, Jackie was also able to spend more time explaining the vast displays of carvings, representing life when the complex was built.
As the holiday went on we appreciated more the fact that we had been able to get away and explore without the crowds.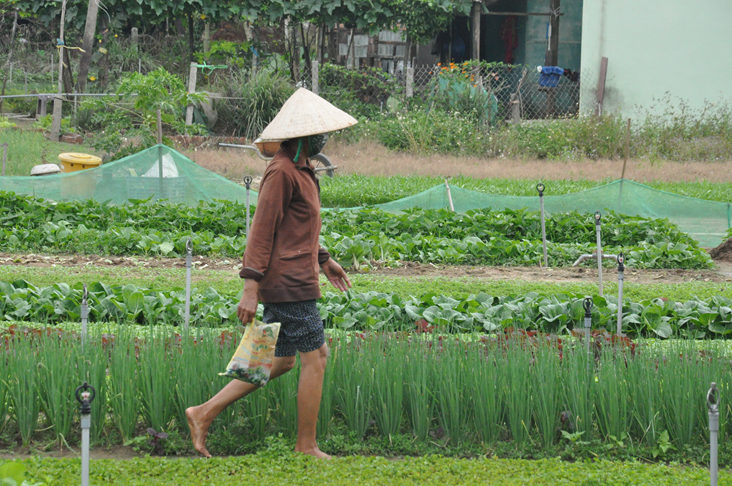 So Many Highlights
The Victoria Mekong was only three nights out of a packed agenda. Other highlights included:
• A policeman shouting "welcome to Cambodia" on our cyclo trip in Phnom Penh.
• EON51 sky deck bar where we drank a cocktail whilst seeing the sun set over Saigon with live music playing. This was an early replacement for a cancelled Hanoi theatre trip.
• Walking around Hoi An with its Japanese Bridge, market and tourist shops. Two nights here didn't seem long enough.
• Visiting a farm on my birthday and cooking our own lunch in the open air, after a demonstration.
• Our last day in Hanoi when, with attractions closing, our guide Tim took us on a personalised tour to see local life in the city .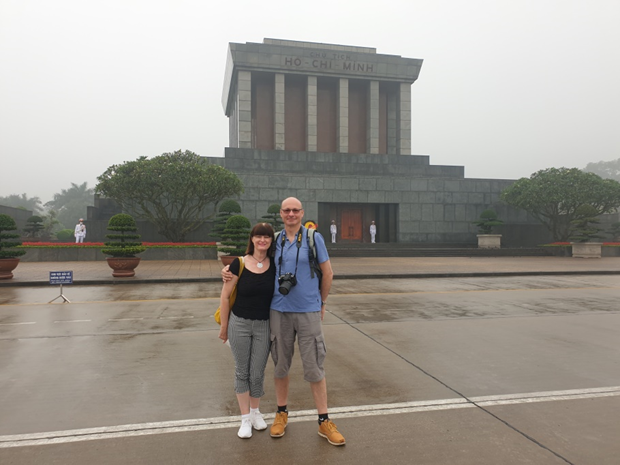 This is my account of our holiday. Each of the 20 people who shared this holiday with us will have had different expectations, needs, preferences and priorities.
For us there were of course some negative aspects to travelling as the Covid-19 pandemic was unfolding throughout the world. However, for us the positives of travelling at this time far outweighed these negatives.
Looking back, we so lucky to go on this holiday; to be able to visit major tourist attractions with very few people and to be privileged to spend 4 days on an amazing new ship, with only 22 people was something that can never be matched.
Instead of returning to our offices after 3 weeks off work we are now adapting to working from home. We have already got the brochure out and are dreaming of new destinations to explore when the lockdown ends – I think Machu Pichu is top of our list. For the time being it will have to be a dream.
Thanks Lisa and Nick for sharing your adventure with us.
---
Discover Vietnam and Cambodia
We offer a number of wonderful ways to explore these two glorious countries that include time aboard the glorious Victoria Mekong.
Classic Group Tours
Our Classic Group Tours are an intricately designed series of journeys for those who wish to see the iconic sites and magnificent treasures on a fully-inclusive excellent value group tour. All your arrangements are taken care of including international flights, visas, accommodation and all the touring. You will be accompanied by our industry-leading National Escorts whose unparalleled knowledge and talent will turn your holiday into a magical and unforgettable experience.


A Mekong Experience • Classic Mekong • Mekong Explorer 
Cruise & Beach
Combine the best of all worlds with a magical river cruise exploring the cultural treasures of the Mekong River and a relaxing stay on the glorious beaches of Vietnam or Cambodia.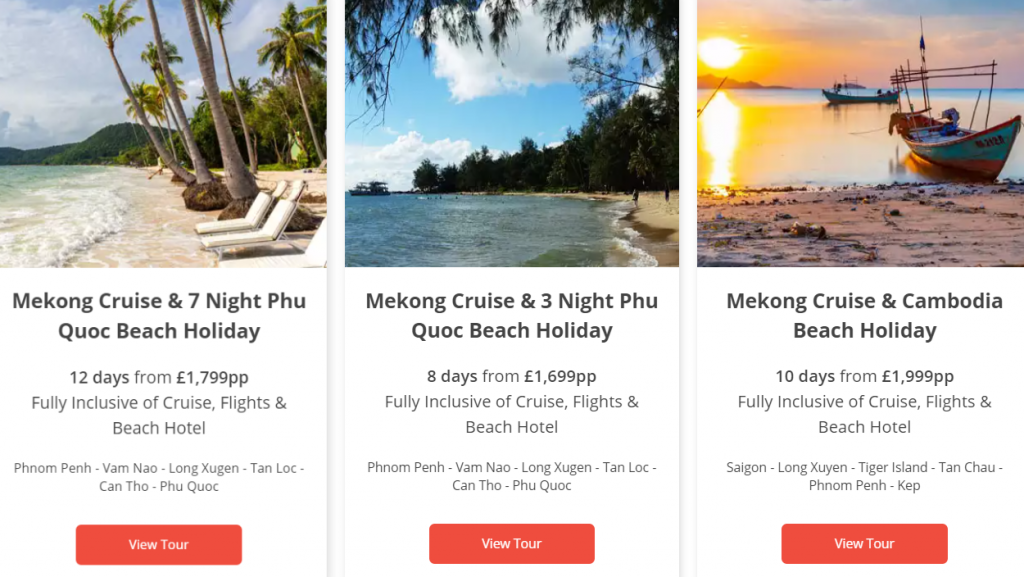 Tailor-made Holidays
If you're looking for a unique and flexible itinerary, a tailor-made tour gives you the freedom to do, go, see and experience whatever you want but with none of the stress of organising it yourself. Wendy Wu Tours gives you the opportunity to create that holiday of a lifetime that you've always dreamed of.
To start planning your holiday – contact our tailor-made experts today.
---