Where are the most romantic places on Earth?
Loved up? Love Travel? if you want to take that special person in your life to somewhere just as special, then look no further. If you're celebrating a birthday, anniversary, honeymoon or even looking for the best place to propose, read on for some extraordinary suggestions to 'Wu' your love.
Udaipur – India
Located in India's desert state of Udaipur is the historic capital of the Kingdom of Mewar, set around a series of lakes. Think of Udaipur as the Venice of India and you'll soon come to realise its beauty and uniqueness. Udaipur is also known as 'The City of Lakes' because of its location and many say that no trip to Udaipur is complete without a boat trip around the city!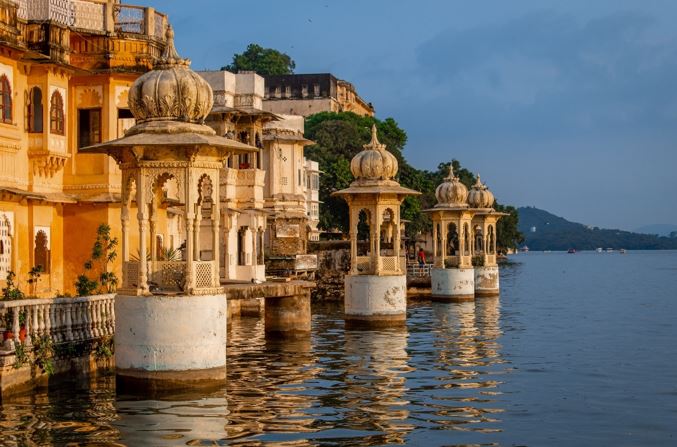 Romantic things to do in Udaipur
The top thing for those looking to add a bit of romance to their trip is to watch the sunset. The best view of this is from the terrace known as 'Sunset Terrace', which is the perfect place for declarations of love, or even to pop the question!
As we said above, no trip to the city is complete without a boat trip, so why not take a romantic cruise on Lake Pichola?
Head to Ambrai Ghat at night to see the building and steps illuminated in golden light. There is also a traditional shop here, selling handcrafted embroidery, silk and mirror work so you can take home an ever-lasting memory of your romantic lake-side walk. The Ambrai restaurant can be found here, and with tables overlooking the lake, it's an intimate dining experience you'll never forget.
Take a day trip to Jagmandir which is a palace built on an island in Lake Pichola. Originally a summer resort built for the royal family, it's now known as 'Lake Garden Palace' and is perfect for a romantic day trip. Hop on a boat to the island and wander around the stunning gardens and palace before stopping for a spot of lunch at the 'Café for Couples' overlooking the lake.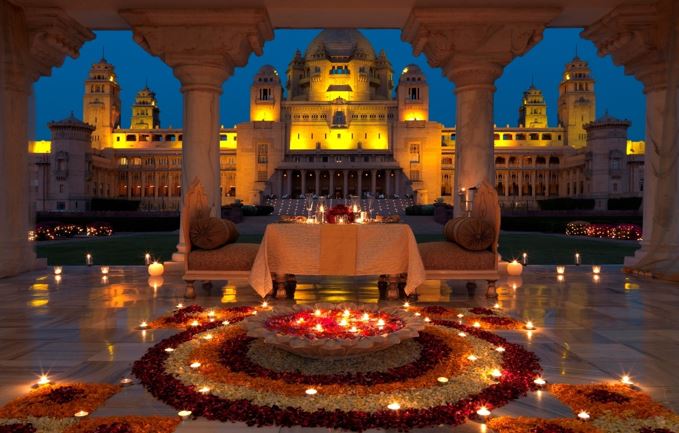 For us here at Wendy Wu Tours, Udaipur is a very special place, so we include it on most of our India Tours. Spend two nights here as part of these award-winning tours:
Ta Prohm & Angkor Temples – Cambodia
Cambodia is bursting with culture, but did you know that it's also considered one of the most romantic places in the world? We'd like to recommend the Temples of Ta Prohm and Angkor for adding a little bit of quiet quality time together to take in the tranquillity of this spiritual place.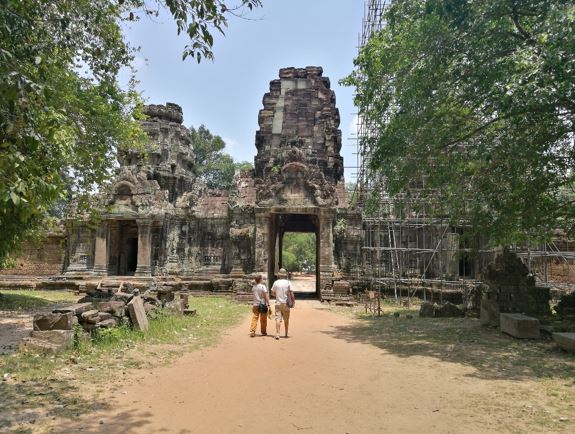 Top Romantic things to do in Ta Prohm & Angkor Wat
Ta Prohm is Cambodia's most romantic temple, due to is natural backdrop. Take some great pictures together in this completely unique surrounding.
Discover remote and abandoned temples as you stroll around the surrounding areas, with a lot more privacy than at the more visited temples.
Watch the sun rise over Angkor Wat, often voted the number one thing to do when honeymooning in Cambodia. It's also the perfect place to pop the question or make a declaration of love.
Take a romantic bike ride around Angkor's Moat. We can't guarantee a tandem!
Relax and unwind in paradise at Kep Beach which is a small white sandy beach surrounded by seafood restaurants and the famous white lady statue.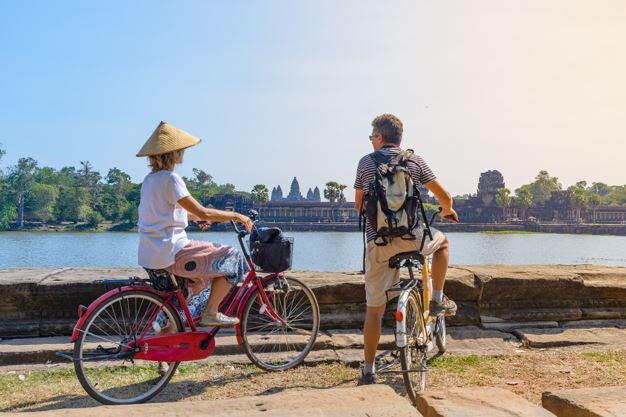 Visit the Temples of Angkor and Ta Prohm as part of our Around Cambodia Tour. If you're looking for a little bit more adventure, then our Vietnam and Cambodia tours might be just what you are looking for! All of these tours include a visit to Ta Prohmn and the Temples of Angkor:
Buenos Aires – Argentina
Time to add some spice! What better way to spend a romantic trip than in the city of Tango? Passion can be found at every turn in this vibrant and lively city. Enjoy a flavoursome meal plus wine tasting experiences and Tango classes – you'll fall in love all over again as you embrace true Argentinian flair. Known as the 'Paris of South America', love is always in the air and it is encouraged to show love and affection in public!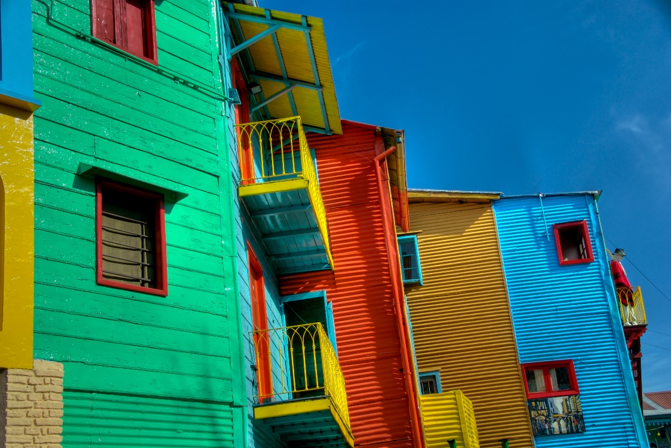 Top Romantic things to do in Buenos Aires
Visit Casa Rosada, the historic presidential mansion and official residence during the 1940s and 50s. The balcony of this building is iconic as you'll recognise it from the famous song 'Don't cry for me Argentina' which was addressed to the masses by Evita. On Saturdays there are free guided tours in English.
Treat your senses to a feast of Argentinian cuisine, cooked with passion and flair. Meat is a big dish here, especially Argentinian beef, and it's believed that the best steak in the world can be found in Buenos Aires, as they believe in a hormone free, free range and a grass-fed lifestyle for their cattle.
Public displays of affection are encouraged in Buenos Aires and the most romantic place to share a smooch in the city is on Woman's Bridge. The bridge rotates in swift movements and with its impressive structure it was designed to mimic a bird in flight, or the movement of a couple in a slow Tango dance. A Top tip from us is to go there just as the sun sets, as the view from the bridge of the sun setting behind the city skyline is one to remember.
Go wine tasting. Many places in Buenos Aires will be proud to show you their best wine, which of course is a Malbec. You'll be taught about the care and love that goes into producing this wine, and even try their local Bonarda wine – which is believed to be the next Malbec by wine officials. Let us know what you think of it!
No trip to Argentina is complete without taking a Tango class. The history of this dance originates back to the 1890s in Buenos Aires and has evolved with time and different influences from all over the world. With private or group Tango classes available, we highly recommend taking a class to learn the moves of the language of love!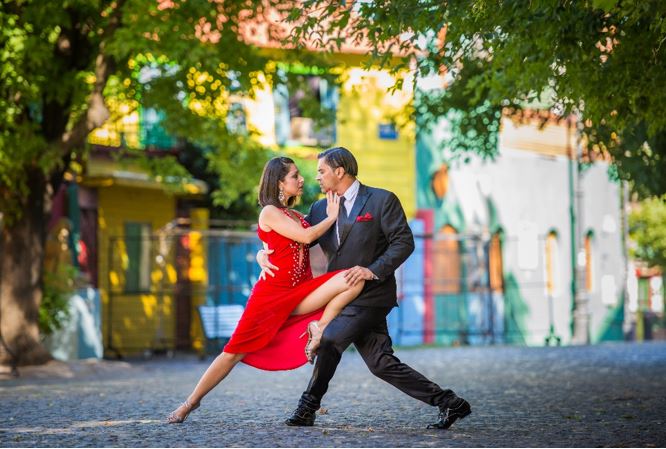 Spend four nights in Buenos Aires as part of our Essence of Argentina & Brazil Tour, which encompasses a Tango class and performance, a traditional meal as well as a walking tour of the city where you can take in everything mentioned above.
If you're a more adventurous couple, our Ultimate South America Tour might be more your style. With three nights in the capital, a wine tour and tasting, Tango class and city tour – you'll be left speechless by the time you leave Argentina!
Yerevan – Armenia
Not a lot is known about Yerevan, however with it being voted one of the best places to visit in 2020 its certainly one we would recommend. No trip to Armenia is complete without spending time in its beautiful capital, with history and charm dating back to 782 BC. Yerevan was designed as a great administrative and religious centre, a Royal Capital for Armenia. It makes our list of the most romantic places because it's more commonly known as 'the Pink City' which comes from the colour of the stone used in the buildings, but also derives from the feeling of love felt around the city – so much so that people believe there to be a pink tint in their views and photos taken there!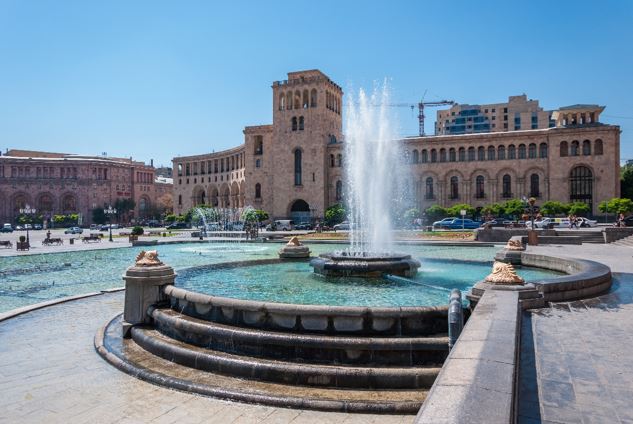 Romantic things to do in Yerevan
Visit Cafesjian Centre for the Arts. Here you'll find a beautiful cascade with a fountain in the middle, creating the perfect romantic backdrop for your holiday photos. There are many interesting sculptures to see, as well as a small blooming garden, which is tranquil and beautiful.
Lover's Park. The clue's in the name, a beautiful park with many walking routes, as well as little bridges over ponds, and an array of flowers. There is a café here where you can enjoy lunch or a coffee.
Visit Republic Square, the central hub of Yerevan. Here you'll find the clock tower (Armenia's Big Ben) government buildings, art galleries, and museums with beautiful architecture at every turn.
Dancing Fountains – now here's our top tip; head to Republic Square after dark as you'll discover something truly magical – the fountain in the middle of the square lights up and dances to music, creating the 'Dancing Fountains' Show.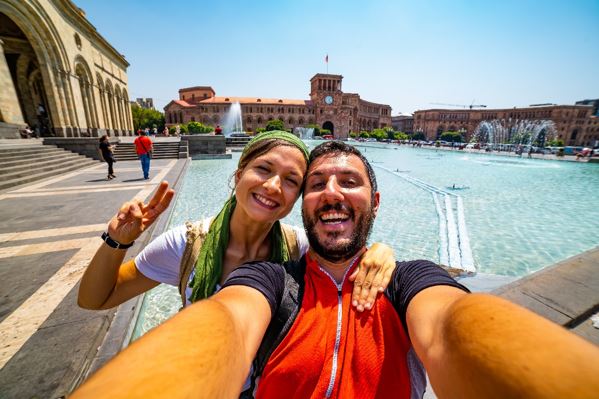 Spend three nights in Yerevan as part of our Georgia, Armenia & Azerbaijan tour. During your stay there you'll visit everything mentioned above, plus a trip to the UNESCO Protected ruins of Zvartnots, Garni Village and Swan Lake.
Kyoto – Japan
The original capital of Japan, Kyoto is mostly known for its vast number of temples, and of course the famous Himeji castle. Kyoto is known as the heart of Japan, and this is aptly named due to the increased number of honeymooners visiting the city. With stunning architecture, quirky Japanese traditions and plenty of delights, it's no wonder Kyoto made our list of romantic places.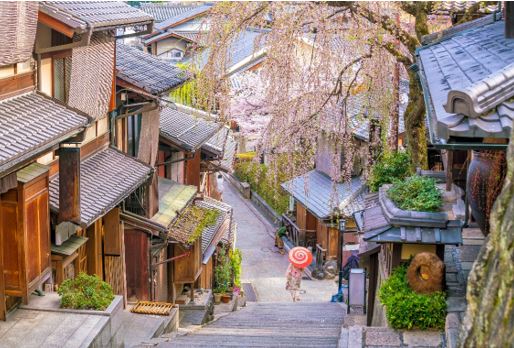 Romantic things to do in Kyoto
Walk the Philosophers Path. Quite possibly one of our favourite places in the world, this two-kilometre trail follows the canal with some of the most serene and scenic views you'll ever see. Its easy to forget you're in the city when walking this trail, and our tip is to walk the trail during Cherry Blossom season – it's the perfect place for an intimate proposal, surrounded by pink blooms.
Stroll through the Bamboo forest in Arashiyama. With bamboo growing on either side, it's a surreal experience but equally as beautiful. You can walk hand in hand through the towering bamboo stalks, or you can make the experience more intimate by jumping in a private rickshaw.
Channel your inner Patrick Swayze and Demi Moore in a pottery class. Private classes are available for those looking to try their hand at something new and create an everlasting memory to take home. How creative you get is completely up to you!
Take part in a Japanese Tea Ceremony. These can be taken in small groups, or as a couple and is considered as a right of passage when visiting Japan. You'll learn the philosophy behind serving tea and enjoy a tasting along with accompanying snacks. We fully recommend a tea ceremony as part of your Japan holiday.
Walk the Gion district at night. Not only will you fall in love with the streets lit by lanterns and candles, you'll also get to see the real heart of Kyoto. Considered the entertainment district of Kyoto, you'll feel a warm buzz as you walk through the dim lit streets, watching street performers entertain crowds, passing restaurants with people enjoying romantic meals and even spotting a geisha or two gracing the streets.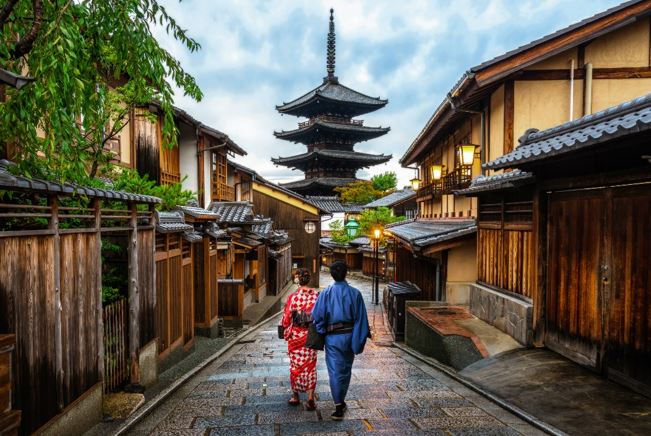 We hold Kyoto very close to our hearts, and to ensure you get to experience the true essence of Japanese love, we include a stay here in all of our Japan Tours. Visit Kyoto on one of our award-winning tours:
For more information on our tours, visit our website. Or order a free brochure today.